Thursday, July 23rd, 2015 ( 6 years ago )
Stable Notes
July 23 2015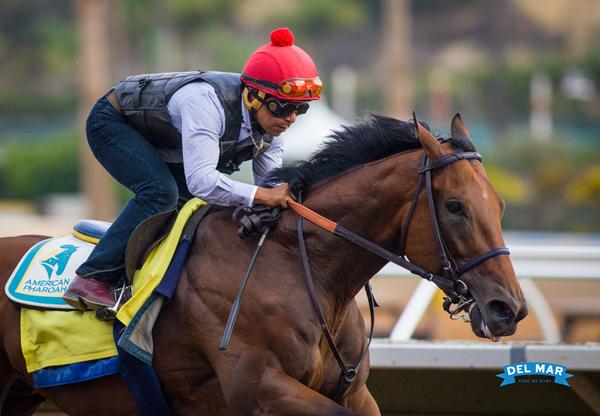 ---
'HIGH FIVE' WORK FOR AMERICAN PHAROAH AND BAFFERT
And on the fifth day, American Pharoah worked six furlongs in 1:11.00.
And verily did trainer Bob Baffert say in the aftermath: "I think he's getting faster" and "He gives me goosebumps."
Five days after working six furlongs in 1:11.40, American Pharoah went the same distance two ticks faster Thursday morning under Martin Garcia. The interim splits were :12.40, :24.00 , :36.20 and :58.80.
In what was announced to be a five-furlong work, American Pharoah went from the five-eighths pole to the wire and was still going strong enough that Del Mar's clockers gave an official six-furlong time for the exercise. American Pharoah galloped out to seven furlongs in 1:24.00 and a mile in 1:38.40.
It came as a surprise to some that the first Triple Crown champion in 37 years would be given such a short break between serious workouts in preparation for a start in the $1 million Haskell Invitational on August 2 at Monmouth Park in New Jersey. But it was a case of Baffert knowing the horse and going on his Hall of Fame instincts.
"I'm going with a five-day schedule with him now," Baffert said. "I've done that with other horses before. First time with a Triple Crown winner, though.
"We'll work him a half before we leave. An easy half; next Tuesday. He needed to get back to the track. That last one (work), he came out of it blowing a bit. Not today, though. He looked like he did it easy.
"If I wait too long with him, he starts to get antsy. He'll work too fast when I put him back out there. I waited 14 days after Arkansas (Derby) and he went real quick. He needs to get out there.
"The track here is a little demanding. But he just doesn't make it look that way.
He's right on course (for the Haskell). No excuses. He'll be ready to go there."
Head clocker John Malone was duly impressed. "He looked good; as good as always," Malone said.
American Pharoah's work was three seconds faster than any of 11 other horses at the distance.
---
BAYERN SET TO FACE SEVEN RIVALS IN SAN DIEGO
Bayern ended 2014 with a victory in the $5 million Breeders' Cup Classic and part of the Horse of the Year discussion with Shared Belief and eventual winner California Chrome.
A summer/fall surge of four wins in five major stakes starts, capped by the Classic – for part of which he trained on Del Mar's polytrack – resulted in more than $4.3 million in earnings for the son of Offlee Wild owned by Kaleem Shah and trained by Bob Baffert.
If there's something similar in the offing for Bayern this year, Saturday's Grade II $200,000 San Diego Handicap would be a good place to start.
Shipped back to the West Coast after disappointing efforts at Churchill Downs and Belmont Park this spring, Bayern posted two bullet works at Santa Anita early this month and was made the 5-2 favorite for the San Diego on the morning line by oddsmaker Russ Hudak.
The field for the San Diego, the major prep for the $1 million TVG Pacific Classic on Saturday, August 22, from the rail out. Nowalking (Tiago Pereira, 20-1), Appealing Tale (Joe Talamo, 8-1), Hoppertunity (Mike Smith, 7-2), Bayern (Martin Garcia, 5-2), Majestic City (Tyler Baze, 15-1), Catch a Flight (Gary Stevens, 3-1), Sammy Mandeville (Rafael Bejarano, 5-1) and Sahara Sky (James Graham, 8-1).
---
PURE TACTICS' WICKERR WIN PERKS UP TEAM O'NEILL
An 0-for-13 start to the meeting took a distinct upturn for trainer Doug O'Neill Wednesday when he saddled Over Par to win the fifth race and, two races later, Pure Tactics for victory in the featured $86,350 Wickerr Stakes.
Pure Tactics, expertly ridden by first-season Del Mar regular Flavien Prat, got up in the final jump to win by a head over Winning Prize. It was the 27th stakes victory at Del Mar for O'Neill and the second for Pratt.
"He's such an honest horse, Pure Tactics, such a trooper," O'Neill said. "Short, long, whatever you ask him to do he gives it his all. We've got some options with him -- the Del Mar Mile ($200,000 Grade II on Turf, Sunday, August 23) or the Green Flash ($80,000, 5 furlongs on turf, Wednesday, August 19).
O'Neill had praise for Prat's ride which produced the 10th win in 25 career starts for Pure Tactics, a 6-year-old son of Pure Prize with earnings of more than $400,000 for owner Nita Winner.
"He broke fine but Flavien took him back, saved ground and then came running in the stretch. It was a ride that you'd expect from a seasoned veteran, not a 21-year-old. That's a gift."
---
HALF DOZEN EXPECTED FOR SUNDAY'S BING CROSBY
The racing office expected at least a half-dozen runners for Sunday's Grade I Bing Crosby Stakes, a "Win and You're In" qualifier for the $1.5 Breeders' Cup Sprint on October 31 at Keeneland.
In alphabetical order, the six named as the close of entries deadline loomed Thursday morning are: Appealing Tale (entered in the San Diego as well), Caminetto, Distinctiv Passion, Kobe's Back, Masochistic and Wild Dude.
Masochistic and Appealing Tale were the 1-2 finishers in the Grade I Triple Bend on June 27 at Santa Anita.
---
CLOSERS – Spirit of '76 department: The start in yesterday's third race was the 76th in the career of 6-year-old gelding Crimson Giant … Jockey Edwin Maldonado, who is approaching 1,000 career wins (he has 993 through Wednesday) has two mounts on Thursday's card … Ottley Sims made the trip from Houston, Texas to be trackside, along with her son Randy, to see American Pharoah gallop on Wednesday and work on Thursday. Ms. Sims caught Pharoah fever as one of the 90,000 in attendance at Belmont Park in June to see American Pharoah become the first Triple Crown winner in 37 years … "Not in the PPs stats" for trainer Bill Spawr: 2 back surgeries in the past three months, 0 days off work … Selected works from 163 officially timed on the main track Thursday: American Pharoah (6f, 1:11.0), Bal a Bali (6f, 1:11.0), Warren's Veneda (5f, 1:01.40), Personal Diary (5f, 1:02.20). Selected works from 21 on the turf course: Queen of The Sand (6f, 1:17.20), Talco (4f, :49.60).
---
Jockey Standings
(Current Through Wednesday, July 22, 2015 Inclusive)
Jockey
Mts
1st
2nd
3rd
Win%
Money Won
Flavien Prat
27
7
2
7
26%
$441,300
Santiago Gonzalez
17
5
1
2
29%
$285,074
Joseph Talamo
24
5
0
2
21%
$209,800
Rafael Bejarano
24
4
4
3
17%
$204,652
Mike Smith
16
4
3
3
25%
$469,374
Tyler Baze
32
3
6
6
9%
$210,522
Kent Desormeaux
18
3
4
2
17%
$148,400
Mario Gutierrez
15
3
2
0
20%
$127,770
Drayden Van Dyke
13
3
1
2
23%
$131,394
Martin Garcia
22
2
2
3
9%
$144,490
Trainer Standings
(Current Through Wednesday, July 22, 2015 Inclusive)
Trainer
Sts
1st
2nd
3rd
Win%
Money Won
Peter Miller
25
5
1
4
20%
$274,250
Jeff Mullins
8
4
1
1
50%
$395,142
Robert B. Hess, Jr.
9
3
0
2
33%
$58,830
Jerry Hollendorfer
13
3
0
1
23%
$148,642
Richard E. Mandella
8
2
2
2
25%
$225,560
Doug F. O'Neill
16
2
2
2
13%
$143,680
James M. Cassidy
13
2
2
1
15%
$202,790
John W. Sadler
9
2
1
2
22%
$51,230
Mike Puype
11
2
1
2
18%
$109,130
Vann Belvoir
8
2
1
0
25%
$47,050
Winning Favorites Report
(Current Through Wednesday, July 22, 2015 Inclusive)
Winning favorites
16
46
34,78%
Winning favorites on dirt
14
35
40%
Winning favorites on turf
2
11
18.18%
In-the-Money favorites
0
2
0%
In-the-Money odds-on favorites
1
2
50%
---
Friday, July 17, 2015 Contact: Dan Smith 858-792-4226/Hank Wesch 858-755-1141 ext. 3793