Sunday, July 19th, 2015 ( 6 years ago )
Stable Notes
July 19 2015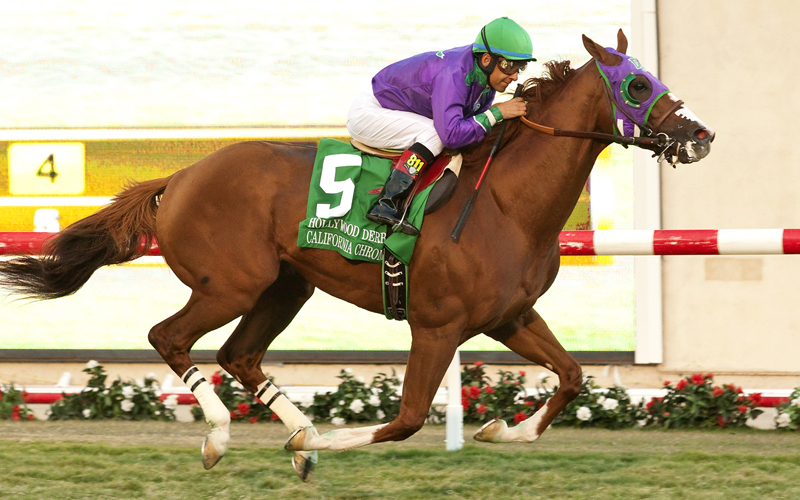 By Hank Wesch
---
CALIFORNIA CHROME TO RACE AGAIN; 2016 PACIFIC CLASSIC ONE TARGET
He's coming back and he's going to me which I'm sure he'll be real happy about," Art Sherman confirmed Sunday morning from the Del Mar stable area.
The "he" of reference is 2014 Kentucky Derby and Preakness Stakes winner California Chrome, whose recent bone bruise injury had triggered speculation that his racing career might be over. But Taylor Made Farm in Kentucky purchased the minority ownership share of Steve Coburn early last week and announced Saturday that the California-bred son of Lucky Pulpit, who is recuperating at Taylor Made, would be aimed for a return to racing next year.
"I'm elated, I think he could have a heck of a 5-year-old season and I'm looking forward to it," Sherman, 77, said.
California Chrome earned over $4 million last year. The success-from-humble pedigree story of California Chrome and Sherman's personality charmed racing followers and the general public alike through the Triple Crown series, which ended with a dead-heat for fourth in the Belmont Stakes, and a Breeders' Cup Classic third-place finish beaten only a neck by Bayern.
California Chrome came to Del Mar to make his first start on grass in the Grade I Hollywood Derby on November 30 and that impressive victory was probably the deciding factor in his being voted the Eclipse Award as Horse of the Year.
His 2015 campaign began with runner-up finishes in both the San Antonio Invitational at Santa Anita in February and the $10 million Dubai World Cup, accounting for earnings of $2.1 million. But plans to race at Royal Ascot in England last month and in the Arlington Million in Chicago later this month, were scrubbed by injuries.
Sherman said California Chrome's recovery in Kentucky, where he was shipped after the bone bruise was discovered, is likely to take three months. Then he'll be reunited with Sherman at his base at Los Alamitos from where the Triple Crown campaign was launched.
In addition to the Hollywood Derby, California Chrome raced here twice as a 2-year-old, winning the 2013 Graduation Stakes and finishing a troubled sixth in that year's Del Mar Futurity.
Is another Del Mar appearance in his future.
"Absolutely," Sherman said. "The Pacific Class will be on the agenda."
---
THUNDER, LIGHTNING, RAIN -- AN UNUSUAL DAY FOR DEL MAR
The severe lightning and thunder weather pattern that hit the track at 6:30 a.m. Saturday and came back with heavy rain in time for the 2 p.m. first post, caught horsemen and track officials by surprise. But their reactions then and reflections Sunday morning were very positive.
"When I got in here it was total chaos," said track superintendent Richard Tedesco. "Lightning, thunder and rain pouring down. We had to shut down the main track because of lightning in the area, that's a rule. And we shut down the training track as well.
"We missed about 45 minutes of training. But when they got back out on it the jockeys going past were all giving me a thumbs up. The track held up well . I'm proud of my crew for the job they did."
When rains persisted, growing heavier as race time neared, the track was sealed and a decision was made to take three of the four scheduled grass races – the Grade I Eddie Read being the exception – off the turf and onto the main track.
The races were conducted on a track rated other than "fast" for the first time since September 6, 1991. On that occasion the track was rated "good" for the entire card. Saturday the track was listed as "sloppy" for the first six of 10 races and upgraded to "good" the rest of the way. The routinely-rated "firm" turf course got a "yielding," designation for the first time in three years.
It wasn't a normal day at the beach for riders, horsemen or fans but most rolled with the weather punches.
Victor Espinoza came back to the jockey's room after a third-place finish in the rain-splashed second race and said: "You think this is bad? You should have been at the Preakness."
Hall of Fame jockey Kent Desormeaux reflected on the situation Sunday morning.
"It poured. Even considering what I've seen in Louisiana it was coming down hard and I thought the track handled it well," Desormeaux said. "Del Mar should be proud. We were not ever, ever, ever concerned about the racetrack. The only concern was the lightning. Del Mar did a really good job."
The turf course, installed last year, handled the reported half-inch of rain without difficulty. The Read was run smoothly over it.
"If it was the old turf course, we probably wouldn't have been able to run on it today," said Tom Robbins, Executive Vice President of Racing. There are four turf races scheduled today, among them the $200,000 Grade II San Clemente Handicap.
---
MULLINS PLEASED, NOT OVERWHELMED, BY EARLY SUCCESS
Gabriel Charles' win in Saturday's Grade I Eddie Read Stakes combined with the victory by Soul Driver in the Opening Day Oceanside Stakes made for a nice first three days of the meeting for trainer Jeff Mullins.
But Mullins, 51, knows the truth behind the racetrack caution to avoid getting too high with the highs or too low with the lows and is proceeding accordingly.
"Coming into this meeting the condition book was a little bit different and there were races that fit me better than Santa Anita did," Mullins said following the Read, his second Grade I in 18 Del Mar Stakes victories. "So when you get here and the book hits you where you need it to, that helps."
Mullins won four of the first seven races in which he saddled runners here. But the winner of the 2005 meeting training title, in which he had 23 wins, remains realistic about the stable's hopes.
"I'm not going to win the training title. I don't have (numerically) the horsepower," Mullins said. "This is nice. It has been a long time coming and we needed it," Mullins said. "
Mullins said Gabriel Charles and Soul Driver both came out of their races well. Decisions regarding their next starts, nearer the end of the meeting, will be made later.
---
'PLAN B' WILL BE NECESSARY FOR ABUNDANT SATURDAY SCRATCHES
Three of the four scheduled turf races, the exception being the Grade I Eddie Read, were moved to the main track Saturday.
As a consequence there were 18 horses scratched from those three races. The field for the 60th running of the $80,000 Osunitas Stakes, was reduced from 12 to five, among them 7-2 morning line favorite Elektrum and Personal Diary, winner of the 2014 Grade I Del Mar Oaks.
Personal Diary was among four horses husband and wife trainers Phil and Vicki Oliver shipped from Kentucky last week for the Del Mar meeting with more to come.
"All we've had is rain back there (Kentucky) and I figured when we got here we wouldn't have a problem," Phil Oliver said with a laugh. "We're hoping to get another race written for her as soon as possible. I just don't want it to get too close to the John Mabee (Grade II, $250,000,) I want to get a race over the turf before the Mabee. We'll have to wait and see what happens."
---
AMERICAN PHAROAH TODAY
The Triple Crown champion walked in the area around trainer Bob Baffert's barn a day after his six-furlong workout in 1:11.40 on Saturday morning.
---
CLOSERS -- A field of 11 was entered Saturday for Wednesday's featured $80,000 Wickerr Stakes, the first of six stakes events during the second week of the meeting. Other Week 2 stakes are the $100,000 Cougar II Handicap on Friday, the $200,000 Fleet Treat Stakes and $200,000 San Diego Handicap on Saturday and the $150,000 California Dreamin' Handicap and $300,000 Bing Crosby Stakes on Sunday … Selected workouts from 144 officially clocked on the main track Sunday: Bayern (6f, 1:13.20), Obviously (5f, 1:00.80), Fanticola (4f, :49.40).
---
Friday, July 17, 2015 Contact: Dan Smith 858-792-4226/Hank Wesch 858-755-1141 ext. 3793