Saturday, July 18th, 2015 ( 6 years ago )
Stable Notes
July 18 2015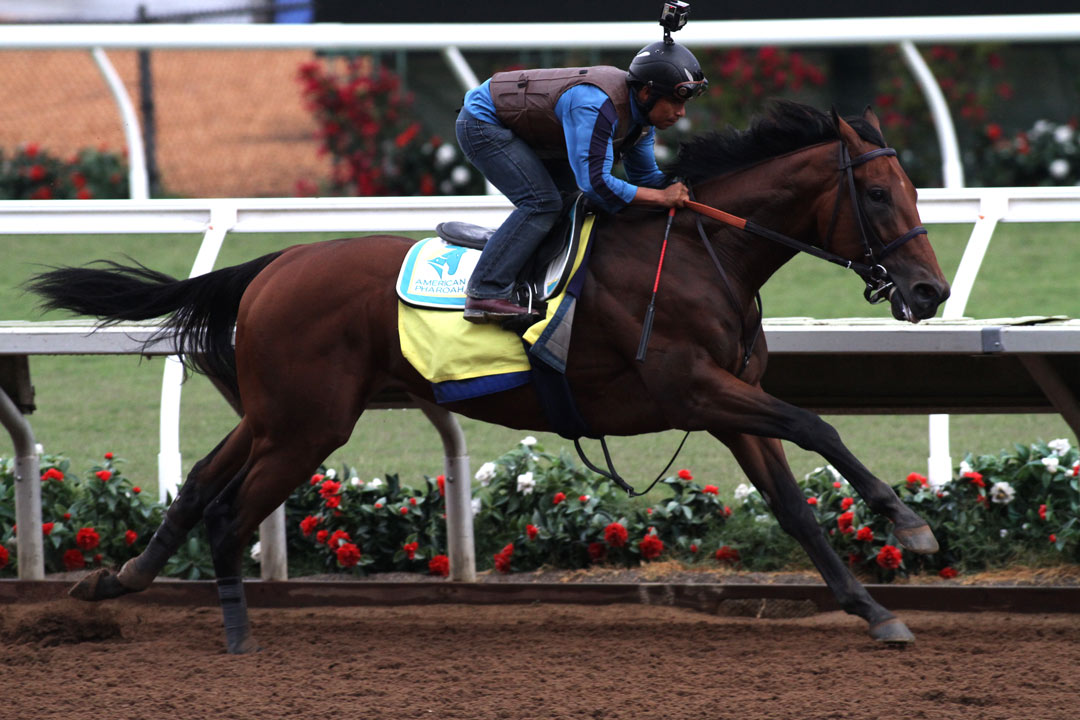 By Hank Wesch
---
STORM DOESN'T STAY AMERICAN PHAROAH FROM WORKOUT
Triple Crown champion American Pharoah worked six furlongs in 1:11.40 under Martin Garcia here Saturday morning, about 90 minutes after a thunder-and-lightning storm – unusual for Del Mar – passed through the area.
The track's official clockers had American Pharoah in splits of :24.0, :36.20, :59.20 en route to the six-furlong time which was the fastest of 12 at the distance of the morning. The gallop out times were 1:24.40 and 1:38.40.
"I think the bit of rain we got this morning might have been good for the track. Tightened it up a bit," said trainer Bob Baffert. "He went good. It was a good work for him. He needed it."
American Pharoah left the stable area at 7:45 am. All eyes -- from the early-morning arrivals for the track's breakfast place in the grandstand to a jam-packed elevated viewing stand along the backstretch -- were on the first Triple Crown series winner in 37 years as he stepped onto the track.
Garcia, outfitted with a GoPro camera attached to a short post on the top of his helmet, guided the bay son of Pioneerof The Nile to the five-eighths pole where they broke away from the crowd of other horses exercising and set off on the solo work.
They settled in about two paths off the rail. Garcia kept a firm grip on the reins and didn't urge his mount in any way.
"He felt really good, he's ready," Garcia said back at the Baffert barn.
The lightning and thunderstorm came through at 6:30 a.m. One strike set a palm tree on fire beyond the track property but smoke and flames were visible from the grandstand. Meanwhile, several horses continued maintrack workouts, appearing unfazed. Baffert did due diligence regarding the track condition and decided to go on with the work.
As for the apparatus atop the helmet: "It's just a camera," Garcia said.
Baffert said the GoPro company is working on a new type of camera and the stable agreed to be part of the project.
American Pharoah is working toward a projected next race in the $1 million Haskell Invitational on August 2 at Monmouth Park in New Jersey. Baffert said there are no plans regarding when the horse will work next.
"We just go step by step with this horse," Baffert said. "Every work, every race we just go day by day." American Pharoah was tentatively scheduled to work on Sunday but Baffert opted to go a day earlier.
---
FLAVIEN PRAT MAKES INITIAL DEL MAR IMPACT
Twenty-two year old French-born jockey Flavien Prat scored his first two Del Mar wins Friday, guiding Xoxo for trainer Peter Miller in the fifth race and Baruta in the sixth for trainer Richard Mandella.
"Everybody knows it's a great meeting so, yeah, it was very exciting for me," Prat said of the wins. He credited the horses, more than anything he did, for the victories.
Prat was born in Melun, France, the son of a harness trainer. He has been around horses all his life. "I don't know if I was born to be a jockey, but it was always in my mind," Prat said. "I didn't think of any other job."
He rode his first winner at Fontainbleau, France in September of 2009 and came to the U.S. later that year, getting his first stateside opportunity at Hollywood Park and notching his first win on January 15, 2010 aboard Heavenly n' Free ($103.40) at Santa Anita.
His riding itinerary since 2009 has been winters in the U.S. and summers in France until this year when he decided to come to Del Mar. French-born trainer Leonard Powell and Hall of Fame trainer Richard Mandella have been supporters since the start and his client list keeps growing. Veteran agent Derrick Lawson was initially drawn to Prat because Lawson is fluent in French and the combination has clicked to the point that Prat is No. 36 among North American jockeys in 2015 with 51 wins from 387 starts and earnings of $3,007,411.
"He's a coming star, I think," Mandella said. "He has been coming to work with me for the winters since he was 18. His record speaks for itself. Just a terrific, gifted rider and terrific person with it. I can't say enough about him, I think the world of him."
Prat recorded his first North American graded stakes win for Mandella aboard Catch a Flight in the Grade III Precisionist Stakes at Santa Anita on May 2 of this year and scored again for Mandella in the Grade III American Stakes a week later.
Prat rides Twentytwentyvision in today's Grade I Eddie Read Handicap.
"He (Twentytwentyvision) has been running very well in allowance races and it's time to test the deeper waters," Mandella said.
---
2014 DEBUTANTE CHAMP RETURNS IN SAN CLEMENTE
Sunset Glow was last seen at Del Mar on August 30, 2014 winning as the favorite in the Grade I Del Mar Debutante.
The daughter of Exchange Rate, owned by Ten Broeck Farm and trained by Wesley Ward, was last seen in Southern California in a runner-up effort to Lady Eli in the Breeders' Cup Juvenile Fillies Turf on October 31 at Santa Anita.
Sunset Glow is now back at Del Mar and has been made the 5-2 opening line favorite in a field of nine for Sunday's $200,000 Grade II San Clemente Handicap. Two 2015 starts for Sunset Glow have resulted in a third-place finish to undefeated Lady Eli – until recently injured the best 3-year-old turf filly in the country – in the Appalachian Stakes at Keeneland and second as the favorite in an overnight stakes at Belmont Park.
"She didn't run bad in either race back east. She shipped in well and she's eating good and acting happy," said Blake Heap, who handles Ward's horses on the West Coast.
Sunset Glow swept the Sorrento Stakes and Del Mar Debutante to earn honors as the top 2-year-old filly of the 2014 meeting.
"She hasn't been here long enough to see if she's training any different (from last year) but she doesn't look any different," Heap said.
The San Clemente field from the rail out: Championessa Dolce (Flavien Prat, 20-1), Sunset Glow (Gary Stevens, 5-2), Moyo Honey (Drayden Van Dyke, 12-1), Pammy Whammy (Martin Garcia, 20-1), Prize Exhibit (Sal Gonzalez, 7-2), Paulina's Love (Tyler Baze, 8-1), Her Emmynency (Rafael Bejarano, 3-1), Screaming Skylar (Victor Espinoza, 15-1) and Spirit of Xian (Joe Talamo, 4-1).
---
CLOSERS – For the first season since 1998, Man about Racing Jeff Siegel is spending extensive time at Del Mar for the summer meeting. Siegel, whose horse racing resume includes owner, breeder, syndicated handicapper, writer and broadcaster, summered at Del Mar from 1975-1998 before the multitude of activities required his presence in the Los Angeles during Del Mar's July-September run. Recent events, specifically the merger of TVG and HRTV, have freed up Siegel for a return which he said he is enjoying. As an owner Siegel has trimmed his stock to one horse ("Although I won't say I'll never buy another"), Extant, who ran in the opening-day Oceanside Stakes … Selected workouts from 202 officially timed Saturday morning: American Pharoah (6f, 1:11.40; Hoppertunity (6f, 1:12.60), Majestic City (6f, 1:14.60), Sky Kingdom (6f, 1:14.40), Fame and Power (5f, :59.20), Bolo (4f, :47.00), Kobe's Back (4f, :47.40). Hoppertunity and Majestic City are prepping for the $200,000 Grade II San Diego Handicap on Saturday, July 25.
---
Friday, July 17, 2015 Contact: Dan Smith 858-792-4226/Hank Wesch 858-755-1141 ext. 3793