Saturday, July 17th, 2021 ( 2 months ago )
Stable Notes
July 17, 2021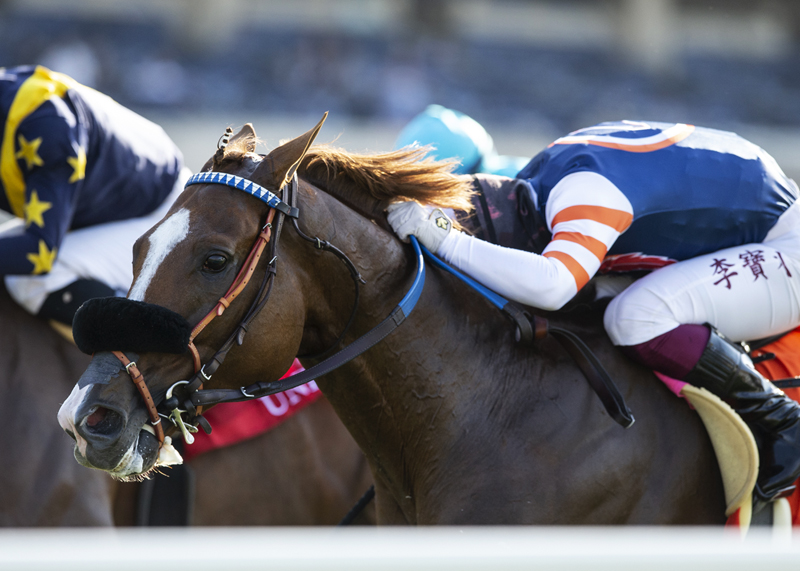 Red King © Benoit Photo
RED KING IS D'AMATO'S ACE FOR SUNDAY'S COUGAR II STAKES
Red King won the Del Mar Handicap last August, a Grade II, $300,000, 1 3/8-mile marathon on grass that is a "Win And You're In" qualifier for the $4 million Breeders' Cup Turf.
Trainer Phil D'Amato and the Little Red Feather Racing and partners ownership group would dearly love to repeat that success when the 82nd running of the Del Mar Handicap is conducted on August 21 as part of a mega-stakes program that includes the meet's signature $750,000 TVG Pacific Classic. Especially since, to the winner, goes a spot in the BC Turf when racing's two-day championship event is held at Del Mar on November 5-6 this year.
So, to prepare the 7-year-old son of English Channel for next month's assignment, Red King is set to run in Sunday's $100,000, Grade III Cougar II Stakes. The Cougar II is an eighth of a mile longer than the Del Mar Handicap and on the main, dirt track rather than the Jimmy Durante Turf Course.
D'Amato was asked if the Cougar II should therefore be considered a logical, or illogical Del Mar Handicap prep?
"I've used this angle before," D'Amato said. "One day (Racing Secretary) David Jerkens will write a prep for the Del Mar Handicap. I've been asking him for six years and I know one day he will.
"Until that happens, if you have a marathon grass horse you really can't take a conventional approach to the Del Mar Handicap. So this race makes sense."
D'Amato saddled Big John B, owned by Michael House, to accomplish the Cougar II-Del Mar Handicap double in 2015. So, as D'Amato points out, he's not treading in uncharted territory. For Red King, however, it's only the second non-turf race in a career of 33 starts, two graded stakes wins and $483,755 in earnings.
"The bonus is that if he shows he can run on the dirt at the marathon distance, it opens the doors to some other races down the road," D'Amato said.
Red King has made three starts in 2021, all at Santa Anita and all resulting in third-place finishes, the most recent in the Grade III San Juan Capistrano on June 19.
"He bounced out of the San Juan Capistrano really well and that's why we're even considering doing something like this," D'Amato said.
D'Amato notched three graded stakes wins during the Santa Anita winter/spring meet and plans for the winning trio to appear here. San Juan Capistrano winner Acclimate is being aimed for the Del Mar Handicap; Honeymoon and Providencia Stakes champion Going Global is nominated to next weekend's San Clemente and San Simeon winner Gregorian Chant is a candidate for the Green Flash turf sprint.
The Cougar II field from the rail: Heywoods Beach (Tyle Baze, 4-1); Contagion (Juan Hernandez, 6-1); Campaign (Trevor McCarthy, 8-1); Red King (Umberto Rispoli, 4-1); Cupid's Claws (Kent Desormeaux, 3-1) and Tizamagician (Flavien Prat, 8-5).
---
BALTAS HAS A FRONT LINE WINNER IN GOING TO VEGAS
The 2021 campaign for Going to Vegas, supervised by trainer Richard Baltas, has taken the 4-year-old daughter of Goldencents through three straight graded stakes at Santa Anita – one of them a victory in the Grade III Santa Ana in March – to the third race on Friday's opening day card. That was an optional claimer with a $75,000 purse in which Going to Vegas won going away by 3 ½ lengths as the 1-to-2 favorite.
One would have thought it was a Grade I by the reaction of the ownership members from Abbondanza Racing, Medallion Racing and Myracehorse.com, who filled the winner's circle to overflowing for the post-race photo.
"It's still exciting, right," Baltas said. "It's still exciting and she had the conditions. It was either that or we ship her out of town to run for $100,000. So we decided to keep her home and let the owners have some fun and see her race then look for a better thing."
What's next?
"Maybe something here or maybe the Beverly D. (at Arlington Park), I don't know."
Going to Vegas appears to be only the first of Baltas' graded stakes winners at Santa Anita or Golden Gate Fields meetings to run here.
Venetian Harbor (Monrovia at Santa Anita) is possible for the Grade I Clement L. Hirsch on August 1. Santa Anita Handicap winner Idol is an obvious candidate for the $750,000 TVG Pacific Classic on August 21. Masteroffoxhounds (San Marcos, Santa Anita) is being targeted for the Del Mar Handicap and Whisper Not (San Francisco Mile, Golden Gate Fields) could show up in the Eddie Read Stakes a week from today.
---
FLASHIEST LIVES UP TO HIS NAME WITH WINNING OCEANSIDE RALLY
Ninth in a field of 12 with a quarter-mile to run in Friday's Oceanside Stakes, and sixth turning into the stretch with five lengths to make up, Flashiest mounted an eye-catching rally down the middle of the track under Abel Cedillo to win the traditional opening-day feature. And in doing so provided trainer Leonard Powell with his fourth Del Mar stakes victory.
"This horse has always been a bad actor in the gate, he never stands still," Powell said. "That cost him at the start. And when you don't have any room inside, you have to go outside.
"I wasn't happy he had to go, I think seven (paths) wide coming off the turn, but he has that big, big stride."
And it was just enough for a head victory over Crew Dragon in what was only the fourth career start for Flashiest.
Powell, a part-owner with Kentucky breeders Indian Creek Farm and Nicky Drion in the Mizzen Mast gelding, saw Flashiest rally from six lengths behind at the half to win by three in a 7 ½-furlong debut at Turf Paradise on April 5.
A win at Santa Anita attracted additional partners, among them Gary Barber, and a runner-up finish there last month set Flashiest up for the $27.60 upset in the Oceanside.
"He was a very immature horse and we decided to geld him, which did him some good," Powell said. "He came in late to the barn but he has been a good presence."
The Oceanside is the first of three grass stakes for 3-year-olds in the Del Mar summer. Powell said Flashiest came out of the race in good shape – trainer John Sadler reported the same for Crew Dragon. Next starts for both are to be determined.
---
CLOSERS – In case you missed it: The opening day wagering handle of $21,339,643 represented a 29 percent increase over the previous first-day record of $16,500,914 set in 2016 … Clockers were kept busy Saturday morning timing 260 workouts. Selected notables from the official tab, courtesy of Toby Turrell: Big City Lights (4f,:49.00); Maxim Rate (4f, :49.20); Dr. Schivel (5f, 1:01.00) and Vertical Threat (6f, 1:12.80) … Oceanside Stakes-winning trainer Leonard Powell's oldest daughter, Louise, is working the meeting as the press box steward, a position previously held by, among others: Golden Gate Fields track announcer Matt Dinerman, who has been in attendance here while awaiting the start of the meet there and, last year during the COVID crisis, Del Mar Thoroughbred Club Director of Events and Promotions Chris Bahr.