Tuesday, July 14th, 2015 ( 6 years ago )
Stable Notes
July 14 2015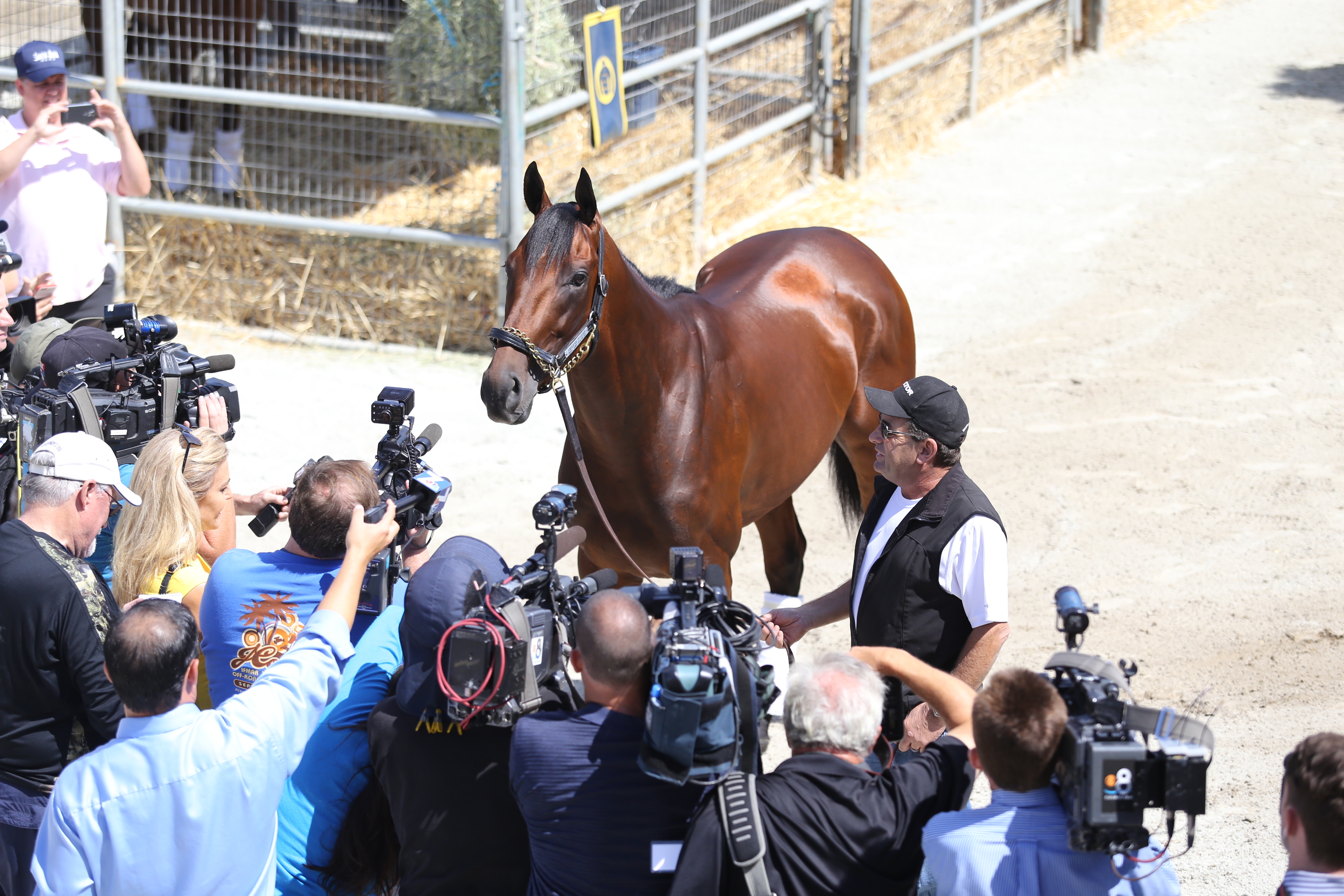 By Hank Wesch
---
AMERICAN PHAROAH MEETS PRESS UPON DEL MAR ARRIVAL
Triple Crown champion American Pharoah, displaying star cool, was on display for San Diego area media Tuesday morning, about six hours after arrival at the Bob Baffert barn.
American Pharoah vanned down from Santa Anita in the dead of night with several other Baffert horses, arriving at 4 a.m. Assistant trainer Jim Barnes, who presented the horse in the absence of Baffert – away along with jockey Victor Espinoza to attend the ESPY Awards -- said it was a very smooth freeway trip at that hour.
At around 7:30 a.m. American Pharoah, who notched his first career victory in the Del Mar Futurity on Polytrack last September, got his first experience on the new dirt surface, jogging one mile around the main track oval.
"He loves it down here," Barnes said. "It was just a normal jogging day after a ship."
A couple of dozen media members, including representatives from six television stations, assembled for what was scheduled to be a 10-minute gathering but ran slightly over that. One reason was that American Pharaoh seemed to be enjoying it so much he resisted the first tug to be led back to his stall. Before it was over, there was no gap between the media and the first Triple Crown winner in 37 years and good feelings appeared mutual.
"He loves selfies," Barnes said.
American Pharoah will train here for an expected start in the $1 million Haskell Invitational at Monmouth Park in New Jersey on August 2. The 3-year-old son of Pioneerof The Nile, will go to the track between 7:30 and 7:45 during the week and will have workouts on the weekends.
"You don't get to meet a Triple Crown winner very often, so we're delighted to have him here," said Joe Harper, Del Mar President and CEO. "He's looking very good and we're glad to have him back where (his career) started."
---
PERSONAL DIARY MIGHT GO FOR ANOTHER GRADE I IN READ
Personal Diary, the winner of the Grade I Del Mar Oaks in 2014, might be sent out after another highest-level victory in Saturday's $400,000 Eddie Read.
The 4-year-old daughter of City Zip is one of four horses scheduled to ship to Del Mar on Wednesday from Kentucky for husband and wife trainers Phil and Victoria Oliver. Personal Diary has been nominated to the $80,000 Osunitas Stakes on the same day as the Read and her connections will make the decision close to race day.
The Osunitas is 1 1/16 miles for fillies and mares, the Eddie Read 1 1/8 miles. Both will be contested over the Jimmy Durante Turf Course.
"We know we'll be able to get in the Osunitas and the Eddie Read is kind of a backup plan," Phil Oliver said recently by phone from Kentucky. "We'll wait and see. The Eddie Read might not be as strong as it has been in the past, she's been training well and we know she likes Del Mar."
Personal Diary made a last-to-first charge to take last year's Del Mar Oaks by 2 ¾ lengths under Corey Nakatani to provide Victoria Oliver with her first career Grade I victory and Nakatani the 101st Del Mar stakes triumph of his career.
The Oaks victory highlighted a 2014 campaign in which Personal Diary earned $282,829 for owners G. Watts Humphrey Jr., Victoria Oliver's father, and Ian Banwell. Personal Diary has raced three times in 2015, all in graded stakes, with a fourth-place finish the best result.
"Her last couple races were in big fields where she didn't get the best of trips," Phil Oliver said.
---
NOMINATIONS PORTEND SOLID WEEKEND OF STAKES EVENTS
With 67 horses nominated to the three stakes events on the opening weekend prospects look good for solid competition in all three with the possibility of one being split into divisions.
Finnegan's Wake, winner of the Grade I Turf Classic at Churchill Downs on Kentucky Derby Day, and Big Cazanova, who set the early pace in the recent Gold Cup at Santa Anita, are among 16 nominees to Saturday's Eddie Read Stakes.
Istanford, who won both the San Clemente and Sandy Blue Stakes here last summer, is one of a whopping 32 nominees to the Osunitas Stakes on the Eddie Read undercard.
Prize Exhibit, fresh off a victory in the Grade III Senorita at Santa Anita, and Sunset Glow, winner of the Sorrento Stakes and Del Mar Debutante in 2014, are among 19 on the nomination list for Sunday's Grade II, $200,000 San Clemente.
Final entries will be taken and post positions assigned Wednesday for Saturday's races. On Thursday, entries will close and post positions will be drawn for the Sunday card.
---
SPANISH QUEEN AIMED FOR DEL MAR OAKS
Spanish Queen, winner of the Grade II Honeymoon Stakes and Grade I American Oaks at the Santa Anita spring meeting, is stabled at Del Mar with a target of the Grade I, $300,000 Del Mar Oaks on Saturday, August 15.
Following the victory in the May 30 American Oaks, the 3-year-old California-bred daughter of Tribal Rule shipped to Belmont Park in New York for the July 4 Belmont Oaks.
Ridden by Brice Blanc, aboard for all five of her starts, Spanish Queen finished 10th in a field of 14 in a race won by undefeated – but since injured—super filly Lady Eli.
"She had a very troubled trip," trainer Richard Baltas said Tuesday morning. "But she's back here now and she's looking good."
Baltas notched his first two Del Mar stakes victories in 2014 with Big Macher in the Grade I Bing Crosby Stakes during the summer meeting and the same horse in the Cary Grant Stakes in the Bing Crosby fall session. Big Macher is about to go back into training after a break and might make a race here near the end of the meeting, Baltas said.
He intends to run Majestic City in the San Diego Handicap on July 25 and is cautiously optimistic about overall chances for the 40 horses he'll have here.
"I feel good about (prospects)," Baltas said. "It's always tough down here, but hopefully they'll run well and we'll win a stake or two."
---
CLOSERS -- Gold Cup at Santa Anita winner Hard Aces and Shoemaker Mile victor Talco worked Monday at Santa Anita for trainer John Sadler. Hard Aces went four furlongs in :48.40 and Talco five furlongs in 1:01.40. The process of moving in at Del Mar was fully underway Tuesday morning with Sadler and assistant Larry Benavidez due in Wednesday … Hall of Fame jockey Mike Smith, making the rounds Monday morning, said that the jockey colony is not only deep in talent but "character" as well. "Talent isn't the question. There's unbelievable talent in that room right now. But what we truly have is a group of quality people, with character, trying to put out what we're supposed to be."
---
Monday, July 13, 2015 Contact: Dan Smith 858-792-4226/Hank Wesch 858-755-1141 ext. 3793