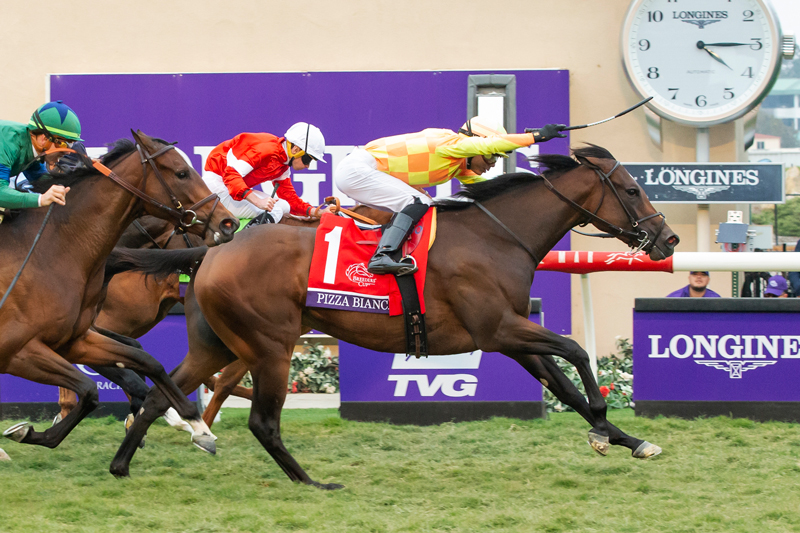 Pizza Bianca © Benoit Photo
PIZZA BIANCA RETURNS TO THE SCENE OF HER GREATEST TRIUMPH
Pizza Bianca was a little known 2-year-old filly when she first arrived at Del Mar at the beginning of November last year. She left a celebrity with a Breeders' Cup victory to her credit.
She's 3 now and back at the seaside oval to compete in the G1 Matriarch Sunday, contested at a mile on the Jimmy Durante turf course. The Christophe Clement trainee arrived at Del Mar Tuesday evening.
"The filly shipped well," says assistant trainer Christophe Lorieul, who's watching over the Clement stable while his boss attends the sales in France. "She jogged her first two days there and paddock schooled Friday and everything seems to be okay."
Pizza Bianca is coming off of a fourth-place finish in the G2 Sands Point at the Belmont at Aqueduct meet last month.
"She was a touch farther back than we expected," Lorieul says. "The pace was not that strong and the ground was okay, it was a little bit on the good side, but I'm not sure she cared for it that much."
It was the filly's first race in four months and first since arriving back from Royal Ascot where she finished a disappointing eighth in the G1 Coronation Stakes.
"It was a lot to ask," notes Lorieul. "She came back okay but she lost quite bit of muscle tone on her back from the trip. She ran okay but it was a long trip and I'm not sure it was the best decision. But we tried, we were not successful so we turn the page and we try something else."
Which brings the 2021 Breeders' Cup Juvenile Fillies Turf champion back to Del Mar.
"It's one of the last grade 1's of the year," Lorieul says of the Matriarch and one of the reasons for why they made the cross country trip. "She obviously loves Del Mar because last year she won the Breeders' Cup on the same track, and because Mr. Flay wanted to try against the older horses."
Mr. Flay is celebrity chef Bobby Flay, who owns and bred Pizza Bianca. She gave Flay his second Breeders' Cup win but more importantly, she gave her trainer his first after a record 40 tries.
As for whether she will run in 2023, Lorieul says that's still up in the air.
"I don't know," he says. "She was withdrawn from the sale (the November Fasig Tipton in Kentucky) the other day. Just depending on how she runs this time. We'll take it one race at a time but I could not tell you."
As for the Matriarch, Lorieul is hoping for that same dazzling run she made in her Breeders' Cup win when she went last to first, surging through heavy traffic to get up in the final strides.
"If it's a strong pace she will probably be in the back and try and make one run, but we've told (rider Umberto) Rispoli not to be too far out of it. She's got a good turn of foot so we'll just hope for a good trip and try and make a run."
The G1 Matriarch goes off as the seventh of nine races on closing day. First post is at 12:30 p.m.
Here's the field from the rail with the jockeys and the morning line: Bipartisanship (Joe Bravo, 10-1); England's Rose (Victor Espinoza, 12-1); Eddie's New Dream (Mario Gutierrez, 20-1); Gold For Kitten (Hector Berrios, 20-1); Hamwood Flier (Mike Smith, 5-1); Regal Glory (Flavien Prat, 8/5); Pizza Bianca (6-1); Dolce Zel (Irad Ortiz, Jr, 6-1), and Avenue de France (Juan Hernandez, 15-1).
---
SATURDAY'S STAKES WINNERS IN GOOD ORDER, SHIP OUT TUESDAY
Most of the barns on the backside at Del Mar are making preparations to close-up shop and move back up to Santa Anita for the winter. The bulk of the move will take place Tuesday, some starting in the early morning hours.
Trainer Phil D'Amato, with another trainers' title in hand, will work a few of his 40-horses Tuesday morning and then load them up and send them north, a process he says will take a few hours. Included in that group is Turn On The Jets, who came out of his victory in the $100,000 Stormy Liberal in good shape. D'Amato has big plans for the 3-year old gelding.
"We'll see if we can make him a Breeders' Cup contender next year," he says. "He ran an impressive race and time yesterday and so hopefully we can map out a plan to get him to the Breeders' Cup."
Chad Brown has big plans for his 2-year old filly Liguria, who stormed home and won the G3 Jimmy Durante Saturday. Assistant trainer Jose Hernandez had the precocious filly out of her stall Sunday morning and said she was doing great. He says they will pack up Liguria and the two other horses Brown sent out west for the Fall Turf Festival, Regal Glory and Dolce Zel, and ship them down to Florida, to Gulfstream Park, early Tuesday, with plans of leaving around 2 a.m.
Later that morning, Graham Motion will ship out his string of horses stabled at Del Mar, he just doesn't know yet who is going where. The plan is to send some of his horses up to Santa Anita, a decision that will be made in the coming days after the conditioner has a chance to speak with Eclipse Thoroughbred Partners owner Aron Wellman. Those who don't head north will ship back to Motion's base at Fair Hill Training Center in Maryland.
As for his G1 Hollywood Derby winner, Speaking Scout, Motion says he was doing "very well" the morning after the race. As for any immediate plans, Motion says those are still being formulated.
"He's had a long year and I'll talk to Aron," he says. "We're going to go over to Santa Anita for a bit anyway so we'll make some decisions."
---
D'AMATO IN A RUNAWAY BUT RIDER'S RACE COMES DOWN TO FINAL DAY
It's becoming harder and harder to dislodge Phil D'Amato from the top of the trainers' standings at Del Mar. It certainly won't happen this fall.
The trainers' race for the Bing Crosby meet is a complete runaway. D'Amato brought a string of 40 horses to Del Mar and they've awarded him with 17 wins, nine seconds and nine third place finishes heading into the final day of racing. That's 10 wins more than Bob Baffert and George Papaprodromou, who sit in second place in the trainer standings.
"We focused on this meet," D'Amato says. "We sent a lot of horses down here to specifically train here and breeze on the grass and I think all those things have helped get us a nice meet over here."
D'Amato has said he doesn't concentrate on winning titles so much as winning quality races and stakes. He did just that with three stakes wins at the meet, the G2 Hollywood Turf Cup with Prince Abama, the G2 Seabiscuit with Hong Kong Harry, and the Stormy Liberal with Turn On The Jets. D'Amato shared the trainers' title with Baffert this summer, and has now gone back-to-back with fall meet titles.
Meanwhile, the jockeys' race is coming down to the final day of the 13-day meet and it's between the defending king and the returning king.
Juan Hernandez, who ran away with the riders' title last summer giving him back-to-back crowns at Del Mar, has 20 wins to Flavien Prat's 18. Prat won numerous jockey titles at Del Mar before leaving for the east coast last April.
The pair are far ahead of Ramon Vasquez who's had a fine meet but sits in third place with 10 victories. Prat has mounts in all nine races Sunday except for the fourth, while Hernandez has mounts in six races. They both have rides in the G1 Matriarch, Prat on the morning line favorite, Regal Glory; Hernandez on longshot Avenue de France.
---
FIELD SIZES ARE UP DURING THE BING CROSBY MEET
The number of starters is up, field size is up and so are the smiles in the racing office following another successful fall meet at Del Mar. Field size through the 13-day meet averaged 7.92 horses per race. That's a modest increase over 2021 when field size averaged 7.76.
The numbers are up on the turf where field size is 8.42. There were 114 races during the Bing Crosby meet, 59 on the grass. Field size for the 55 dirt races averaged 7.38.
"We're pleased," racing secretary David Jerkens says. "We're definitely encouraged. The fall meet kind of varies from year to year. Some years you're up, other year's your down but it pretty much stays around eight horses. That's our goal in the fall and then 8 ½ in the summer and we're usually around that mark. What you want is a balance, between quality and field size."
The Thanksgiving weekend also saw modest increases. The field size over the four-day holiday weekend was 8.26. In 2021, it was 8.00.
"The cards got progressively better as the meet went on," Jerkens says. "Expanding the Turf Festival to two weeks helped because we were able to offer stakes quality racing for the final two weeks."
There also has been a slight increase in the number of horses qualifying for the 'Ship & Win' program where out-of-town connections are rewarded for running their horses at Del Mar. Thirty eight horses have qualified for 'Ship & Win' through three weeks compared to 29 last year. G3 Red Carpet winner Bellstreet Bridie was a 'S & W' runner.
"Logistically the fall meet is more difficult," notes Jerkens. "More horses are shipping in. There's a lot of back and forth from Santa Anita. I know trainers grumble about the traffic. Participation is different from the summer when everybody's here."
That being said, Del Mar has a corner on the market when it comes to turf racing and it's luring more out-of-town trainers of grass runners to the track in the fall.
"Where we're structured on the calendar is an advantage," Jerkens points out, "because of the lack of opportunities on the turf elsewhere and we provide that at the ideal time. Plus we have a Grade I for 3-year-olds. That's something people can look towards at the end of the year and then the G1 Matriarch for fillies and mares for black type purposes."
But the most important factor to a successful fall meet at Del Mar is always completely out everyone's hands.
"The formula for the fall is stay dry," Jerkens says, "and we were fortunate with Mother Nature."
---
COOLING OUT: Notable works on Sunday: Dirt – Awake at Midnyte (5f, 1:01.20); Bellabel (5f, 1:02.20); Rhea Moon (5f, 1:02.20), and Slow Down Andy (5f, 1:02.60). A total of 45 horses posted official works on the main track.
---
Del Mar Statistics
Jockey Standings
(Current Through Saturday, December 3, 2022 Inclusive)
| | | | | | | | |
| --- | --- | --- | --- | --- | --- | --- | --- |
| Jockey | Mts | 1st | 2nd | 3rd | Win% | In-money% | Money Won |
| Juan Hernandez | 74 | 20 | 14 | 10 | 27% | 59% | $1,338,140 |
| Flavien Prat | 78 | 18 | 15 | 10 | 23% | 55% | $1,298,726 |
| Ramon Vazquez | 65 | 10 | 10 | 5 | 15% | 38% | $558,712 |
| John Velazquez | 33 | 6 | 6 | 9 | 18% | 64% | $455,720 |
| Edwin Maldonado | 57 | 6 | 5 | 5 | 11% | 28% | $367,542 |
| Umberto Rispoli | 48 | 6 | 3 | 6 | 13% | 31% | $348,308 |
| Hector Berrios | 39 | 5 | 6 | 5 | 13% | 41% | $324,720 |
| Joe Bravo | 32 | 5 | 5 | 7 | 16% | 53% | $336,655 |
| Kyle Frey | 35 | 5 | 3 | 1 | 14% | 26% | $198,300 |
| Mike Smith | 18 | 4 | 5 | 2 | 22% | 61% | $262,960 |
Trainer Standings
(Current Through Saturday, December 3, 2022 Inclusive)
| | | | | | | | |
| --- | --- | --- | --- | --- | --- | --- | --- |
| Trainer | Sts | 1st | 2nd | 3rd | Win% | In-money% | Money Won |
| Philip D'Amato | 52 | 17 | 9 | 9 | 33% | 67% | $1,199,640 |
| Bob Baffert | 24 | 7 | 7 | 2 | 29% | 67% | $530,200 |
| George Papaprodromou | 40 | 7 | 3 | 6 | 18% | 40% | $314,771 |
| Doug F. O'Neill | 21 | 6 | 4 | 2 | 29% | 57% | $289,600 |
| Peter Miller | 40 | 5 | 7 | 6 | 13% | 45% | $376,778 |
| Michael W. McCarthy | 19 | 5 | 3 | 5 | 26% | 68% | $287,160 |
| Mark Glatt | 30 | 4 | 5 | 6 | 13% | 50% | $396,588 |
| Carla Gaines | 18 | 4 | 3 | 3 | 22% | 56% | $251,488 |
| Jeff Mullins | 19 | 3 | 4 | 2 | 16% | 47% | $209,260 |
| Ryan Hanson | 12 | 3 | 3 | 0 | 25% | 50% | $152,420 |
Winning Favorites Report
(Current Through Saturday, December 3, 2022 Inclusive)
Winning favorites -- 40 out of 105 -- 38.10%
Winning favorites on dirt -- 22 out of 51 -- 43.14%
Winning favorites on turf -- 18 out of 54 -- 33.33%
Winning odds-on favorites -- 15 out of 20 -- 75.00%
In-the-Money favorites -- 79 out of 105 -- 75.24%
In-the-Money odds-on favorites -- 18 out of 20 -- 90.00%