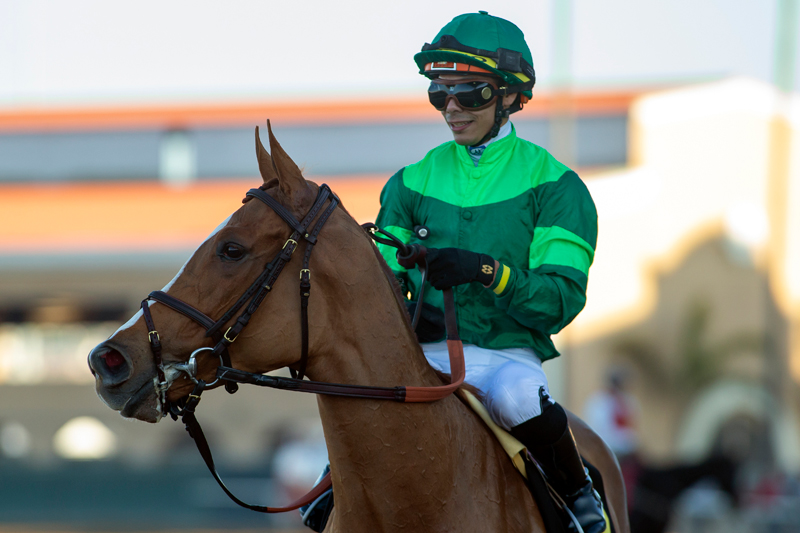 Regal Glory © Benoit Photo
REGAL GLORY BACK TO DEFEND HER CROWN IN G1 MATRIARCH SUNDAY
Last year when Regal Glory came out to Del Mar for the G1 Matriarch, she had never won a grade 1 race. She changed that with a dominating wire-to-wire score. The 6-year-old daughter of Animal Kingdom returns to the seaside oval Sunday with a couple more grade 1's in her pocket as she defends her crown against nine other rivals in the one mile turf race.
Since that win last year, Regal Glory has added two more grade 1 victories to her resume. In fact she put together a string of four straight wins starting with the Matriarch. She kicked off her 2022 campaign with a win in the G3 Pegasus World Cup Filly & Mare Turf at Gulfstream Park in January, followed by back-to-back grade 1 wins in the Jenny Wiley at Keeneland, and the Just A Game at Belmont Park.
Trainer Chad Brown then threw her in against the boys in the G1 Fourstardave at Saratoga and she gave a good account of herself, finishing second to Casa Creed.
"She's really come on with age," Brown says. "She's gotten better which you love to see with your racehorses. They don't all do that. She's everything you can ask for from a trainer's point of view."
Regal Glory has been in Brown's barn since 2018.
"I've had her since she was a 2-year-old," he says. "She's 6 right now. She was sent to me originally by her breeder, Paul Pompa, Jr. He passed away a couple of years ago and Peter Brandt ended up buying the filly and kept her in training with me and she's had a wonderful career."
The numbers tell the story. This year she has raced six times and compiled a 3-2-0 record and $1,134,250 in earnings. For her career, she is 12-6-0 in 22 starts with earnings of $2,379,134.
She has Eclipse Award credentials, but Brown didn't bring her out to Del Mar to try seal the vote with a win. He says he's simply here to win the last grade one grass race of the year.
"It fits in the calendar nicely," he says. "There are no other turf options and she won the race last year."
In fact, Brown believes another horse in his stable may eventually win the Eclipse for top female grass horse.
"I'd say right now her stablemate, In Italian, would be the leader in that division, from her body of work," notes Brown. "So potentially, if she (Regal Glory) wins this race she could enter the conversation."
Admittedly, Regal Glory's Breeders' Cup performance didn't help sway any voters.
"She didn't have a great trip there," Brown says of her 10th-place finish in the Breeders' Cup Mile. "She was wide. It wasn't a trip that was going to work out for her. We're just going to draw a line through it and hopefully she saves a little ground this time around."
The Matriarch will be Regal Glory's finale. Brown says she will be retired after the race.
Also making the trip out to Del Mar for Brown for the Matriarch is Dolce Zel, winner of the G3 Lake George at Saratoga this summer.
"Only a 3-year old filly," Brown says, "stepping up against older horses for the first time. She has a tricky draw, a little outside but she seems to be training really well, so we'll see."
Brown has won four of the last five runnings of the Matriarch, which was first run at Hollywood Park in 1981. It goes off as the seventh race on the nine-race closing day card. First post is 12:30 p.m.
Here's the Matriarch field from the rail with the jockeys and the morning line: Bipartisanship (Joe Bravo, 10-1); England's Rose (Victor Espinoza, 12-1); Eddie's New Dream (Mario Gutierrez, 20-1); Gold For Kitten (Hector Berrios, 20-1); Hamwood Flier (Mike Smith, 5-1); Regal Glory (Flavien Prat, 8/5); Wakanaka (Joel Rosario, 5-1); Pizza Bianca (Umberto Rispoli, 6-1); Dolce Zel (Irad Ortiz, Jr, 6-1), and Avenue de France (Juan Hernandez, 15-1).
---
TRACK RECORD HOLDER LEADS TURF JUVENILES IN G3 CECIL B. DEMILLE
It's not every day a horse breaks a track record in a maiden race, let alone his career debut. Even Flightline didn't do that. But Speed Boat Beach did it at Del Mar this summer and he's back to take on eight other juvenile rivals in the G3 Cecil B. DeMille turf mile Sunday.
What makes the story of this 2-year-old son of Bayern more interesting is that trainer Bob Baffert came back in his next race, after he set a new track record of 1:01.86 for five and a half furlongs on the dirt, and switched surfaces, putting Speed Boat Beach on the grass. And he won, taking the $100,000 Speakeasy turf sprint at Santa Anita.
After a disappointing run in the Breeders' Cup Juvenile Turf last out, Speed Boat Beach stays on the turf for the Cecil B. DeMille but this time he's stretching out around two turns.
"He was in a speed duel there," Baffert says about his colt's Breeders' Cup race. "They weren't going real fast and he just stopped. But he came out of it well."
Speed Boat Beach finished ninth leaving open the debate of which surface he likes best.
"He runs well on both, maybe dirt," Baffert says. "I just thought this race was coming up and we can find out how he handles two turns. He'll probably end up on the dirt but this was all there was."
The Cecil B. DeMille is full of horses coming off of maiden victories. Kolomio, Ransomware, First Peace, and Game Time are facing winners for the first time but they have one advantage over Speed Boat Beach. All four won going a mile on the turf.
Lloyd's Logic comes in from the Pacific Northwest where he broke his maiden by 5 ¼ lengths and then won a $70,000 stakes race by 7 ¼ lengths at Emerald Downs in Washington. Now in the Jerry Hollendorfer barn, the son of The Factor is trying turf for the first time.
Ah Jeez has run four times at Del Mar, winning twice. He broke his maiden here in August and came back to take an entry level allowance race three weeks ago. He ran third to Speed Boat Beach in the Speakeasy.
The G3 Cecil B. DeMille is named after the film producer and director who is considered the founding father of American Cinema. It's the fifth of nine races on the closing day card.
Here's the field from the rail with jockeys and the morning line: Kolomio (Joe Bravo, 20-1); Ransomware (Ramon Vazquez, 6-1); First Peace (Mike Smith, 5-1); Ah Jeez (Juan Hernandez, 3-1); Game Time (Umberto Rispoli, 6-1); Ze'bul (Abel Cedillo, 5-1); Speed Boat Beach (Flavien Prat, 5/2); Fleet Feet (Drayden Van Dyke, 12-1), and Lloyd's Logic (Edwin Maldonado, 20-1).
---
IRAD ORTIZ, JR., JOEL ROSARIO TO RIDE SUNDAY AT DEL MAR
Two of the nation's top jockeys will make cameo appearances at Del Mar this weekend. Irad Ortiz, Jr. and Joel Rosario both plan to ride Sunday's card. The two future Hall of Famers will fly in from the east coast, where they ride during the year, following the races at Aqueduct on Saturday.
Ortiz, Jr., a three time Eclipse Award winning jockey, has ranked first in the nation in wins every year since 2017. He comes in to ride Dolce Zel for Chad Brown in the G1 Matriarch. He has four other mounts on the day. He'll ride Ashcroft for trainer Wesley Ward in the first race; Maltese Falcon for trainer Leonard Powell in the third; Papale for Mark Glatt in the eighth race, and Lincoln Hawk for the meet's leading trainer, Philip D'Amato, in the ninth.
Rosario, who rode fulltime at Del Mar from 2007 to 2011 and notched riding titles here in 2009, 2010 and 2011, will ride Wakanaka for trainer Bill Mott in the Matriarch. The reigning Eclipse Award winning jockey has four other mounts on Sunday. Carver in the first race, Hawker in the third, and Bright Leaf in the eighth, all from the John Sadler barn, and Hudson Ridge for trainer Bob Baffert in the ninth.
---
FREE & FUN SUNDAYS ON TAP TOMORROW AT DEL MAR
"Free & Fun Sundays" will be happening tomorrow at Del Mar, a racing fan's delight that brings a bounty of good things for those who belong to, or join, the track's Diamond Club.
Members get free admission and a program. The also get a free seat. And they get food and beverage discounts like a Coors Light beer for only $5 and a Brandt Beef hot dog, also for only a fiver.
For those who aren't already a Diamond Club member, the sign up only takes a few minutes and is readily available just outside the Stretch Run admission gates.
---
COOLING OUT: If you ever wonder what it takes to be a Hall of Fame jockey look no further than the example set by Mike Smith on Friday. He worked horses at Santa Anita during their morning session, then jumped in the car and traveled down to Del Mar to gallop War At Sea, who was scheduled to run in today's G1 Hollywood Derby for trainer Ron Ellis…The races end Sunday but training at Del Mar extends into next week. The main track will be open for horsemen in the mornings through Wednesday.
---
Del Mar Statistics
Jockey Standings
(Current Through Friday, December 2, 2022 Inclusive)
| | | | | | | | |
| --- | --- | --- | --- | --- | --- | --- | --- |
| Jockey | Mts | 1st | 2nd | 3rd | Win% | In-money% | Money Won |
| Juan Hernandez | 67 | 18 | 13 | 9 | 27% | 60% | $1,013,440 |
| Flavien Prat | 70 | 16 | 15 | 7 | 23% | 54% | $1,149,486 |
| Ramon Vazquez | 58 | 9 | 9 | 5 | 16% | 40% | $496,512 |
| John Velazquez | 33 | 6 | 6 | 9 | 18% | 64% | $455,720 |
| Edwin Maldonado | 52 | 6 | 4 | 5 | 12% | 29% | $355,042 |
| Hector Berrios | 38 | 5 | 6 | 5 | 13% | 42% | $324,220 |
| Kyle Frey | 29 | 5 | 3 | 1 | 17% | 31% | $187,960 |
| Umberto Rispoli | 42 | 5 | 2 | 6 | 12% | 31% | $284,808 |
| Joe Bravo | 27 | 4 | 3 | 7 | 15% | 52% | $242,855 |
| Mike Smith | 16 | 3 | 4 | 2 | 19% | 56% | $210,760 |
Trainer Standings
(Current Through Friday, December 2, 2022 Inclusive)
| | | | | | | | |
| --- | --- | --- | --- | --- | --- | --- | --- |
| Trainer | Sts | 1st | 2nd | 3rd | Win% | In-money% | Money Won |
| Philip D'Amato | 44 | 15 | 8 | 8 | 34% | 70% | $1,059,844 |
| Bob Baffert | 23 | 7 | 7 | 2 | 30% | 70% | $529,700 |
| Doug F. O'Neill | 21 | 6 | 4 | 2 | 29% | 57% | $289,600 |
| George Papaprodromou | 35 | 6 | 3 | 6 | 17% | 43% | $259,971 |
| Peter Miller | 35 | 5 | 6 | 6 | 14% | 49% | $332,558 |
| Michael W. McCarthy | 17 | 4 | 3 | 5 | 24% | 71% | $244,660 |
| Carla Gaines | 18 | 4 | 3 | 3 | 22% | 56% | $251,488 |
| Jeff Mullins | 17 | 3 | 4 | 2 | 18% | 53% | $206,760 |
| Mark Glatt | 26 | 3 | 3 | 5 | 12% | 42% | $244,988 |
| Ryan Hanson | 11 | 3 | 3 | 0 | 27% | 55% | $151,920 |
Winning Favorites Report
(Current Through Friday, December 2, 2022 Inclusive)
Winning favorites -- 36 out of 96 -- 37.50%
Winning favorites on dirt -- 20 out of 47 -- 42.55%
Winning favorites on turf -- 16 out of 49 -- 32.65%
Winning odds-on favorites -- 13 out of 18 -- 72.22%
In-the-Money favorites -- 71 out of 96 -- 73.96%
In-the-Money odds-on favorites -- 16 out of 18 -- 88.89%