By Hank Wesch
---
JIM ROME TALKS SHARED BELIEF: PART I
Nationally prominent sports talk show host Jim Rome is part owner of Shared Belief, the unbeaten (five-for-five) morning line 5-2 favorite for Sunday's $1 million TVG Pacific Classic. While vacationing last week in Europe with his family, Rome responded to some emailed questions from Del Mar officials. Here's Part I of the correspondence with Part II to come Friday.
Question: What's your "take" on a guy getting into the horse business and catching lightning in a bottle with a mare like Mizdirection (two-time Breeders' Cup Turf Sprint winer), then following that up with a lightning storm in a 50-gallon drum like Shared Belief!?
Answer: "It looks like my wife Janet and I jumped into the game and that it's the easiest thing ever. Of course, nothing could be further from the truth. I've always said it: 'Throughbred racing is a kick in the ass and a punch in the face. And prior to Miz, I was getting my face caved in. Repeatedly. For years. But then the Big Mare saved my racing life. I thought she was a once in a lifetime horse. So to find Shared Belief just as Miz went to auction was a miracle. To this day, I still can't believe we're a part of Team Shared Belief."
Question: Your trainer, Jerry Hollendorfer, is one of the hardest-working and most intense guys in the business. What's it been like for you in your dealings with him?
Answer: "Jerry Hollendorfer is a Hall of Famer in every sense of the word. A pro's pro. And the King is calling all the shots here. Jerry has handled Shared Belief beautifully and I just stay the hell out of his way."
Question: How does it make you feel that one of the great money riders in the history of the game, Hall of Famer Mike Smith, chooses to get off Game On Dude – who won this race by a record 8 1/2 lengths last year – and instead ride Shared Belief?
Answer: "Obviously, I'm a huge Mike Smith guy. He won us two Breeders' Cup trophies on Mizdirection and is one of the best big race riders in the game. And for him to leave Game On Dude for Shared Belief in this spot tells you what he thinks of our horse, because I know he loves the Dude. It was a huge vote of confidence for our horse and our group. He told me a few years back in an interview, 'I'd really like to ride one of yours one day, Rome.' And I said, 'I'd love for you to, Mike.' while privately wondering if we'd ever have one good enough to get his attention."
---
FAVORITE DRAWS OUTSIDE, DEFENDING CHAMP NO. 5 FOR CLASSIC
Shared Belief got the outside post in a field of 11 and was established as the 5-2 morning line favorite at Wednesday evening's draw party for the $1 milllion TVG Pacific Classic at the Rancho Valencia Resort and Spa.
Defending champion Game On Dude drew the No. 5 post and was the 3-1 second choice on oddsmaker Russ Hudak's line. Majestic Harbor, the winner of the Gold Cup at Santa Anita, is the 9-2 third choice and will break from the No. 7 stall.
"I think we'd rather have the outside than inside," Hall of Fame trainer Jerry Hollendorfer said of Shared Belief's draw. Mike (Smith) is the one who has to do all the maneuvering and I don't think he minds being out there."
"He's a very talented horse and I think a lot of him," said Smith. "There's speed inside and hopefully we can follow them on over (toward the rail) and find a good spot. Then it's a matter of him being good enough."
Game On Dude part-owner Bernie Schiappa, who represented the connections at the draw, said: "We're fine with No. 5, we're fine with everything."
The field, in post position order with jockey, trainer and odds: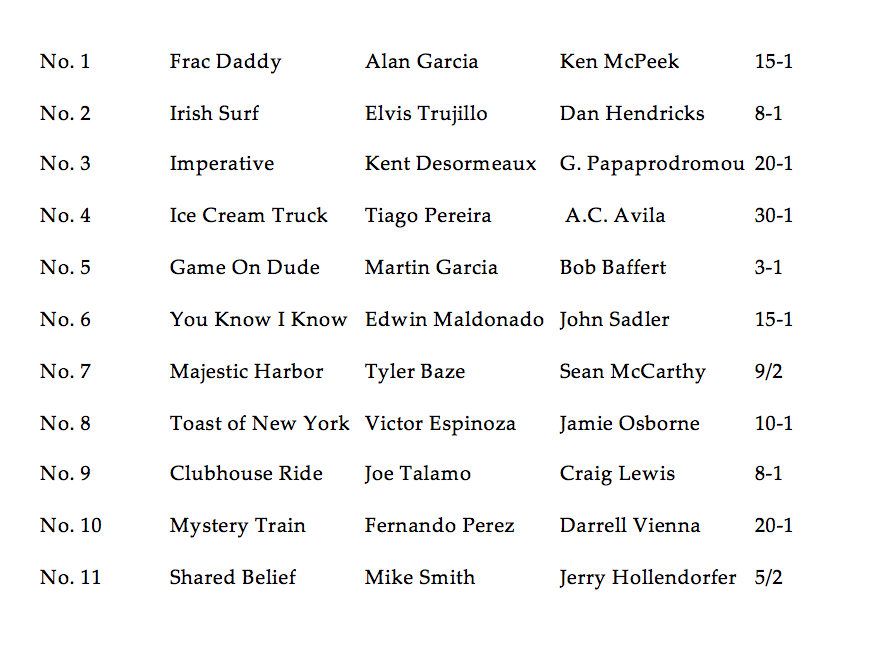 ---
PACIFIC SPECIFICS
The Grade I $1 million TVG Pacific Classic will be the 10th of 11 races on the Sunday Del Mar card, which also features two other Graded stakes, the Grade II $250,000 Pat O'Brien and Grade II $250,000 Del Mar Mile.
The Pat O'Brien and the Pacific Classic are "Win And You're In" qualifiers for Breeders' Cup races November 1 at Santa Anita. The Pacific Classic provides entrée to the $5 million Breeders' Cup Classic, the Pat O'Brien to the $1 million Breeders' Cup Dirt Mile.
NBC Sports Network will broadcast the Pacific Classic live from 5 to 6 p.m. (Pacific) with post time scheduled for 5:46 p.m.
First post for the Sunday card will be 1 p.m., an hour earlier than usual.
---
FIRE WITH FIRE FAVORED IN DEL MAR HANDICAP
David Heerrensperger's Fire With Fire, winner of the Charlie Whittingham Stakes at Santa Anita on May 24, is the 7-2 morning line favorite in an overflow field of 13 entered for Saturday's Grade II $250,000 Del Mar Handicap.
The 6-year-old Distorted Humor gelding, trained by Neil Drysdale and ridden by Tyler Baze, has seven wins from 32 lifetime starts with earnings of $655,354.
The Del Mar Handicap, a 1 3/8 mile event on the Jimmy Durante Turf Course, is a "Win And You're In" qualifier for the $3 million Breeders' Cup Turf on November 1 at Santa Anita. Two horses, Irish Surf and Ice Cream Truck, are also entered in Sunday's $1 million TVG Pacific Classic with their connections still deciding upon which race to run.
The field, from the rail out: Topic (Fernando Perez, 15-1), Poshky (Drayden Van Dyke, 20-1), Irish Surf (Victor Espinoza, 8-1), Big John B (Mike Smith, 9-2), Bright Thought (Rafael Bejarano, 6-1), Starspangled Heat (Edwin Maldonado, 15-1), Si Sage (Corey Nakatani, 12-1), Bench Light (Kent Desormeaux, 6-1), Quick Casablanca (Joe Talamo, 5-1), Unbridled Command (Elvis Trujillo, 12-1), Fire With Fire (Tyler Baze, 7-2), Cogito (Mario Gutierrez, 20-1), and also eligible Ice Cream Truck (Tiago Pereira 20-1).
---
EIGHT ENTERED IN BOTH DEL MAR MILE AND PAT O'BRIEN
Obviously and Fed Biz will defend titles in the Del Mar Mile and Pat O'Brien Stakes against seven rivals in the Grade II $250,000 events on Sunday that enhance the Pacific Classic Day card.
The Mile, over the Jimmy Durante Turf Course, will go as the fifth on the 10-race card. The 7-furlong Pat O'Brien, a "Win And You're In" qualifier for the Breeders' Cup Dirt Mile, is the ninth race on the program.
Two-time defending Del Mar Mile champion Obviously, trained by Phil D'Amato, will face strong competition from Eddie Read winner Tom's Tribute. Fed Biz, stepping back in distance off a victory in the 1 1/16-mile San Diego Handicap, will be challenged by 1-2 Bing Crosby Stakes finishers Big Macher and Goldencents.
The Del Mar Mile, from the rail out: Obviously (Joe Talamo), Tom's Tribute (Mike Smith), Tigah (Alonso Quinonez), Handsome Mike (Mario Gutierrez), Alpha Bullet (Elvis Trujillo), Rock Me Baby (Corey Nakatani), Lil Bit O' Fun (Aaron Gryder) and He Be Fire N Ice (Kent Desormeaux).
The Pat O'Brien, from the rail out: Diamond Bachelor (Julien Couton), Fed Biz (Martin Garcia), Silentio (Victor Espinoza), Syndicated (Kent Desormeaux), Goldencents (Rafael Bejarano), Color Of Courage (Joe Talamo), Big Macher (Tyler Baze) and Indexical (Mario Gutierrez).
---
SIBLING REVELRY: KENT DESORMEAUX WINS NO. 500 FOR BROTHER KEITH
Kent Desormeaux's victory on Texas Red in Wednesday's sixth race provided his brother J. Keith Desormeaux with his 500th career victory. It temporarily put Desormeaux atop the meet's rider standings, but two-time defending champion Rafael Bejarano drew back even by winning the closing race on the program aboard Madame Forbes for Peter Eurton.
Desormeaux and Bejarano have 22 wins each, Elvis Trujillo is in third with 20 and Mike Smith next with 19.
"Every race is a little different winning for your brother," Desormeaux said. "But to be able to do that, with a horse that we're really hoping can be a special horse … When things go the way you're expecting them to it's a really good feeling inside. We were expecting it and it happened."
The trainer race remained unchanged as Peter Miller failed to get a win from five starters and Jerry Hollendorfer missed with one. Hollendorfer and Miller are tied with 12 wins each. John Sadler and Bob Hess Jr. are three wins behind.
A correction: It was stated here Wednesday that Hollendorfer, the longtime king of Northern California trainers, had not won a title on the Southern California circuit. In fact, Hollendorfer tied for a title with John Sadler at Santa Anita.
---
EXCUSED ABSENCES FOR TORRE, SPENCER
Baseball Hall of Famer Joe Torre, part owner of Game On Dude, and jockey Jamie Spencer, originally named to ride Toast of New York in the Pacific Classic, will be absent from attendance with good reason.
Torre, former New York Yankees and Los Angeles Dodgers manager, will be at Yankee Stadium on Saturday for the retirement of the No. 6 jersey he wore during his tenure there. He will become the third manager and the 18th player or manager to have his number retired.
Spencer, a two-time jockey champion in Europe, announced his retirement Thursday. Spencer, 34, will step down as a "retained" rider for Qatar Racing Ltd., to become advisor to Sheikh Farhad Al Thani.
When Toast of New York trainer Jamie Osborne learned, on Tuesday, that he would need a replacement rider he put the word out on Twitter and wound up with Victor Espinoza.
---
MORRIS, FREE ARE WEEKEND SEMINAR GUESTS
Thoroughbred Owners of California President Joe Morris will be the guest on Saturday and Daily Racing Form handicapper and correspondent Brad Free will join Jon Lindo Sunday for the weekend's free handicapping seminars.
Saturday's will begin at 12:45 and Sunday's will begin at 11:45 in accommodation of the earlier Pacific Classic Day first post of 1 p.m.
The seminars, lasting approximately 45 minutes, are staged at the Seaside Terrace area near the top of the stretch.
---
CLOSERS – Ship And Win eligible horses on Thursday's card are: Pillar of Strength (1st, R.B. Hess, Jr., trainer), Stormy Adieu (5th, Ingrid Mason), Tinkerbelle Tops (6th, Patrick Gallagher) … Steward Scott Chaney is back in the booth after taking last week off to finish training for and compete in the Ironman 70.3 Timberman at Gilford, N.H., an event in half-distances of the Ironman Championships in Hawaii later this fall for which Chaney has qualified. Chaney completed the 1.2 mile swim in Lake Winnipesaukee, 56 mile bike ride and 13.1-mile run in 4 hours, 26 minutes to finish 30th overall of around 2,000 participants, 13th among amateurs and second in his age group …Selected workouts from 117 timed Thursday: Sky Kingdom (4f, :49.60), Suggestive Boy (3f (T) :43.20, Fire With Fire (4f, (T) :51.20, Miss Serendipity (4f, (T) :50.20.
---
DEL MAR STATISTICS
Jockey Standings
(Current Through Wednesday, August 20, 2014 Inclusive)
| | | | | | | |
| --- | --- | --- | --- | --- | --- | --- |
| Jockey | Mts | 1st | 2nd | 3rd | Win% | Money Won |
| Rafael Bejarano | 127 | 22 | 26 | 24 | 17% | $1,522,652 |
| Kent Desormeaux | 107 | 22 | 18 | 16 | 21% | $1,458,260 |
| Elvis Trujillo | 131 | 20 | 14 | 19 | 15% | $1,086,970 |
| Mike Smith | 79 | 19 | 6 | 9 | 24% | $1,432,982 |
| Tyler Baze | 143 | 15 | 19 | 17 | 10% | $1,119,660 |
| Fernando Perez | 105 | 15 | 8 | 4 | 14% | $671,932 |
| Joseph Talamo | 147 | 14 | 19 | 17 | 10% | $1,207,922 |
| Drayden Van Dyke | 120 | 14 | 17 | 17 | 12% | $824,068 |
| Martin Garcia | 91 | 12 | 9 | 14 | 13% | $843,094 |
| Victor Espinoza | 90 | 11 | 9 | 9 | 12% | $829,556 |
Trainer Standings
(Current Through Wednesday, August 20, 2014 Inclusive)
| | | | | | | |
| --- | --- | --- | --- | --- | --- | --- |
| Trainer | Sts | 1st | 2nd | 3rd | Win% | Money Won |
| Jerry Hollendorfer | 58 | 12 | 13 | 7 | 21% | $858,268 |
| Peter Miller | 83 | 12 | 8 | 15 | 14% | $656,022 |
| John W. Sadler | 75 | 9 | 7 | 16 | 12% | $794,888 |
| Robert B. Hess, Jr. | 40 | 9 | 6 | 4 | 23% | $351,520 |
| Doug F. O'Neill | 91 | 8 | 12 | 14 | 9% | $656,136 |
| Mike Puype | 41 | 7 | 4 | 7 | 17% | $353,232 |
| Vann Belvoir | 30 | 7 | 1 | 2 | 23% | $172,310 |
| Mark Glatt | 41 | 6 | 9 | 6 | 15% | $464,282 |
| Thomas F. Proctor | 36 | 6 | 5 | 3 | 17% | $504,922 |
| Philip D'Amato | 43 | 6 | 4 | 10 | 14% | $458,550 |
Winning Favorites Report
(Current Through Wednesday, August 20, 2014 Inclusive)
Winning favorites -- 63 out of 222 -- 28.38%
Winning favorites on Polytrack -- 50 out of 174 -- 28.74%
Winning favorites on turf -- 13 out of 48 -- 27.08%
Winning odds-on favorites -- 5 out of 13 -- 38.46%
In-the-Money favorites -- 135 out of 222 -- 60.81%
In-the-Money odds-on favorites -- 9 out of 13 -- 69.23%
---
Thursday, August 21, 2014 Contact: Dan Smith 858-792-4226/Hank Wesch 858-755-1141 ext. 3793