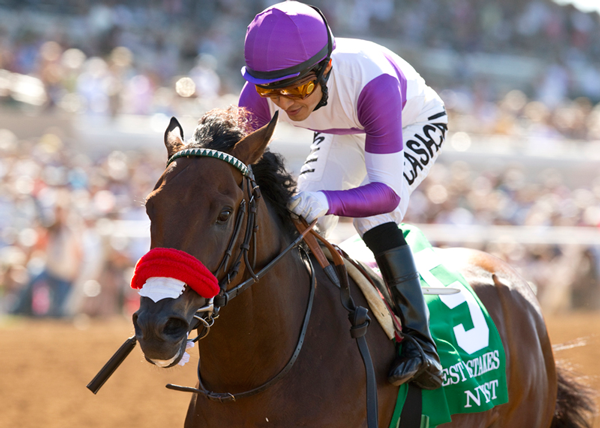 By Hank Wesch
---
NYQUIST'S NO. 1 WITH O'NEILL AND POSSIBLE FUTURITY SINGLE
Trainer Doug O'Neill reported that Nyquist, winner of Saturday's Grade II $200,000 Best Pal Stakes, came out of the race "great," and with the possibility of being the stable's lone representative in the Grade I $300,000 Del Mar Futurity on Closing Day, September 7.
Which would be a little surprising considering the depth of 2-year-old talent in O'Neill's barn.
On Wednesday O'Neill saddled Mrazek and Ralis to a 1-2 finish in the $100,000 Graduation Stakes for California-breds. Nyquist was a 5 ¼ length winner in the Best Pal, stablemate Found Money a distant fifth of six.
"I think it's safe to say he's the best of our 2-year-olds," O'Neill said after the Best Pal. "Physically and mentally he's our best. If he stays injury-free, he's got the mind of a champ."
Sunday morning, O'Neill said that if all goes to plan: "He would be our lone entry in the Futurity. But we'll talk it over with Mr. (owner J. Paul) Reddam and decide. We've got a lot of good 2-year-olds and we want to keep them apart."
The win by Nyquist was the ninth of the meeting for Reddam, who is halfway to the record for an owner in a single meeting set by Marion R. Frankel in 1973.
Best Pal runner-up Swipe came out of the race well, said Joasin Diego, assistant to trainer J. Keith Desormeaux. "These young horses get over (races) quickly, he'll be kicking and playing in a couple days." Regarding Futurity plans previously expressed by Desormeaux, Diego said "I don't think it will change."
Nyquist went 6 ½ furlongs in 1:16.84. Two races earlier Young Brian, a 2-year-old son of Hard Spun out of the barn of trainer Phil D'Amato, covered 6 ½ furlongs in 1:17.00 winning by 10 ¼ lengths under Rafael Bejarano.
Young Brian, owned by John M. Liviakis, is Futurity nominated.
---
WE MAY NOT HAVE SEEN THE LAST OF MABEE WINNER ELEKTRUM

After the neck victory by Elektrum over Queen of the Sand in Saturday's Grade II $250,000 John C. Mabee Stakes, trainer John Sadler said the filly's next race would be the 1 ¼-mile Rodeo Drive in the fall at Santa Anita.
Sunday morning, Sadler said the 4-year-old Irish-bred daughter of High Chaparral showed no ill effects of the effort and may race again during the meeting.
"I might run her back in the Yellow Ribbon ($200,000, Grade II, September 6)," Sadler said.
The Mabee was 1 1/8 miles on the turf. The Yellow Ribbon is 1 1/16 miles, also on grass.
---
THREE FROM OCEANSIDE COME BACK IN LA JOLLA HANDICAP
Royal Albert Hall, Tried and True and Papacoolpapacool, the 3-4-5 finishers in the Opening Day $100,000 Oceanside Stakes, are the returnees from that event in a field of 10 for today's $150,000, Grade II La Jolla Handicap.
At 1 1/16 miles the La Jolla is 110 yards longer than the Oceanside. All three of the returnees made up ground in the stretch but couldn't catch winner Soul Driver, who nosed out Forest Blue.
---
WHAT'S IN A NAME – LA JOLLA HANDICAP
The La Jolla Handicap is the second of three in the meeting's turf stakes series for 3-year-olds, between the Oceanside Stakes and Del Mar Derby. The series has been swept twice in the past 17 years – by Ladies Din in 1998 and Blackdoun in 2004.
---
TVG PACIFIC CLASSIC CANDIDATES GET IN PENULTIMATE WORKS
Gold Cup at Santa Anita winner Hard Aces worked seven furlongs in 1:26.60 Sunday morning under exercise rider Julio Vera for trainer John Sadler.
"It was a good work. He'll have one more before the Classic," Sadler said of the exercise by the son of Hard Spun in company with stablemate Scooter Bird, who was clocked in 1:27.20. The final pre-Classic major exercise for Hard Aces will be next Saturday or Sunday. Victor Espinoza has the mount on Hard Aces for the Pacific Classic.
Classic-bound Imperative worked a mile in 1:40.80 under jockey Corey Nakatani for trainer Richard Baltas. Assistant David Meah said he timed the 5-year-old gelded son of Bernardini in a fraction over 1:39 and had him going the last three-eighths in 36 seconds.
Last Monday Imperative, third in last year's Pacific Classic and second to Moreno in his most recent start, the Charles Town Classic on April 18 in West Virginia, also worked a mile in 1:40.80.
Other Pacific Classic candidates to work on Sunday were Midnight Storm (6f, 1:12.00), Big John B (6f, 1:12.40) and Big Cazanova (5f, 1:01.00).
---
AMERICAN PHAROAH TODAY
The Triple Crown champion galloped 1 1/2 miles under exercise rider George Alvarez on his third day back at the track since returning to Del Mar on Monday after a victory in the $1.75 million Haskell Invitational at Monmouth Park in New Jersey.
American Pharoah stepped onto the track amid a crowd of horses at 7:50 a.m. and was finished with his exercise in about 10 minutes time. Jim Barnes, assistant to Bob Baffert, watched from the grandstand with owner Ahmed Zayat and his family and friends. Baffert is away at a horse sale.
Jeff Bloom, emcee for the Daybreak at Del Mar program, said that attendance has been strong for the weekend programs, likely in response to the opportunity it provides to see American Pharoah.
---
EIGHT ENTERED FOR WEDNESDAY'S SORRENTO
Eight 2-year-old fillies, all with victories in their last starts and the possibility of the Del Mar Debutante in their future, were entered Saturday for Wednesday's Grade II $200,000 Sorrento Stakes.
Six of the eight – One True Kiss, Pretty N Cool, Sooner Time, Stays In Vegas, Undisputed and Uptown Twirl – are recent debut maiden winners with Bob Baffert-trained Pretty N Cool and Peter Eurton-trained Sooner Time having done so at Del Mar.
The field, from the rail out: Right There (Kent Desormeaux), Gomo (Mario Gutierrez), Undisputed (Flavien Prat), Sooner Time (Corey Nakatani), One True Kiss (Tyler Baze), Uptown Twirl (Victor Espinoza), Pretty N Cool (Martin Garcia) and Stays In Vegas (Rafael Bejarano).
---
READ WINNER GABRIEL CHARLES UNDERGOES SURGERY FOR COLIC
Grade 1 Eddie Read Stakes winner Gabriel Charles underwent emergency surgery at San Luis Rey Equine Clinic for colic on Saturday afternoon, correspondent Natalie Voss revealed in a story in Sunday's Paulick Report.
An entrapment of the horse's large intestine over the small intestine was determined to be the cause of the colic according to trainer Jeff Mullins who acted quickly, in concert with veterinarian Dr. Melinda Blue in getting the horse to the San Luis Rey center for the surgery.
According to Mullins, the next 36 hours are critical and the horse is not considered "out of the woods" at this stage. Provided he makes it through the period with no complications, his prognosis is good.
Gabriel Charles won the 2014 Del Mar Derby under Mike Smith last September and returned to take the $400,000 Eddie Read on July 18, his fourth win in 11 career starts. The $240,000 winner's share of the Read person boosted the earnings of the 5-year-old son of Street Hero, co-owned by Michael House and Sam Britt, to $584,400.
---
CLOSERS – The victory, via disqualification, for Edwin Maldonado aboard Warrensdollarsigns in Saturday's second race here was the 995th for the jockey as he closes in on the 1,000 career milestone … Hall of Fame jockey Mike Smith will celebrate his 50th birthday tomorrow, August 10 …Ship And Win eligible horses on Sunday's card are: Thundering Gale (1st, Bob Hess, Jr., trainer) and Colour Party (6th, Michael Stidham) … Monday marks the 20th anniversary of the most bizarre incident in Del Mar history. In the eighth race on August 10, 1995, a member of the crowd, Russell Caputo, jumped over the outer rail onto the track and raced toward the finish line in front of an eight-horse field. Mostly due to the skill and horsemanship of jockeys Chris McCarron and Alex Solis, no humans or horses were injured. Pictures of the incident, taken by Del Mar photographer Dave Smith, were widely circulated in both U.S. and international newspapers … Selected workouts from 196 officially timed on the main track and 29 on the turf course: Dirt – Imperative (1m 1:40.80), Hard Aces (7f (1:26.60), Midnight Storm (6f, 1:12.00), Big John B (6f, 1:12.40), Wild Dude (5f, 1:03.60), Spirit of Xian (5f, 1:02.40), Big Cazanova (5f, 1:01.00), Thegirlinthatsong (4f, :47.20), Iron Fist (4f, :48.00), Big Macher (3f, :36.40); Turf – Ganesh (1m, 1:44.40), Stellar Wind (7f, 1:32.20), Soul Driver (6f, 1:17.80) and Obviously (5f, 1:00.80).
---
DEL MAR STATISTICS
Jockey Standings
(Current Through Friday, August 7, 2015 Inclusive)
Jockey
Mts
1st
2nd
3rd
Win%
Money Won
Rafael Bejarano
93
18
16
13
19%
$1,032,912
Tyler Baze
107
16
20
14
15%
$978,400
Joseph Talamo
92
14
9
8
15%
$811,500
Flavien Prat
89
14
8
15
16%
$994,482
Mario Gutierrez
51
12
7
3
24%
$658,596
Santiago Gonzalez
78
11
5
8
14%
$610,706
Mike Smith
35
7
6
4
20%
$684,850
Corey Nakatani
45
7
6
4
16%
$350,146
Kent Desormeaux
46
7
5
7
15%
$374,914
Fernando Perez
68
6
10
9
9%
$313,468
Trainer Standings
(Current Through Friday, August 7, 2015 Inclusive)
Trainer
Sts
1st
2nd
3rd
Win%
Money Won
Doug F. O'Neill
51
12
10
5
24%
$698,820
Peter Miller
67
8
9
8
12%
$549846
Jerry Hollendorfer
40
8
5
3
20%
$583,382
Richard Baltas
36
8
3
10
22%
$380,702
Philip D'Amato
37
7
5
5
19%
$468,100
Mike Puype
37
6
3
7
16%
$339,250
John W. Sadler
24
6
2
4
25%
$301,870
Mark Glatt
27
4
4
3
15%
$445,632
Adam Kitchingman
14
4
4
0
29%
$101,690
Winning Favorites Report
(Current Through Friday, August 7, 2015 Inclusive)
Winning favorites
42
159
26.42%
Winning favorites on dirt
33
113
29.20%
Winning favorites on turf
9
46
19.57%
Winning odds-on favorites
6
15
40.00%
In-the-Money favorites
91
159
57.23%
In-the-Money odds-on favorites
14
15
93.33%
---
Contact: Dan Smith 858-792-4226/Hank Wesch 858-755-1141 ext. 3793