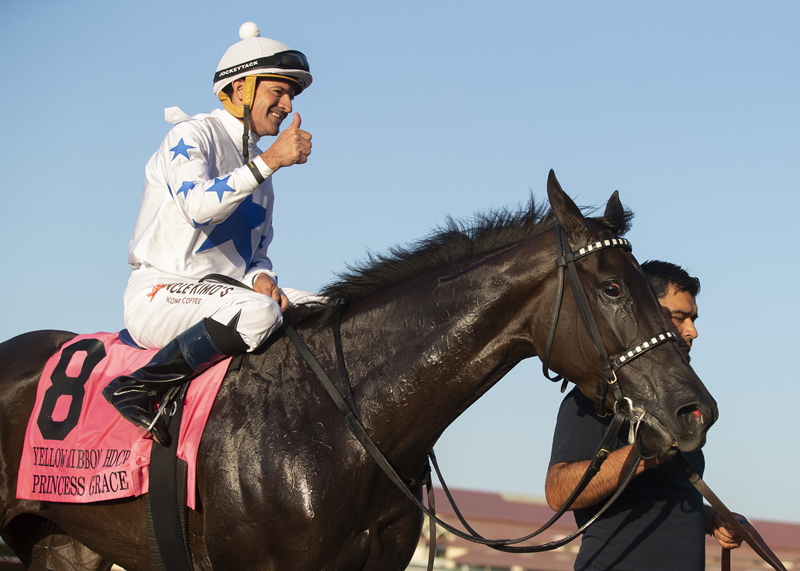 Princess Grace © Benoit Photo
STIDHAM SAVORS CIRCUMSTANCES OF PRINCESS GRACE'S SCORE
The win by Princess Grace in Saturday's Yellow Ribbon Handicap was the sixth at that level at Del Mar for trainer Michael Stidham.
And maybe it was just the heat of the moment, but it seemed in the winner's circle afterward that seeing the 4-year-old daughter of Karakontie bursting between horses at the top of the stretch in the Grade II, $200,000, 1 1/16-mile event and proceeding resolutely to a 1 ¼-length victory, topped the previous five here for the 63-year-old Stidham.
"I always, always love coming back to Del Mar," Stidham, 63, said. "I was here all through the 1980s and it's almost like coming home. It's a great feeling. Part of my family – my daughter from college and my mother – are here and it's just a fantastic feeling."
Stidham trained Princess Grace's mother, Masquerade, and said that the two were similarly tenacious, "always digging in and trying to win every time out." Princess Grace, he said, was more talented – as evidenced by five wins and a second in six career starts over six different racetracks. "She should be undefeated, the one loss was just unlucky," Stidham said.
Based in New Orleans, Stidham campaigns horses extensively in the Midwest and East, but has had success shipping here for stakes events over the last seven years.
In 2014 he won the San Clemente Stakes and the Sandy Blue with Istanford. He took back-to-back runnings of the Jimmy Durante during the fall meeting in 2018 and 2019 with Elsa and Alms, respectively. Pixelate's victory in last year's Del Mar Derby made it three straight years of at least one Del Mar stakes victory for Stidham, a streak that Princess Grace extended.
"I have to say, one of the reasons I'm here is David Jerkens, the racing secretary," Stidham said. "He's constantly calling me and wanting me to bring a string out – which I did a few years ago – and keeping me updated on races. He does a great job, and I want to give him credit for being part of the reason I came."
Princess Grace exited the Yellow Ribbon in fine fettle. Her next assignment is undetermined.
"I haven't looked past (the Yellow Ribbon)," Stidham said. "This was going to be her test to step up to another league and she obviously passed the test really well."
---
BEST PAL WINNER PAPPACAP STAYS HERE; FUTURITY A POSSIBILITY
Pappacap, an impressive 4 ¾-length winner of Saturday's Grade II, $200,500 Best Pal Stakes, was comfortably ensconced in his stall Sunday morning while Allen Hardy-Zukowski saw to the regular routine in his role as overseer for the Del Mar string of Hall of Fame trainer Mark Casse.
Pappacap, a 2-year-old son of Gun Runner, "looks good and ate up well," Hardy-Zukowsky said. "Now he'll rest a day or two before going back to the track and we'll see what happens from there."
Casse watched the race in New York, where he had been inducted into racing's Hall of Fame at Saratoga Springs a day earlier, and was soon on the phone with Hardy-Zukowsky.
"He was ecstatic, very happy for the horse and for the owner (Rustlewood Farm)," the assistant reported. The Grade I, $300,000 Runhappy Del Mar Futurity on closing day, Monday, September 6, would be a logical next step for Pappacap. In the past 12 years, four horses have gone on from victory in the Best Pal to take the Futurity: Lookin At Lucky (2009); J P's Gusto (2010); Nyquist (2015), and Klimt (2016).
---
JOCKEY NEWS: NO. 2 IN NY FOR PRAT; VETERANS RULE HERE SATURDAY
Del Mar's leading rider Flavien Prat notched another stakes victory in the second of his three-day soiree to Saratoga, the upstate New York track known as The Spa, for major race assignments.
Prat took the Grade II, $200,000 National Museum of Racing Hall of Fame Stakes on Friday aboard Public Sector ($3.80) for trainer Chad Brown. Saturday, the same combination scored in the $120,000 Fasig-Tipton Lure Stakes with Flavius ($4.70).
Prat was fourth, beaten 6 ¾ lengths by Bella Sofia, aboard Always Carina for Brown in the $500,000 Longines Test Stakes. One race later on the card, Del Mar-based Hall of Famer Mike Smith was fifth, beaten 4 ½-lengths by 21-1 long shot State of Rest, aboard Secret Protector for English trainer Charles Appleby.
Meanwhile, Del Mar's pair of Grade II events on Saturday were won by riders with a combined total age of 100 and combined total experience of 62,819 races and 11,591 wins.
Joe Bravo, 49 for another month, took the first of the back-to-back stakes, the $200,500 Best Pal, getting Pappacap to settle nicely behind dueling front runners then swooping to a 4 3/4-length score. According to Equibase statistics, Bravo ended the day with 30,507 career races and 5,505 wins.
"His (only previous) race in Florida, he was just pure speed," Bravo said. "You don't know if that's the way they like to go. I was glad to see how well he settled in behind those two up front. He showed another dimension today."
Hall of Famer Kent Desormeaux, 51, won the $200,000 Yellow Ribbon on Princess Grace for trainer Mike Stidham. At Desormeaux's urging, the 4-year-old filly shot through a gap between horses at the top of the stretch to take the lead and was never headed in winning by 1 ¼ lengths.
"Michael told me one thing before the race that I used to advantage," Desormeaux related. "He said, 'She's brave.' When that hole opened turning for home I sent her through and she went right on with it."
Desormeaux, who missed much of 2020 while addressing personal issues, has 32,312 career starts and 6,086 wins according to Equibase statistics.
"I'm so happy for Kent," Stidham said. "He's so talented, an amazing rider, and the way he came through that hole with (Princess Grace) was terrific."
Bravo stands fifth in the Del Mar rider standings with nine wins from 53 mounts. Desormeaux is in seventh place with seven victories in 45 starts.
---
WHILE ON THE SUBJECT OF AGE AND JOCKEYS …
Hall of Fame rider Mike Smith will mark birthday No. 56 on Tuesday. Here's what he said recently about the prospect:
"I know the number is getting higher, but I don't think about it that much," Smith said. "I've been training since I was in my 20s, going five or six days a week, no breaks. And I feel, fitness-wise, I'm pretty much the same right now as I was in my 30s.
"The only thing I'm doing that's different is that I'm not lifting as much weight as I used to. Then I was lighter, tacking 114 and could afford to put some muscle on, so once a week I'd see how much I could lift. Now, I'm a little older and a little heavier, tacking 118, and I don't do that anymore."
Smith said he runs about five miles a day with a goal of "a marathon a week," or 26 miles over the period. "I love it when we're down here because I can run on the beach," he said.
"I accept it (fitness) as a way of life," he said. "If something is hurting, I'll work some other part of my body. The only time I've stopped is when I've been injured."
---
HORSEMEN CLAIMING UP A STORM AT THE CURRENT DEL MAR MEET
Claiming races make up the majority of events run at most any race meet. Del Mar is no exception.
This year through the first 13 days of Del Mar's 31-day session there have been 106 claims registered where horses change hands and barns. Additionally, there were 14 others, but they were voided for one reason or another, usually for soundness issues.
The total spent so far on claims is $2,803,500.
Lucy Vaillancourt, Del Mar's stewards' aide, keeps track of the claims and she's been surprised by the "hot and heavy" nature in the claiming ranks so far.
"I think there's a chance we might beat the record of 348 claims in one season," she says. "It (claiming) usually picks up as the meet goes along and this meet has a feel of only going stronger, not slowing down."
The meet record of 348 was set in 2005. The total spent that year was $10,383,000.
Del Mar offers claiming races from a low of $8,000 to a high of $150,000, though there aren't many of the latter.
In the case of a situation where more than one claim is put in for a horse in a race, there is a "shake" to see who gets to take him or her home. Vaillancourt is the one who conducts 'shakes' immediately after a race just outside the winner's circle by first assigning a number to each trainer putting in a claim, then placing numbered "pills" into a container and giving them a shake before pulling one out.
"I had a 24-way 'shake' earlier in the meet," she noted. "And it's interesting to realize that we've had 418 (claiming) cards put in for those 106 claims."
The biggest 'shake' ever?
"We had one here that went 32 ways," she remembers. "It was in 2014 and (the late trainer) Mike Mitchell was the winner."
Vaillancourt stated a fact that not many folks realize concerning the claiming game. The "governor" (aka, the state of California) collects 8.75% sales tax on each and every claim. That translates so far to Sacramento taking in $245,306.
---
CLOSERS – Selected works from 215 on dirt and 47on turf officially timed Sunday morning: Dirt – Madone (4f, :50.00); Restrainedvengence (4f, :49.40); Tizamagician (4f, :48.40); Flagstaff (5f, 1:00.20); Rock Your World (5f, 1:00.20), and Gamine (6f, 1:11.40). Turf – Red Lark (3f, :37.40); Neige Blanche (4f, :51.40); Acclimate (5f, 1:02.80); Gregorian Chant (5f, 1:02.80); Masteroffoxhounds (5f, 1:02.40), and Red King (5f, 1:03.80).
---
Del Mar Statistics
Jockey Standings
(Current Through Sunday, August 7, 2021 Inclusive)
| | | | | | | | |
| --- | --- | --- | --- | --- | --- | --- | --- |
| Jockey | Mts | 1st | 2nd | 3rd | Win% | In-money% | Money Won |
| Flavien Prat | 73 | 21 | 16 | 10 | 29% | 64% | $1,541,998 |
| Juan Hernandez | 86 | 14 | 7 | 12 | 16% | 38% | $1,068,074 |
| Abel Cedillo | 89 | 13 | 18 | 9 | 15% | 45% | $798,370 |
| Umberto Rispoli | 78 | 12 | 17 | 9 | 15% | 49% | $937,722 |
| Joe Bravo | 53 | 9 | 3 | 13 | 17% | 47% | $617,272 |
| Kyle Frey | 48 | 8 | 1 | 5 | 17% | 29% | $479,100 |
| Kent Desormeaux | 45 | 7 | 6 | 7 | 16% | 44% | $471,980 |
| Jessica Pyfer | 55 | 6 | 2 | 3 | 11% | 20% | $249,752 |
| Geovanni Franco | 30 | 5 | 1 | 1 | 17% | 23% | $209,220 |
| Trevor McCarthy | 68 | 4 | 7 | 9 | 6% | 29% | $316,260 |
Trainer Standings
(Current Through Sunday, August 7, 2021 Inclusive)
| | | | | | | | |
| --- | --- | --- | --- | --- | --- | --- | --- |
| Trainer | Sts | 1st | 2nd | 3rd | Win% | In-money% | Money Won |
| Peter Miller | 57 | 10 | 10 | 8 | 18% | 49% | $703,106 |
| Mark Glatt | 32 | 8 | 7 | 2 | 25% | 53% | $549,550 |
| Bob Baffert | 28 | 7 | 8 | 4 | 25% | 68% | $513,480 |
| Richard Baltas | 47 | 5 | 7 | 5 | 11% | 36% | $452,260 |
| Peter Eurton | 20 | 5 | 0 | 1 | 25% | 30% | $168,260 |
| Michael W. McCarthy | 25 | 4 | 7 | 1 | 16% | 48% | $327,980 |
| Philip D'Amato | 44 | 4 | 4 | 4 | 9% | 27% | $437,336 |
| Simon Callaghan | 15 | 4 | 2 | 3 | 27% | 60% | $354,772 |
| Doug F. O'Neill | 61 | 3 | 12 | 11 | 5% | 43% | $344,592 |
| John W. Sadler | 37 | 3 | 6 | 4 | 8% | 35% | $254,512 |
Winning Favorites Report
(Current Through Sunday, August 7, 2021 Inclusive)
Winning favorites -- 42 out of 125 -- 33.60%
Winning favorites on dirt -- 24 out of 73 -- 32.88%
Winning favorites on turf -- 18 out of 52 -- 34.62%
Winning odds-on favorites -- 11 out of 21 -- 52.38%
In-the-Money favorites -- 82 out of 125 -- 65.60%
In-the-Money odds-on favorites -- 17 out of 21 -- 80.95%