Saturday, August 8th, 2020 ( 2 months ago )
Stable Notes
August 8, 2020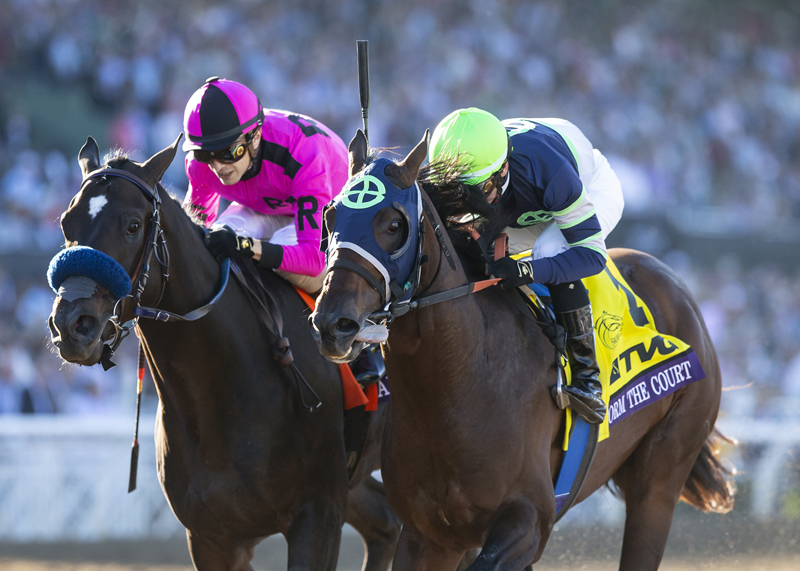 Storm the Court (right) in the 2019 Breeders' Cup Juvenile © Benoit Photo
JUVENILE CHAMP STORM THE COURT TRIES TURF IN SUNDAY'S LA JOLLA
The burgeoning but eventful, to say the least, career of Storm the Court comes full circle Sunday when the 3-year-old son of Court Vision gets tested on turf for the first time in the Grade III, $125,000 La Jolla Handicap.
Barely less than a year ago, on August 10, 2019, the colt trained by Peter Eurton for Exline-Border Racing, David Bernsen and partners, made his racing debut here a victorious one. Twenty-three days later, Storm the Court was bumped by bolting 1-2 favorite Eight Rings shortly after the start of the meet-climaxing Del Mar Futurity with both horses losing their riders.
Following that there was, as racing fans know, a 45-1 upset victory in the $2 million Breeders' Cup Juvenile, the honor of an Eclipse Award as top 2-year-old of 2019 and a 0-for-4 record in 2020 on the Kentucky Derby trail.
The La Jolla could turn out to be a fresh start on a new surface, or a continuation/affirmation of the still smoldering Derby fires.
"We're going to the grass to give us some options," Eurton said Friday. "It seems like a good opportunity because, for one, we're here. We still haven't ruled out the Kentucky Derby. Even if he wins this race we won't know what we'll do. That will be something to discuss probably for the next week or two afterward."
Storm the Court has accumulated 36 points in Kentucky Derby qualifying races and ranks 17th in the current standings through Friday. The Run for the Roses field is set at 20.
"It's been an unusual year because of the change in schedule," said Bernsen. "I don't think anyone has been able to stick with the plan they had after the Breeders' Cup. It will be exciting to see what he can do this weekend on the turf and it will give us some options going forward.
"His daddy won the Breeders' Cup Turf at big odds as well, and also won on dirt. So he was versatile and we think (Storm the Court) is too. That suggests it's worth giving it a shot to see what we have.
"It's nice to be able to do that and not have to travel. He's traveled quite a bit since the Breeders' Cup – Arkansas, Ohio – so it's good for us to be able to stay here and do this."
Storm the Court's sire, Court Vision, was a five-time Grade I stakes winner. As a 2-year-old he took the Iroquois and Remsen on dirt. Switched to turf as a 3-year-old, after a 13th-place finish in the Kentucky Derby, Court Vision won at least one Grade I on grass each year from ages 3-6. He ran in the Breeders' Cup Mile three times and, in his last try, upset the great mare Goldikova at odds of 30-1.
Storm the Court has worked four times at Del Mar. He had an acclimation 4 furlong go on the turf on July 12, 5-furlong grass exercises on July 19 and 26 and a 5-furlong tightener on dirt last Sunday.
The first two were to Eurton's satisfaction, the third he described as a "hiccup" work. "He outworked his company, but he was too busy gawking," Eurton said. "But the last one (:59.40, second-best of 72 at the distance) was really good."
The field from the rail: I'm Leaving You (Giovanni Franco, 15-1); K P All Systems Go (Abel Cedillo, 6-1); Azul Coast (Drayden Van Dyke, 4-1); Ajourneytofreedom (Ruben Gonzalez, 12-1); Kanderel (Juan Hernandez, 10-1); Smooth Like Strait (Umberto Rispoli, 5-2); Storm The Court (Flavien Prat, 3-1), and Indian Peak (Mike Smith, 6-1).
---
SORRENTO WIN HAS DESORMEAUX TURNING RED WITH PRIDE
My Girl Red, who cruised to a 4 ¾-length victory in Friday's Grade II, $150,000 Sorrento Stakes, is a daughter of 2014 Breeders' Cup Juvenile winner Texas Red. Both were/are trained by Keith Desormeaux.
"Texas Red changed my life," Desormeaux said after the Sorrento. "Texas Red was the culmination of a lifetime of telling myself, and other people, that you don't have to pay boxcar prices (for horses) to win major races.
"I'll always be appreciative of that, and it's icing on the cake to have the same ownership group breed this kind of mare in his first group. Hopefully, it's onwards and upwards for him."
In making it 2-for-2 for her career, favored My Girl Red ($3.80), was in control virtually from the start without much encouragement and was merely taking stock of her surroundings during the final sixteenth of a mile.
"She's always shown that she has a lot of class and she has the physical attributes that I look for in a good horse," Desormeaux said. "For her to win first time out is the (epitome) of class. It shows that you don't have to work forty-five and change in the morning to show that kind of speed in the afternoon."
Like father, like daughter? Not around the barn.
"Texas Red didn't want you to touch him. He's was pretty ornery," Desormeaux said. "He wasn't a loveable type. This filly really seems to like to be around people. None of those ornery traits for her."
Asked if the Grade I, Del Mar Debutante (September 6) was next, Desormeaux didn't hesitate. "Oh, of course," he said.
---
PACIFIC CLASSIC STIRRINGS AS COUNTDOWN HITS 14 DAYS
With the 30th running of the TVG Pacific Classic only two weeks away (Saturday, August 22), initial preparations are underway and the crescendo of interest is starting for the signature event of the summer season.
The racing office has prepared its annual list of "probables" and "possibles" for the 1 ¼-mile Classic, which has showcased the likes of Best Pal (1991 inaugural), Candy Ride (2003), Lava Man (2006), Shared Belief (2014), Beholder (2015) and California Chrome (2016).
Defending champion Higher Power tops the "probables" list. Others, in alphabetical order, are: Dark Vader, Maximum Security, Midcourt, Mirinaque, and Sharp Samurai.
The "possibles" listed are: Ax Man, McKinzie and United.
Saturday morning, three "probables" were sent through serious exercises.
Del Mar clockers had Peter Eurton-trained Dark Vader going 5 furlongs in :59.80. Toby Turrell noted the 5-year-old son of Tale of Ekati "worked in cover of darkness by himself with splits of :23.20, :35.40 and a gallop out to 6 furlongs in 1:13.40."
John Shirreffs' Midcourt, runner-up to Maximum Security in the San Diego Handicap, covered 4 furlongs in :50.60. Turrell had him "sauntering" at first, but clicking off a final eighth in 12 seconds flat.
Mark Glatt-trained Sharp Samurai traveled 5 furlongs in 1:01.40. Turrell: "Worked by himself with a real light maintenance tempo before clicking the final half in :49 flat."
---
TWO IS THE OPERATIVE NUMBER ON FRIDAY FOR JOCKEY LEADERS
The No. 1, 2 and 4 riders on the leaderboard each posted two wins on Friday to make for a static situation in the race. Defending titleist Flavien Prat took the fourth race on Madame Barbarian ($8.40) and the Sorrento Stakes on favored My Girl Red ($3.80) and has 18 wins in 11 days, two more than Umberto Rispoli. Wins in the first on Scarto ($8.40) and fifth on Nero ($7.60) enabled Rispoli to keep pace with Prat.
Juan Hernandez also had a double, scoring back-to-back in the second and third with Miss Alegra ($9.80) and Awesome Score ($9.20).
The number two was also significant for Victor Espinoza. His victory aboard Solitaire ($36.40) in the seventh, his second of the meeting, was No. 634 lifetime at Del Mar and moved him from a tie with Gary Stevens into solo No. 9 on the all-time list.
One Hall of Famer edging past another.
---
EASY WAY TO ORDER PHOTOS FROM ANY DEL MAR RACE THIS SUMMER
For anyone wanting to order photos from any race run at Del Mar this summer, there's an easy way to go. Track photographer Benoit Photo has it all set up for you at this website: www.benoitphoto.com/store
You can view photos there and order them right on the spot. Race photos are uploaded to the site shortly after each race is run.
Del Mar's meet runs from July 10 to September 7.
---
CLOSERS – Selected works from 180 officially timed this morning: Honor A.P. (3f, :37.80); Authentic (5f, 1:03.00), Flagstaff (6f, 1:12.80) and Princess Noor (6f, 1:13.80). Princess Noor, who is trained by Bob Baffert, is a $1.3 million yearling purchase working towards her racing debut as a 2-year-old.
---
Del Mar Statistics
Presented by Torrey Hollistics
Jockey Standings
(Current Through August 7, 2020 Inclusive)
| | | | | | | | |
| --- | --- | --- | --- | --- | --- | --- | --- |
| Jockey | Mts | 1st | 2nd | 3rd | Win% | In-money% | Money Won |
| Flavien Prat | 77 | 20 | 20 | 9 | 26% | 64% | $1,272,470 |
| Umberto Rispoli | 73 | 18 | 13 | 8 | 25% | 53% | $731,478 |
| Abel Cedillo | 102 | 13 | 10 | 22 | 13% | 44% | $901,893 |
| Juan Hernandez | 87 | 12 | 12 | 11 | 14% | 40% | $562,344 |
| Tiago Pereira | 60 | 10 | 1 | 3 | 17% | 23% | $336,074 |
| Drayden Van Dyke | 64 | 8 | 13 | 7 | 13% | 44% | $540,850 |
| Ricardo Gonzalez | 34 | 5 | 4 | 4 | 15% | 38% | $217,820 |
| Heriberto Figueroa | 32 | 4 | 5 | 3 | 13% | 38% | $174,610 |
| Mario Gutierrez | 37 | 3 | 6 | 6 | 8% | 41% | $249,640 |
| Edwin Maldonado | 43 | 3 | 4 | 5 | 7% | 28% | $139,200 |
Trainer Standings
(Current Through August 7, 2020 Inclusive)
| | | | | | | | |
| --- | --- | --- | --- | --- | --- | --- | --- |
| Trainer | Sts | 1st | 2nd | 3rd | Win% | In-money% | Money Won |
| Peter Miller | 46 | 10 | 8 | 3 | 22% | 46% | $520,310 |
| Bob Baffert | 19 | 7 | 6 | 1 | 37% | 74% | $519,670 |
| Philip D'Amato | 36 | 5 | 8 | 5 | 14% | 50% | $274,500 |
| Richard Baltas | 34 | 5 | 7 | 3 | 15% | 44% | $292,730 |
| Doug F. O'Neill | 53 | 4 | 11 | 8 | 8% | 43% | $302,205 |
| John W. Sadler | 22 | 4 | 4 | 3 | 18% | 50% | $277,010 |
| Peter Eurton | 15 | 4 | 3 | 2 | 27% | 60% | $131,260 |
| Mark Glatt | 32 | 4 | 2 | 9 | 13% | 47% | $390,058 |
| Michael W. McCarthy | 17 | 4 | 2 | 3 | 24% | 53% | $153,820 |
| J. Keith Desormeaux | 8 | 4 | 1 | 0 | 50% | 63% | $154,300 |
Winning Favorites Report
(Current Through August 7, 2020 Inclusive)

Winning favorites -- 39 out of 115 -- 33.91%
Winning favorites on dirt -- 25 out of 64 -- 39.06%
Winning favorites on turf -- 14 out of 51 -- 27.45%
Winning odds-on favorites -- 8 out of 14 -- 57.14%
In-the-Money favorites -- 77 out of 115 -- 66.96%
In-the-Money odds-on favorites -- 14 out of 14 -- 100.00%