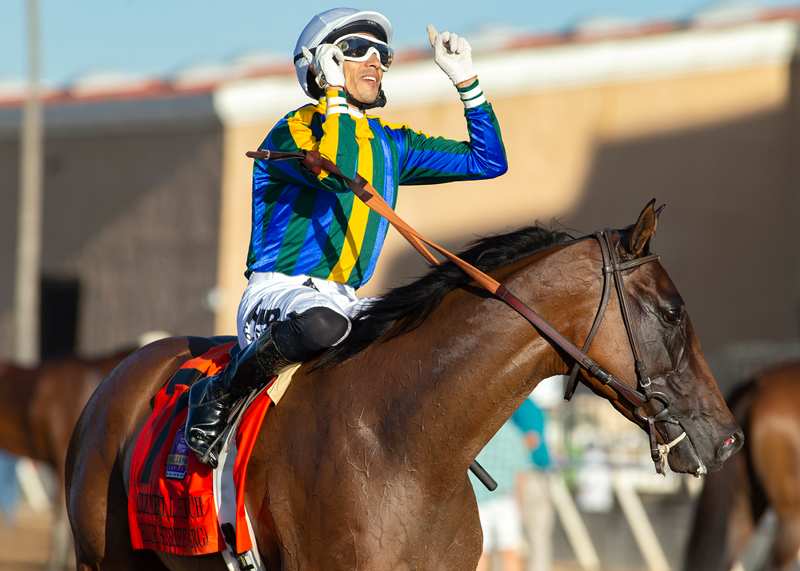 Blue Stripe © Benoit Photo
CLEMENT HIRSCH TOP THREE COME OUT OF RACE IN GOOD SHAPE
Del Mar, the graveyard of favorites.
Actually, that's Saratoga's claim to fame but for at least one race Saturday the moniker applied to the seaside oval. Pozo de Luna's Blue Stripe came rolling down the lane, cruising past 4-5 favorite Shedaresthedevil to win the G1 Clement Hirsch and a berth in the Breeders' Cup Distaff.
Trainer Marcelo Polanco said Sunday morning his mare came out of the race in good order.
"She looked good," Polanco said. "She was very alert this morning."
As for the celebration Saturday night, Polanco said he was too busy to party.
"My phone didn't stop ringing for hours," the smiling trainer said. "People from South America, people from around here…texting and calling…it was kind of a freaky night."
Polanco says a decision about Blue Stripe's future is pending.
"We haven't talked to the connections," Polanco said. "I don't want to say anything but I think we're just going to wait for that (the Breeders' Cup) because she's run good fresh. But the decision has not been made yet."
The Clement Hirsch victory was Polanco's third Grade 1 win in his career. He took the 2003 La Brea and 2004 Santa Monica with Island Fashion but he says the Hirsch may his favorite.
"This is unbelievable," Polanco says. "It was a tough race, good fillies, at Del Mar, Grade 1, just unbelievable."
Trainer Phil D'Amato was just as happy with his horse, H & E Ranch's Desert Dawn, who headed Shedaresthedevil on the wire for second place.
"She came out of the race really well," D'Amato said Sunday. "She ran against older for the first time and I thought she held her own and ran a valiant second. She nodded a real nice filly in Shedaresthedevil. We're proud of her."
D'Amato has no immediate plans for Desert Dawn, who won the G2 Santa Anita Oaks earlier this year, but he's eager for her future.
"I think this filly is going to continue to mature," D'Amato stated. "I look forward to running her one or two more times this year and save some for next year."
D'Amato says the Breeders' Cup is not necessarily in the plans at this time.
"It's a possibility," D'Amato says, "but it's not something we need to get to. Definitely I think that will be our goal next year when she turns four and with a little more experience under her belt."
The beaten favorite, Flurry Racing Stable, et al's Shedaresthedevil came out of the race no worse for wear.
"She came out of the race good," assistant trainer Marcelo Aquinde said Sunday morning. "She's always been a quiet filly. We scoped her and she was clean so she'll be ready next time."
Trainer Brad Cox will ship Shedaresthedevil back to Churchill Downs Tuesday and make a decision where she will run next.
---
JOCKEY HECTOR BERRIOS SETTLES IN NICELY AT DEL MAR
Several riders are giving Del Mar a shot for the first time this summer. It's a daunting task for any rider to move his tack to a new track. It takes starting over, getting out in the mornings, pressing the flesh and getting your name out among the trainers.
Hector Berrios is doing just that, walking the backside with jockey agent Michael Burns, introducing himself to as many trainers as will talk to him and listen to his pitch. This is the first time riding fulltime at Del Mar for the 35-year old jockey and so far his hard work has paid off with 16 mounts through Saturday. He in turn has rewarded his backers with five wins and a second. Two of those victories were stakes races, Saturday's G1 Clement Hirsch aboard Blue Stripe and opening weekend's $100,000 Wickerr Stakes on Irideo.
"It's beautiful here," Berrio says. "I would like to stay for the remaining of the summer. I've gotten to know a lot of people and have been asked by several trainers in the mornings to breeze horses. It keeps me upbeat and very happy."
Berrios brings some impressive credentials with him. In his home country of Chile, he won eight Triple Crown races and four Derbys, compiling over 2,500 career wins in his native land. On one day in 2006, Berrios won with 9-out-of-10 mounts.
He first came to the U.S. in 2011.
"I came to Southern California to try it out," Berrios says. "I then returned to Chile for several years and returned four years ago to Florida."
He had some success riding at Gulfstream Park. In 2020 he compiled over $2.5 million in earnings. Then the opportunity presented itself to ride at Del Mar and he jumped at it.
"I'm here because trainer Amador Sanchez was bringing a stable of horses here," Berrios says. "We took advantage to come and hopefully stay here a long time."
He's also riding for Marcello Polanco, who trains Irideo and Blue Stripe, a couple of Argentine-breds. Polanco is also from Chile and has hung out at the racetracks there. He thinks Berrios is something special.
"He's got good hands and good clock in his head," Polanco says. "I didn't give much instruction (in the Wickerr) just told him we like to see the horse in the middle of the pack for the first part of the race. He stayed on the rail and the way he made a move is unbelievable."
Berrios joins a jockey colony with such veterans as Mike Smith and Victor Espinoza and a young group of rising stars in Juan Hernandez and Florent Geroux. But he says he's not intimidated.
"Everyplace is the same," Berrios says. "There are good jockeys but here I feel that trainers respect more the commitments in the mounts."
Berrios has been riding since he was 17 and while he set his sites on the U.S., he says that's not true of all of his fellow Chilean jockeys.
"A majority of jockeys in Chile want to race in Sweden," Berrios says. "Many jockeys don't attempt to come here because they have to start from ground zero. I was number one in Chile and came here and had to start from scratch."
Judging by Saturday's Grade 1 win, Berrios appears well on his way.
---
JOCKEYS DROP THE REINS AND GRAB THE MIC IN KARAOKE FUNDRAISER
By day, they ride fast horses, by night they serenade and bust a move.
It's time once again for the Jockey Karaoke Contest and Fundraiser at the Belly Up Tavern in Solana Beach tonight (Sunday). Riders from the Del Mar jockey colony will be raising money for the PDJF, the Permanently Disabled Jockeys Fund.
In past years, there have been some memorable performances as well as some forgettable moments. Some riders come as they are, others like to dress up in wild outfits. All in good fun and for a great cause.
Tickets start at $75 per person. There is VIP seating that includes early admission and a buffet dinner with the jockeys.
The doors open at 7:45 PM, the show starts at 8.
---
COOLING OUT: Trainer Dean Pederson says Carmelita's Man, winner of Saturday's $150,000 California Dreamin', came out the race in good order. "He looked good this morning," Pederson said. "Everything was fine with him." Pederson says he has no immediate plans for his Cal-bred. "We'll give him a few days to breathe," he says, "and then we'll find a spot for him before the meet's over."…The 20-cent Pick Six, which started Saturday with a carryover of $614,414, drew over $3.9 million in "new" money and finished at $4,515,861. There were 543 tickets with the winning numbers, good each for a $6,616.14 payoff...Notable works for Sunday: Dirt – C Z Rocket (4f, :47.40); Neige Blanche (4f, :48.80); Edgeway (5f, 1:00.60); Turf – Balnikhov (4f, :51.20); Bellabel (4f, :50.40); Sixteen Arches (4f, :48.60); Count Again (5f, 1:02.80); Going Global (5f, 1:03.20), and Going to Vegas (5f, 1:02.60). A total of 192 horses worked on the dirt Sunday, 40 horses worked on the Turf.
---
Del Mar Statistics
Jockey Standings
(Current Through Saturday, August 6, 2022 Inclusive)
| | | | | | | | |
| --- | --- | --- | --- | --- | --- | --- | --- |
| Jockey | Mts | 1st | 2nd | 3rd | Win% | In-money% | Money Won |
| Juan Hernandez | 73 | 19 | 11 | 12 | 26% | 58% | $1,323,296 |
| Umberto Rispoli | 56 | 11 | 12 | 7 | 20% | 54% | $912,900 |
| Joe Bravo | 35 | 9 | 3 | 4 | 26% | 46% | $652,536 |
| Ramon Vazquez | 64 | 8 | 15 | 12 | 13% | 55% | $826,066 |
| Edwin Maldonado | 47 | 5 | 4 | 6 | 11% | 32% | $348,240 |
| Hector Berrios | 16 | 5 | 1 | 0 | 31% | 38% | $426,800 |
| Florent Geroux | 41 | 4 | 8 | 7 | 10% | 46% | $430,080 |
| Abel Cedillo | 61 | 4 | 8 | 6 | 7% | 30% | $454,476 |
| Kyle Frey | 61 | 4 | 7 | 7 | 7% | 30% | $355,502 |
| Mike Smith | 20 | 4 | 1 | 0 | 20% | 25% | $388,180 |
Trainer Standings
(Current Through Saturday, August 6, 2022 Inclusive)
| | | | | | | | |
| --- | --- | --- | --- | --- | --- | --- | --- |
| Trainer | Sts | 1st | 2nd | 3rd | Win% | In-money% | Money Won |
| Philip D'Amato | 54 | 8 | 11 | 14 | 15% | 61% | $948,586 |
| Peter Miller | 43 | 7 | 10 | 5 | 16% | 51% | $589,880 |
| Bob Baffert | 27 | 7 | 4 | 8 | 26% | 70% | $550,330 |
| Doug F. O'Neill | 44 | 7 | 4 | 4 | 16% | 34% | $460,180 |
| George Papaprodromou | 37 | 5 | 5 | 7 | 14% | 46% | $528,640 |
| Michael W. McCarthy | 23 | 4 | 2 | 4 | 17% | 43% | $388,120 |
| Andy Mathis | 16 | 4 | 0 | 1 | 25% | 31% | $162,028 |
| John W. Sadler | 27 | 3 | 3 | 3 | 11% | 33% | $239,116 |
| Richard E. Mandella | 18 | 3 | 2 | 2 | 17% | 39% | $434,390 |
| John A. Shirreffs | 11 | 3 | 0 | 1 | 27% | 36% | $177,500 |
Winning Favorites Report
(Current Through Saturday, August 6, 2022 Inclusive)
Winning favorites -- 29 out of 97 -- 29.90%
Winning favorites on dirt -- 18 out of 54 -- 33.33%
Winning favorites on turf -- 11 out of 43 -- 25.58%
Winning odds-on favorites -- 5 out of 13 -- 38.46%
In-the-Money favorites -- 73 out of 97 -- 75.26%
In-the-Money odds-on favorites -- 12 out of 13 -- 92.31%