Friday, August 7th, 2020 ( 2 months ago )
Stable Notes
August 7, 2020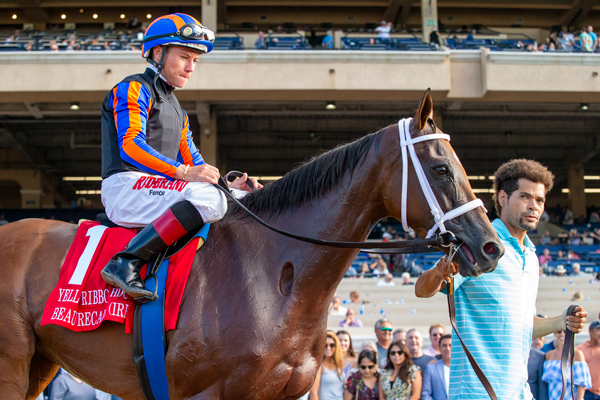 Beau Recall © Benoit Photo
YELLOW RIBBON IS, AND ISN'T, A SLAM DUNK FOR BEAU RECALL
Nick Cosato, a former jockey agent who is now head of the Slam Dunk Racing partnership organization, was introduced to the sport at a young age via weekend trips to Santa Anita with his father.
His father was good friends with Eduardo Inda, the right-hand man for Hall of Fame trainer Ron McAnally and an integral part of the team that campaigned John Henry to the Hall of Fame as well.
"So I was able to be around John Henry quite a bit," Cosato said. "I've got pictures with me and John Henry before and after he won the Santa Anita Handicap in 1982. John Henry was my lifelong favorite – until Beau Recall came along. For her to be at that level, in my mind, speaks volumes."
Beau Recall, a 6-year-old Irish-bred mare, is the defending champion in Saturday's $150,000, Grade II Yellow Ribbon Handicap, a 1 1/16-mile turf test for older fillies and mares which will be run for the 68th time.
In the 2019 Yellow Ribbon, Beau Recall rallied along the rail to win a by a margin so narrow it took several minutes to verify the photo, then several more for stewards to deny an objection for interference by the rider whose horse had finished last.
"It was a lengthy inquiry for something I didn't think merited being brought up in the first place," Cosato recalled. "But in the end, the stewards' decision was the one we were hoping for."
The Yellow Ribbon was one of three victories and three runner-up efforts in a six-race 2019 campaign for Beau Recall that accounted for $605,600 of her `more than $1.1 million in career earnings. The Yellow Ribbon was her second Grade II victory of the year, coming three months after a 10-1 upset in the Distaff Turf Mile, which gave Cosato and partners the thrill and prestige of going to the winner's circle before 150,729 spectators at Churchill Downs on Kentucky Derby Day.
Cosato doesn't favor one over the other. He savors both.
"Any time you win one of those big races it's just a complete blessing," Cosato, who grew up in Temple City and now lives in Sierra Madre, said. "Nothing beats winning at home, and I'm a Californian who has been coming to Del Mar since I was a kid."
Beau Recall has raced twice in 2020. She finished ninth of 14, albeit beaten only 2 ¼ lengths, in the Mint Julep at Churchill Downs on May 30 and second in the Grade I Just a Game Stakes at Belmont Park on June 27.
"Her comeback race (Mint Julep) turned out to be nothing more than a workout," Cosato said. "She never had room to run, never got to unleash the late kick that makes her so good."
In the Just a Game, Beau Recall's late charge came up three lengths short against front-running Newspaperofrecord but a half length ahead of Uni, winner of the 2018 Matriarch Stakes at Del Mar and an Eclipse Award as the top female turf runner last year.
Beau Recall prevailed over five rivals, among them multiple stakes-winning Vasilika, in the 2019 Yellow Ribbon. There are seven others entered Saturday, among them Jolie Olimpica, winner of two graded turf sprints at Santa Anita this year and Keeper Ofthe Stars, who took the Grade I Gamely in May.
Beau Recall may carry the colors of Slam Dunk – a name Cosato chose because of the many friends/clients he has with NBA or college basketball backgrounds – but a victory Saturday is nowhere near such a high percentage opportunity.
"It's a tough race," Cosato conceded. "We're trying to get her a Grade I win, but for that at a mile, you'd almost have to run against the boys. Timing-wise, the Yellow Ribbon is right and we're hoping it works out for her again."
The field from the rail: Summering (Drayden Van Dyke, 12-1); Bodhicitta (Flavien Prat, 6-1); Tonahutu (Victor Espinoza, 15-1); Lady Prancelot (Juan Hernandez, 5-1); Harmless (Ricardo Gonzalez, 15-1); Keeper Ofthe Stars (Abel Cedillo, 7-2); Beau Recall (Umberto Rispoli, 3-1), and Jolie Olimpica (Mike Smith, 5-2).
---
MIDWEST INVADER RODERICK FAVORED AMONG SEVEN IN BEST PAL
Roderick, an Into Mischief colt who was a $550,000 purchase at the Keeneland Sale last September, is the 9-5 favorite on John Lies' morning line in a field of seven for Saturday's co-featured $150,000, Grade II Best Pal Stakes for 2-year-olds at six furlongs on the main track.
Owned by the Breeze Easy partnership group of Mike Hall and Sam Ross, Roderick made his racing debut on June 21 at Belmont Park and outclassed three rivals in pulling away to an 8 ¼-length victory. It earned a 73 Beyer speed figure, the best of any among Best Pal entrants.
Roderick was also entered in the $150,000 Saratoga Special today at Saratoga, but trainer Wesley Ward opted to west, rather than east, with the colt who has been training at Keeneland.
"He got here Monday. He's ready to go," said Blake Heap, Ward's West Coast assistant.
The field from the rail: Sonic Brees (Umberto Rispoli, 6-1); Ambivalent (Mario Gutierrez, 5-1); Schnell (Ruben Fuentes, 12-1); Roderick (Flavien Prat, 9-5); Herd Immunity (Abel Cedillo, 7-2); Weston (Drayden Van Dyke, 5-1), and Girther (Ricardo Gonzalez, 6-1).
---
FOUR FROM OCEANSIDE WILL BE BACK FOR LA JOLLA
A field of eight was entered Thursday for Sunday's Grade III, $125,000 La Jolla Handicap, the second of three turf stakes for 3-year-olds annually on the Del Mar racing calendar.
Dan Blacker-trained Hit the Road, winner of the one-mile Oceanside, was not entered for the 1 1/16-mile La Jolla. But Oceanside runner-up Kanderel, third-place finisher Ajourneytofreedom, I'm Leaving You (5th) and K P All Systems Go (7th) were signed up to go the extra distance.
Adding intrigue are four newcomers, foremost among them Storm The Court. The Peter Eurton-trained colt was accorded an Eclipse Award in the 2-year-old division for his 2019 Breeders' Cup Juvenile upset victory, but has gone 0-for-4 in 2020 and will be tried on turf for the first time.
The field from the rail: I'm Leaving You (Giovanni Franco, 15-1); K P All Systems Go (Abel Cedillo, 6-1); Azul Coast (Drayden Van Dyke, 4-1); Ajourneytofreedom (Ruben Gonzalez, 12-1); Kanderel (Juan Hernandez, 10-1); Smooth Like Strait (Umberto Rispoli, 5-2); Storm The Court (Flavien Prat, 3-1), and Indian Peak (Mike Smith, 6-1).
---
PRAT, MILLER IN FAMILIAR TOP SPOTS TO START WEEK SIX
Defending champion Flavien Prat climbed back atop the jockey standings with seven wins over the course of the three-day racing week which ended Sunday. The steady progress of the Frenchman, who celebrated his 28th birthday on Tuesday, gives him a two-win lead, 18-16, over Umberto Rispoli as racing resumes today.
The seven-win spurt made Prat the hottest jockey of Week 5, topping Drayden Van Dyke and Tiago Pereira (5 wins each), Juan Hernandez (4), Rispoli (3) and Abel Cedillo (3).
In the trainers' race, two wins from eight starters for Peter Miller kept him comfortably atop the standings with 10 victories from 43 runners for the first 10 days of the meeting. In second place with seven wins from 19 starters overall, the major mover up the charts, was Hall of Famer Bob Baffert. His five wins over the weekend included the Shared Belief Stakes on Saturday and the Grade I Clement L. Hirsch on Sunday.
That, of course, was only counting Del Mar. Moments after Thousand Words won the Shared Belief, Baffert watched the big infield board from the shade of the walkway to the track as his Improbable went wire-to-wire in the Grade I, $750,000 Whitney at Saratoga.
---
DEL MAR ADDS ONE RACE DAY, TWO OWNER/SPECTATOR ON-SITE SPOTS
The Del Mar Thoroughbred Club has announced it will run a make-up day of racing on Monday, August 31. It expects to present a 10-race card starting at 2 p.m. The added date means Del Mar will finish up its 2020 summer race meet with two four-day weekends -- August 28 to 31 and September 4 to 7.
On the heels of a recently announced 10% purse increase, the seaside track's extra day will bring the number of race days for its 81st summer season to 27. Originally, 28 racing days had been planned. The track's racing office has been adding extra races to its regular cards to make up for the lost date as the meet moves through its scheduled Friday through Sunday timetable.
Additionally, it was announced in a press release by the Thoroughbred Owners of California that starting today the number of owners allowed to attend races has been increased from two to four per horse.
Non-licensed guests still are not permitted. If a horse has more than four owners wishing to attend the race, the TOC will do its best to accommodate if space is available. Owners wishing to attend should email Mary Forney, Executive Director of TOC (mforney@toconline.com) to secure access, and reservations can be made up until 24 hours before race day.
---
KOCH TAKES ON PAULICK IN STAR SATURDAY SLOT OF 'BEACH BOSS'
Billy Koch, founder of the Little Red Feather ownership group, will be the challenger for Paulick Report founder Ray Paulick in Saturday's special celebrity edition of the "Beach Boss" handicapping contest. The show starts at 11 a.m. and is available on Facebook, Twitter and YouTube. For further information the access link is: https://www.dmtc.com/contest.
The Beach Boss contest is free to everyone and works like this: Sign up to undertake the task of betting mythical money on one designated race each day. Participants get $100 of the imaginary cash for win, place or show wagering. The grand prize at the conclusion of the meeting is two VIP Breeders' Cup tickets when the annual championship event returns to Del Mar in 2021.
---
CLOSERS – Selected works from 101 on dirt and 13 on turf officially timed Thursday and 123 on dirt this morning: Thursday, Dirt – Gingham (5f, :59.80), Rushie (5f, 1:00.40), Speech (5f, 1:01.60); Turf – Combatant (4f, :49.00), Last Opportunity (4f, :50.00); Friday – Been Studying Her (5f, 1:02.00), Donna Veloce (5f, 1:00.00), Flash Magic (5f, :59.40), Restrainedvengence (5f, 1:01.00) and Giant Expectations (6f, 1:12.60). Flash Magic, whose 5-furlong bullet work for Bob Baffert was done handily from the gate, is a 2-year-old, unraced half-sister to Good Magic, who won the 2017 Breeders' Cup Juvenile at Del Mar, was second to Justify in the 2018 Kentucky Derby and won the Travers Stakes that year.
---
Del Mar Statistics
Presented by Torrey Hollistics
Jockey Standings
(Current Through August 2, 2020 Inclusive)
| | | | | | | | |
| --- | --- | --- | --- | --- | --- | --- | --- |
| Jockey | Mts | 1st | 2nd | 3rd | Win% | In-money% | Money Won |
| Flavien Prat | 69 | 18 | 19 | 9 | 26% | 67% | $1,152,130 |
| Umberto Rispoli | 66 | 16 | 11 | 7 | 24% | 52% | $666,878 |
| Abel Cedillo | 93 | 12 | 9 | 22 | 13% | 46% | $854,613 |
| Juan Hernandez | 79 | 10 | 12 | 11 | 13% | 42% | $524,584 |
| Tiago Pereira | 57 | 10 | 1 | 2 | 18% | 23% | $332,074 |
| Drayden Van Dyke | 60 | 8 | 10 | 7 | 13% | 42% | $520,350 |
| Ricardo Gonzalez | 29 | 5 | 3 | 3 | 17% | 38% | $205,900 |
| Heriberto Figueroa | 30 | 4 | 5 | 3 | 13% | 40% | $173,610 |
| Mario Gutierrez | 33 | 3 | 5 | 5 | 9% | 39% | $214,100 |
| Edwin Maldonado | 39 | 3 | 4 | 5 | 8% | 31% | $134,600 |
Trainer Standings
(Current Through August 2, 2020 Inclusive)
| | | | | | | | |
| --- | --- | --- | --- | --- | --- | --- | --- |
| Trainer | Sts | 1st | 2nd | 3rd | Win% | In-money% | Money Won |
| Peter Miller | 43 | 10 | 8 | 3 | 23% | 49% | $516,310 |
| Bob Baffert | 19 | 7 | 6 | 1 | 37% | 74% | $519,670 |
| Richard Baltas | 30 | 5 | 6 | 3 | 17% | 47% | $284,430 |
| Doug F. O'Neill | 50 | 4 | 9 | 8 | 8% | 42% | $266,705 |
| Philip D'Amato | 34 | 4 | 7 | 5 | 12% | 47% | $230,500 |
| Peter Eurton | 15 | 4 | 3 | 2 | 27% | 60% | $131,260 |
| Mark Glatt | 29 | 4 | 2 | 9 | 14% | 52% | $385,778 |
| Michael W. McCarthy | 16 | 4 | 2 | 3 | 25% | 56% | $151,360 |
| J. Eric Kruljac | 11 | 4 | 0 | 2 | 36% | 55% | $131,380 |
| John W. Sadler | 19 | 3 | 4 | 3 | 16% | 53% | $252,810 |
Winning Favorites Report
(Current Through August 2, 2020 Inclusive)

Winning favorites -- 37 out of 106 -- 34.91%
Winning favorites on dirt -- 24 out of 59 -- 40.68%
Winning favorites on turf -- 13 out of 47 -- 27.66%
Winning odds-on favorites -- 7 out of 13 -- 53.85%
In-the-Money favorites -- 73 out of 106 -- 68.87%
In-the-Money odds-on favorites -- 13 out of 13 -- 100.00%