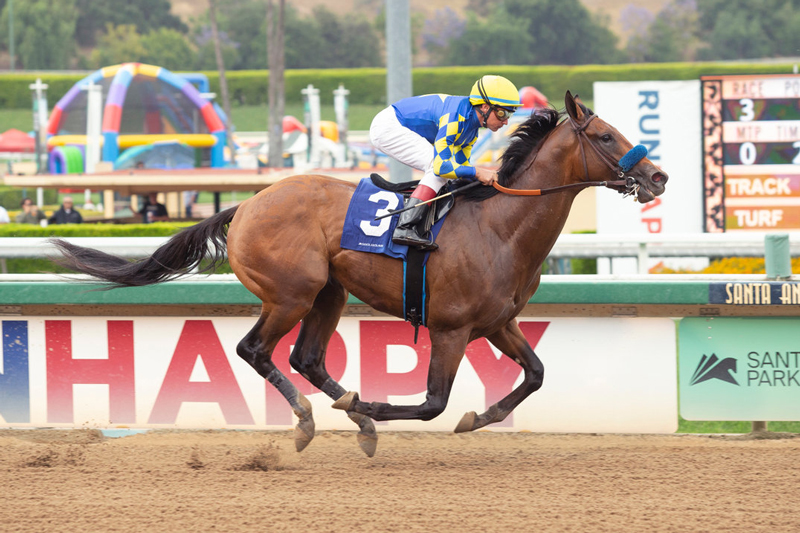 Armagnac © Benoit Photo
ARMAGNAC MAKES SWITCH TO GRASS IN G3 LA JOLLA SUNDAY
One of the things trainers love about Del Mar, aside from its great weather and being close to the beach, is the opportunity to train horses on the turf. Obviously that's a plus for those conditioners who have established turf horses, but it's especially handy for those trainers who have wondered how their horse would handle the turf but don't want to experiment in a race.
That's how S F Racing, et al's Armagnac wound up in Sunday's Grade III La Jolla Handicap at Del Mar. After a run on the Derby trail this spring that included efforts in the Santa Anita Derby (4th) and the Preakness at Pimlico (7th), trainer Bob Baffert has decided to try the son of Quality Road on the lawn for the first time.
"It's tough because at Santa Anita they won't let you work it," Baffert said, "but here they let you work on the turf. I gave him a little breeze on the turf the other day and the rider said he got over it well. We thought it might be a different option for him, there are so many turf races now in California."
Armagnac broke his maiden second time out at Santa Anita in January and then took a leap into the deep end, running sixth of seven in the G2 San Felipe. He fared a little better next out, finishing fourth in the G1 Santa Anita Derby but the winner, Taiba, beat him by 12 lengths.
The colt stepped down into an entry level allowance in May and won by four lengths giving Baffert the confidence to make the trip back to Maryland. Now he considers the Preakness a toss-out because Armagnac was coming back on two weeks rest. He says if the turf experiment works, he'll have more options for the colt.
"If he runs well here (in the La Jolla) he can run in the (Del Mar) Derby. We'll just give him a try on it; we can always go back to the dirt."
Armagnac will have to deal with a proven commodity on the green in Perry and Ramona Bass' Sumter, winner of three straight including the $100,000 Pasadena and $100,000 Singletary, both turf miles at Santa Anita earlier this year.
Trainer George Papaprodromou sends out Kretz Racing's Cabo Spirit, a son of Pioneerof the Nile who ran a distant second to Messier in the G3 Robert Lewis at Santa Anita earlier this year and then a close second to War at Sea last out in the $100,000 Cinema.
"We gelded him since his last start," Papaprodromou said, "and I think he's a different horse now. He's been training well and we're looking forward to it."
C R K Stables Stayincotai is one of the six entered in the mile and a sixteenth La Jolla. Trained by Peter Eurton, the colt made his U.S. debut a winning one on opening day at Del Mar, taking an entry level allowance.
"I just hope I'm not firing back too quick with him," Eurton said. "He looks like he's maintained his energy. I didn't know if I would get into the (Del Mar) Derby with him because we don't have enough points or earnings so we chose to go here."
Here's the field for the G3 La Jolla from the rail with the jockeys: Armagnac (Florent Geroux); Stayincotai (Umberto Rispoli); Perfect Flight (Ramon Vasquez); Sumter (Mike Smith); Cabo Spirit (Joe Bravo) and Brit's Wit (Declan Cannon).
---
FLIGHTLINE GETS BACK TO WORK FOR TVG PACIFIC CLASSIC
Flightline put in another work at Del Mar Saturday, blistering the five furlongs in a bullet :59.00. It was the colt's third work at Del Mar and fifth since his dominant win in the G1 Met Mile at Belmont Park on Belmont Stakes Day June 11.
The undefeated son of Tapit worked alone and cut out fractions of :24.10, :35.40, and :47.20 and galloped out in 1:11.40. Trainer John Sadler said afterward he planned to work his rising star the next two Saturdays at Del Mar as they continue preparations for the G1 TVG Pacific Classic on September 3.
---
JUSTIQUE WOWS 'EM, DRAWS COMPARISONS TO ZENYATTA
Every year at this time a 2-year old bursts on the scene with an eye-popping effort that sends the racing world into a frenzy. Last weekend, we saw it at Del Mar with the dazzling performance by a daughter of Triple Crown winner Justify.
Justique, a first-time starter from the John Shirreffs barn, trailed the field of maidens into the far turn. That's when jockey Victor Espinoza started weaving through traffic, eventually kicking four wide at the top of the lane where he placed her on cruise control and guided her past the leaders under a hand ride.
"It was fun to ride," Espinoza said. "I was really looking forward to riding some of the 2-year olds John has and she was one of them."
Shirreffs says he wasn't expecting a performance like that.
"I was surprised at the way she ran and did it so handily. Really a pleasure to watch," he offered.
He wasn't the only one who didn't see it coming. Justique went off at 8-1 and paid $19 to win.
Peter Eurton trains Kiss By Fire, runner-up to Justique.
"I think she's freaky talented," Eurton says of Justique. "She came by me like we were tied to a tree."
Shirreffs is non-commital about where he's going next with his new star, a $750,000 purchase by C R K Stable at the Keeneland September yearling sale, but he hasn't ruled out the Del Mar Debutante on closing weekend. He'll be patient with her. He always is with his young horses. His biggest star, Zenyatta, didn't even run as a 2-year old and even then she didn't start her 'unbelievable' career until November of her 3-year old season.
As for Espinoza, he knows it's early yet.
"We always think: 'This is the one' before they run," Espinoza says chuckling. "Sometimes it happens, sometimes it don't."
---
TOP 2-YEAR OLD CAL-BREDS TAKE CENTER STAGE IN CTBA SUNDAY
The first 2-year old stakes race of the Del Mar season, the California Thoroughbred Breeders' Association, will be run Sunday. Eight Cal-breds will line up for the five and half furlong event.
The scratch of the likely favorite turned the CTBA into a wide open affair. Trainer Doug O'Neill choosing to wait and run Absolute Zero, in the G2 Sorrento next weekend.
"I think another week will do her good," O'Neill said. "It's a $200,000 grade two. I just think that's a better opportunity for her."
Horse for the course players will like Jaime Renella's Chismosa in the CTBA. A daughter of Clubhouse Ride, she broke her maiden during opening week at Del Mar. The Rafael DeLeon trainee was hard to load, broke slowly and pulled jockey Kyle Frey around the track and into the winner's circle.
Trainer Walther Solis has Terry Lovingier or Griffin Stables' E Z Pharis running in the CTBA. A daughter of American Pharoah, she broke her maiden first out and then finished third in the Fasig Tipton Debutante.
"She's been training really good," Solis says, "and I believe the five and a half will help us. She's the kind of filly who takes a little while to get her feet under her."
Tyler Baze rides. Solis scratched his other entry, Lov U Mean It after she developed heat in her knees.
There are three Northern California invaders. Berger or Valenzuela's Fumano's Girl won at first asking at Golden Gate Fields and then missed by a nose against the boys in the $75,000 Everett Nevin at Pleasanton. Trained by Bill McLean, she'll be ridden by Hector Berrios.
Phil Lebherz's Smiling Lady, a daughter of Smiling Tiger, comes in off of a maiden win at Pleasanton. Florent Geroux gets the mount for trainer Andy Mathis. LNJ'S Foxwood's Electric Lettuce broke her maiden at Golden Gate Fields by four lengths before finishing fifth in the Everett Nevin.
The CTBA goes off as the 10th race on an 11-race program Sunday.
---
COOLING OUT: Trainer Richard Mandella says Big City Lights came out of his victory in the Real Good Deal Stakes Friday "very good." He says he has no plans yet for the 3-year old son of Mr. Big. Slow Down Andy finished a good second in the race and trainer Doug O'Neill said he came out in great shape. "Race came up a little short for him," O'Neill said. "He's probably a two-turn horse." Discussions continue as to where 'Andy' will go next…Trainer Mike Maker notched his 3,000th win Friday. Maker, who has a string of horses at Del Mar this summer, hit the milestone in the 5th Race at Ellis Park with Palatial Times…Notable works for Saturday: Dirt -- Ce Ce (4f, :48.60); Mackinnon (4f, :48.60); Taiba (4f, :48.40); Avenue de France (4f, :49.20). A total of 211 horses worked on the seaside oval Saturday.
---
Del Mar Statistics
Jockey Standings
(Current Through Friday, August 5, 2022 Inclusive)
| | | | | | | | |
| --- | --- | --- | --- | --- | --- | --- | --- |
| Jockey | Mts | 1st | 2nd | 3rd | Win% | In-money% | Money Won |
| Juan Hernandez | 66 | 17 | 10 | 11 | 26% | 58% | $1,189,196 |
| Umberto Rispoli | 49 | 11 | 9 | 6 | 22% | 53% | $787,300 |
| Joe Bravo | 33 | 9 | 3 | 3 | 27% | 45% | $646,756 |
| Ramon Vazquez | 57 | 7 | 15 | 11 | 12% | 58% | $765,966 |
| Edwin Maldonado | 42 | 5 | 3 | 5 | 12% | 31% | $322,120 |
| Kyle Frey | 53 | 4 | 7 | 7 | 8% | 34% | $347,072 |
| Abel Cedillo | 55 | 4 | 7 | 6 | 7% | 31% | $432,980 |
| Mike Smith | 19 | 4 | 1 | 0 | 21% | 26% | $364,180 |
| Victor Espinoza | 23 | 3 | 4 | 1 | 13% | 35% | $236,020 |
| Hector Berrios | 13 | 3 | 1 | 0 | 23% | 31% | $159,900 |
Trainer Standings
(Current Through Friday, August 5, 2022 Inclusive)
| | | | | | | | |
| --- | --- | --- | --- | --- | --- | --- | --- |
| Trainer | Sts | 1st | 2nd | 3rd | Win% | In-money% | Money Won |
| Philip D'Amato | 50 | 8 | 10 | 14 | 16% | 64% | $865,986 |
| Doug F. O'Neill | 36 | 7 | 3 | 3 | 19% | 36% | $440,930 |
| Bob Baffert | 24 | 6 | 4 | 7 | 25% | 71% | $511,130 |
| Peter Miller | 39 | 5 | 10 | 5 | 13% | 51% | $467,120 |
| George Papaprodromou | 34 | 5 | 4 | 6 | 15% | 44% | $515,300 |
| Michael W. McCarthy | 22 | 4 | 2 | 4 | 18% | 45% | $383,320 |
| Andy Mathis | 14 | 4 | 0 | 1 | 29% | 36% | $161,028 |
| John W. Sadler | 24 | 3 | 2 | 3 | 13% | 33% | $219,616 |
| Richard E. Mandella | 17 | 3 | 2 | 2 | 18% | 41% | $410,390 |
| John A. Shirreffs | 11 | 3 | 0 | 1 | 27% | 36% | $177,500 |
Winning Favorites Report
(Current Through Friday, August 5, 2022 Inclusive)
Winning favorites -- 26 out of 86 -- 30.23%
Winning favorites on dirt -- 16 out of 48 -- 33.33%
Winning favorites on turf -- 10 out of 38 -- 26.32%
Winning odds-on favorites -- 5 out of 11 -- 45.45%
In-the-Money favorites -- 66 out of 86 -- 76.74%
In-the-Money odds-on favorites -- 10 out of 11 -- 90.91%