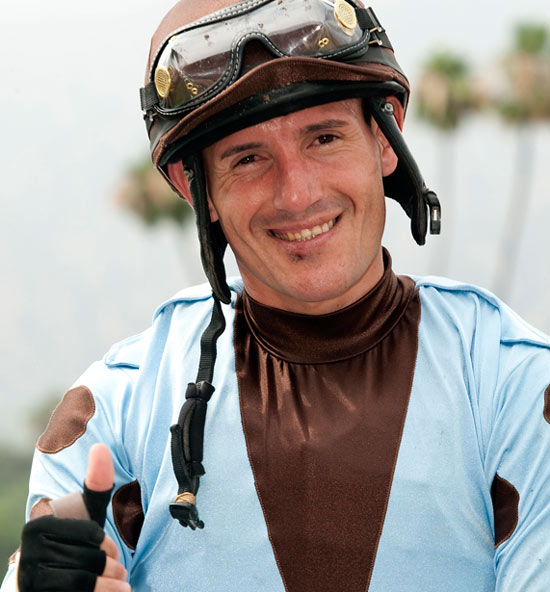 By Hank Wesch
---
SANTIAGO GONZALEZ: FROM VENEZUELA, WITH DRIVE
California is the third state in which jockey Santiago Gonzalez has landed in his quest to make a place for himself in American racing. But it's the place that was his ultimate goal while growing up in Venezuela and becoming a riding star and the place where, he vowed to his agent Craig Stephen, he intends to stay.
"The first day he got here, I picked him up at the airport," Stephen recalled. "He told me 'You're going to be proud, because I'm coming out here to make it. I'm coming here to be No.1' "
That was Stephen's translation from Spanish, which remains Gonzalez's preference while he studies English as a second language nights away from racing.
Similar statements have been made, of course, by many riders in a variety of languages over the years. But early on, Gonzalez is bolstering those words while letting his riding do the talking.
Through Wednesday, Gonzalez ranked 59th nationally for 2015 with 51 wins from 372 mounts and more than $2.3 million in purse earnings by his horses. He has 11 wins from 63 mounts at the Del Mar meeting, tied for fifth and only three behind the leading group of Tyler Baze, Rafael Bejarano and Flavien Prat, and earnings of $589,894.
A capsule look at Gonzalez, 32, provided by Stephen recently.
His father and two older brothers work at a racetrack in Venezuela and Santiago gravitated to the sport naturally, hoping to "stay small" and become a jockey from a young age. He started galloping and riding horses at age 12-14, riding races as soon as he could and has in the neighborhood of 2,600 wins in Venezula or other South American countries.
While little known in America, Gonzalez has high athletic celebrity status in his home country. "We went back to Keeneland to ride Ocho Ocho Ocho for Jim Cassidy in the Blue Grass. Some stable workers there were from Venezuela and they ran up to him, saying 'Santiago, Santiago,' "like he was Michael Jackson or something," Stephen said.
Dreamed of coming to America after watching Laffit Pincay, Jr., and Angel Cordero on television and got U.S. experience in the past two years at Delaware Park and Gulfstream in Florida.
Alex Procel, a former jockey agent turned farm manager, noticed Gonzalez at Gulfstream, learned of his desire to come west and contacted Stephen about taking his book. Gonzalez arrived in Los Angeles late last year and started riding at Santa Anita when the winter/spring meeting began on December 26. A good second-place finish on a 40-1 shot opening day brought some attention and he started exercising and riding horses for Stephen's longtime friend Jim Cassidy after that.
Gonzalez is the father of six, three sons and a daughter in the U.S. and two daughters in Venezuela.
"If you really watch him, he just never stops riding at any time in any race,"
Stephen said. "If he is going to make it here, it is because he tries so hard."
Cassidy continues to be solidly in Gonzalez's camp.
"I can't say anything but good about the kid. We've been very successful. He comes to ride and he gives it his all, whether it's a 30-1 shot or a favorite. It's a strange thing, but everybody's different in our game – moods, things like that. I promise you every time I put this kid up I have confidence that I will get the most out of this horse.
"I saw the kid in the morning and he looked good on a horse. But they all look good on a horse in the morning. But right out of the box, phew, he showed he could ride races. Now I have trouble getting him there's so many others want him."
---
SUMMER OF O'NEILL 2-YEAR-OLDS ROLLS ON
A 1-2 finish in Wednesday's Graduation Stakes by Doug O'Neill trainees Mrazek and Ralis continued the stable's domination of 2-year-old stakes events this spring and summer.
Mrazek had been second to stablemate Found Money in the Santa Anita Juvenile in June. Mrazek was second and Ralis fifth to J. Keith Desormeaux-trained Swipe in the Los Alamitos Juvenile Championship last month.
O'Neill will send out Found Money and Nyquist, who won at first asking in June at Santa Anita, against Swipe and three others in Saturday's Grade II, $200,000 Best Pal Stakes.
Mrazek, named for Detroit Red Wings goalie Petr Mrazek, Ralis, Found Money and Nyquist are all owned by J. Paul Reddam and have earned marquee status in a group of around 20 O'Neill trained 2-year-olds he plans to race here this meeting.
"I think it is the best group of 2-year-olds I've ever had," O'Neill said Thursday morning. "We're so blessed with a tremendous group of Paul Reddam homebreds (from stallion Square Eddie) and horses that my brother Dennis picked out of sales."
O'Neill said that Mrazek and Ralis came out of the Graduation in good shape. Their next races, the $150,000 I'm Smokin on Friday, September 4, or the $300,000 Grade I Del Mar Futurity on Closing Day, September 7, may depend on results in the Best Pal.
"Nyquist has been, to us, the leader of the pack so far," O'Neill said. "But we've got to see him do it on Saturday, of course. He's training well, we think he has drawn a good post position.
"(Found Money) is a typical hard-knocking tough-minded Square Eddie. We're excited for both of them."
The field for the Best Pal, which goes as the fifth on a 10-race card, from the rail out: Found Money (Corey Nakatani, 5-1), Paynes Prairie (Martin Pedroza, 5-2), Bistraya (Gonzalo Nicolas, 20-1), Swipe (Kent Desormeaux, 2-1), Nyquist (Mario Gutierrez, 3-1), and Annie's Candy (Tyler Baze, 4-1).
---
RAIN-CHECKED PERSONAL DIARY SET FOR JOHN C. MABEE
Things haven't gone to plan so far in the return of Personal Diary to the site of her upset victory, at odds of 9-1, in last year's Grade I Del Mar Oaks.
The Kentucky-bred 4-year-old daughter of City Zip was sent west from Kentucky in early July by trainer Victoria Oliver with the idea of running in the Osunitas Stakes on July 18, the first Saturday of the meeting. Which turned out to be the first of two straight days of rain at Del Mar.
The Osunitas was taken off the turf and Personal Diary was one of nine runners from an original 14 entered that was scratched rather than run on a muddy main track.
Saturday, three weeks later than intentioned, Personal Diary will be part of a nine-horse field for the Grade II $250,000 John C. Mabee Stakes. It's over the same course and distance, 1 1/8 miles as the one where Personal Diary made Oliver the first female to train a Del Mar Oaks winner.
Oliver was en route to Del Mar from the Midwest on Thursday morning but assistant Brian Duggan said there's reason for optimism for the filly who hasn't hit the board in her last four starts, three of them this year.
"She's training well and we're hopeful she'll recapture her form of last year here," Duggan said. "She's doing really well since we brought her out. She's put on weight and we know she really loves it here in California."
The field for the John C. Mabee , which goes as the eighth on a 10-race card, from the rail out: Notte d'Oro (Flavien Prat, 15-1), Emotional Kitten (Gary Stevens, 4-1), Fanticola (Joe Talamo, 5-2), Stormy Lucy (Rafael Bejarano, 4-1), Personal Diary (Brice Blanc, 15-1), Gusto Dolce (Martin Pedroza, 20-1), Queen of The Sand (Drayden Van Dyke, 7-2), Elektrum (Victor Espinoza, 6-1) and Blingismything (Tyler Baze, 12-1).
---
FOR THE RECORDS
J. Paul Reddam has eight wins as an owner thus far this season – seven in his Reddam Racing colors and one as part of a partnership.
The record for wins by an owner in a season at Del Mar is 18 by Marion R. Frankel in 1973. Mrs. Frankel's horses were conditioned by future Hall of Famer Bobby Frankel (no relation), who was Del Mar's leading trainer that meeting with 21 wins.
The $26,731 payoff for a 10-cent Superfecta ticket in Wednesday's fifth race was a track record, eclipsing the $25,536 of the second race on August 8, 2010. Wednesday's payoff was the result of a win by 21-1 Fashion Gem followed in order by Silver Score (40-1), favored Lily Pod (2-1) and Rockport Dancer (28-1).
---
AMERICAN PHAROAH TODAY
The Triple Crown champion walked in the stable area for the fourth day in succession since his victory in Sunday's $1.75 million Haskell Invitational. He is expected to return to the track Friday morning (7:45-8 a.m.) for a routine jog.
---
GALLAGHER, CASSIDY TO GUEST ON WEEKEND SEMINARS
Trainers Paddy Gallagher and Jim Cassidy will provide expert opinions on the Saturday and Sunday cards respectively as featured guests on the weekend handicapping seminars.
Gallagher has 11 stakes wins at Del Mar from 1998 forward. Later on Saturday he'll be saddling Queen of the Sand in search of his second John C. Mabee Stakes. The first came with Magical Fantasy in 2009.
Queen of the Sand became the first stakes winner of Bing Crosby fall meeting at Del Mar when she took the Kathryn Crosby on opening day of the inaugural meeting, November 7, 2014.
Cassidy, who will be host Millie Ball's guest on Sunday, has 11 Del Mar stakes victories with four of them coming in combination from meeting divisional champions Evening Jewel in 2010 and Tom's Tribute in 2014.
The seminars will be held from 12:45-1:30 p.m. both days at the Seaside Terrace near the top of the stretch.
---
CLOSERS – Ship And Win eligible horses on Thursday's program are: Avicii (1st, Phil D'Amato, trainer), Chasing The Heat (4th, Henry Dominguez), Second Proposal (4th, Eric Kruljac), Alltheleavesrbrown (5th, Mike Stidham) and She's Not Here (7th, Victoria Oliver) … Selected workouts from 134 on the dirt and 20 on turf officially timed Thursday: Dirt – Hoppertunity (5f, 1:00), Daddy D T (5f, 1:00.40), Baruta (4f, :49.40); Turf – Bal a Bali (7f, 1:30.00), Winning Prize (6f, 1:16.00), Talco (6f, 1:14.60), and Om (3f, :35.00).
---
DEL MAR STATISTICS
Jockey Standings
(Current Through Wednesday, August 5, 2015 Inclusive)
Jockey
Mts
1st
2nd
3rd
Win%
Money Won
Tyler Baze
91
14
17
12
15%
$872,268
Rafael Bejarano
78
14
11
12
18%
$868,872
Flavien Prat
83
14
7
13
17%
$970,932
Joseph Talamo
81
13
8
5
16%
$730,530
Mario Gutierrez
45
11
6
1
24%
$523,066
Santiago Gonzalez
63
11
4
7
17%
$589,894
Mike Smith
33
6
6
4
18%
$633,730
Martin Pedroza
52
5
6
5
10%
$245,926
Corey Nakatani
36
5
6
3
14%
$275,540
Tiago Pereira
41
5
3
1
12%
$212,050
Trainer Standings
(Current Through Wednesday, August 5, 2015 Inclusive)
Trainer
Sts
1st
2nd
3rd
Win%
Money Won
Doug F. O'Neill
42
10
9
4
24%
$537,750
Jerry Hollendorfer
37
8
5
2
22%
$573,692
Peter Miller
58
6
7
6
10%
$467,306
Richard Baltas
32
6
3
9
19%
$318,652
Philip D'Amato
25
5
4
2
20%
$339,370
Mike Puype
34
5
2
7
15%
$274,180
John W. Sadler
22
5
2
4
23%
$151,620
Richard E. Mandella
16
4
3
4
25%
$556,610
Mark Glatt
25
4
2
3
16%
$217,240
Jeff Mullins
14
4
2
2
29%
$420,842
Winning Favorites Report
(Current Through Wednesday, August 5, 2015 Inclusive)
Winning favorites
34
133
25.56%
Winning favorites on dirt
26
94
27.66%
Winning favorites on turf
8
39
20.51%
Winning odds-on favorites
6
14
42.86%
In-the-Money favorites
73
133
54.89%
In-the-Money odds-on favorites
13
14
92.86%
---
Contact: Dan Smith 858-792-4226/Hank Wesch 858-755-1141 ext. 3793