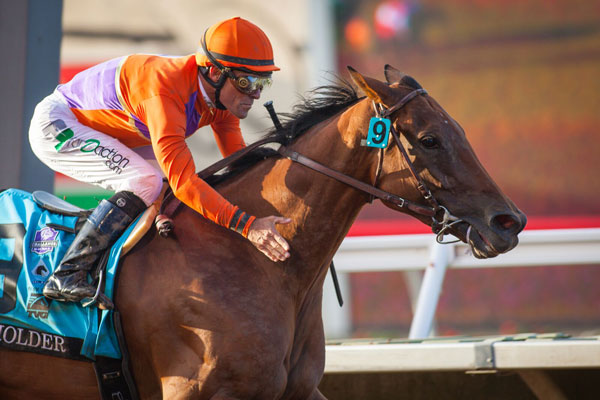 Beholder © Benoit Photo
BEHOLDER'S INDUCTION MAKES MANDELLA ONE PROUD PAPA
Just a quick glance at her resume is proof enough that Beholder belongs in the Racing Hall of Fame. Anyone who saw her run between 2012 and 2016 would have no problem putting the daughter of Henny Hughes among the greatest. And a brief chat with her trainer, Richard Mandella, will convince any second-guessers.
Beholder took her place in the National Museum of Racing's Hall of Fame in Saratoga, New York Friday alongside fellow inductees Tepin, Hillsdale and Royal Heroine, as well as human inductees Oscar White, James Cox Brady, Marshall Cassidy and Ben James Ali Haggan.
"I wish I was there," Mandella said, back at the track after a recent bout with Covid. "The filly was so good to us for so many years. She'd be a favorite in anybody's mind. Just warm feelings thinking about her."
Mandella trained Beholder her entire racing career for owner B. Wayne Hughes and Spendthrift Farms. It included four Eclipse Awards, three Breeders' Cup wins and 13 graded stakes, 11 of them Grade I's including a trouncing of the boys in the 2015 TVG Pacific Classic at Del Mar. Mandella says it's one of the best memories he has of Beholder.
"She won (her prior race) the Clement Hirsch so easily," Mandella said. "I said right there in the winner's circle: 'We're going to try the colts next.' Often you say those things but it doesn't work out, but it did."
The TVG Pacific Classic triumph came after victories in the Breeders' Cup Juvenile Fillies at Santa Anita in 2012, the G1 Santa Anita Oaks in 2013 and her second Breeders' Cup win in the Distaff in 2013. It also came in the middle of an eight race winning streak that included Grade I wins in the Zenyatta (twice) and Vanity Mile.
"Of her years, that was her peak," Mandella said. "She was her best that year."
She was named Eclipse Award Champion 2-Year Old Filly in 2012, Champion 3-Year Old Filly in 2013 and Champion Older Dirt Female in 2015 and 2016. She won a Grade I at ages two, three, four, five and six.
"It was a lot of fun," Mandella said, "but it was also a lot of responsibility. If you ever got her beat, which we did a few times, you feel pretty guilty about it when one's that good."
Of course, that didn't happen very often.
"No, she always ran well," Mandella noted. "A few beats, had a few excuses but she didn't need a lot of excuses, she was really great."
Her final Breeders' Cup win came in what is arguably the best Breeders' Cup race of all time, a nail-biting stretch long duel with Songbird in the 2016 Distaff. It was the final race of her illustrious career in which she piled up earnings of over $6 million.
Now Mandella has one of Beholder's babies in his barn, a 2-year old filly named Teena Ella by War Front.
"She's up to a half mile," Mandella said. "She's not ready to run but she's shown good promise."
Just like her mama.
---
A TOUCH OF INTERNATIONAL FLAIR FOR SATURDAY'S CLEMENT HIRSCH
Pozo de Luna's Blue Stripe provokes memories of the great Bayakoa from the late '80's and early '90's. Like the great mare before her, she's from Argentina, she wins big races and she's tended to by the same man, trainer Marcelo Polanco. But Polanco is not ready to put Blue Stripe on the same level with Bayakoa.
"I'm not there yet," Polanco says with a smile.
Polanco was working with Hall of Fame trainer Ron McAnally back in the day when Bayakoa ruled the Distaff division. He took care of the champion so if anyone knows a second coming of the great mare, it would be Polanco.
"When I first came to this country in '77, I worked for Ronnie for 10 years," Polanco said. "He had all those horses, Bayakoa, Paseana, all champions from South America."
Blue Stripe came to the U.S. last year and debuted in the Breeders' Cup Distaff. She finished seventh. She came to the States following three straight wins in her home country, the last a Grade I event. It's that form that gives Polanco the confidence to run her in this Saturday's GI Clement Hirsch at Del Mar.
"She's doing great. We are very happy with the way she feels, eating like nothing happen…she's full of it."
Polanco worked his 5-year old mare Monday, breezing five furlongs in 1:02.80. She'll be ridden by one of Del Mar's new jockeys, Hector Berrios.
Blue Stripe showed she belonged with the likes of Shedaresthedevil and Private Mission, two or her rivals in the Clement Hirsch, when she won the G2 Santa Margarita at Santa Anita in April. She followed that with a close runner-up finish to Private Mission in the G2 Santa Maria in June.
Polanco knows it won't be easy. "It's always tough," he says, "even the cheap races are tough."
Flurry Racing Stables, et al's Shedaresthedevil shipped in to defend her title in the Clement Hirsch. She's fresh off a dominant win in the G2 Fleur de Lis at Churchill Downs.
There's Bass, et al's Soothsay, winner of three of her four career starts though she hasn't run since winning the G3 Indiana Oaks last summer. The 2021 Santa Anita Oaks winner is trained by Richard Mandella.
"She's doing great," Mandella said. "She's had a long rest. Wish I had time for a prep but we prepped her ourselves."
There's also H & E Ranch's Desert Dawn, the 2022 Santa Anita Oaks winner out of the Phil D'Amato barn. She finished third in the Kentucky Oaks followed by another third-place finish in the G2 Summertime Oaks at Santa Anita in June.
The Clement Hirsch goes off as Race 9 on Saturday's 11-race card. Here's the field from the rail with jockeys and morning line odds: Soothsay (Mike Smith, 5-1); Lisette (Victor Espinoza, 30-1); Desert Dawn (Umberto Rispoli, 5-1); Private Mission (Juan Hernandez, 5-2); Shedaresthedevil (Florent Geroux, 8-5); Samurai Charm (Ramon Vazquez, 12-1) and Blue Stripe (Hector Berrios, 4-1).
---
NONE ABOVE THE LAW RETURNS IN THE CALIFORNIA DREAMIN'
A competitive group of Cal-breds will go-at-it Saturday afternoon in the $150,000 California Dreamin' Stakes led by Del Mar's top 3-year old in 2021, Downstream Racing's None Above the Law.
Trainer Peter Miller gave his colt time off following a long 2021 campaign that included victories in the Real Good Deal Stakes and the G2 Del Mar Derby.
"He's doing well," Miller said. "He hasn't run in a long time but he seems fit and he likes it down here."
Miller put his star colt on the bench following a fourth place finish in the G2 Mathis Mile on opening day at Santa Anita. The son of Karakontie has been on a steady work routine since the middle of June. Miller says he believes in the horse-for-the-course angle.
"Oh, definitely," Miller said. "Some horses do real well down here and others not so well."
None Above the Law has run seven races at Del Mar, six of those stakes, winning twice and running third in another start. He'll break from Post #8 and Miller has employed the services of jockey Florent Geroux.
He's caught a salty group of Cal-breds for the mile and sixteenth turf race beginning with Larry Odbert's Freeport Joe, an invader from Northern California who won the $100,000 All-American Stakes last out at Golden Gate Fields. The 5-year old gelding by English Channel also has a victory in the G3 Berkeley on his resume.
Sondereker Racing, et al's The Chosen Vron will return to the races in the California Dreamin'. He hasn't raced since winning the Hank Mills Stakes at Turf Paradise last November. Prior to that he had victories in a pair of Grade 3's at Santa Anita and a runner-up finish to None Above the Law in the Real Good Deal Stakes at Del Mar.
There's also Larry or Ann Jett's Carmelita's Man, last out winner of the $100,000 Crystal Water at Santa Anita. He'll be ridden by Del Mar's leading jockey, Juan Hernandez.
The California Dreamin' goes off as race #10 on the 11-race program. Here's the field from the rail with the jockeys and morning line odds: Bang For Your Buck (Victor Espinoza, 30-1); Carmelita's Man (Juan Hernandez, 5-1); Irish Heatwave (Joe Bravo, 12-1); Tom's Surprise (Armando Ayuso, 10-1); Freeport Joe (Assael Espinoza, 10-1); Fly the Sky (Tyler Baze, 15-1); Jimmy Blue Jeans (Kyle Frey, 5-1); None Above the Law (Florent Geroux, 4-1); Hockey Dad (Mario Gutierrez, 5-1); The Chosen Vron (Umberto Rispoli, 7-2); Luvluv (Edwin Maldonado, 20-1); Coast of Roan (Mike Smith, 8-1), and Cono (Abel Cedillo, 12-1).
---
COOLING OUT: Trainer Bob Baffert says his Dubai World Cup winner, Country Grammer came out of last Saturday's G2 San Diego "well" and will be pointed to the TVG Pacific Classic at Del Mar September 3…The first 2-year old sensation of the summer at Del Mar, Justique, came out of her dazzling debut in good order according to trainer John Shirreffs. He says there are no immediate plans yet for the daughter of Justify…Saturday, beautiful equine and racing art will be on display and for sale at the Plaza de Mexico fountain. Seven artists will be on hand, some creating their paintings on site…Noteable works for Friday: Dirt --- Bran (4f, :48.20); Heywoods Beach (4f, :49.60); Astronaut (5f, 1:01); Express Train (5f, 1:00.80); Fashionably Fast (5f, 1:00.60) and Adare Manor (6f, 1:11.60). A total of 127 horses worked Friday morning
---
Del Mar Statistics
Jockey Standings
(Current Through Thursday, August 4, 2022 Inclusive)
| | | | | | | | |
| --- | --- | --- | --- | --- | --- | --- | --- |
| Jockey | Mts | 1st | 2nd | 3rd | Win% | In-money% | Money Won |
| Juan Hernandez | 61 | 15 | 9 | 11 | 25% | 57% | $1,024,746 |
| Umberto Rispoli | 43 | 10 | 8 | 5 | 23% | 53% | $731,500 |
| Joe Bravo | 31 | 9 | 3 | 3 | 29% | 48% | $645,756 |
| Ramon Vazquez | 53 | 7 | 13 | 10 | 13% | 57% | $730,666 |
| Edwin Maldonado | 41 | 5 | 3 | 5 | 12% | 32% | $321,620 |
| Kyle Frey | 48 | 4 | 7 | 6 | 8% | 35% | $322,744 |
| Abel Cedillo | 50 | 4 | 6 | 6 | 8% | 32% | $421,680 |
| Victor Espinoza | 22 | 3 | 3 | 1 | 14% | 32% | $219,620 |
| Mike Smith | 16 | 3 | 1 | 0 | 19% | 25% | $312,180 |
| Florent Geroux | 33 | 2 | 7 | 5 | 6% | 42% | $256,100 |
Trainer Standings
(Current Through Thursday, August 4, 2022 Inclusive)
| | | | | | | | |
| --- | --- | --- | --- | --- | --- | --- | --- |
| Trainer | Sts | 1st | 2nd | 3rd | Win% | In-money% | Money Won |
| Philip D'Amato | 48 | 8 | 10 | 14 | 17% | 67% | $864,186 |
| Doug F. O'Neill | 32 | 7 | 2 | 2 | 22% | 34% | $392,540 |
| Bob Baffert | 21 | 6 | 4 | 6 | 29% | 76% | $499,430 |
| Peter Miller | 37 | 5 | 10 | 3 | 14% | 49% | $454,520 |
| George Papaprodromou | 32 | 4 | 4 | 6 | 13% | 44% | $466,800 |
| Michael W. McCarthy | 21 | 3 | 2 | 4 | 14% | 43% | $334,120 |
| John W. Sadler | 23 | 3 | 2 | 3 | 13% | 35% | $214,816 |
| John A. Shirreffs | 11 | 3 | 0 | 1 | 27% | 36% | $177,500 |
| Andy Mathis | 12 | 3 | 0 | 1 | 25% | 33% | $129,120 |
| Richard E. Mandella | 15 | 2 | 2 | 2 | 13% | 40% | $308,920 |
Winning Favorites Report
(Current Through Thursday, August 4, 2022 Inclusive)
Winning favorites -- 24 out of 78 -- 30.77%
Winning favorites on dirt -- 15 out of 44 -- 34.09%
Winning favorites on turf -- 9 out of 34 -- 26.47%
Winning odds-on favorites -- 5 out of 10 -- 50.00%
In-the-Money favorites -- 60 out of 78 -- 76.92%
In-the-Money odds-on favorites -- 10 out of 10 -- 100.00%