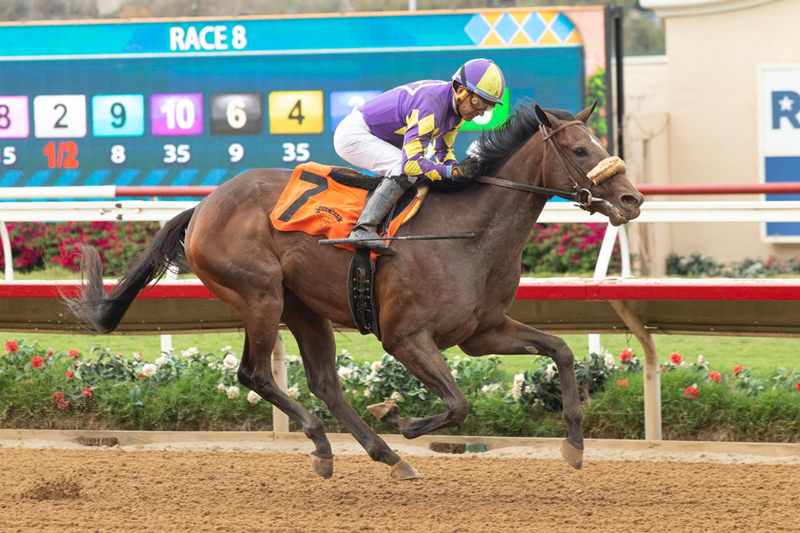 Justique © Benoit Photo
VICTOR ESPINOZA INVESTING IN THE 'BABY' FUTURE
Who didn't enjoy Victor Espinoza's journey with American Pharoah or his unbelievable run on California Chrome. Most casual observers didn't pick up on their stories until after they had won a key 2-year old race, or even later, after they made their mark on the Derby trail. Espinoza will tell you the road to his Triple Crown, as was the case with American Pharoah or his Kentucky Derby win on California Chrome, started long before the two superstar colts ever got out on the racetrack.
"That's my goals in life," Espinoza says, "find the right babies. It seems like there are quite a few I've been working."
He has several lined up for the Del Mar meet and one he helped debut last Sunday. Justique went last-to-first to break her maiden and afterwards drew comparisons to the great Zenyatta. That's what Espinoza does in the mornings. He's like a scout on the backside, searching for that diamond in the rough, visiting trainers like Michael McCarthy or John Shirreffs, inquiring about their promising 2-year olds and offering to lend his years of experience aboard the first-time starters.
"I'm really looking forward to having a good meet with those," Espinoza said. "Those are the future, the babies…the 2-year olds, they are the future. You start early with the 2-year olds, start working and looking toward to the future. That's how it's been my entire career."
It worked in 2013 when Victor climbed aboard a little known Lucky Pulpit colt in the King Glorious Stakes at Hollywood Park. Six months later California Chrome had won six straight including the Kentucky Derby and the Preakness Stakes.
Fast forward a couple of months to September of 2014 and there's Espinoza aboard another promising young 2-year old, winning the Del Mar Futurity. American Pharoah and Victor Espinoza strung together eight straight victories over the next 11 months including the first Triple Crown in 37 years.
Now Espinoza is sitting on a live one. Justique is a daughter of Triple Crown winner Justify out of the Bernardini mare, Grazie Mille.
"She ran like a pro," Espinoza said. "Not too many 2-year olds do that. I was so proud of her…the way she ran."
Entering week three of the Del Mar summer meet, Espinoza has three wins and two seconds out of 19 starts and sits eighth in the jockey standings.
---
SHEDARESTHEDEVIL RETURNS FOR CLEMENT HIRSCH ENCORE
The favorite and defending champion, Shedaresthedevil arrived at Del Mar Wednesday night and took a turn around the Del Mar oval Thursday morning in preparation for this Saturday's GI Clement Hirsch, the second of six Breeders' Cup "Win and You're In" races at Del Mar this summer.
Marcello Aqcuinde is tending to the 2020 Kentucky Oaks winner for trainer Brad Cox. He says she shipped fine and took to the track right away.
"She behaved well," Aqcuinde said, "just stood for a little bit then galloped one mile. She was good."
Last year at this time, Flurry Racing Stables, et al's, Shedaresthedevil came to Del Mar looking to rebound from a third-place finish to the eventual Eclipse Award winning mare, Letruska, in the G1 Ogden Phipps at Belmont Park. She had already established herself as a leading contender in the Distaff division with victories in the GII Azeri at Oaklawn Park, a race in which she beat Letruska, and the GI La Troienne at Churchill Downs.
She lived up to her billing, winning the GI Clement Hirsch by over three lengths, defeating the likes of Venetian Harbor and As Time Goes By.
This year, Shedaresthedevil is coming out West in good form, fresh off a dominating win in the G2 Fleur de Lis at Churchill Downs last month. But it came after a relatively slow start, by her standards, to her 5-year old campaign. She finished third in the Azeri in her 2022 debut then got rundown by Pauline's Pearl and finished second in the La Troienne.
Those defeats are a distant memory as Shedaresthedevil gets set to take on six rivals in another contentious graded stakes race at Del Mar. Some could argue it's tougher than last year's Clement Hirsch. Bob Baffert is bringing Baoma Corp's Private Mission, a multiple graded stakes winner who won the GII Santa Maria in June at Santa Anita. Despite his filly's impressive credentials, Baffert is wary of going up against Shedaresthedevil.
"I hate to see that filly fly out here," Baffert said. "She's so nice and definitely the horse to beat. And Brad Cox is so tough. He does such a great job."
Private Mission has one gear and that's go. Just ask Letruska in last year's Breeders' Cup Distaff. But Baffert says he has no intention of changing his filly's tactics.
"Speed is her weapon," Baffert notes. "She's a nice filly and she's been working well down here."
Private Mission won the GIII Torrey Pines at Del Mar in 2021 followed by a victory in the GII Zenyatta at Santa Anita. But then came the Breeders' Cup Distaff in which she and Letruska set suicidal fractions and eventually faded to last. The daughter of Into Mischief followed that race with a sixth-place finish in the GI La Brea at Santa Anita before Baffert gave her some time off. She returned with a runner-up finish in the GIII Las Flores in March followed by her win in the Santa Maria.
Here's the field for the GI Clement Hirsch from the rail with jockeys and morning line odds: Soothsay (Mike Smith, 5-1); Lisette (Victor Espinoza, 30-1); Desert Dawn (Umberto Rispoli, 5-1); Private Mission (Juan Hernandez, 5-2); Shedaresthedevil (Florent Geroux, 8-5); Samurai Charm (Ramon Vazquez, 12-1) and Blue Stripe (Hector Berrios, 4-1).
---
EIGHT CAL-BREDS LINE UP IN THE REAL GOOD DEAL STAKES FRIDAY
A talented field of eight Cal-bred 3-year olds, seven of which are stakes winners, will go seven furlongs in Friday's $175,000 Real Good Deal Stakes at Del Mar,.
Trainer Mike Puype summed it up best: "That's the best race they've ever had here for the Real Good Deal."
Puype ought to know, he's raced at Del Mar for over 25-years, winning his first stakes here in 1995. He brings Jungle Racing's Straight Up G to the party, a son of Straight Fire out of the Sky Mesa mare, Gidget Girl. Under previous trainer Richard Baltas, the gelding won the King Glorious at Los Alamitos in December and came back to win the Mine That Bird Stakes at Sunland Park in February. In between, he missed by a neck to Fast Draw Munnings in the Cal Cup Derby at Santa Anita. It will be his first start under Puype.
"We'll just go give it our best shot and see what we can do," Puype said. "I'd like to have a little better draw. I'm in between the two speed horses so it's going to make an interesting trip for the rider (Ricky Gonzalez)."
To Straight Up G's left will be Reddam Racing's Slow Down Andy, the GIII Sunland Derby winner from the Doug O'Neill barn. The son of Nyquist finished second to High Connection in the Los Alamitos Derby last out.
"We're very confident about him," stable foreman Sabas Rivera said. "He's nice and quiet and just does his job."
To Straight Up G's right will be KMN Racing's Smuggler's Run. Also by Straight Fire out of the Kitten's Joy mare, Maddie's Odyssey, the gelding is trained by Jerry Hollendorfer. He captured the Echo Eddie Stakes at Santa Anita in April and will be ridden by Mike Smith.
Also in the gate will be Lovingier, Fasihudden or Navarro's Finneus, winner of the $175,000 Golden State Juvenile at Del Mar on the Breeders' Cup Friday undercard. He has yet to return to the winners circle in four subsequent tries, though he's finished in the money in three of those efforts.
Brown, Klein or Lebherz's Joker Boy won the $100,000 I'm Smokin Stakes at Del Mar last summer. The son of Practical Joke is oh-for-three since.
Mr. and Mrs. Larry Williams' Royal 'n Rando won the $75,000 Silky Sullivan Stakes up at Golden Gate Fields in May. He finished 13th last out in the Oceanside.
Then there's William Peeple's Big City Lights from the Richard Mandella barn. The son of Mr. Big is undefeated after two starts but he hasn't run in over a year. Last out he won the $100,000 Fasig Tipton Futurity at Santa Anita in June of 2021.
"He's training great," Mandella said. "I expect him to run really good."
Here's the field for the Real Good Deal Stakes from the rail with the jockeys and morning line odds: Finneus (Umberto Rispoli, 8-1); Slow Down Andy (Mario Gutierrez, 2-1); Straight Up G (Ricardo Gonzalez, 4-1); Smuggler's Run (Mike Smith, 4-1); Joker Boy (Tyler Baze, 15-1); Royal 'n Rando (Kyle Frey, 12-1); Lookinformischief (Abel Cedillo, 30-1), and Big City Lights (Juan Hernandez, 5-2).
---
COOLING OUT: Both the first and second place finishers in last Sunday's GII Eddie Read came out of the race in good order. Trainer Michael McCarthy says the winner, Master Piece, came out the race in great shape adding that they have not decided on his next race. "We're keeping all of our options open," McCarthy says. If he stays at Del Mar, the GI Del Mar Handicap on Pacific Classic Day (Sept. 3) would be a logical step. Trainer Phil D'Amato says runner-up Hong Kong Harry came out of the Eddie Read in "good shape" and his future is also under discussion…Notable works on Tuesday: Dirt ---Lieutenant Dan (4f, :48.80); Irideo (4f, :49.20); Blue Stripe (5f, 1:02.80). Wednesday: Dirt – High Connection (5f, 1:00); Turf – Red King (5f, 1:00.80).
---
Del Mar Statistics
Jockey Standings
(Current Through Sunday, July 31, 2022 Inclusive)
| | | | | | | | |
| --- | --- | --- | --- | --- | --- | --- | --- |
| Jockey | Mts | 1st | 2nd | 3rd | Win% | In-money% | Money Won |
| Juan Hernandez | 54 | 13 | 9 | 11 | 24% | 61% | $961,306 |
| Umberto Rispoli | 40 | 9 | 8 | 4 | 23% | 53% | $678,200 |
| Joe Bravo | 29 | 8 | 3 | 3 | 28% | 48% | $592,836 |
| Ramon Vazquez | 48 | 5 | 12 | 8 | 10% | 52% | $659,466 |
| Edwin Maldonado | 37 | 5 | 2 | 5 | 14% | 32% | $303,920 |
| Kyle Frey | 43 | 4 | 7 | 6 | 9% | 40% | $320,144 |
| Abel Cedillo | 47 | 4 | 6 | 5 | 9% | 32% | $415,380 |
| Victor Espinoza | 19 | 3 | 2 | 0 | 16% | 26% | $203,520 |
| Mike Smith | 15 | 3 | 1 | 0 | 20% | 27% | $311,680 |
| Florent Geroux | 29 | 2 | 5 | 4 | 7% | 38% | $213,600 |
Trainer Standings
(Current Through Sunday, July 31, 2022 Inclusive)
| | | | | | | | |
| --- | --- | --- | --- | --- | --- | --- | --- |
| Trainer | Sts | 1st | 2nd | 3rd | Win% | In-money% | Money Won |
| Philip D'Amato | 43 | 7 | 9 | 13 | 16% | 67% | $818,166 |
| Bob Baffert | 21 | 6 | 4 | 6 | 29% | 76% | $499,430 |
| Doug F. O'Neill | 30 | 5 | 2 | 2 | 17% | 30% | $312,740 |
| Peter Miller | 34 | 3 | 10 | 3 | 9% | 47% | $386,820 |
| George Papaprodromou | 29 | 3 | 4 | 5 | 10% | 41% | $407,400 |
| Michael W. McCarthy | 16 | 3 | 2 | 3 | 19% | 50% | $316,780 |
| John W. Sadler | 22 | 3 | 2 | 3 | 14% | 36% | $214,316 |
| Andy Mathis | 10 | 3 | 0 | 1 | 30% | 40% | $128,120 |
| John A. Shirreffs | 9 | 3 | 0 | 0 | 33% | 33% | $166,300 |
| Richard E. Mandella | 14 | 2 | 2 | 2 | 14% | 43% | $304,120 |
Winning Favorites Report
(Current Through Sunday, July 31, 2022 Inclusive)
Winning favorites -- 21 out of 70 -- 30.00%
Winning favorites on dirt -- 13 out of 40 -- 32.50%
Winning favorites on turf -- 8 out of 30 -- 26.67%
Winning odds-on favorites -- 4 out of 8 -- 50.00%
In-the-Money favorites -- 55 out of 70 -- 78.57%
In-the-Money odds-on favorites -- 8 out of 8 -- 100.00%