Sunday, August 30th, 2020 ( 5 months ago )
Stable Notes
August 30, 2020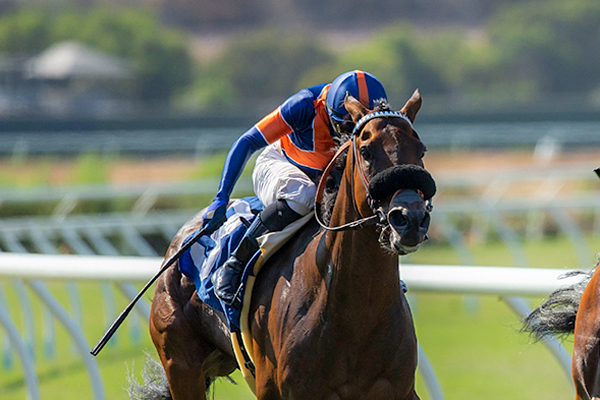 Raymundos Secret © Benoit Photo
EIGHT SET TO GO IN NEXT SATURDAY'S GRADE II JOHN C. MABEE
A field of eight was entered today for next Saturday's Grade II, $150,000 John C. Mabee Stakes.
The 1 1/8-mile test for older fillies and mares on the Jimmy Durante Turf Course, won the past two years by standout Vasilika, will be run for the 63rd time overall and the 18th time since being renamed for one of the founding fathers of the Del Mar Thoroughbred Club.
Seven race nominees were put through final exercises when the turf course opened at 9:45 this morning with some trainers waiting to make entry decisions until after the workouts.
Trainer Phil D'Amato, who conditioned Red King for an upset of United in the Del Mar Handicap on the grass eight days ago, observed as Raymundos Secret worked 5 furlongs in 1:02.60 and declared the Florida-bred, 4-year-old daughter of Treasure Beach ready for the race.
"She had a nice strong gallop out and it's all good," D'Amato said.
Raymundos Secret has four wins in six lifetime starts and is fresh off a victory in an allowance race here on August 14 that ended a nearly 10-month hiatus from racing.
"She might have come back earlier in a pre-Covid environment," D'Amato said. "There was nothing wrong physically, we just gave her that extra time. She came back in really good order and I think it was a really good prep for her. So we're taking a shot in the stakes."
A year ago, Raymundos Secret was tried at the 1 1/8-mile distance in a stakes here – the Grade I Del Mar Oaks. She set the pace for the first mile but was overwhelmed by late runners in the final eighth and finished eighth of 13.
"She's grown up since then and seems like a much kinder filly to rate now," D'Amato said. "I'm hoping that with her being more mature, and showing she can relax, that will help her finish better."
The draw for post positions was set for this afternoon. The field, in alphabetical order: Catch the Eye (J.C. Diaz, Jr.); Don't Blame Judy (Drayden Van Dyke); Lady Prancealot (Umberto Rispoli); Meal Ticket (Tiago Pereira); Pulpit Rider (Juan Hernandez); Quick (Jose Valdivia, Jr.); Raymundo's Secret (Flavien Prat), and Zee Drop (Abel Cedillo).
---
AUTHENTIC JOINS HONOR A.P. WITH FINAL WORK BEFORE DERBY
Haskell Stakes winner Authentic worked six furlongs in 1:12.40 this morning, his final exercise before heading for Churchill Downs and next Saturday's Kentucky Derby.
For the second time during his training here there was a glitch as sirens went off for a loose horse on the track, but it proved to be only a momentary distraction.
"Authentic worked very well and the loose horse was caught quickly," Baffert said via text. "Never in danger. (Authentic is) going into the Derby as well as can be. I feel very good about him going in; the rest is up to racing luck."
The clocking was the best of nine at the distance.
Authentic, a son of Into Mischief, has three wins in four starts this year and is 4-for-5 in his career with earnings of over $1.1 million. His only loss was a runner-up to Honor A.P. in the Santa Anita Derby.
Saturday afternoon before the races, Honor A.P. was sent seven furlongs with his Derby rider, Mike Smith, up and his trainer, John Shirreffs, looking on from the track's Clubhouse box section.
His final time for the move was 1:27.20. Track clocker Toby Turrell caught splits of :25.80, :37.80, :50.20, 1:02.80 and 1:14.80 along the way. He gave him a one mile gallop-out time of 1:40.60.
"I just wanted an easy seven eighths," Shirreffs said. "He got it; we're good to go. Now we just need a bit of luck. You need some of that in that race."
Since running second in the Shared Belief Stakes here on August 1, the grandson of the late champion and superior stallion A.P. Indy has had four workouts at Del Mar in preparation for his mile and a quarter debut next Saturday.
His last three works -- :59.40 August 15, 1:00.20 August 22 and Saturday's drill – all were accomplished in the early afternoon with Hall of Famer Smith up.
---
BAFFERT'S PLAN: ONE FOR FUTURITY, ONE OR TWO FOR DEBUTANTE
The two Grade I, $250,000 events for 2-year-olds that highlight the final weekend of the summer meeting – the Del Mar Debutante and the Runhappy Del Mar Futurity – are now just one week and eight days away, respectively.
Hall of Fame trainer Bob Baffert, who has won the Debutante eight times – most recently with Bast last year – and the Futurity 14 times – the last being with Game Winner in 2018 – was asked Saturday about his 2020 plans.
"Right now, today, I'd say I'm going to run Princess Noor in the Debutante, but I could add another one," Baffert said. "And I'm going to run Spielberg in the Futurity."
Princess Noor, a $1.350 million purchase by Zedan Racing Stables at the Ocala, FL, Sale in February, debuted here on August 22 with an impressive 2 ½-length victory at 5 ½ furlongs. Spielberg, a $1 million purchase at the Keeneland September Sale in 2019, made his racing debut here on August 8, finishing second, beaten 5 ¾ lengths, by Futurity nominee Dr. Schivel.
Speilberg worked 6 furlongs in 1:12.60 this morning. Other Debutante or Futurity hopefuls to work were: Debutante – Dixie's Two Stents (5f, :59.00 from the gate) and Get On the Bus (5f, :59.60, from the gate); Futurity – Sonic Brees (4f, :51.40 on turf).
---
TEN ENTERED FOR FRIDAY'S I'M SMOKIN STAKES
A field of 10 California-bred colts was entered Saturday for next Friday's $100,000 I'm Smokin, the first of seven stakes over the four-day finale of Del Mar's 81st summer racing season.
The group includes Positivity, winner of the Graduation Stakes on August 2, who will be representing a new owner and trainer but retain the services of jockey Drayden Van Dyke who has been aboard in a 2-for-2 start to his career.
The son of Paynter was acquired by former California Horse Racing Board chairman Charles Winner in a private sale and turned over to the care of trainer Paddy Gallagher.
The field from the rail: Alpine Thunder (Tiago Pereira); Jazz Hands (Geovanni Franco); Tacoflavoredkisses (Umberto Rispoli); Positivity (Drayden Van Dyke); Good With People (Abel Cedillo); Pappy Boyington (Ricardo Gonzalez); Touchdown Brown (Juan Hernandez); Scooby (Flavien Prat); Found My Ball (Mario Gutierrez), and Doc Adams (Ruben Fuentes).
---
THE MELVIN FILES, PART V
During the early 1990s, in the time of his transition from training Quarter Horses to Thoroughbreds, Bob Baffert had a horse claimed away from him by Mel Stute.
Future Hall of Famer Baffert observed with a high degree of curiosity as the horse claimed away was put through a series of aggressive works and then, by Baffert's recollection, won three straight races.
Baffert coined the term "Melvinized," as in "That horse got Melvinized." It was applied to runners that weren't babied but were somehow made better by the old-school methods Stute learned and applied over many decades of being around, working with and training horses.
"I even named a horse 'Melvinized,'" Baffert said recently. "But it didn't turn out to be very good."
The methods were applied to horses at every level. Snow Chief was put through a 3-furlong "blow-out" work in :34.20 the day before the 1 ¼-mile Kentucky Derby and won the Jersey Derby nine days after his triumph in the Preakness. Moves inconceivable today.
"Mel wasn't afraid to work horses fast or run them often," Baffert said. "He'd ask me 'How do those East Coast trainers get their horses fit working them 50 and change?'
"We need trainers like that today."
Fast forward to early this month. It was a birthday party for Stute, who turned 93 on August 8 and would pass away four days later.
Baffert's recent superstar acquisition Maximum Security had been all out to win the San Diego Handicap on July 25 and was being prepped for the TVG Pacific Classic on August 22.
"I told him, 'I'm going to Melvinize that horse,'" Baffert said. "And Mel said, (imitating his raspy voice), 'You do it.'"
A bullet 6-furlong work on August 9 and a fast 7-furlong work a week later led to a wire-to-wire, never-seriously-challenged win in the Classic.
---
CLOSERS – The victory by Soothing ($34.40) in Saturday's third race was No. 292 in 34 seasons at Del Mar for trainer Bob Hess, Jr., tying him with Mel Stute for No. 10 on the track's all-time list … Selected works from 173 on dirt and 35 on turf this morning: Dirt – Cezanne (4f, :47.00), Collusion Illusion (4f, :48.00), McKinzie (4f, :48.00), Pulpit Rider (4f, :49.20), Blitzkrieg (5f, 1:01.80) and Wildman Jack (5f, 1:01.60); Turf – Cordiality (3f :38.20), Tonahutu (4f, :47.00) and El Tigre Terrible (6f, 1:14.60).

---
Del Mar Statistics
Presented by Torrey Hollistics
Jockey Standings
(Current Through August 29, 2020 Inclusive)
| | | | | | | | |
| --- | --- | --- | --- | --- | --- | --- | --- |
| Jockey | Mts | 1st | 2nd | 3rd | Win% | In-money% | Money Won |
| Umberto Rispoli | 153 | 39 | 21 | 20 | 25% | 52% | $1,789,642 |
| Flavien Prat | 163 | 38 | 38 | 19 | 23% | 58% | $2,352,072 |
| Juan Hernandez | 164 | 23 | 24 | 22 | 14% | 42% | $1,213,554 |
| Abel Cedillo | 192 | 22 | 29 | 34 | 11% | 44% | $1,771,577 |
| Tiago Pereira | 100 | 16 | 6 | 6 | 16% | 28% | $611,672 |
| Drayden Van Dyke | 98 | 13 | 17 | 10 | 13% | 41% | $989,470 |
| Ricardo Gonzalez | 89 | 12 | 8 | 10 | 13% | 34% | $571,240 |
| Mario Gutierrez | 70 | 9 | 10 | 11 | 13% | 43% | $538,420 |
| Mike Smith | 59 | 7 | 9 | 11 | 12% | 46% | $506,012 |
| Ruben Fuentes | 69 | 6 | 6 | 10 | 9% | 32% | $271,842 |
Trainer Standings
(Current Through August 29, 2020 Inclusive)
| | | | | | | | |
| --- | --- | --- | --- | --- | --- | --- | --- |
| Trainer | Sts | 1st | 2nd | 3rd | Win% | In-money% | Money Won |
| Peter Miller | 85 | 22 | 18 | 3 | 26% | 51% | $1,142,852 |
| Philip D'Amato | 64 | 15 | 12 | 7 | 23% | 53% | $762,260 |
| Bob Baffert | 43 | 12 | 11 | 6 | 28% | 67% | $1,062,830 |
| John W. Sadler | 57 | 10 | 9 | 5 | 18% | 42% | $603,150 |
| Simon Callaghan | 26 | 10 | 3 | 1 | 38% | 54% | $395,540 |
| Doug F. O'Neill | 95 | 9 | 18 | 15 | 9% | 44% | $633,105 |
| Richard Baltas | 71 | 8 | 11 | 10 | 11% | 41% | $567,470 |
| Mark Glatt | 59 | 6 | 10 | 11 | 10% | 46% | $634,492 |
| Peter Eurton | 34 | 6 | 6 | 6 | 18% | 53% | $276,340 |
| Jeff Mullins | 34 | 5 | 3 | 2 | 15% | 29% | $204,780 |
Winning Favorites Report
(Current Through August 28, 2020 Inclusive)
Winning favorites -- 73 out of 220 -- 33.18%
Winning favorites on dirt -- 43 out of 120 -- 35.83%
Winning favorites on turf -- 30 out of 100 -- 30.00%
Winning odds-on favorites -- 21 out of 40 -- 52.50%
In-the-Money favorites -- 144 out of 220 -- 65.45%
In-the-Money odds-on favorites -- 38 out of 40 -- 95.00%