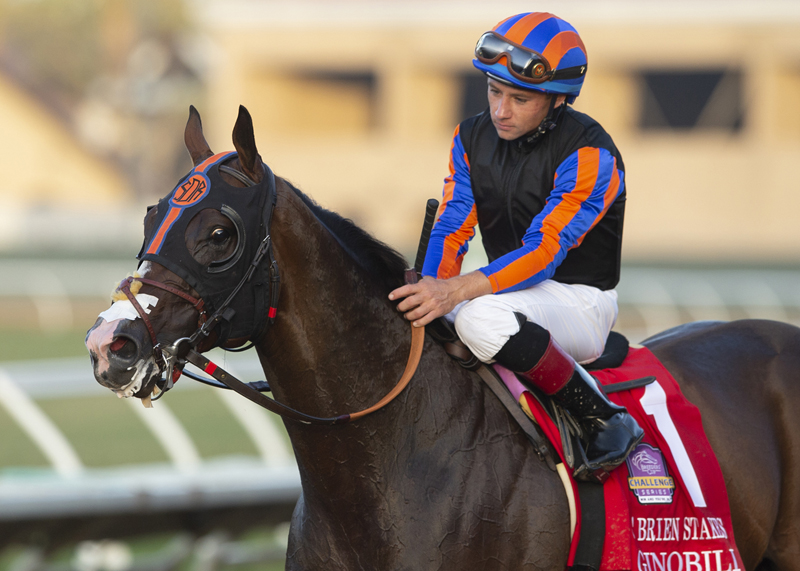 Ginobili © Benoit Photo
O'BRIEN WIN MAKES GINOBILI A SLAM DUNK FOR BC DIRT MILE
The colt by Munnings was a $35,000 purchase at the Keeneland September sale in 2018, a find that Richard Baltas first offered for purchase to the Slam Dunk Racing partnership headed by former jockey agent and basketball aficionado Nick Cosato.
"I loved him because even as an early 2-year-old he looked like a 3-year-old," Cosato said this morning of the horse that produced a 1 ¾-length victory in Saturday's Grade II, $200,000 Pat O'Brien Stakes. "So we were in right away, and some other partners eventually came in as well."
Cosato did the naming honors, coming up with the surname of Manu Ginobili, the native of Argentina who was a four-time NBA champion while starring with the San Antonio Spurs.
Unlike his namesake, Ginobili the horse wasn't a consistent winner. He came into the Pat O'Brien with two wins from 12 lifetime starts, a maiden score here in August of 2019 and a mile allowance tally on July 17, the second day of the current meeting, by an impressive 9 ¾ lengths.
"The Munnings line is kind of curious," Cosato said. "He throws a variety (of runners); they tend to be good on the turf but that's not true for all of them."
So finding the right surface and distance took some doing. But input from jockey Joe Bravo following a fourth-place finish in a 6 ½-furlong race at Santa Anita on June 19 led to a 9¾-length victory in a mile event here on July 17 that generated thoughts of bigger things.
"Did the mile wake him up? Possibly, but I think adding blinkers and a couple other things contributed too," Cosato said.
Following the July 17 race, the partnership was ready for a step up to stakes, but not unified on just which one and where. The TVG Pacific Classic, the Charles Town Classic and the Pat O'Brien were discussed before settling on the last named, a "Win and You're In" qualifier for the $1 million Big Ass Fans Breeders' Cup Dirt Mile at Del Mar on November 6.
With Bravo committed to riding Flagstaff for trainer John Sadler, jockey Drayden Van Dyke got the call on Ginobili and executed a best-case scenario, positioning outside front-runner Brickyard Ride for the first half-mile, opening up 3 ½-lengths at the top of the stretch and holding on nicely from there.
Craig Lewis, trainer of Brickyard Ride, was disappointed that the stall gate, which should have been shut, was left open and his horse bolted through before the start. Brickyard Ride was reined in and deemed still worthy to race, but the premature exertion probably contributed to his tiring after a half-mile and finishing last.
"These are things we don't have any control over and you wish wouldn't happen," Lewis said.
Ginobili reportedly came out of the race in fine fettle as did runner-up and 2-1 favorite C Z Rocket and third-place Flagstaff.
"The horse ran great, I have no fault with the horse or the rider," said Peter Miller, trainer of C Z Rocket. "Hats off to the winner.
"But I'd like to have seen what they could have done on a (different) racetrack. Hopefully we get that for the Sprint Championship (Stakes) at Santa Anita and for the Breeders' Cup. More importantly for the Breeders' Cup."
Sadler on Flagstaff: "We thought he ran a good race. He didn't win but he ran a good race. Props to the winner, who ran a great race. (Flagstaff) might run again at Santa Anita and then come back for the Breeders' Cup Sprint."
---
DEAD HEAT FOR A DOUBLE WIN BOOSTS SADLER IN TRAINER STANDINGS
When Little Liliana and Kalon finished in a dead-heat for win in Saturday's fifth race it was a double-dip victory for John Sadler, who trains them both.
Not even the camera could separate Little Liliana, a Joe Turner homebred 3-year-old daughter of Square Eddie ridden by Umberto Rispoli and Kalon, a 4-year-old Kentucky-bred daughter of Bernardini ridden by Florent Geroux, when they hit the wire in the five-furlong turf sprint for maiden fillies and mares.
It was the second career start for Little Liliana and the seventh for Kalon.
"I've been involved in lots of dead heats, but none with both of them my horses for the win," Sadler said this morning. "That's really rare. That's like a lunar eclipse or something. I've never seen that."
The double victory, and another in the opening race on the card from Electric Ride with Joe Bravo aboard, enabled Sadler to leapfrog Phil D'Amato, Bob Baffert and Mark Glatt from fifth to second in the trainer standings. Peter Miller leads with 20 wins from 113 starters, Sadler has 11 from 68, while D'Amato (13/84), Baffert (13/53) and Glass (13/66) are next.
Sadler, who has three Del Mar training titles on his record, gets credit for four wins in three races from the finale on the Friday program to the fifth-race double.
Bravo notched his second consecutive victory when he guided Doncic home for Sadler in Friday's nightcap and made it three in a row, and back-to-backs for Sadler, in Saturday's opener.
Sadler had no representatives in the second, third or fourth races before doubling up in the fifth. The streak ended when Luvluv finished second in the ninth race, then Flagstaff finished third in the Pat O'Brien Stakes.
"We'll take it," Sadler said.
---
PRAT RETURNS STILL COMFORTABLY AHEAD IN THE RIDER STANDINGS
Flavien Prat is scheduled back from a winless two-day trip to Saratoga with seven scheduled mounts on today's 10-race program, among them The Great One for Doug O'Neill in the $100,000 Shared Belief Stakes which features Kentucky Derby winner Medina Spirit and Santa Anita Derby winner Rock Your World.
Prat, who has four summer riding titles, solo or shared, in the last five years, starts the last six days of his title defense with an eight-win margin over Juan Hernandez and Abel Cedillo (34-26).
With Prat expected to hold on, the race for second could prove to be most interesting. Hernandez (26 for 158) and Cedillo (26/165) are three ahead of Umberto Rispoli (23/141).
---
THE CLAIMING GAME STAYS PLENTY POPULAR AT DEL MAR MEET
Through Saturday's Day 25 card of Del Mar's 31-day season, horse claims have not slowed down, notes the lady who takes care of these things, stewards' aide Lucy Vaillancourt.
She reports that there have been 193 total claims realized so far at the session and that's not counting the 31 voided claims that were turned back. All told, those actual claims cost $5,524,000, which means that "the Governor" (aka, the state of California) has realized $483,349 from its 8.75% sales tax.
"And what you've got to realize," Vaillancourt said, "is that we've had 888 cards 'dropped' (a claim request) so far. There are a lot of folks looking to buy horses this way."
One of the yardsticks for measuring the claiming activity is the number of "shakes" that are held post-race. That's a situation where more than one horseperson has dropped a request to claim a particular horse, forcing there to be a "shake" (or blind pill pull) to determine the one who becomes the new owner of the horse.
Yesterday Vaillancourt conducted a 17-way "shake" for the 3-year-old gelding Magic Tiger, who trainer Mike Maker had put in for a $16,000 tag in Race 2. The winner of that pill pull was trainer Jamey Thomas, which is an interesting story all in itself.
Thomas had run Magic Tiger for the same $16,000 tag at Del Mar three weeks earlier on August 7, watched him run third and then go to Maker's barn. Yesterday Thomas took Magic Tiger – who again ran third – back for the same price, after, of course, he had come out on top in that 17-way "shake."
---
CLOSERS – Selected works from 187 on dirt and 38 on turf this morning, courtesy of clocker/handicapper Toby Turrell: Dirt – Dr. Schivel (4f, :51.60); At the Spa (5f, 1:03.60); Elm Drive (5f, 1:00.00); Finneus (5f, 1:00.20); Moraz (5f, 1:00.00); Turf – Beer Can Man (4f, :49.20); Going to Vegas (4f, :48.00); Hudson Ridge (5f, 1:00.80); Sword Zorro (5f, 1:02.00).
---
Del Mar Statistics
Jockey Standings
(Current Through Sunday, August 28, 2021 Inclusive)
| | | | | | | | |
| --- | --- | --- | --- | --- | --- | --- | --- |
| Jockey | Mts | 1st | 2nd | 3rd | Win% | In-money% | Money Won |
| Flavien Prat | 128 | 34 | 27 | 18 | 27% | 62% | $2,751,798 |
| Abel Cedillo | 165 | 26 | 28 | 24 | 16% | 47% | $1,467,926 |
| Juan Hernandez | 158 | 26 | 18 | 29 | 16% | 46% | $1,904,274 |
| Umberto Rispoli | 141 | 23 | 33 | 18 | 16% | 52% | $1,748,426 |
| Joe Bravo | 94 | 19 | 6 | 21 | 20% | 49% | $1,125,412 |
| Kyle Frey | 110 | 12 | 7 | 7 | 11% | 24% | $776,220 |
| Edwin Maldonado | 87 | 11 | 4 | 5 | 13% | 23% | $513,980 |
| Kent Desormeaux | 68 | 10 | 11 | 10 | 15% | 46% | $652,520 |
| Geovanni Franco | 75 | 10 | 5 | 4 | 13% | 25% | $480,220 |
| Jessica Pyfer | 92 | 9 | 5 | 5 | 10% | 21% | $397,072 |
Trainer Standings
(Current Through Sunday, August 28, 2021 Inclusive)
| | | | | | | | |
| --- | --- | --- | --- | --- | --- | --- | --- |
| Trainer | Sts | 1st | 2nd | 3rd | Win% | In-money% | Money Won |
| Peter Miller | 113 | 20 | 19 | 21 | 18% | 53% | $1,468,474 |
| John W. Sadler | 68 | 14 | 8 | 7 | 21% | 43% | $1,308,152 |
| Bob Baffert | 53 | 13 | 12 | 8 | 25% | 62% | $899,700 |
| Mark Glatt | 66 | 13 | 10 | 8 | 20% | 47% | $803,690 |
| Philip D'Amato | 84 | 13 | 7 | 11 | 15% | 37% | $1,131,476 |
| Doug F. O'Neill | 111 | 10 | 20 | 18 | 9% | 43% | $775,704 |
| Richard Baltas | 72 | 9 | 8 | 10 | 13% | 38% | $774,040 |
| Peter Eurton | 33 | 8 | 4 | 1 | 24% | 39% | $291,520 |
| Steven Miyadi | 20 | 7 | 2 | 3 | 35% | 60% | $285,420 |
| Robert B. Hess, Jr. | 63 | 6 | 5 | 8 | 10% | 30% | $273,200 |
Winning Favorites Report
(Current Through Sunday, August 28, 2021 Inclusive)
Winning favorites -- 79 out of 233 -- 33.91%
Winning favorites on dirt -- 45 out of 130 -- 34.62%
Winning favorites on turf -- 34 out of 103 -- 33.01%
Winning odds-on favorites -- 20 out of 37 -- 54.05%
In-the-Money favorites -- 164 out of 233 -- 70.39%
In-the-Money odds-on favorites -- 32 out of 37 -- 86.49%