Saturday, August 29th, 2020 ( 5 months ago )
Stable Notes
August 29, 2020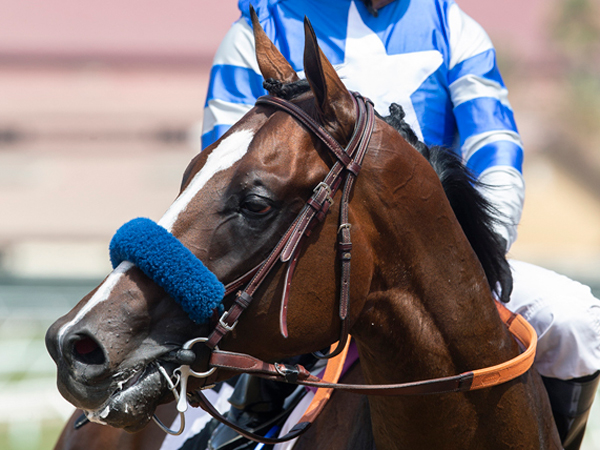 Thousand Words © Benoit Photo
FINAL WORKS HERE FOR KENTUCKY DERBY AND OAKS CONTENDERS
Hall of Fame trainer Bob Baffert sent out Gamine and Thousand Words, bound for next week's Kentucky Oaks and Derby, respectively, for final workouts this morning.
Gamine, a brilliant winner of the Test Stakes at Saratoga on August 8, is expected to vie for favoritism with Swiss Skydiver in Friday's $1.25 million, Grade I Kentucky Oaks for 3-year-old fillies.
With Juan Ochoa in the irons, the daughter of Into Mischief owned by Michael Lund Petersen covered six furlongs in 1:11.60. Clocker Toby Turrell had interim splits of :24.40, :36.60 and :59.40 and commented she "exploded brilliantly." Gamine's workmate, Quality Response, a 3-year-old stakes-winning filly, was timed in :48.00 for a half-mile.
"She worked beautifully," Baffert said. "She's coming into the race very well and I'm very happy with her right now. It's going to be a tough race, very competitive, but we're excited and she looks ready for it."
Thousand Words, the upset winner over Honor A.P. in the Shared Belief Stakes here on August 1, got an official clocking of :59.80 for 5 furlongs. Turrell had the son of Pioneerof the Nile timed in :11.80 and :36 at the start with gallop-outs of 1:11.40 for 6 furlongs and 1:25.00 for seven-eighths. Workmate Tapitution, a 3-year-old maiden colt, was timed in 1:01.00 for 5 furlongs.
Storm the Court, whose 2019 Breeders' Cup Juvenile victory earned an Eclipse Award in the 2-year-old male division, worked six furlongs in 1:12.80 with the final half mile in :47.60 under exercise rider Austin Solis.
"A good work, all we were looking for," trainer Peter Eurton said. "If he comes out of it well, we're headed East."
Another Kentucky Derby contender, C R K Stable's Honor A.P. is scheduled to work 7 furlongs prior to Del Mar's first race this afternoon.
The West Coast contingent to the Kentucky Oaks and Derby is booked to ship Monday. John Velazquez rides Gamine and Baffert's top Derby contender Authentic, Florent Geroux has the call on Thousand Words and Julien Leparoux is slated to ride Storm the Court.
---
GENEROUS PORTION DOUBLE WOULD BE PERFECT FOR BERNARD & FILLY
Trainer Lisa Bernard saddled Governor Goteven to a victory in the CTBA on August 1 that was both the first stakes victory of her burgeoning career and first at Del Mar.
Cause for a celebration that current circumstances rendered low key.
"There was nothing (in terms of major restaurants) open so we just went and had tacos," Bernard said Friday by telephone. "But the feeling was pretty fantastic. It was wonderful."
Bernard, 37, hopes to reprise the feelings when she sends Governor Goteven out to face six rivals in Sunday's $100,000 Generous Portion Stakes for 2-year-old California-bred fillies.
Governor Goteven was prominent from the start and pulled away in the final furlong for a 3 ½-length victory in the CTBA to go 2-for-2 in her career. She's the only starter during the meeting for Bernard.
Since the CTBA, Governor Goteven, a daughter of Govenor Charlie out of the Time to Get Even mare Linda Goteven, bred and owned by Templeton Horses, has had two works over the surface. The most recent, a week ago today, was a half-mile in :47.20, third-best of 74 at the distance.
"She knows her job, knows what she needs to do," Bernard said. "It has clicked in for her and you can tell she knows she won and she's proud of herself. Fillies are like that; they take things to heart."
The 6 furlongs of the Generous Portion represent another step for Governor Goteven, whose wins have come at 4 ½ and 5 furlongs. In Bernard's estimation the added eighth of a mile should not be a problem.
"I've always felt she needs to go longer," Bernard said. "She's a big filly who needs to get her feet under her and get in her best stride. There's more speed in this race than we expected, but she doesn't have to be up front, she can come from off the pace."
Bernard, a native of New Hampshire, started riding when she was 10 years old and has been around horses, especially Thoroughbreds, ever since. Her passion, she said, goes beyond racing to retraining retirees for second careers as jumpers or in other capacities. She has five runners in training at San Luis Rey Downs and works with retirees and others at Terry Lovingier's Lovacres Ranch in Warner Springs.
Bernard came to California 3 ½ years ago and was mentored by Walther Solis, who trained out of San Luis Rey. Bernard took over Solis' stock when he retired from training last year for a position at Lovacres Ranch.
Lovingier bred and co-owns Generous Portion entrant Will Take a Kiss, a maiden winner here the same day of Governor Goteven's CTBA victory.
Also among the field is Mucha Woman, a $2,000 purchase at a 2019 California yearling sale who, with a victory in an August 14 maiden race at Del Mar, has earned $22,500. She is trained by Sal Gonzalez for Tricar Stables.
"I didn't pay much for her. I went to the sale and started buying horses for $2,000-$3,000," Gonzalez said. "We bought 11 of them and so far four of them have won already."
It will be the fourth career start for the daughter of Empire Way bred by (you guessed it) Lovingier.
"The first time she ran she was a little green," Gonzalez said. "Then I ran her in a maiden $50,000 here (July 24) and she stumbled coming out of the gate and grabbed a quarter. So we had to take care of her and get her mended.
"Then we got her ready to run again for maiden $50,000 and she won easy (by 7 ½ lengths). So she'd getting better as we go along and I think she will perform well on Sunday.
"I don't like the post position (No. 1), but that's what she drew, so we deal with it. We have high hopes for her and I think she'll be even better going a mile."
The field from the rail: Mucha Woman (Umberto Rispoli, 8-1); Do You Hear That (Abel Cedillo, 8-1); Governor Goteven (Tiago Pereira, 3-1); Big Andy (Flavien Prat, 7-2); Will Take a Kiss (Juan Hernandez, 8-1); I'm So Anna (Ricardo Gonzalez, 5-2), and Emma's Dance (Ruben Fuentes, 5-1).
---
FIRST STAKES DEAD-HEAT AT DEL MAR IN 47 YEARS
The dead-heat for the win between Proud Emma and Message in Friday's Tranquility Lake was the first in a stakes event at Del Mar in nearly a half-century and only the third all-time at the track.
The first such occurrence was in the 1968 Del Mar Derby, when Prince Hemp and Glory Hallelujah couldn't be separated by the photo-finish camera. The most "recent" was in the second division of the 1973 Rancho Bernardo when the co-winners were Dollar Discount and D.B. Carm.
The dead-heat victory in a stakes was the first for Hall of Fame trainer Bob Baffert, who has been winning them at Del Mar, and lots of other Thoroughbred places, for over three decades.
It was also a first, and a double-dip benefit for jockey Flavien Prat, aboard Message for Baffert.
It was the 11th stakes win of the meeting for Prat, two short of the track's single-season record for jockeys with eight more black-type events on the calendar. It also moved Prat back into a tie with Umberto Rispoli atop the rider standings with 36 wins each.
---
EXOTIC BETS RISING UP AT DEL MAR SUMMER MEETING
Through the first 19 days (Sunday, August 23) of the current Del Mar season, weekend wagering (Saturday and Sunday) on the Late Pick 5 and the Pick 6 have been husky and hearty despite the fact that – other than a handful of owners -- the track does not have fans in the stands.
The average Late Pick 5 pool has registered in at $1,177,119. Last year that average was $728,260, meaning there is an increase of $448,859, a remarkable 62% rise. The average payout on the .50¢ bet has been $9,292.
The average Pick 6 pool this year has been $352,734. That compares to the 2019 average of $279,813, a difference of $72,921, meaning a 26% boost. The Pick 6 is a $2 wager.
Additionally, the track's Late Pick 4 – a .50¢ bet -- is up 16% for the season so far.
The 27-day meet continues through Labor Day Monday, September 7.
---
EASY WAY TO ORDER PHOTOS FROM ANY DEL MAR RACE THIS SUMMER
For anyone wanting to order photos from any race run at Del Mar this summer, there's an easy way to go. Track photographer Benoit Photo has it all set up for you at this website: www.benoitphoto.com/store
You can view photos there and order them right on the spot. Race photos are uploaded to the site shortly after each race is run.
Del Mar's meet runs from July 10 to September 7.
---
CLOSERS -- Best Pal Stakes winner Weston, trained by Ryan Hanson, worked Friday morning. Taking the track at 4:30 a.m., the first worker of the day, Weston covered five furlongs in 1:00.00 under exercise rider Emily Ellingwood and had what clockers described as a "good, healthy" gallop out to six furlongs in 1:12.80. "He worked well and it looks like we're headed to the Futurity," Hanson said. The Grade I, $250,000 Runhappy Del Mar Futurity will, as is tradition, highlight the closing day of the meeting, Labor Day Monday, September 7 … Selected works from 135 officially timed this morning: Bellafina (4f, :48.40), Gift Box (4f, :49.00), Ollie's Candy (4f, :48.60), Sneaking Out (4f, :48.80), Been Studying Her (5f, 1:00.40), Grecian Fire (5f, 1:02.00), My Girl Red (5f, 1:01.20), Improbable (7f, 1:25.00). Whitney Stakes winner Improbable was timed in :23.00 for the final quarter-mile, a finish that elicited a "wow" comment from clockers.
---
Del Mar Statistics
Presented by Torrey Hollistics
Jockey Standings
(Current Through August 28, 2020 Inclusive)
| | | | | | | | |
| --- | --- | --- | --- | --- | --- | --- | --- |
| Jockey | Mts | 1st | 2nd | 3rd | Win% | In-money% | Money Won |
| Flavien Prat | 153 | 36 | 37 | 17 | 24% | 59% | $2,214,772 |
| Umberto Rispoli | 143 | 36 | 19 | 18 | 25% | 51% | $1,660,838 |
| Abel Cedillo | 183 | 22 | 29 | 32 | 12% | 45% | $1,740,117 |
| Juan Hernandez | 154 | 21 | 22 | 21 | 14% | 42% | $1,117,814 |
| Tiago Pereira | 96 | 14 | 6 | 6 | 15% | 27% | $554,812 |
| Drayden Van Dyke | 92 | 12 | 17 | 9 | 13% | 41% | $932,070 |
| Ricardo Gonzalez | 85 | 12 | 8 | 10 | 14% | 35% | $569,220 |
| Mario Gutierrez | 66 | 9 | 8 | 11 | 14% | 42% | $514,420 |
| Mike Smith | 57 | 6 | 9 | 11 | 11% | 46% | $472,512 |
| Ruben Fuentes | 66 | 6 | 6 | 10 | 9% | 33% | $270,162 |
Trainer Standings
(Current Through August 28, 2020 Inclusive)
| | | | | | | | |
| --- | --- | --- | --- | --- | --- | --- | --- |
| Trainer | Sts | 1st | 2nd | 3rd | Win% | In-money% | Money Won |
| Peter Miller | 83 | 21 | 17 | 3 | 25% | 49% | $1,045,852 |
| Philip D'Amato | 61 | 14 | 12 | 7 | 23% | 54% | $725,220 |
| Bob Baffert | 40 | 11 | 10 | 6 | 28% | 68% | $1,015,930 |
| John W. Sadler | 54 | 9 | 8 | 5 | 17% | 41% | $537,790 |
| Simon Callaghan | 25 | 9 | 3 | 1 | 36% | 52% | $362,540 |
| Doug F. O'Neill | 87 | 8 | 17 | 15 | 9% | 46% | $599,545 |
| Richard Baltas | 67 | 8 | 10 | 10 | 12% | 42% | $552,110 |
| Mark Glatt | 55 | 6 | 10 | 10 | 11% | 47% | $613,392 |
| Peter Eurton | 30 | 5 | 6 | 5 | 17% | 53% | $241,160 |
| Michael W. McCarthy | 29 | 5 | 2 | 5 | 17% | 41% | $251,900 |
Winning Favorites Report
(Current Through August 28, 2020 Inclusive)
Winning favorites -- 68 out of 209 -- 32.54%
Winning favorites on dirt -- 39 out of 114 -- 34.21%
Winning favorites on turf -- 29 out of 95 -- 30.53%
Winning odds-on favorites -- 21 out of 38 -- 55.26%
In-the-Money favorites -- 135 out of 209 -- 64.59%
In-the-Money odds-on favorites -- 36 out of 38 -- 94.74%