Friday, August 28th, 2020 ( 5 months ago )
Stable Notes
August 28, 2020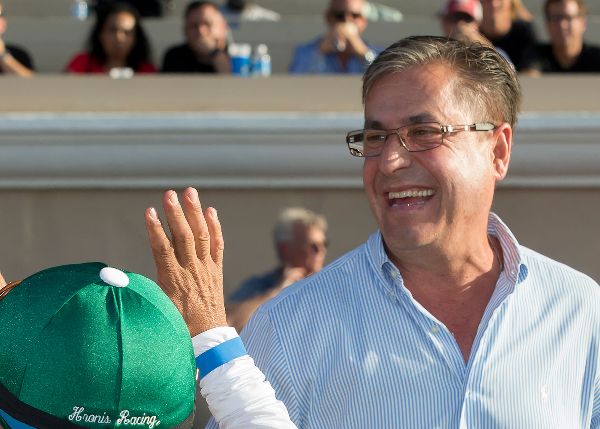 John Sadler © Benoit Photo
SADLER SENDS OUT FAVORITE SEEKING PAT O'BRIEN THREE-PEAT
Flagstaff will carry the hopes of the owner/trainer combination of Hronis Racing and John Sadler for a third straight victory in the Grade II, $150,000 Pat O'Brien Stakes on Saturday.
A 6-year-old gelded son of Speightstown, Flagstaff was tabbed the 5-2 favorite in a field of eight on John Lies' morning line to add on to back-to-back victories by Catalina Cruiser for Hronis Racing and Sadler. Flagstaff, a winner of five of 13 career starts with earnings of $485,785, is owned in partnership with Lanes End Racing.
The Pat O'Brien, a 7-furlong sprint on the main track, is a "Win and You're In" qualifier for the Breeders' Cup Dirt Mile, which has had its purse increased from $1 million to $2 million for the upcoming event at Keeneland on November 7.
Flagstaff, a winner of the 7-furlong, Grade II San Carlos Stakes in March at Santa Anita, most recently finished fourth, beaten 2 ¾ lengths by McKinzie, in the Grade II Triple Bend at Santa Anita on June 20. He has had six workouts at Del Mar since mid-July, with three of them being clocked as the fastest of the day at the distance.
With Sadler at the forefront, the trainers of the last five O'Brien winners will be represented. Peter Miller (Appealing Tale, 2015) will send out C Z Rocket; Ron Ellis (Masochistic, 2016) has Blameitonthelaw, and Peter Eurton has 2017 winner Giant Expectations, the runner-up in last year's O'Brien, primed for another shot at race honors.
C Z Rocket, owned by Tom Kagele, is the lone "invader," having shipped in from Kentucky on a three-race winning streak for Miller after being claimed for $40,000 in April.
"He shipped in great and we're looking forward to it," Miller said Thursday. "He breezed really well over the track (4f, :48.40, last Saturday) and we're excited. He ran in a (non-claiming) race there that was pretty salty so I think this is either a lateral move or a slight step up (in class). I don't think it's a huge step up."
The field from the rail: Law Abidin Citizen (Abel Cedillo, 5-1); P R Radio Star (Juan Hernandez, 6-1); Manhattan Up (Tiago Pereira, 15-1); Flagstaff (Victor Espinoza); C Z Rocket (Flavien Prat, 4-1); Vertical Threat (Heriberto Figueroa, 8-1); Giant Expectations (Umberto Rispoli, 7-2), and Blameitonthelaw (Drayden Van Dyke, 12-1).
---
FIELD OF SEVEN ENTERED FOR SUNDAY'S GENEROUS PORTION
Unbeaten (2-for-2) Governor Goteven will be sent out seeking a second stakes victory of the meeting Sunday in the featured $100,000 Generous Portion.
The 6-furlong sprint for 2-year-old California-bred fillies drew a field of seven, five of which are entered off maiden victories.
Governor Goteven, a daughter of Govenor Charlie, provided trainer Lisa Bernard with her first stakes victory, and first win at Del Mar, when she came home 3 ½ lengths in front of Generous Portion rival Big Andy in the $100,000 CTBA Stakes here on August 1. The CTBA was at 5 ½ furlongs.
The field from the rail: Mucha Woman (Umberto Rispoli, 8-1); Do You Hear That (Abel Cedillo, 8-1); Governor Goteven (Tiago Pereira, 3-1); Big Andy (Flavien Prat, 7-2); Will Take A Kiss (Juan Hernandez, 8-1); I'm So Anna (Ricardo Gonzalez, 5-2), and Emma's Dance (Ruben Fuentes, 5-1).
---
SUNDAY TRIPLE GETS PRAT CLOSER, PADS MILLER LEAD IN TITLE RACES
The jockey-trainer combination of Flavien Prat and Peter Miller struck for three wins last Sunday, having an effect at the top on the races for summer meeting titles.
Prat picked up two wins on leading rider Umberto Rispoli and now trails 36-34 in the victory column entering the final two four-day weekends of the meeting. Miller entered Sunday with a one-win advantage over fast-rising Phil D'Amato and came out of it with an 18-14 lead after D'Amato was blanked.
The third victory of the day for Prat/Miller came with Mo Forza, comebacking after a seven-month layoff, in the Grade II, $150,000 Del Mar Mile. It was the 10th stakes victory of the meeting for Prat, who is three shy of the track record 13 stakes in a single season set by Rafael Bejarano in 2012.
Eight stakes remain on the schedule through closing day, September 7.
Miller, looking to nail down a fourth summer title and match his Bing Crosby meeting total, said Thursday he likes his chances.
"(D'Amato) is having a great meet and we have to keep winning and finish strong," Miller said. "I think we've got a lot of live horses to run back until the end of the meet and a good chance of winning some more races."
---
THE MELVIN FILES, PART IV
With three wins in the meeting, trainer Bob Hess, Jr., has 291 career victories at Del Mar and has moved to one behind Mel Stute for 10th place on the track's all-time win list. Victories to tie or move past Stute, a venerated figure among Southern California circuit trainers who died on August 12 at the age of 93, could be imminent.
Hess has three horses entered on today's card, two on Saturday and four on Sunday.
Apprised of the situation recently, Hess was somewhat taken aback.
"I might be one win away, but I'm decades away from being the class act that he was," Hess said.
"I've been blessed to be born and raised in this industry, number one by being around my father, who's 85, but also by being around people like Charlie Whittingham, Warren Stute, Mel Stute and Henry Moreno. You can't even put into words the class and character of those people.
"They could take a look in the mirror every day and be proud.
"Mel was a great horseman but also, in my opinion from both afar and day-to-day, a true gentleman, a great and kind person. He always looked at the positive, looked at the bright side of things and turned defeats into victories."
Stute was a respected stalwart on the Southern California circuit for decades before being thrust into the national spotlight with the Triple Crown series campaign of Snow Chief in 1986.
"Snow Chief was a great example," Hess said. "He didn't win the Kentucky Derby. No excuses. No one to blame. We go forward and win the Preakness. That's Mel Stute right there."
---
MAYNE MANS UP AS CELEBRITY CHALLENGER IN 'BEACH BOSS'
Kenny Mayne, ESPN anchor, reporter and all-around sports raconteur will be the celebrity challenger to Paulick Report founder Ray Paulick in Saturday's edition of the "Beach Boss" handicapping challenge. The show starts at 11 a.m. and is available on Facebook, Twitter and YouTube. For further information the access link is: https://www.dmtc.com/contest.
The Beach Boss contest is free to everyone and works like this: Sign up to undertake the task of betting mythical money on one designated race each day. Participants get $100 of the imaginary cash for win, place or show wagering. The grand prize at the conclusion of the meeting is two VIP Breeders' Cup tickets when the annual championship event returns to Del Mar in 2021.
---
DEL MAR HORSE ACTIVITY AND NUMBERS DURING THE MEET
Del Mar opened its track for training this summer on Sunday, June 28. When it had its first day of racing on Friday, July 10, it had approximately 1,700 horses on the grounds.
Since then, Del Mar has – up to and including Thursday, August 27 – seen 1,655 starts made by its horses in 200 different races through its first 19 days of racing.
During that same time period, there have been 7,240 timed, high-speed workouts conducted by its horses. Those workouts simulate race speed.
Additionally, there have been approximately 70,350 joggers or gallopers on its tracks between 4:30 and 10 a.m. over the 61 days they have been available.
The total number of horses running or exercising on Del Mar tracks since the track was opened now amounts to 79,245.
For the past two years, The Jockey Club – the sports primary overseeing body -- has by its calculations called Del Mar the safest major racetrack in the country. Currently, the track is on track to make it three in a row.
---
CLOSERS – Some crunchable numbers courtesy of the racing office: 2020 (19 days) Total races, 200; Starters 1,655; Average field size 8.8. 2019 comparative point (30 days) Total races, 244; Starters 1,908; Average field size 7.82 …2020 Pacific Classic Week (3 days) Total races, 32; Starters 287; Average field size 8.97. 2019 Pacific Classic Week (5 days) Total races, 42; Starters 336; Average field size 8.00 … 2020 Turf Racing: Total Races, 90; Starters 792; Average field size 8.80 … Forty-five percent of all races this summer have been run on the Jimmy Durante Turf Course, 10 fewer than 2019 through the same time period … Eighty-five Ship & Win eligible horses have started … The top five riders in the standings have won 62 percent of the races … The top five trainers have won 30 percent of the races … A total of 152 trainers have started at least one horse at the meeting … Due to 11-race cards being likely and sunset coming earlier as the summer nears end, Del Mar has announced that its final three cards – Saturday, September 5, Sunday, September 6 and Labor Day Monday, September 7 – will be run with a first post of 1 p.m. … As a result of his victory in last Saturday's TVG Pacific Classic, Maximum Security was elevated from No. 4 to No. 1 in the weekly National Thoroughbred Racing Association's poll … Trainer Mark Glatt is approaching a personal milestone of 1,000 Thoroughbred career wins in North America (US and Canada). Glatt has 990 wins. He has two scheduled starts for today at Del Mar.
---
Del Mar Statistics
Presented by Torrey Hollistics
Jockey Standings
(Current Through August 23, 2020 Inclusive)
| | | | | | | | |
| --- | --- | --- | --- | --- | --- | --- | --- |
| Jockey | Mts | 1st | 2nd | 3rd | Win% | In-money% | Money Won |
| Umberto Rispoli | 135 | 36 | 16 | 17 | 27% | 51% | $1,626,978 |
| Flavien Prat | 148 | 34 | 36 | 16 | 23% | 58% | $2,156,712 |
| Abel Cedillo | 176 | 21 | 28 | 32 | 12% | 46% | $1,695,467 |
| Juan Hernandez | 149 | 21 | 22 | 19 | 14% | 42% | $1,108,754 |
| Tiago Pereira | 92 | 13 | 6 | 6 | 14% | 27% | $536,412 |
| Drayden Van Dyke | 86 | 11 | 16 | 8 | 13% | 41% | $875,670 |
| Ricardo Gonzalez | 80 | 11 | 8 | 10 | 14% | 36% | $530,760 |
| Mario Gutierrez | 63 | 8 | 7 | 11 | 13% | 41% | $483,920 |
| Edwin Maldonado | 81 | 6 | 6 | 7 | 7% | 23% | $224,402 |
| Mike Smith | 55 | 5 | 8 | 11 | 9% | 44% | $430,512 |
Trainer Standings
(Current Through August 23, 2020 Inclusive)
| | | | | | | | |
| --- | --- | --- | --- | --- | --- | --- | --- |
| Trainer | Sts | 1st | 2nd | 3rd | Win% | In-money% | Money Won |
| Peter Miller | 77 | 18 | 16 | 3 | 23% | 48% | $945,252 |
| Philip D'Amato | 61 | 14 | 12 | 7 | 23% | 54% | $725,220 |
| Bob Baffert | 39 | 10 | 10 | 6 | 26% | 67% | $984,930 |
| John W. Sadler | 50 | 9 | 7 | 5 | 18% | 42% | $530,690 |
| Simon Callaghan | 25 | 9 | 3 | 1 | 36% | 52% | $362,540 |
| Doug F. O'Neill | 85 | 8 | 15 | 15 | 9% | 45% | $588,545 |
| Richard Baltas | 64 | 7 | 10 | 9 | 11% | 41% | $515,250 |
| Mark Glatt | 53 | 6 | 10 | 10 | 11% | 49% | $612,392 |
| Peter Eurton | 28 | 5 | 6 | 5 | 18% | 57% | $237,360 |
| Michael W. McCarthy | 29 | 5 | 2 | 5 | 17% | 41% | $251,900 |
Winning Favorites Report
(Current Through August 23, 2020 Inclusive)
Winning favorites -- 66 out of 200 -- 33.00%
Winning favorites on dirt -- 38 out of 110 -- 34.55%
Winning favorites on turf -- 28 out of 90 -- 31.11%
Winning odds-on favorites -- 20 out of 37 -- 54.05%
In-the-Money favorites -- 129 out of 200 -- 64.50%
In-the-Money odds-on favorites -- 35 out of 37 -- 94.59%