Sunday, August 23rd, 2020 ( 7 months ago )
Stable Notes
August 23, 2020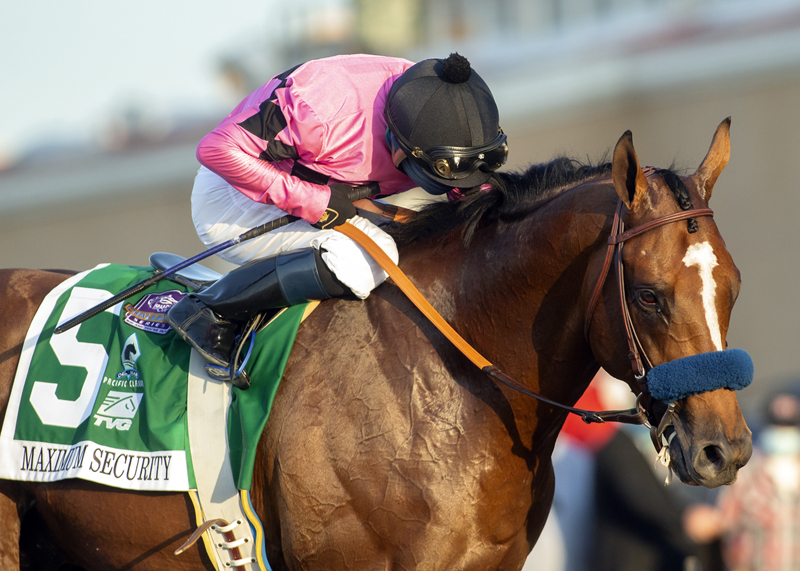 Maximum Security © Benoit Photo
MAXIMUM SECURITY BOUNCES BACK STRONG; NEXT RACE TBD
As an example of the strength and fitness of Maximum Security, Hall of Fame trainer Bob Baffert pointed out that the $12 million-plus (in earnings) horse was not breathing deeply as he returned to pose in front of the infield board following his victory Saturday in the Grade I, $500,000 TVG Pacific Classic.
This after running 1 ¼ miles in 2:01.24, leading wire-to-wire and putting an easy three lengths between himself and runner-up Sharp Samurai at the finish.
Trackside today, Baffert related how the 4-year-old son of New Year's Day practically dragged handlers back to the barn Saturday evening and was fine in the morning light. Baffert also said that as gratifying and emotional as the TVG Pacific Classic win was – it brought tears to the eyes of owners Gary and Mary West – it was not the most impressive of Maximum Security's two-race Del Mar tour de force.
"The most impressive race was the San Diego (Handicap, July 25)," Baffert said. "He was inside, got stopped, had to overcome trouble and a slow track and still won."
Comparatively, the Pacific Classic, Maximum Security's second start for Baffert and second with Abel Cedillo in the irons, was a day at the beach. From an outside, five of six, post Maximum Security broke alertly and Cedillo was able to get positioned on the lead, near the rail and never relinquish it.
The inevitable next questions: what and where for his next start and will it be at a place where Cedillo or Luis Saez will ride, will be left for another day. Post-TVG Pacific Classic, Baffert had mentioned the Jockey Club Gold Cup at Belmont Park on October 10 as a prelim to the Breeders' Cup Classic – the TVG Pacific Classic was a "Win and You're In" qualifier – in November at Keeneland. But he's not making any commitment.
"I'm not sure yet," Baffert said.
Mark Glatt, trainer of TVG Pacific Classic runner-up Sharp Samurai, said the 6-year-old gelding, making only his fourth start on dirt in a 21-race career, also came out of the race in good order. Sharp Samurai was entered in both the Classic and today's Grade II $150,000 Del Mar Mile on grass and opted to go in the Classic.
The $100,000 runner-up share of the Classic purse, compared to $90,000 for a win in the Mile, says it was a wise decision. But Glatt wasn't patting himself on the back.
"I don't have a crystal ball and he would have been tough in the race today," Glatt said Sunday morning. "But we (now) know he can run on dirt and that gives us a lot of options."
---
HANDICAP WIN BY RED KING PUTS SPOTLIGHT ON D'AMATO SURGE
The victory by Red King in Saturday's Grade II, $200,000 Del Mar Handicap brought attention to the rise of Phil D'Amato in the trainer standings and the increased success of his stable after a chilly start.
At the delayed start of the second week of the meeting, Friday, July 31, D'Amato runners had two wins in 23 starts. Subsequent start-the-weekend numbers were: 3-for-29 on August 7, 7-for-43 on August 14 and 11 for 51 last Friday.
With one win Friday and two Saturday – the D'Amato/Umberto Rispoli combination followed up the Handicap victory with Salvator Mundi ($11.20) in the 11th race nightcap – D'Amato now has 14 wins from 60 starters and only trails Peter Miller by one on the leaderboard.
"Things have been clicking well the second half of the meet," D'Amato said via text. "All those horses that finished second and third at the beginning of the meet have been able to come back and win. That really helps.
"Also, the ability to breeze turf horses on the turf here at Del Mar has really helped. I think it keeps the grass horses happier and they perform better in their races."
Red King, a 6-year-old son of English Channel bred by Calumet Farm and owned by Little Red Feather Racing, had five works on the Del Mar turf leading up to his first start since a June 21 victory in the San Juan Capistrano at Santa Anita.
Given a masterful ride by Rispoli, Red King was able to pull off a $10.60 upset of heavy favorite United. The Handicap, sponsored by the Japan Racing Association, is a "Win and You're In" qualifier for the Breeders' Cup Turf in November at Keeneland.
---
GRADE I OAKS WIN CAME OUT OF THE BLUE FOR RED LARK
While she had been competitive in graded stakes before, it took a bit of a leap of faith to think that Red Lark, an Irish-bred filly with only a maiden win on her 11-race record, could triumph in the Grade I, $250,000 Del Mar Oaks on Saturday.
But Red Lark, jockey Drayden Van Dyke and trainer Paddy Gallagher rewarded those who made the leap, among the Eclipse Thoroughbred Partners ownership group and otherwise, to the tune of $40.20 on Saturday.
"I had confidence in the filly; I knew she was happy and all, but I didn't know if she was good enough," Gallagher said. "She needed to run the race of her life and she did."
It was more icing on the cake for ownership groups on Pacific Classic Day. Little Red Feather Racing's Red King won the Del Mar Handicap prompting founder Billy Koch to exclaim "We're going to the Breeders' Cup" to several members trackside.
Aron Wellman, founder of the Eclipse group, got to point out in a post-race interview on TVG how special it was for partners, whose only recourse was to follow their horses remotely for several months, to be there in person.
---
THE MELVIN (STUTE) FILES, PART III
On August 13, a day after the passing of venerable trainer Mel Stute, Daily Racing Form correspondent Jay Privman sent out a message on Twitter that said:
"Mel will get into the Hall of Fame one day. A historic review committee sometime in the future will look at his record, wonder how he never got in and do the right thing. The incredibly sad thing is this should have happened when he was alive to rightly enjoy it."
On that day, three Del Mar-based Hall of Famers will be glad to have Stute as part of the club. They talked about Mel recently:
Richard Mandella: "Should Mel Stute be in the Hall of Fame?" Mandella asked rhetorically. "I would say yes. He won Breeders' Cups, he won the Preakness, he trained horses successfully for more than 50 years. That all sounds pretty good to me."
It is noteworthy that – in one of his darkest moments in the game – Mandella called on some Stute wisdom in an attempt to explain and understand what he had just gone through.
Mandella quoted Stute when he met the press in Louisville the morning after he had to scratch Kentucky Derby favorite Omaha Beach just days before the 2019 Run for the Roses:
"I'm remembering a line from Mel Stute," Mandella recalled. "He said: 'I have a lot of experience with disappointment. This game will do that to you.' He was so right."
Hall of Fame trainer Jerry Hollendorfer said he talked to Mel's son after his father's passing and told him: "Gary, maybe in a million years there will be another one like him. Maybe."
Hollendorfer also noted that his wife, Janet, who oversees his Northern California stable, worked as a groom for Mel for several years.
Hall of Famer Bob Baffert said of Stute's absence from the place of honor "I know it bothered him." Baffert also expressed great respect for Stute and his brother Warren.
"When I was first starting and only had like three horses here, Mel would see me walking (in the stable area) and pull up and give me a ride," Baffert said. "And then, about every time, he'd pop in a cassette that had the song about Snow Chief on it and play it …
"Anybody can get lucky and have some success for awhile, but to do what he did – from claimers to stakes horses – to have that consistency for so many years, it shows what a great horseman he was."
---
BIG SWING, BIG HIT SATURDAY FOR ESPINO IN "CLASSIC" CHALLENGE
Sean Espino from nearby Solana Beach took a swing Saturday in Del Mar's Pacific Classic Betting Challenge. He hit it out of the park.
In the day's 7th Race, the regular tournament player put 4-1 shot Red King on top of odds-on favorite United in the Del Mar Handicap and played the one-way exacta for $1,000. When it hit, he collected $12,200.
That was enough to make him the winner of the "live money" Challenge that required players to put up $4,000 with $3,000 of it wagered throughout the afternoon and the other $1,000 placed in the prize pool.
So besides his take home tally of $12,070 at the end of the day, Espino also collected $50,000 for proving best in the 150-player contest that was conducted through TVG.com. It was the first time the Challenge was held on-line.
Second in the event was Joe Regan of Marlborough, MA with $11,545 in winnings and an additional $20,000 from the prize pool. Third was Seth Morris of Rockville Center, NY with $10,667 in bets cashed and an extra $5,000 from the pool.
Further, the top five finishers in yesterday's Challenge won free admission into the Breeders' Cup Betting Challenge (a $10,000 value to each), which offers $1-million in cash prizes.
---
CLOSERS – Saturday's fanless TVG Pacific Classic Day handle of $24,491,319 topped last year's total of $24,416,045 when there were 20,000 people in the house. It was also the fifth-highest (non-Breeders' Cup) handle in track history … Selected works from 187 on dirt and 34 on turf this morning: Dirt – Collusion Illusion (4f, :48.00), Desert Law (4f, :47.00), Get On the Bus (4f, :48.60), Tiger Dad (4f, :47.00), Wildman Jack (4f, :48.60), Cezanne (5f, 1:00.00), Cruel Intention (5f, :59.20), Thousand Words (5f, 1:00.00), McKinzie (6f, 1:12.60); Turf – Bowie's Hero (5f, 1:02.20) … A field of five was entered Saturday for Friday's $75,000 Tranquility Lake Stakes, which kicks off the four-day, penultimate weekend of the meeting. The field for the main-track mile for California-bred older fillies and mares, from the rail: Zusha (Abel Cedillo); Hang a Star (Umberto Rispoli); Smiling Shirlee (Drayden Van Dyke); Proud Emma (Mike Smith), and Message (Flavien Prat).
---
Del Mar Statistics
Presented by Torrey Hollistics
Jockey Standings
(Current Through August 22, 2020 Inclusive)
| | | | | | | | |
| --- | --- | --- | --- | --- | --- | --- | --- |
| Jockey | Mts | 1st | 2nd | 3rd | Win% | In-money% | Money Won |
| Umberto Rispoli | 129 | 35 | 15 | 17 | 27% | 52% | $1,581,278 |
| Flavien Prat | 138 | 31 | 33 | 15 | 22% | 57% | $1,978,190 |
| Abel Cedillo | 169 | 21 | 28 | 30 | 12% | 47% | $1,680,473 |
| Juan Hernandez | 141 | 21 | 21 | 18 | 15% | 43% | $1,092,194 |
| Tiago Pereira | 86 | 12 | 4 | 4 | 14% | 23% | $456,860 |
| Drayden Van Dyke | 82 | 11 | 16 | 8 | 13% | 43% | $870,870 |
| Ricardo Gonzalez | 71 | 11 | 7 | 9 | 15% | 38% | $509,020 |
| Mario Gutierrez | 61 | 8 | 7 | 11 | 13% | 43% | $480,120 |
| Edwin Maldonado | 76 | 6 | 6 | 7 | 8% | 25% | $221,902 |
| Ruben Fuentes | 60 | 4 | 6 | 10 | 7% | 33% | $226,742 |
Trainer Standings
(Current Through August 22, 2020 Inclusive)
| | | | | | | | |
| --- | --- | --- | --- | --- | --- | --- | --- |
| Trainer | Sts | 1st | 2nd | 3rd | Win% | In-money% | Money Won |
| Peter Miller | 70 | 15 | 15 | 3 | 21% | 47% | $781,930 |
| Philip D'Amato | 60 | 14 | 12 | 7 | 23% | 55% | $724,720 |
| Bob Baffert | 37 | 10 | 10 | 5 | 27% | 68% | $977,830 |
| Doug F. O'Neill | 82 | 8 | 14 | 15 | 10% | 45% | $578,945 |
| John W. Sadler | 47 | 8 | 7 | 5 | 17% | 43% | $506,190 |
| Simon Callaghan | 24 | 8 | 3 | 1 | 33% | 50% | $328,340 |
| Richard Baltas | 59 | 7 | 10 | 8 | 12% | 42% | $501,830 |
| Mark Glatt | 49 | 6 | 7 | 10 | 12% | 47% | $584,718 |
| Peter Eurton | 28 | 5 | 6 | 5 | 18% | 57% | $237,360 |
| Michael W. McCarthy | 27 | 5 | 2 | 5 | 19% | 44% | $250,900 |
Winning Favorites Report
(Current Through August 22, 2020 Inclusive)
Winning favorites -- 62 out of 189 -- 32.80%
Winning favorites on dirt -- 36 out of 104 -- 34.62%
Winning favorites on turf -- 26 out of 85 -- 30.59%
Winning odds-on favorites -- 20 out of 36 -- 55.56%
In-the-Money favorites -- 122 out of 189 -- 64.55%
In-the-Money odds-on favorites -- 34 out of 36 -- 94.44%