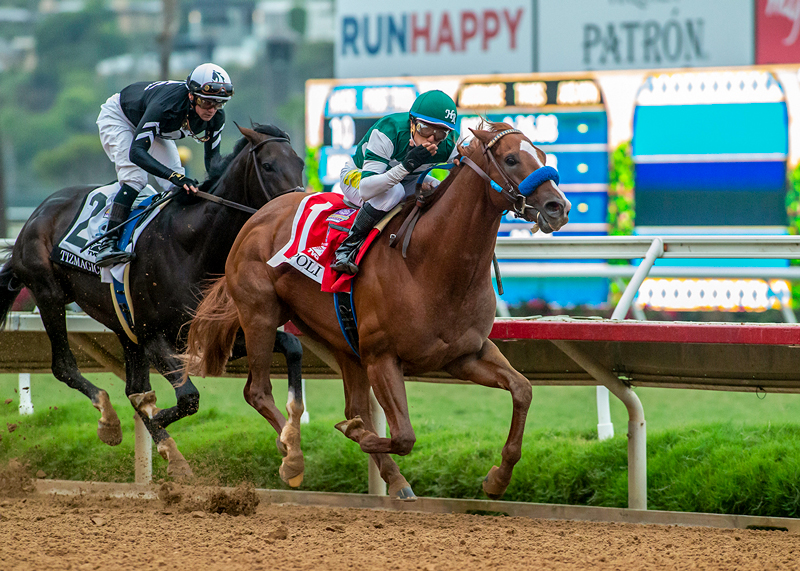 Tripoli © Benoit Photo
Trainers for the top finishers in all five stakes races on Saturday's TVG Pacific Classic program reported their horses all came back in fine fettle from the efforts. A follow-up report on the biggest day of the 82nd summer season in order of grade and purse total for the events:
---
GRADE I, $1 MILLION, TVG PACIFIC CLASSIC: SADLER SAVORS THIRD WIN
TVG Pacific Classic upset winner Tripoli ($15.00) was asleep in his stall at mid-morning. Trainer John Sadler was inclined to leave the 1 ¼-length winner over Tizamagician undisturbed, calling it a "good sign," while reflecting on what was a third TVG Pacific Classic victory for Sadler and Hronis racing in the last four years.
"I'm in the latter part of my career and when you can win these big races, I feel very blessed," Sadler said. "I'm not that old, I'm 65, but I've been around a long time and I don't feel like I'm in the middle part of my career, whether there's two, five or 10 years left to go."
As a "Win and You're In" qualifier for the $6 million Breeders' Cup Classic at Del Mar on November 6, Tripoli is now assured a spot in the champion-making race Sadler and Hronis won in 2018 with Accelerate.
Campaign planning for Tripoli going forward, will be put on hold at least temporarily.
"We'll see how Rock Your World runs next Sunday ($100,000 Shared Belief Stakes), they might be candidates for the same race," Sadler said. "(Tripoli) could run once (before the Classic) or… whatever."
For the stable of Hall of Fame trainer Richard Mandella, the momentum of victories by Forbidden Kingdom (4th race, $10.60) and Subconscious (5th, $13.60) didn't carry over to the stakes. Tizamagician led for the first mile of the 1 ¼-mile Classic before yielding to Tripoli and his Royal Ship, the second wagering choice at just under 3-1, was a no-factor seventh.
"A pretty good day, you're never going to complain if you win two races on the day," said Gary Mandella, deputizing for his father. "We had a really good second in the Classic with Tizamagician, but Royal Ship is a bit of a mystery. We don't know what went on with him except maybe the year has been a little bit tiring on him. We'll listen to him and figure him out. He'll tell us what to do."
---
GRADE I, $300,000 DEL MAR OAKS: GOING GLOBAL'S JUST GREAT
The one-length victory by Going Global over Closing Remarks was the fifth stakes win in six starts this year since the Irish-bred 3-year-old filly was imported to trainer Phil D'Amato's barn. It avenged her lone defeat, by a half-length to Madone in the San Clemente Stakes here on July 24.
"She's just special," D'Amato said in the immediate aftermath. "She takes on every challenge we give her and keeps on going."
This morning, D'Amato said there's no rush to come up with another challenge.
"We don't have any goals in particular in the near future," D'Amato said. "There's an Oaks at the end of the year, but between now and then, we'll just play it by ear, let her tell us when she's ready to go and then find her a good spot."
Carla Gaines, trainer of second-place finisher Closing Remarks, said with a laugh that she hoped Going Global's next would be "somewhere else" than against her filly.
"(Closing Remarks') effort was huge, in my opinion, but she got trapped inside and couldn't get out until late," Gaines said. "We'll see how she comes out of this and go from there. I just wish Going Global would go somewhere else. We can't beat her."
The Del Mar Oaks was the third runner-up effort behind Going Global for Closing Remarks this year.
---
GRADE II, $300,000 DEL MAR HANDICAP: HIGH ON ASTRONAUT
Astronaut (24-1) topped a trio of long shots in the money for the Del Mar Handicap Presented by The Japan Racing Association. Master Piece (23-1) and Acclimate (10-1) were second and third.
The win by the 4-year-old son of Quality Road in the 1 3/8-mile turf marathon came as a shock to many. But not to his immediate connections.
"I wasn't surprised," said Hall of Fame jockey Victor Espinoza. "I thought in his last race (1 ¾-mile San Juan Capistrano in June) he was a little too close and the race was a little too long for him."
Astronaut settled in seventh place in the field of 11 and made a sustained run through the last three-eighths to prevail by a half-length.
"We wanted to run him long, but we weren't sure how long," Shirreffs said. "And when he ran so well going a mile and three-quarters, it seemed like this was possible."
The race being a "Win and You're In" qualifier for the $4 million Longines Breeders' Cup Turf at Del Mar on November 6, Astronaut's place in it is not only possible, but probable.
Del Mar Handicap favorite United had traffic problems from the mile mark to midstretch and finished fourth.
"It was frustrating," said Gary Mandella. "He had bad racing luck, didn't get the kind of trip he needs to show himself off and had to settle for fourth when we thought he was the best horse."
---
GRADE II, $300,000 DEL MAR MILE: MO MONEY, MO MONEY
Mo Forza repeated as race champion in his first start in more than 10 months, recording his third Grade II victory in a row, edging out Smooth Like Strait by a head in the final strides.
"I was worried if I had him fit enough, I really was," trainer Peter Miller said. "But he's a champion and he's got that heart of a champion. I'm just glad I had him fit enough. Just enough."
Mo Forza was owned by the late Barry Abrams, a highly-respected trainer/owner/breeder on the Southern California circuit for many years who died last October after a 15-year battle with cancer.
"I've never had a horse that brought so much emotion to me," Miller said. "Just seeing him in the barn, I think of Barry. The horse is special, big time."
Smooth Like Strait was the first of two runner-up efforts for trainees of Mike McCarthy, who sent out stable newcomer Master Piece in the Del Mar Handicap.
"They both came back well and we're happy with the efforts," McCarthy said.
---
GRADE III, $100,000 TORREY PINES STAKES: 'MISSION' ACCOMPLISHED
Private Mission, a $750,000 Fasig-Tipton Sale purchase in August of 2019 by the Baoma Corp and trained by Bob Baffert, made it three wins in four career starts, cruising home 6 ½ lengths clear of runner-up I'm So Anna in the mile run.
"We didn't know what she was going to do, but we always thought she could run long," Baffert said. "This was a good spot and she passed the route test. That's very important because that's where all the money is."
---
JOCKEY REPORT: PRAT THREE, OTHER TWO SURPRISES ON CLASSIC DAY
A backstretch confab between jockey Flavien Prat and agent Brad Pegram was interrupted this morning with an impertinent question: "Would you consider Saturday's results adequate?"
Pegram laughed. Prat smiled and gave the day an upgraded rating of "good."
Good if that's what you consider victories in the first three of five stakes on the program – aboard Private Mission, Mo Forza and Going Global -- and a runner-up in the $1 million TVG Pacific Classic with Tizamagician.
"I messed up the last race (fourth in the Del Mar Handicap on favored United)," Prat allowed. "But in the Classic, I had a good trip and just got beaten in the last part."
The three stakes victories increased Prat's total to 10 for the meeting. He holds the record for a season of 14, established last year. There are 11 stakes remaining at the meeting but Prat will miss the next two, Friday's $80,000 Tranquility Lake and Saturday's Grade II, $200,000 Pat O'Brien while on assignment at Saratoga.
The two stakes Saturday that Prat didn't win, went to riders whose success was heartwarming to many. Tiago Pereira, who had started the meeting 0-for-48, drew high praise from trainer John Sadler and owner Kostas Hronis for his ride on Tripoli in the Classic. Hall of Famer Victor Espinoza, seemingly overlooked in the focus on younger talent, guided Astronaut ($50.00) to the Del Mar Handicap score.
"It makes me happy to win this race for John Shirreffs," said Espinoza, who won the Triple Crown with American Pharoah in 2015. "He's always been there for me and I've been there for him. He's been there for me a little more lately."
Prat has a 31-23 lead over Juan Hernandez and Abel Cedillo in the overall standings, seeking his third straight riding title and fourth in the last five years.
---
CLOSERS – ICMI (and how can you miss $36 million?) Del Mar's handle for TVG Pacific Classic day was $36,024,030* – more than $10 million more than the previous non-Breeders' Cup record of $25,870,431 set on TVG Pacific Classic day in 2018.
---
Del Mar Statistics
Jockey Standings
(Current Through Sunday, August 21, 2021 Inclusive)
| | | | | | | | |
| --- | --- | --- | --- | --- | --- | --- | --- |
| Jockey | Mts | 1st | 2nd | 3rd | Win% | In-money% | Money Won |
| Flavien Prat | 113 | 31 | 26 | 16 | 27% | 65% | $2,604,918 |
| Abel Cedillo | 137 | 23 | 22 | 20 | 17% | 47% | $1,224,590 |
| Juan Hernandez | 132 | 23 | 14 | 21 | 17% | 44% | $1,648,814 |
| Umberto Rispoli | 116 | 20 | 28 | 13 | 17% | 53% | $1,551,594 |
| Joe Bravo | 77 | 14 | 5 | 17 | 18% | 47% | $907,892 |
| Kyle Frey | 90 | 9 | 6 | 7 | 10% | 24% | $652,820 |
| Kent Desormeaux | 57 | 8 | 8 | 10 | 14% | 46% | $535,820 |
| Mario Gutierrez | 58 | 7 | 13 | 11 | 12% | 53% | $591,580 |
| Edwin Maldonado | 76 | 7 | 4 | 5 | 9% | 21% | $439,760 |
| Geovanni Franco | 53 | 7 | 4 | 2 | 13% | 25% | $297,680 |
Trainer Standings
(Current Through Sunday, August 21, 2021 Inclusive)
| | | | | | | | |
| --- | --- | --- | --- | --- | --- | --- | --- |
| Trainer | Sts | 1st | 2nd | 3rd | Win% | In-money% | Money Won |
| Peter Miller | 96 | 16 | 15 | 20 | 17% | 53% | $1,232,422 |
| Mark Glatt | 50 | 11 | 8 | 5 | 22% | 48% | $721,290 |
| Doug F. O'Neill | 99 | 10 | 18 | 17 | 10% | 45% | $732,884 |
| Bob Baffert | 41 | 10 | 10 | 7 | 24% | 66% | $704,860 |
| John W. Sadler | 55 | 10 | 7 | 6 | 18% | 42% | $1,134,732 |
| Philip D'Amato | 69 | 10 | 5 | 6 | 14% | 30% | $919,456 |
| Richard Baltas | 63 | 7 | 8 | 7 | 11% | 35% | $602,440 |
| Peter Eurton | 29 | 7 | 3 | 1 | 24% | 38% | $258,420 |
| Richard E. Mandella | 29 | 5 | 4 | 6 | 17% | 52% | $724,520 |
| Simon Callaghan | 21 | 5 | 2 | 3 | 24% | 48% | $379,572 |
Winning Favorites Report
(Current Through Sunday, August 21, 2021 Inclusive)
Winning favorites -- 68 out of 197 -- 34.52%
Winning favorites on dirt -- 39 out of 110 -- 35.45%
Winning favorites on turf -- 29 out of 87 -- 33.33%
Winning odds-on favorites -- 19 out of 32 -- 59.38%
In-the-Money favorites -- 136 out of 197 -- 69.04%
In-the-Money odds-on favorites -- 27 out of 32 -- 84.38%
*Updated to reflect final ADW