Saturday, August 22nd, 2020 ( 7 months ago )
Stable Notes
August 22, 2020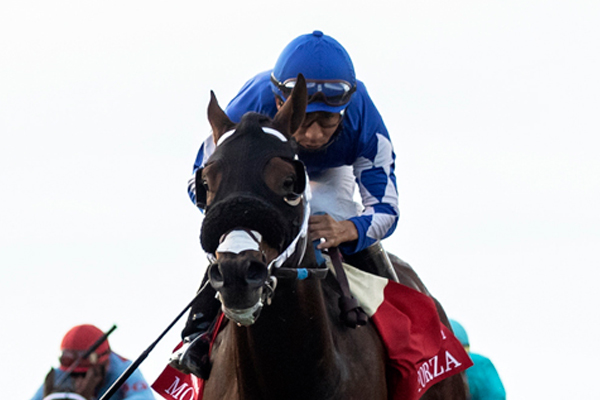 Mo Forza © Benoit Photo
SUNDAY'S DEL MAR MILE: FINISHING TOUCH TO A WEEKEND OF STARS
If a big finish is needed to the signature Pacific Classic weekend of the summer meeting, the Del Mar Mile will be there to provide it.
Sunday's Grade II, $150,000 event, the last of seven graded stakes over the three-day span highlighted by today's TVG Pacific Classic, drew a field of 11 with Peter Miller-trained Mo Forza, last seen here winning the Grade I Hollywood Derby on November 30, the 7-2 favorite on John Lies' morning line.
The 4-year-old son of Uncle Mo won three graded turf stakes and banked nearly $500,000 in 2019, but has been unraced since an ill-starred trip in the Grade I Pegasus World Cup Turf Invitational on January 25 at Gulfstream Park and a ninth-of-12 result, beaten 6 ¾ lengths by Zulu Alpha.
"He's been away awhile and this is not an easy comeback spot," Miller conceded. "But it's really the only spot for him here and he's been doing great in training. The year-end goal in the Breeders' Cup and you've got to start somewhere. This has always been part of the plan."
Miller also will send out The Black Album, a 4-year-old French-bred gelding who was turned over to his care following a victory in a $75,000 stakes at Indiana Downs on July 8 under the care of trainer Rodolphe Brisset.
In a career that started two years ago in France, The Black Album has five wins from 14 starts and earnings of $232,830.
The 9-2 second choice on the morning line is John Sadler-trained Galilean, a California-bred 4-year-old son of Uncle Mo who won the California Dreamin' Stakes here on July 26.
"He's done well against state-breds; this is a big step up in class," Sadler said. "But the way he's been training and racing, I think he's one of the contenders in there."
The field from the rail: The Black Album (Abel Cedillo, 12-1); Bombard (Drayden Van Dyke, 10-1); Galilean (Umberto Rispoli); Mo Forza (Flavien Prat); Dreams of Valor (Edwin Maldonado, 20-1); Sharp Samurai (Brice Blanc, 6-1); Royal Ship (Mike Smith, 5-1); Restrainedvengence (Tiago Pereira, 10-1); Overdue (Juan Hernandez, 12-1); Kiwi's Dream (Ricardo Gonzalez, 8-1), and Bob and Jackie (Heriberto Figueroa, 12-1).
---
MEDIA TAKES IT TO THE 'MAX' FOR TVG CLASSIC SELECTIONS
Due to COVID-19 protocols the annual TVG Pacific Classic Day section devoted to race selections has been limited to media types for 2020. And, almost unanimously, it is seen as a one-horse race.
Dan Smith, senior media coordinator emeritus, DMTC – Maximum Security. "I hate to embrace the chalk, but he's simply the best horse."
Jay Privman, Daily Racing Form – Maximum Security. "Last race woke him up."
Brad Free, Daily Racing Form – Maximum Security. "Maximum Security and Higher Power stand out over the rest and it's a close call."
Bill Center, Union-Tribune – Maximum Security. "Bob Baffert just calls him 'Max'."
Jeff Nahill, Union-Tribune – Higher Power. "Defending champ not playing games today."
Bryce Miller, Union-Tribune – Maximum Security. "Max finds a way. Max (almost always) finds a way."
Jon Lindo, Today's Racing Digest – Maximum Security. "Best horse. Should win."
Kurt Hoover, TVG – Maximum Security. "Not a race where you need to get creative with your handicapping."
Bob Ike, syndicated handicapper – Maximum Security. "I see him improving five lengths off the San Diego."
---
GAMINE, IMPROBABLE HIGHLIGHT A MORNING OF MARQUEE WORKERS
Hall of Fame trainer Bob Baffert sent out Kentucky Oaks-bound Gamine along with Improbable, winner of Whitney Stakes at Saratoga, as Pacific Classic Day dawned with several major works at Del Mar.
Gamine, with Juan Ochoa up, went 5 furlongs in 1:00.80. Gamine worked in company with Quality Response (5f, 1:01.00) and clocker Toby Turrell had interim splits on Gamine of :25.40 and :37.80 with gallop-outs to 6 furlongs in 1:13.20 and 7 furlongs in 1:27.20.
Improbable, working solo under Ochoa, went five-eighths of a mile in 1:00.40 with the first three furlongs in :36.20.
"Very nice works," Baffert said via text. "Still looking strong."
Trainer Peter Eurton's 2019 Eclipse Award-winning 2-year-old Storm the Court covered 5 furlongs under exercise rider Jessica D'Amato in :59.00, the best of 73 at the distance.
"It was a bit fast, the rider didn't realize they were going as fast as they were, but that's better than the alternative," Eurton said. The son of Court Vision, most recently second in the La Jolla Handicap here on August 9 in his turf debut, will have one more work at Del Mar next week before a decision is made regarding the Kentucky Derby, Eurton said.
If the Run for the Roses is the choice, Julien Leparoux is lined up to ride.
Eurton also sent out Giant Expectations, who was beaten a head by Catalina Cruiser in the 2019 Pat O'Brien, for a 4-furlong work in :47.60.
"Giant did what we wanted. I'm happy with both works," Eurton said.
Other notables from 167 officially timed: Gift Box (3f, :36.60), C Z Rocket (4f, :48.40), Grecian Fire (4f, :49.40), Ollie's Candy (4f, :48.60) and Flagstaff (5f, 1:00.00).
---
RISPOLI REMAINS RELENTLESS IN PURSUIT OF RIDING TITLE
If Google is to be believed, "the turf" in English translates to "la torba" in Italian. "The surf" is, simply "il surf."
And Umberto Rispoli, a native of San Severino, Marche, Italy continues to make progress in an apparent personal quest to reprogram racing fans into thinking of Del Mar as the place where "La Torba meets Il Surf."
Rispoli, nine days away from his 32nd birthday, won four races Friday to open up a 32-28 lead over defending champion Flavien Prat atop the rider standings. Rispoli scored with Hidden Promise ($15.20), Big Fish ($10.80), Next Revolt ($7.40) and Sneaking Out ($5.60) in the featured Rancho Bernardo Handicap.
The Rancho Bernardo was the fifth stakes win of the meeting for Rispoli, his first on the main track after previously taking the Oceanside, Osunitas, La Jolla and CTT and TOC over the Jimmy Durante Turf Course.
And speaking of la torba…
Longtime Del Mar players who remember profiting based on premises like: "Toro on the Turf," or "Talamo on the Turf" in years past when Fernando Toro and Joe Talamo were demonstrating mastery on the grass may resort to a new catch phrase. How about "Umberto on la torba."
Rispoli has notched 22 wins in 68 starts on turf which, for baseball fans, translates to a .324 batting average. Overall, he's winning at a 27 percent clip and a 51 percent in-the-money rate entering the final nine days of the meeting.
---
EASY WAY TO ORDER PHOTOS FROM ANY DEL MAR RACE THIS SUMMER
For anyone wanting to order photos from any race run at Del Mar this summer, there's an easy way to go. Track photographer Benoit Photo has it all set up for you at this website: www.benoitphoto.com/store
You can view photos there and order them right on the spot. Race photos are uploaded to the site shortly after each race is run.
Del Mar's meet runs from July 10 to September 7.
---
CLOSERS - Del Mar's "live money" "Pacific Classic Betting Challenge" will be underway with the start of racing this afternoon. One-hundred-fifty players have signed on for the Challenge, each putting up $4,000 to enter with $3,000 of that going to wagers and $1,000 to the prize pool. That $150,000 in prizes will be divided up among the first eight finishers. Five players also will earn entry into the Breeders' Cup Betting Challenge (a $10,000 value) and others will earn entry into the National Horse Players' Championship. You can follow the leader board for the event here https://www.dmtc.com/pcbc
---
Del Mar Statistics
Presented by Torrey Hollistics
Jockey Standings
(Current Through August 21, 2020 Inclusive)
| | | | | | | | |
| --- | --- | --- | --- | --- | --- | --- | --- |
| Jockey | Mts | 1st | 2nd | 3rd | Win% | In-money% | Money Won |
| Umberto Rispoli | 119 | 32 | 14 | 15 | 27% | 51% | $1,331,698 |
| Flavien Prat | 127 | 28 | 31 | 15 | 22% | 58% | $1,750,170 |
| Abel Cedillo | 158 | 20 | 25 | 29 | 13% | 47% | $1,314,433 |
| Juan Hernandez | 133 | 20 | 18 | 17 | 15% | 41% | $924,794 |
| Tiago Pereira | 79 | 12 | 4 | 4 | 15% | 25% | $443,260 |
| Ricardo Gonzalez | 65 | 11 | 6 | 9 | 17% | 40% | $451,020 |
| Drayden Van Dyke | 80 | 10 | 16 | 8 | 13% | 43% | $716,870 |
| Mario Gutierrez | 59 | 8 | 7 | 10 | 14% | 42% | $472,780 |
| Edwin Maldonado | 71 | 6 | 6 | 7 | 8% | 27% | $212,380 |
| Ruben Fuentes | 57 | 4 | 6 | 10 | 7% | 35% | $225,242 |
Trainer Standings
(Current Through August 21, 2020 Inclusive)
| | | | | | | | |
| --- | --- | --- | --- | --- | --- | --- | --- |
| Trainer | Sts | 1st | 2nd | 3rd | Win% | In-money% | Money Won |
| Peter Miller | 67 | 14 | 14 | 3 | 21% | 46% | $697,230 |
| Philip D'Amato | 55 | 12 | 11 | 7 | 22% | 55% | $552,580 |
| Doug F. O'Neill | 77 | 8 | 14 | 13 | 10% | 45% | $558,845 |
| Bob Baffert | 33 | 8 | 9 | 5 | 24% | 67% | $631,830 |
| Richard Baltas | 54 | 7 | 10 | 8 | 13% | 46% | $495,830 |
| John W. Sadler | 41 | 7 | 6 | 5 | 17% | 44% | $400,770 |
| Mark Glatt | 47 | 6 | 5 | 10 | 13% | 45% | $480,918 |
| Simon Callaghan | 21 | 6 | 3 | 0 | 29% | 43% | $244,940 |
| Peter Eurton | 26 | 5 | 6 | 5 | 19% | 62% | $233,560 |
| Michael W. McCarthy | 25 | 5 | 2 | 5 | 20% | 48% | $249,900 |
Winning Favorites Report
(Current Through August 21, 2020 Inclusive)
Winning favorites -- 56 out of 178 -- 31.46%
Winning favorites on dirt -- 32 out of 98 -- 32.65%
Winning favorites on turf -- 24 out of 80 -- 30.00%
Winning odds-on favorites -- 16 out of 31 -- 51.61%
In-the-Money favorites -- 113 out of 178 -- 63.48%
In-the-Money odds-on favorites -- 29 out of 31 -- 93.55%