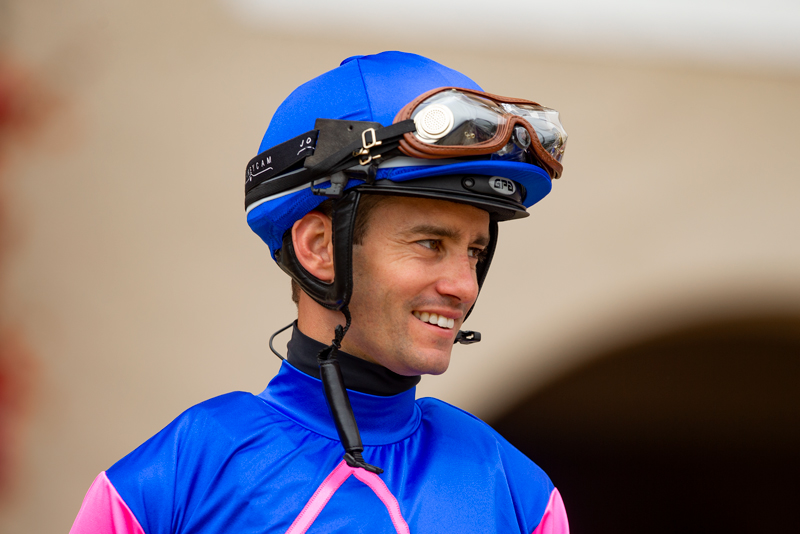 Flavien Prat © Benoit Photo
PRAT SITTING IN THE RIGHT SPOTS FOR RUNS AT TITLE, STAKES MARK
With two wins yesterday, Flavien Prat increased his lead from four to six victories over Abel Cedillo and five to seven over Juan Hernandez atop the jockey standings entering the final 11 days of the 31-day meeting. Prat is looking to make it three straight riding titles at the summer meeting and five of the last six either taken outright or shared.
Prat has recorded six stakes victories, working toward the record 14 stakes in a season he established last year.
And, in terms of quantity and quality, the 29-year-old native of France appears positioned to advance toward both those goals with his mounts on the TVG Pacific Class Day program that is the annual highlight of the season.
Prat has mounts scheduled in all 11 races, five of which are stakes. In the six non-stakes events he is booked on two morning-line favorites – Barbwire (5th, 3-1) and Dream Shake (8th, 7-2) -- and has no mounts higher than 4-1 in the early odds. During the run of five stakes in six races, here are Prat's runners on oddsmaker Jon White's morning line:
Race 6, Torrey Pines – Private Mission for trainer Bob Baffert, 9-5 favorite.
Race 7, Del Mar Mile – Mo Forza for trainer Peter Miller, 8-5 favorite.
Race 9, Del Mar Oaks – Going Global for trainer Phil D'Amato, 9-5 favorite.
Race 10, Pacific Classic – Tizamagician for trainer Richard Mandella, 4-1, co-fourth choice.
Race 11, Del Mar Handicap – United for Mandella, 2-1 favorite.
Of course, all that stands in the way of Prat's success today is 83 other horses and 22 other riders intent on success of their own.
---
BAFFERT ON MEDINA SPIRIT: "I'LL LET HIM TELL ME" WHAT'S NEXT
The rumors on the backstretch were too persistent to ignore. Hall of Fame trainer Bob Baffert, they said, was going to run Kentucky Derby winner (pending rulings and litigation) Medina Spirit in the $100,000 Shared Belief Stakes, a mile main track event for 3-year-olds here on August 29.
"There have been rumors about that horse since May 1," Baffert said with a laugh this morning. "There has been a lot of talk about that horse.
"He's going to breeze this week and I'll know more after that. I go work-by-work with him. I'm looking at the Pennsylvania Derby, maybe as an option. (The question becomes) Do I give him a race here? I'm going to let him tell me, the horse will let me know."
Medina Spirit was not among the 14 nominated for the Shared Belief by Thursday night's deadline. Santa Anita Derby winner Rock Your World notably was, and trainer John Sadler said that will be the next assignment for the son of Candy Ride. Supplemental entries, at a cost of $1,000, can be made up to closing time of entries next Friday morning.
The $1 million Pennsylvania Derby, a 1 1/8-mile test for 3-year-olds, is set for September 25 at Parx, formerly Philadelphia Park.
Classier, another of Baffert's talented 3-year-olds, worked six furlongs in a bullet 1:11.00 this morning and will run here in either the Shared Belief or next Saturday's $200,000, Grade II Pat O'Brien Stakes, a seven-furlong extended sprint for 3-year-olds and up.
Yet another Baffert standout, Gamine, worked six furlongs in 1:12.00 with an eye toward next week's Ballerina at Saratoga and Baffert's As Time Goes By, a winner of two stakes at the Santa Anita meeting, covered five furlongs in a bullet :58.80.
---
MEDIA CHOICES REFLECT WIDE OPEN ASPECT OF TVG PACIFIC CLASSIC
Our annual random survey of media selections, in no particular order, with comments, for today's TVG Pacific Classic. Unlike 2020, some of them were even collected in person.
Matt Dinerman, Golden Gate Fields announcer: Royal Ship – "Will bring his 'A' game today."
Bill Center, Union-Tribune: Royal Ship – "Coulda, shoulda won the San Diego."
Jeff Nahill, Union-Tribune: Tizamagician – "Mandella lights another victory Cigar."
Bob Ike, Horsebills.com: Tripoli – "Big try despite wide trip in San Diego."
Jon Lindo, Thoroughbred LA: Royal Ship – "Raced against bias in San Diego."
Brad Free, Daily Racing Form: Express Train – "Condition, class, pace, speed."
Steve Andersen, Daily Racing Form: Express Train – "Nearly won Big 'Cap
Kevin Modesti, Southern California News Group: Royal Ship – "Will be in the fight in 10th furlong."
Art Wilson, Southern California News Group: Express Train – "Gives Shirreffs his first Pacific Classic victory."
John Cherwa, LA Times: Tizamagician – "Mandella & Prat. Need I say more?"
Toby Turrell, Clocker: Royal Ship – "His switch is 'on.' Loved his last work."
Frank Scatoni, DMTC Handicapper/host: Royal Ship – "Ran against bias last time."
Jennie Rees, JR Communications, Kentucky: Tizamagician – "Sentimental choice with the passing of co-owner B. Wayne Hughes is still a good one."
Danny Brewer, horseracingscoop.com: Express Train – "Loves the track."
---
GREGORIAN CHANT RETURNS AS FAVORITE FOR SUNDAY'S GREEN FLASH
Slam Dunk Racing and Old Bones Racing Stable's Gregorian Chant, ending an 11-week layoff, carries 5-2 morning line favoritism against seven rivals in Sunday's Grade III, $100,000 Green Flash Handicap.
The Green Flash, a 5-furlong sprint over the Jimmy Durante Turf Course, is the last of seven graded stakes presented during the three-day Pacific Classic weekend with combined purses totaling $1.95 million.
Gregorian Chant, a 5-year-old English-bred gelding, took a three-race winning streak at Santa Anita to Belmont Park in New York for the Grade I Jaipur on June 5 and, after being forwardly-placed early in the 6-furlong turf sprint, tired and finished seventh of nine.
"I don't think it was as much the (listed 'good') turf as the tactics," trainer Phil D'Amato said. "He likes to come from off the pace and we wound up dueling with the co-favorite on the lead."
Brought back to the West Coast and given a break, Gregorian Chant has had five turf works here since the July 16 start of the meeting.
"We freshened him up with this race in mind," D'Amato said. "We'll see if the distance is good for him for the Breeders' Cup."
The $1 million Breeders' Cup Turf Sprint will be run over the same course on Saturday, November 6.
The field for the Green Flash from the rail out with jockeys and morning line odds in parentheses: Kneedeepinsnow (Drayden Van Dyke, 20-1); Texas Wedge (Umberto Rispoli, 6-1); Lieutenant Dan (Giovanni Franco, 7-2); Collusion Illusion (Flavien Prat, 7-2); Chasin Munny (Jose Valdivia, Jr., 10-1); Little Juanito (Ricky Gonzalez, 6-1); Give Me the Lute (Kent Desormeaux, 6-1), and Gregorian Chant (Juan Hernandez).
---
IT'S A GOOD YEAR FOR LOOKING BACK AT TVG PACIFIC CLASSICS
1991, 30 Years Ago – Best Pal wins the inaugural for owner/breeder/DMTC patriarch John Mabee, who championed a $1 million race from the start.
1996, 25 Years Ago – 44,181 on hand are stunned as Dare And Go upsets Cigar, foiling an attempt to break Citation's record 16-consecutive-wins streak.
2001, 20 Years Ago – Skimming gives trainer Bobby Frankel a sixth Pacific Classic victory, a record Bob Baffert tied with Maximum Security's win last year.
2006, 15 Years Ago – Lava Man wins to complete a sweep of the major West Coast handicap division events – Santa Anita Handicap, Hollywood Gold Cup and Pacific Classic.
2011, 10 Years Ago – Acclimation wins under Patrick Valenzuela, who gets his second Pacific Classic victory 20 years after the first on Best Pal.
2016, 5 Years Ago – California Chrome bests Beholder and Dortmund in what was widely considered "the race of the year."
---
"MANDATORY PAYOUT" SATURDAY COULD CAUSE BET RECORD TO FALL
Del Mar's single-day betting mark (not counting the two Breeders' Cup days held here in 2017), is quite eligible to tumble notably today thanks to a terrific racing card and a $1,874,996 carryover into today's Pick Six Single Ticket Jackpot wager.
TVG Pacific Classic Day has been designated as one of two "mandatory payout" dates (the other is closing day), which means that all monies in the pool – including the carryover – will be paid out this afternoon to those with the most winners in the six-race bet.
The current single-day mark is the $25,870,431 wagered on TVG Pacific Classic Day on August 18, 2018.
Estimates of anywhere from $6- to $10-million in "new money" in the Pick Six pool today would most assuredly push the one-day betting handle above the former mark, possibly into the $30-million-plus range.
The track's 20¢ Pick Six Single Ticket Jackpot wager has carried over 18 times since it was hit on Day 2 of the current meet.
---
CLOSERS – Selected works, not mentioned previously, from 197 officially timed this morning: Hot Rod Charlie (4f, :50.40); Howbeit (4f, :48.40); The Great One (6f, 1:13.00) … Friday was a day when a select group of jockeys imbibed in "doubles." Of the eight races, four riders notched two wins apiece – Flavien Prat (1st and 2nd), Umberto Rispoli (3rd and 5th), Mario Gutierrez (4th and 7th) and Joe Bravo (featured Rancho Bernardo Handicap 6th and nightcap 8th).
---
Del Mar Statistics
Jockey Standings
(Current Through Sunday, August 20, 2021 Inclusive)
| | | | | | | | |
| --- | --- | --- | --- | --- | --- | --- | --- |
| Jockey | Mts | 1st | 2nd | 3rd | Win% | In-money% | Money Won |
| Flavien Prat | 102 | 28 | 23 | 15 | 27% | 65% | $1,923,358 |
| Abel Cedillo | 129 | 22 | 22 | 19 | 17% | 49% | $1,168,590 |
| Juan Hernandez | 123 | 21 | 13 | 19 | 17% | 43% | $1,504,414 |
| Umberto Rispoli | 107 | 20 | 25 | 13 | 19% | 54% | $1,403,902 |
| Joe Bravo | 71 | 14 | 5 | 16 | 20% | 49% | $881,352 |
| Kyle Frey | 84 | 9 | 4 | 7 | 11% | 24% | $615,480 |
| Kent Desormeaux | 55 | 8 | 8 | 9 | 15% | 45% | $526,680 |
| Mario Gutierrez | 57 | 7 | 13 | 11 | 12% | 54% | $591,080 |
| Geovanni Franco | 52 | 7 | 4 | 2 | 13% | 25% | $297,180 |
| Edwin Maldonado | 73 | 7 | 3 | 5 | 10% | 21% | $370,560 |
Trainer Standings
(Current Through Sunday, August 20, 2021 Inclusive)
| | | | | | | | |
| --- | --- | --- | --- | --- | --- | --- | --- |
| Trainer | Sts | 1st | 2nd | 3rd | Win% | In-money% | Money Won |
| Peter Miller | 90 | 15 | 15 | 19 | 17% | 54% | $1,001,582 |
| Doug F. O'Neill | 95 | 10 | 17 | 17 | 11% | 46% | $715,612 |
| Mark Glatt | 45 | 10 | 8 | 5 | 22% | 51% | $692,190 |
| Bob Baffert | 32 | 9 | 9 | 5 | 28% | 72% | $606,960 |
| John W. Sadler | 54 | 9 | 7 | 6 | 17% | 41% | $534,732 |
| Philip D'Amato | 59 | 8 | 4 | 4 | 14% | 27% | $629,776 |
| Peter Eurton | 27 | 7 | 3 | 1 | 26% | 41% | $252,100 |
| Richard Baltas | 59 | 6 | 8 | 6 | 10% | 34% | $549,840 |
| Simon Callaghan | 17 | 5 | 2 | 3 | 29% | 59% | $372,072 |
| Steven Miyadi | 16 | 5 | 2 | 2 | 31% | 56% | $193,620 |
Winning Favorites Report
(Current Through Sunday, August 20, 2021 Inclusive)
Winning favorites -- 65 out of 186 -- 34.95%
Winning favorites on dirt -- 38 out of 104 -- 36.54%
Winning favorites on turf -- 27 out of 82 -- 32.93%
Winning odds-on favorites -- 19 out of 32 -- 59.38%
In-the-Money favorites -- 130 out of 186 -- 69.89%
In-the-Money odds-on favorites -- 27 out of 32 -- 84.38%