Friday, August 21st, 2020 ( 7 months ago )
Stable Notes
August 21, 2020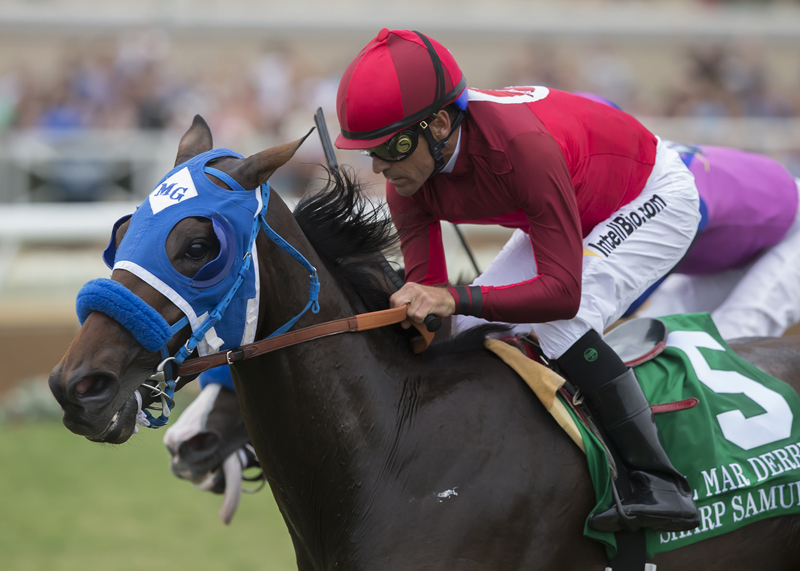 Sharp Samurai © Benoit Photo
A FACT-FINDING MISSION RE: SATURDAY'S TVG PACIFIC CLASSIC
Five facts for each of the six entrants in Saturday's 30th running of the $500,000, Grade I TVG Pacific Classic while studiously avoiding use of the term "30 for 30" on the possibility, however remote, that ESPN has it trademarked. (Attempts to secure legal advice on the matter were unsuccessful. Every lawyer we know was deep in a Zoom meeting handicapping Saturday's exceptional 11-race card).
From the rail, with jockeys and morning line odds:
Midcourt (Victor Espinoza, 7-2) – Only beaten a thin nose at the wire by Maximum Security in a big front-running effort in the San Diego Handicap … Triple-digit Beyer Speed Figures in three of his last four and four of his last six starts … Eighteenth Classic mount for Hall of Fame jockey Espinoza, who won aboard California Chrome in 2016 … Fourth Pacific Classic starter for trainer John Shirreffs, who has yet to have one hit the board … As a 5-year-old Kentucky-bred, Midcourt profiles in the top PC groups for wins by birthplace (16 to date) and age (12).
Higher Power (Flavien Prat, 3-1) – Third, beaten 6 ¼ lengths by Maximum Security and Midcourt, in the San Diego … Owner/trainer combination of Hronis Racing and John Sadler seeking a third straight PC win following Accelerate (2018) and Higher Power last year … With a win, Higher Power would become the fourth horse to take back-to-back PCs, joining Tinners Way (1994-95), Skimming (2000-2001) and Richard's Kid (2009-2010) … Sixth PC mount for jockey Prat, who got into the win column with Higher Power last year and would, with a victory, join Eddie Delahoussaye (1994-95), Garret Gomez (2000-2001) and Mike Smith (2009-10) for winning consecutively on the same horse … 0-for-5 since 2019 PC and looking to add to $1.5 million in career earnings from five wins in 18 starts.
Mirinaque (Tiago Pereira, 10-1) – Surprise import entry seeking to become the third Argentine-bred to win, joining Gentlemen (1997) and Candy Ride (2003) … Initial information showed only three career starts. Corrected info: 9 starts, 4 wins, 4 seconds, career earnings of $302,896 … Two Group I wins in Argentina in 2019, lone 2020 start was a runner-up result in Group I on turf rated "heavy" on March 14 … Fulfilling dream of owner/trainer Maria Munoz to have a horse carry her colors in the PC. Success would make Munoz the first female trainer to win … Third PC mount for Pereira, who has yet to finish in top three.
Dark Vader (Umberto Rispoli, 12-1) – A victory would put the state of Ohio on the list of winning birthplaces … PC debut for Rispoli, who currently leads the jockey standings in his first season at Del Mar … Tuned up with mile allowance victory, forwardly placed all the way, here on July 25 and has two bullet workouts since … Second PC starter for trainer Peter Eurton, who looks to improve on the runner-up result of Draft Pick last year … His dark bay/brown color has been the hue of seven PC winners, trailing chestnut (11) and bay (10) but ahead of gray/roan (1).
Maximum Security (Abel Cedillo, Even) – DQed after first being under the wire in 2019 Kentucky Derby … Rebounded with a vengeance with five wins in last six starts, including five in a row while amassing nearly $12 million in earnings … Five PC wins for trainer Bob Baffert puts him only one behind the Bobby Frankel record of six, which was considered unapproachable when established in 2001 … Second PC mount for Cedillo, who debuted with a third aboard Mongolian Groom last year … Maximum Security is No. 4 in the Thoroughbred Racing Association poll after winning his lone 2020 U.S. start in the San Diego Handicap.
Sharp Samurai (Juan Hernandez, 8-1) – Possibility the turf specialist will be scratched in favor of Sunday's $150,000, Grade II Del Mar Mile … Winning "Classic" would put the 6-year-old gelding with Pleasantly Perfect (2004) and Game On Dude (2013) as the oldest winners and Best Pal (1991), Lava Man (2006), Game On Dude and Shared Belief (2014) on the list of triumphant geldings … First PC starter for trainer Mark Glatt … First PC mount for jockey Hernandez, who has made an impact in his first full season at Del Mar after coming down from Golden Gate Fields … Second PC starter for owners Red Barron's Barn and Rancho Temescal, who missed the board with Mystery Train in 2014.
The TVG Pacific Classic, a "Win and You're In" qualifier for the Breeders' Cup Classic in November at Keeneland, will go as the 10th of 11 races with an approximate post time of 6:40 p.m.
---
MANDELLA WELL SET WITH HANDICAP FAVORITE AND OAKS DUO
Hall of Fame trainer Richard Mandella, no stranger to success on TVG Pacific Classic Day – his four Classic wins include the earth-shaking upset of Cigar with Dare And Go in 1996 and saddling Beholder to be the only female winner in 2015 – will be a presence only on the stakes undercard Saturday.
Mandella will saddle favored (8-5) United in the Grade II $200,000 Del Mar Handicap, which goes as the seventh race on the program, then come back two races later with Miss Extra (9-2) and Parkour (15-1) in the Grade I, $250,000 Del Mar Oaks.
United, owned by L N J Foxwoods, won the Grade II Eddie Read on July 26, making the son of Giant's Causeway 3-for-3 against Grade II turf competition in 2020. He drew the No. 1 post in Saturday's field of 11 and the 1 3/8-mile assignment is the longest of his 14-race career, a quarter-mile longer than the Read.
"We've got a long way to go, so we're not going to worry about the post or what happens out of the gate," Mandella said. "He's doing great and I'm eager to take him over there again."
The Del Mar Handicap is a "Win and You're In" qualifier for the Breeders' Cup Turf. It is presented by the Japan Racing Association.
The field from the rail: United (Flavien Prat); Another Mystery (Victor Espinoza, 20-1); Combatant (Ricardo Gonzalez, 8-1); Big Buzz (Edwin Maldonado, 20-1); Ward 'n Jerry (Mike Smith, 10-1); Proud Pedro (Juan Hernandez, 12-1); Red King (Umberto Rispoli, 8-1); New Year (Tiago Pereira, 20-1); Oscar Dominguez (Drayden Van Dyke, 6-1); Originaire (Abel Cedillo, 5-1) and North County Guy (Mario Gutierrez, 15-1).
The Oaks fillies Mandella will be sending out represent a newcomer to and an established 3-year-old in the stable.
Miss Extra cleared quarantine on August 15 after arriving from her native France. Her record includes a Group II victory in the Prix de Sandringham at Chantilly on June 19 among three wins in eight career starts and earnings of $105,361.
"She's a nice little filly," Mandella said. "Not big, but made well. She arrived in time to get a little work in her, which went well, so we're hoping she's ready and able to run a good one."
Parkour, a daughter Constitution, broke her maiden in her third career start when switched to the turf here on December 1, closing day of the Bing Crosby meeting. Her 2020 debut was a mile victory on March 22 at Santa Anita, but her first stakes start, in the Grade III Honeymoon on May 30 at Santa Anita, did not go as well.
Parkour, under Mike Smith, opened a 10-length lead on seven rivals in the first half mile of the 1 1/8 mile turf race – the same distance and surface as the Oaks – but predictably tired and finished next-to-last.
"We'll try to ration her speed better this time," Mandella said.
The field from the rail: Carpe Vinum (Aaron Gryder, 15-1); California Kook (Maldonado, 15-1); Miss Extra (Rispoli); Warren's Showtime (Smith, 6-1); Aqua Seaform Shame (Ruben Fuentes, 12-1); Trickle In (Gonzalez, 12-1); Red Lark (Van Dyke, 12-1); Neige Blanche (Prat, 5-1); Parkour (Geovanni Franco); Laura's Light (Cedillo, 3-1), and Guitty (Hernandez, 8-1).
---
SPARKY VILLE, HARVEST MOON TABBED SATURDAY GRADE III FAVORITES
Jeff Bonde-trained Sparky Ville was accorded 5-2 favoritism in the Green Flash Handicap and Simon Callaghan-conditioned Harvest Moon made the 2-1 choice on John Lies' morning lines for the two $100,000, Grade III events on the stakes-stacked Saturday card.
The Green Flash, a 5-furlong sprint for 3-year-olds and up, drew a field of eight and will go as the third on the 11-race program. The Torrey Pines, a mile on the main track for 3-year-old fillies, follows one race later.
The Green Flash field from the rail: Sparky Ville (Mike Smith); Irish Heatwave (Abel Cedillo, 12-1); Baja Sur (Juan Hernandez, 5-1); Torosay (Heriberto Figueroa, 8-1); Mesut (Flavien Prat, 6-1); Thanks Mr. Eidson (Ruben Fuentes, 15-1), Chaos Theory (Umberto Rispoli, 7-2), and Mikes Tiznow (Ricardo Gonzalez, 9-2).
The Torrey Pines from the rail: Paige Anne (Hernandez, 12-1); Secret Keeper (Cedillo, 7-2); Harvest Moon (Prat, 2-1); Sheza Girly Girl (Tiago Pereira, 12-1); Aurelia Garland (Rispoli, 4-1); Provocation (Smith, 9-2), and Merneith (Victor Espinoza, 5-1).
---
PRAT'S A STAYER; TITLE BATTLE WITH RISPOLI FIGURES TO RAGE
On deadline day this past Tuesday, jockey Flavien Prat notified Churchill Downs officials that he would be staying at Del Mar rather than heading to Louisville and attempting to win the Kentucky Derby for the second year in a row.
COVID-19 protocols necessitated that Churchill Downs require jockeys outside Kentucky to undergo testing on Saturday wherever they are and commit to being in Louisville no later than 11 a.m. on August 31 for additional quarantining and testing before the Kentucky Oaks and Derby on September 4-5.
"Flavien told me to figure out the pros and cons of staying and going and there were too many pros for staying," Derek Lawson, Prat's agent, said. "He'd have to get tested here (next Monday), fly all night on the 30th and get tested again once he got there.
"We wish all the jockeys who do go there good luck and a safe trip in the Derby. But we're going to hang here, try to win the (riding) title and shoot for the stakes record and wait until next year for another Kentucky Derby."
Seeking to defend his summer riding title, and make it three in the last four years, Prat enters the weekend trailing Umberto Rispoli by one victory, 28-27. Prat has eight stakes victories and, by staying at Del Mar, positions himself to ride most, if not all, of the 16 remaining in the last 11 days of the meeting.
The record for stakes victories in a season is 13, set by Rafael Bejarano in 2012.
Rispoli, riding at Del Mar for the first time, has been a force since the opening day of the meeting and lately has established himself as dominant on races over the Jimmy Durante Turf Course.
Of his 28 victories 21, including four stakes, have been counted over the Jimmy Durante Turf Course. The native of Italy made his affinity for grass racing plain to see on the second weekend of the meeting (a resumption after postponement) when he won seven of 14 turf races over a three-day period.
---
YET ANOTHER TALE FROM THE MELVIN (STUTE) FILES
We lost trainer Mel Stute at age 93 nine days ago and stories about his deeds and doings over the years at the racetrack have flowed. Understandably so; he was an exceptional man and a first-rate character.
Here's yet another Tale from the Melvin Files that was unearthed by fellow trainer Jay Robbins and confirmed by Mel's son Gary.
This was back in the summer of 1981 and Mel had entered a pretty nice allowance horse he trained named Advocatum in a one-mile grass race at Del Mar. The morning of the race he sent his exercise rider out to take the horse for a little jog to loosen up his legs, but signals got crossed. The exercise boy instead put the Advocator horse through a stout six-furlong workout, then happily returned to the barn. When Mel found out about it he blew his stack and fired the exercise rider on the spot.
But now Mel realized he had a problem: the horse's owner, Connie Wilson, was already on a plane and on her way down from San Francisco. Ms. Wilson was, shall we say, difficult. Mel, choosing the path of least resistance, decided to go ahead and run the horse anyway.
He did and Patrick Valenzuela broke him out of the gate on top and made every pole a winner en route to a half-length score and a new course record of 1:34 3/5, a mark that was to stand for the next five years.
Mort Lipton, a former trainer who then was one of Del Mar's stewards, had heard about the morning work and right after the race got on the phone to Mel in the winner's circle.
"Mel," he said with his big grin coming right through the line, "you might want to think about hiring back that exercise rider."
---
BRITNEY EURTON IS CELEBRITY FOE FOR PAULICK IN 'BEACH BOSS'
Britney Eurton, daughter of trainer Peter Eurton and internationally known commentator on TVG and the NBC network, will be the celebrity challengers to Paulick Report founder Ray Paulick in Saturday's edition of the "Beach Boss" handicapping challenge. The show starts at 11 a.m. and is available on Facebook, Twitter and YouTube. For further information the access link is: https://www.dmtc.com/contest.
The Beach Boss contest is free to everyone and works like this: Sign up to undertake the task of betting mythical money on one designated race each day. Participants get $100 of the imaginary cash for win, place or show wagering. The grand prize at the conclusion of the meeting is two VIP Breeders' Cup tickets when the annual championship event returns to Del Mar in 2021.
---
CLOSERS — Today at 12:45, Kentucky Oaks-bound Donna Veloce, trained by Simon Callaghan, will work six furlongs on the main track with Flavien Prat aboard. Saturday at the same time, Honor A.P., trained by John Shirreffs and headed for the Kentucky Derby, will work five furlongs under Mike Smith … Approaching milestones department: Trainer Craig Lewis, with 996 career wins, has two scheduled starts today; trainer Mark Glatt, with 990, also has two to saddle today … Stats from the racing office: 1,150 different horses have started at the meet; 146 trainers have made at least one start; 218 horses have made more than one start, among them Hot on the Trail, who has started four times for trainer Gary Stute … Celebrating its 10th year as the title sponsor of the TVG Pacific Classic (GI), TVG will shine the spotlight on one of the country's leading Thoroughbred aftercare organizations, California Retirement Management Account (CARMA) and will donate more than 5,000 face coverings to backstretch communities at its partner tracks in California, New Jersey, Kentucky and other states, TVG announced. In conjunction with the TVG Pacific Classic, the network is reaffirming its commitment to Thoroughbred aftercare with a $25,000 donation to CARMA, a California-based initiative that provides funding for the rehabilitation, retraining and retirement of California-raced horses. TVG's Dave Weaver will be playing the Pacific Classic Betting Challenge with his entry paid for by TVG and all winnings will be donated to CARMA.
---
Del Mar Statistics
Presented by Torrey Hollistics
Jockey Standings
(Current Through August 20, 2020 Inclusive)
| | | | | | | | |
| --- | --- | --- | --- | --- | --- | --- | --- |
| Jockey | Mts | 1st | 2nd | 3rd | Win% | In-money% | Money Won |
| Umberto Rispoli | 111 | 28 | 14 | 15 | 25% | 51% | $1,202,338 |
| Flavien Prat | 117 | 27 | 29 | 15 | 23% | 61% | $1,679,110 |
| Juan Hernandez | 124 | 20 | 17 | 14 | 16% | 41% | $893,314 |
| Abel Cedillo | 149 | 19 | 21 | 28 | 13% | 46% | $1,268,373 |
| Tiago Pereira | 79 | 12 | 4 | 4 | 15% | 25% | $443,260 |
| Drayden Van Dyke | 79 | 10 | 15 | 8 | 13% | 42% | $696,870 |
| Ricardo Gonzalez | 57 | 9 | 5 | 8 | 16% | 39% | $388,100 |
| Mario Gutierrez | 54 | 7 | 7 | 9 | 13% | 43% | $431,040 |
| Edwin Maldonado | 66 | 5 | 6 | 7 | 8% | 27% | $198,980 |
| Ruben Fuentes | 52 | 4 | 6 | 9 | 8% | 37% | $220,962 |
Trainer Standings
(Current Through August 20, 2020 Inclusive)
| | | | | | | | |
| --- | --- | --- | --- | --- | --- | --- | --- |
| Trainer | Sts | 1st | 2nd | 3rd | Win% | In-money% | Money Won |
| Peter Miller | 64 | 13 | 14 | 3 | 20% | 47% | $679,330 |
| Philip D'Amato | 51 | 11 | 11 | 7 | 22% | 57% | $515,700 |
| Doug F. O'Neill | 73 | 8 | 13 | 12 | 11% | 45% | $538,645 |
| Bob Baffert | 32 | 8 | 9 | 4 | 25% | 66% | $619,830 |
| Richard Baltas | 53 | 7 | 9 | 8 | 13% | 45% | $484,830 |
| John W. Sadler | 38 | 6 | 6 | 5 | 16% | 45% | $376,810 |
| Mark Glatt | 45 | 6 | 4 | 10 | 13% | 44% | $473,698 |
| Simon Callaghan | 21 | 6 | 3 | 0 | 29% | 43% | $244,940 |
| Peter Eurton | 26 | 5 | 6 | 5 | 19% | 62% | $233,560 |
| Michael W. McCarthy | 25 | 5 | 2 | 5 | 20% | 48% | $249,900 |
Winning Favorites Report
(Current Through August 20, 2020 Inclusive)

Winning favorites -- 53 out of 167 -- 31.74%
Winning favorites on dirt -- 31 out of 92 -- 33.70%
Winning favorites on turf -- 22 out of 75 -- 29.33%
Winning odds-on favorites -- 15 out of 29 -- 51.72%
In-the-Money favorites -- 105 out of 167 -- 62.87%
In-the-Money odds-on favorites -- 27 out of 29 -- 93.10%