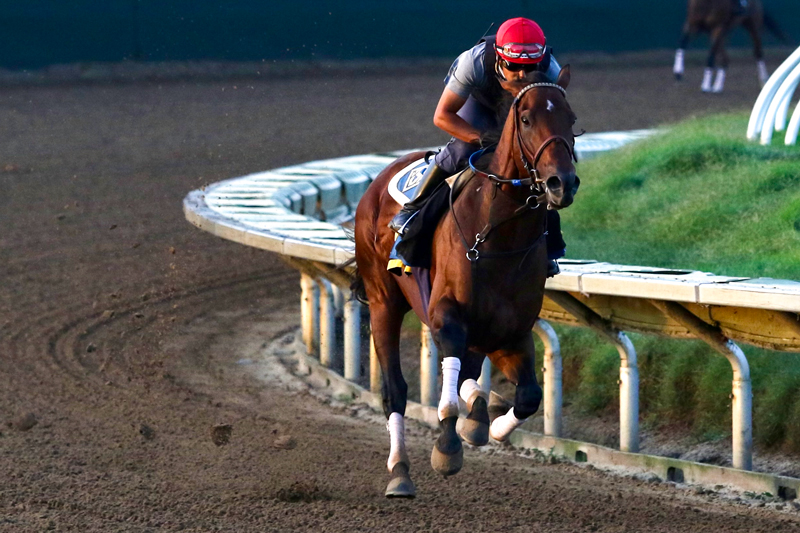 Flightline @ Zoe Metz Photography
FLIGHTLINE "GORGEOUS" IN WORK FOR TVG PACIFIC CLASSIC
As his horse glided down the stretch at Del Mar Saturday morning, trainer John Sadler was heard to exclaim "gorgeous" as the colt breezed by the grandstand. The ease with which Flightline gets over the ground provokes spontaneous responses like that.
Hronis Racing, et al's Flightline put in his second-to-last work under overcast skies as he continues preparations for the G1 TVG Pacific Classic on September 3. The undefeated son of Tapit went seven furlongs in 1:24.00 with splits of :12.20; :35.20; :47.40, and 1:11.40.
"I was very pleased," Sadler said. "Very similar to last week. He's essentially already ready so we just wanted to maintain an even keel with him."
Flightline was ridden by regular exercise rider and Sadler's assistant trainer Juan Leyva. He was the only horse to work at the distance on a busy morning of training at Del Mar.
"You could see he was going very nice," Sadler said, "well within himself. He'll have a little soft work next week and then he's ready to go."
Flightline's penultimate work caught the attention of a lot people. Among those on hand when the work went off at 6:30 were trainers Jerry Hollendorfer, Phil D'Amato and Bob Baffert, who even got in a little ribbing, asking Sadler if he got any sleep last night?
Baffert plans to run Commonwealth Thoroughbreds, et al's Country Grammer against Flightline in the $1 million TVG Pacific Classic. The Dubai World Cup winner also worked Saturday morning, going six furlongs in 1:12.00. Baffert also may run Juddmonte Farm's Laurel River and Pegram, Watson and Weitman's Defunded, who also put in a six furlong work, stopping the clock at 1:11.00.
Trainer Ed Moger is pointing his brother Steve's Stilleto Boy to the Classic. He worked the son of Shackleford five furlongs in 1:00.40 Saturday.
Other possible challengers include Foxhill Farms and Sienna Farm's Royal Ship, winner of the G2 San Diego last month; MyRacehorse and Spendthrift Farm's Tizamagician, runner-up last out in the G3 Cougar II, and Jay Em Ess Stable's Extra Hope, who worked five furlongs in 1:00.00 Saturday. All three reside in the Richard Mandella barn.
Trainer John Shirreffs has hinted that C R K Stable's Express Train may run in the Classic. The Santa Anita Handicap winner worked six furlongs in 1:12.40 Saturday morning, and Sadler may add the G3 Cougar II winner Hronis Racing's Heywoods Beach to the mix.
Nominations for the Classic close Thursday, August 25.
---
RYAN CURATOLO MAKES HIMSELF AT HOME AT DEL MAR
Another new addition to the Del Mar jockey colony is making an impact this summer. Ryan Curatolo has won seven races with his first 57 mounts, placing him in a tie for seventh in the jockey standings.
But don't be mistaken, Ryan is no newcomer to the game. He's had plenty of experience, it's just been outside of the country. In fact, the past few years have taken him to some of the hottest racing districts in the world, both literally and figuratively.
After riding in the States for a couple of years, Curatolo ventured overseas and rode in Macao, Singapore, and Japan.
"I was only in Japan for a few months," Curatolo said, "because if you want to ride longer you have to speak Japanese and pass tests and everything. So I only rode there for three months but it was great because I won 29 races."
From there Curatolo went to Qatar and Dubai, but even while enjoying success in the Middle East, he had dreams of one day riding at Del Mar.
"The racing there is only seasonal," Curatolo said. "I could only ride in the winter because the summer's too hot. So I was always thinking in my head, maybe in the summer I should go to Del Mar."
Timing is everything and Curatolo could not have picked a worse time to apply for a visa to come to the U.S.
"Because of COVID it took two years to get my visa," Curatolo said. "The offices were closed so I couldn't get an appointment."
He finally got the paperwork he needed and landed just in time for U.S. racing's biggest day.
"Last year, when I got here, it was Breeders' Cup week," Curatolo said, "and it was a great atmosphere. People were really excited. I really enjoy it. Del Mar was exactly what I expected."
So how does a kid, who grew up in the south of France, end up riding at some of the most exotic racetracks in the world? He credits his father.
"My father always watched racing on TV," Curatolo says. "When I got home from school the TV was always on the races. Or my father would take me to the races. In the summer, we would go to Miami and my father would take me to Calder racetrack. So I was watching the races all my life."
When he turned 14, Curatolo enrolled in a jockey school in France, and spent four years learning the ropes. When he graduated he began riding in France, but in 2010 he returned to the States, to the place he had visited as a kid.
"I was riding in Florida for trainer Patrick Biancone," Curatolo says. "He told me I should go to New York and he connected me with some of his owners there."
That led to rides on such notable horses as Agave Kiss, Ever Smart and Pure Gossip who, as a 2-year-old, won the G3 Miss Grillo at Belmont Park and gave Ryan his first Breeders' Cup mount. In 2011, Curatolo was runner-up to Kyle Frey in the Eclipse Award voting for top apprentice. He compiled over $4 million in earnings that year.
Now he's setting his sights on conquering California.
"For the moment I think we're going to stay in the states," Curatolo says, "even though they've asked me to go back there (to the Middle East). I think we're doing real well right now and we want to break in some more barns and ride for some more trainers because I feel if they give me the opportunity, I can get the job done."
---
CAL-BRED FILLIES AND MARES CONVERGE IN SOLANA BEACH STAKES
The Golden State Series continues at Del Mar Sunday when 10 Cal-breds line up in the $150,000 Solana Beach turf mile. It's a mix of veteran Cal-bred fillies and mares against some newcomers on the scene.
The defending champion is back this year. Mr. and Mrs. Larry Williams' Pulpit Rider returns to the scene of last year's victory. She has failed to return to the winners circle in five starts since, but trainer Mike Puype thinks she deserves serious consideration Sunday.
"She's ready to go," Puype says. "She loves Del Mar, she loves the distance. We waited for this race so we'll be ready to roll."
The daughter of Lucky Pulpit has raced 10 times at Del Mar during her six year career, winning three and finishing in the money 50% of the time. She finish fifth in her last race, the $100,000 Fran's Valentine up at Santa Anita in late May.
"She's been in some pace-less races," Puype says, "and just hasn't had the right trips across town (at Santa Anita), so hopefully we'll get some fractions to run at. Like I said, she always shows up at Del Mar."
She'll have to contend with Reddam Racing's Eddie's New Dream. The daughter of Square Eddie won the last time she faced Cal-breds in the Irish O'Brien, down the hill at Santa Anita in March. She then plunged into Graded stakes company, running second to Canoodling in the G3 Wilshire and fifth in the G1 Gamely. Trainer Ben Cecil likes having her back with Cal-breds.
"I think this is a good spot," Cecil says. "She's been going against open company. I think the distance is good, going the mile, so I'm hopeful."
Eddie's New Dream ran second in a second-level allowance on opening weekend at Del Mar and Cecil says she may not have been at peak form.
"I gave her a little bit of a breather after the race before last," Cecil says, "and I may have been a little easy on her. She may have come up a little bit short. I still think she ran very well."
Harris Farms' All Dialed In started her career last December and broke her maiden in January. She's coming into the Solana Beach on a two race win streak. Both of the races were entry level allowances, one against Cal-breds, the other in open company. She's only run once on the turf, finishing fifth in a sprint, and trainer Sean McCarthy is not ready to blame it on the grass.
"That was too short for her so I'm not going to say the grass cost her," McCarthy said. "This is a different style race. The pace quickens, it doesn't back up to you like on the dirt. I think our style is very, very strong in this situation and I look for a good effort."
The Solana Beach, named after Del Mar's neighbor to the north, is the eighth race on the 10-race Sunday card.
Here's the field from the rail with the jockeys: Harper's Gallop (Hector Berrios); Warrens Candy Girl (Umberto Rispoli); California Kook (Florent Geroux); Pulpit Rider (Ramon Vasquez); Rose Dawson (Juan Hernandez); Barrister's Ride (Ricardo Gonzalez); Sassyserb (Joe Bravo); Eddie's New Dream (Mario Gutierrez); Sunshine Babe (Tiago Pereira), and All Dialed In (Tyler Baze).
---
COOLING OUT: Eclipse Thoroughbred Partners Sister Otoole came out of her win in Friday's $100,000 CTT & TOC Stakes in good order according to assistant trainer Alice Clapham. Sister Otoole was one of two horses trainer H. Graham Motion sent out from his east coast base for the stakes races at Del Mar this weekend. The other is Spendarella, favorite in the G1 Del Mar Oaks today…Jockey Edwin Maldonado is quietly having a nice meet. He notched his ninth win of the summer aboard longshot R Doc in the fourth race Friday. That moves him into fifth place in the jockey standings. R Doc ended up paying $76.60…Notable workouts for Saturday: Dirt – Desert Dawn (4f, :50.40); Master Piece (4f, :49.00); Slow Down Andy (4f, :49.00); Ce Ce (5f,:59.40), and Taiba (6f 1:10.80). A total of 196 horses put in official works on Saturday.
---
Del Mar Statistics
Jockey Standings
(Current Through Friday, August 19, 2022 Inclusive)

| | | | | | | | |
| --- | --- | --- | --- | --- | --- | --- | --- |
| Jockey | Mts | 1st | 2nd | 3rd | Win% | In-money% | Money Won |
| Juan Hernandez | 114 | 30 | 20 | 15 | 26% | 57% | $2,043,906.00 |
| Umberto Rispoli | 87 | 16 | 16 | 11 | 18% | 49% | $1,365,296.00 |
| Ramon Vazquez | 106 | 13 | 23 | 21 | 12% | 54% | $1,280,502.00 |
| Joe Bravo | 53 | 12 | 5 | 5 | 23% | 42% | $873,756.00 |
| Edwin Maldonado | 77 | 9 | 6 | 9 | 12% | 31% | $507,970.00 |
| Abel Cedillo | 86 | 8 | 10 | 8 | 9% | 30% | $757,276.00 |
| Hector Berrios | 40 | 8 | 3 | 2 | 20% | 33% | $624,860.00 |
| Florent Geroux | 72 | 7 | 14 | 10 | 10% | 43% | $696,380.00 |
| Mike Smith | 36 | 7 | 3 | 4 | 19% | 39% | $647,730.00 |
| Ryan Curatolo | 59 | 7 | 2 | 6 | 12% | 25% | $343,732.00 |
Trainer Standings
(Current Through Friday, August 19, 2022 Inclusive)
| | | | | | | | |
| --- | --- | --- | --- | --- | --- | --- | --- |
| Trainer | Sts | 1st | 2nd | 3rd | Win% | In-money% | Money Won |
| Bob Baffert | 38 | 11 | 7 | 9 | 29% | 71% | $845,710.00 |
| Philip D'Amato | 72 | 10 | 14 | 18 | 14% | 58% | $1,269,490.00 |
| Peter Miller | 69 | 10 | 13 | 9 | 14% | 46% | $857,440.00 |
| Doug F. O'Neill | 78 | 10 | 10 | 7 | 13% | 35% | $778,772.00 |
| George Papaprodromou | 56 | 10 | 7 | 7 | 18% | 43% | $797,280.00 |
| Mark Glatt | 44 | 8 | 10 | 8 | 18% | 59% | $567,696.00 |
| Andy Mathis | 24 | 7 | 1 | 2 | 29% | 42% | $300,408.00 |
| John W. Sadler | 47 | 6 | 11 | 5 | 13% | 47% | $490,092.00 |
| Michael W. McCarthy | 38 | 5 | 5 | 4 | 13% | 37% | $515,380.00 |
| Steve R. Knapp | 32 | 4 | 4 | 2 | 13% | 31% | $194,040.00 |
Winning Favorites Report
(Current Through Friday, August 19, 2022 Inclusive)
Winning favorites -- 57 out of 160 -- 35.63%
Winning favorites on dirt -- 34 out of 89 -- 38.20%
Winning favorites on turf -- 23 out of 71 -- 32.39%
Winning odds-on favorites -- 10 out of 26 -- 38.46%
In-the-Money favorites -- 122 out of 160 -- 76.25%
In-the-Money odds-on favorites -- 22 out of 26 -- 84.62%