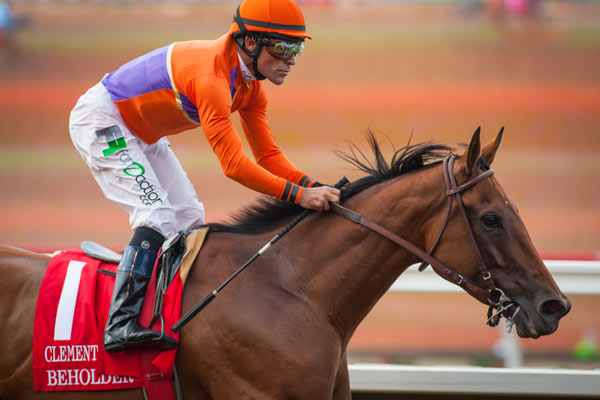 By Hank Wesch
---
ALL ABUZZ ABOUT BEHOLDER AND PACIFIC CLASSIC POSSIBILITY
The excitement after Beholder's victory in the Grade I $300,000 Clement L. Hirsch Stakes and possible next start in the $1 million TVG Pacific Classic permeated Del Mar following the race Saturday evening and lingered through Sunday morning.
Especially at the place where it started, the stable of Hall of Fame trainer Richard Mandella. Beholder's connections – owner B. Wayne Hughes, Mandella and jockey Gary Stevens -- were all there at one time or another Sunday morning, still abuzz about Beholder and her Classic possibilities.
Hughes: ""I thought it was a fantastic race and I'm delighted. Richard did a perfect job bringing her up to the race in a professional manner. Richard never said a word to me (about the Pacific Classic). I was wishing the racetrack would get American Pharoah to come here and I would definitely go in that. But I know it would be difficult to get him. I hope we haven't scared him off."
Mandella: "I've been thinking about the Pacific Classic for quite awhile. She's been winning the mare races pretty easily in my mind. So it's time to try something stronger. The only problem is the three weeks (the Pacific Classic is August 22). She is a mare and she gives it a lot. It's going to be a little close. If it were a month or more away, I would say we'd definitely go, but I want to make it clear it'll depend on her."
Immediately after the Hirsch, Mandella mentioned that the Personal Ensign Stakes at Saratoga ($750,000, Grade I, Saturday, August 29) was another possibility, but he was reluctant about shipping Beholder away from her California base before the Breeders' Cup in late October at Keeneland. If more time is necessary, the Zenyatta ($300,000, Grade I, September 26) would likely be next for Beholder.
Stevens: "Richard had mentioned it (Pacific Classic possibility) to me, I suppose about three weeks ago. I just got a smile on my face and he could read my body language. That was one reason I didn't let her gallop out much (Saturday) because I knew she was coming back in three weeks. It was all according to how she ran and what she put into it. I wanted a good last sixteenth of a mile and I usually let her gallop out as far as she wants to but yesterday I pulled her up just past the seven-eighths pole., knowing what he (Mandella) was probably thinking.
"I'm excited. It will be a big challenge for her, but I think she's up to it. (Mandella) has a lot of confidence in her and so do I. It's time to take that step up."
---
'OUTSIDE CHANCE' FOR ANOTHER MARE IN THE CLASSIC
Trainer Craig Lewis said that Hirsch third-place finisher Warren's Veneda came out of the race in good shape.
Lewis also said there was "an outside chance" the 5-year-old California-bred mare, who chased Beholder home while conceding weight to the champion in the Adoration Stakes in June at Santa Anita as well as the Hirsch, would run in the TVG Pacific Classic.
"We'd get some pace, which we didn't get yesterday," Lewis said. "And we'll finally get even weight (with Beholder)." The first quarter in the 1 1/16 mile Hirsch was run in :23.91, more than a half-second slower than that of an allowance optional $40,000 claimer that immediately followed.
In Lewis' estimation the slow early pace compromised the chances of late-running Warren's Veneda, who carried two pounds more than Beholder. In the Pacific Classic females are accorded a five-pound break in the weights. Beholder and Warren's Veneda would both be assigned 119.
"I don't know if we could beat Beholder under any circumstances, but it's a $1 million race and we might give it a try," Lewis said.
Jim Cassidy, trainer of Hirsch runner-up Yahilwa said he was pleased with her effort and the way she came out of the race. But no, the Pacific Classic is not in her future.
---
PACIFIC CLASSIC COUNTDOWN, FIRST EDITION, 20 DAYS AWAY
Beholder's name can now be added to a list of five "probables" and seven
"possibles" for the silver anniversary running of the $1 million TVG Pacific Classic on Saturday, August 22.
Considered probables are: Hard Aces, Catch a Flight, Red Vine, Hoppertunity and Imperative. Hard Aces won the Gold Cup at Santa Anita and Catch a Flight took the San Diego Handicap here on July 25.
Considered possibles are: Bayern, Moreno, Midnight Storm, Bailoutbobby, Appealing Tale and Big John B. Moreno (Eric Guillot trainer) and Red Vine (Christophe Clement) are nominated to the $1.25 million Whitney at Saratoga next Saturday. So are six horses trained by Todd Pletcher, at least one of which could be Del Mar bound.
Nominations for the Pacific Classic close on August 13.
---
FIVE OTHERS GO FOR 'DA LUTE' IN REAL GOOD DEAL
Peter Miller was, as always, candid in addressing the situation regarding Sunday's featured $200,000 Real Good Deal Stakes, where Gimme Da Lute is the 4-5 morning line favorite.
Miller will saddle 6-1 Richard's Boy.
"It's a tough race and it looks like Gimme Da Lute has us all over a barrel," Miller said. "But it's $40,000 for second and I'd be happy to run second."
Richard's Boy has been away since May and will be switched from turf to dirt with a cutback in distance from 1 1/16 miles to the 7 furlongs of the Real Good Deal.
"He runs well on the turf, but he's better sprinting," Miller said.
---
WHAT'S IN A NAME – REAL GOOD DEAL STAKES
The Real Good Deal Stakes is named for the California-bred stakes star who won the 1963 Graduation Stakes in the colors of E.B. (Pie Man) Johnston's Old English Rancho.
---
RETIRED TRAINER C.R. "CHAY' KNIGHT DIES
C.R. "Chay" Knight, a native of Ventura and a longtime trainer on California Quarter Horse and Thoroughbred circuits, died Friday at his home in Clovis after a long illness. He was 80, and only four days short of his 81st birthday.
Knight-trained Splendid Spruce won the 1981 Santa Anita Derby and, ridden by Darrel McHargue, finished seventh in the 107th Kentucky Derby, 7 ½ lengths behind Pleasant Colony.
Knight's lone Del Mar stakes win came with Time Of Sale in the 1982 Sorrento Stakes but he had many stakes victories elsewhere with horses like Splendid Spruce, Raise A Man and others.
Quarter Horse records credit Knight, who conditioned world record holder and champion Kaweah Bar, with 103 wins before becoming one of the first trainers to make the transition from that breed to Thoroughbreds, a path that Hall of Famers D. Wayne Lukas and Bob Baffert were later to follow.
Knight is survived by his wife Mary and sons Terry, Barry, Greg and Chris. At Chay's request, family members said, no memorial services were to be held.
---
SIX ENTERED IN WEDNESDAY'S GRADUATION
A field of six was entered Saturday for Wednesday's 64th running of the Graduation Stakes for California-bred 2-year-olds. The event can be a springboard to the Grade I Del Mar Futurity – as was the case for California Chrome in 2013. Or, if connections choose to stay in races restricted to state breds, it can be a stepping stone to the I'm Smokin Stakes – as it was in 2014 for Wake Up Nick.
The Graduation Stakes field, from the rail out is: Mrazek (Mario Gutierrez), Ralis (Corey Nakatani), Getoffmyback (Joe Talamo), Xingontothebone (Edwin Maldonado), Viviendo El Sueno (Rafael Bejarano) and Swiss Minister (Martin Pedroza).
---
CLOSERS – Ship and Win eligible horses in Sunday's races are: Devil Rising (6th, Jerry Hollendorfer, trainer) and Dive Down (9h, J. Eric Kruljac) … Del Mar-based jockey Kent Desormeaux guided 2014 Breeders' Cup Juvenile winner Texas Red to victory Saturday for his brother J. Keith Desormeaux in the $600,000 Jim Dandy Stakes at Saratoga. Both Breeders' Cup Juvenile champion Texas Red and Triple Crown champion American Pharoah recorded their first career victories at the 2014 Del Mar summer meeting… Desormeaux travelled from Saratoga to Monmouth Park in New Jersey to ride Keen Ice for trainer Dale Romans, one of seven rivals for American Pharoah in the $1.75 million Haskell Invitational … Trainer Phil D'Amato said Sunday he was still undecided about the next start for Obviously but "We'll know more after he works this morning." Obviously went five furlongs over the turf course in :59.60, fastest of 10 works at the distance on the course … Selected Works from 180 officially timed on the main track and 21 on the turf Sunday: Dirt – Papacoolpapacool (5f, 1:01.40), Wild Dude (4f, :50.60), Sahara Sky (4f, :51.00), Ocho Ocho Ocho (4f, :50.40), Big Cazanova (4f, :50.40), Arethusa (4f, :49,40); Turf – Obviously (5f, :59.60), Fanticola (5f, 1:01.00), Prospect Park (5f, 1:02.80), Soul Driver (5f, 1:06.00), Spanish Queen (5f, 1:02.80), Sunset Glow (5f, 1:03.60).
---
DEL MAR STATISTICS
Jockey Standings
(Current Through Saturday, August 1, 2015 Inclusive)
Jockey
Mts
1st
2nd
3rd
Win%
Money Won
Joseph Talamo
71
13
6
4
18%
$671,100
Tyler Baze
80
12
14
12
15%
$766,318
Rafael Bejarano
65
12
10
8
18%
$749,902
Flavien Prat
74
11
7
13
15%
$869,132
Santiago Gonzalez
52
10
3
5
19%
$527,124
Mario Gutierrez
37
9
5
1
24%
$405,436
Mike Smith
31
5
6
4
16%
$590,280
Tiago Pereira
37
5
2
1
14%
$196,170
Martin Pedroza
45
4
6
4
9%
$218,876
Kent Desormeaux
40
4
4
7
10%
$242,144
Trainer Standings
(Current Through Saturday, August 1, 2015 Inclusive)
Trainer
Sts
1st
2nd
3rd
Win%
Money Won
Doug F. O'Neill
37
8
7
4
22%
$401,010
Peter Miller
53
6
7
6
11%
$450,416
Jerry Hollendorfer
32
6
5
2
19%
$496,042
Richard Baltas
27
5
3
7
19%
$281,250
Mike Puype
28
5
2
5
18%
$255,520
Philip D'Amato
20
5
2
1
25%
$276,920
Richard E. Mandella
15
4
3
4
27%
$556,360
Jeff Mullins
14
4
2
2
29%
$420,842
John W. Sadler
19
4
1
3
21%
$96,820
Adam Kitchingman
12
3
4
0
25%
$76,130
Winning Favorites Report
(Current Through Saturday, August 1, 2015 Inclusive)
Winning favorites
29
116
25.00%
Winning favorites on dirt
22
82
26.83%
Winning favorites on turf
7
34
20.59%
Winning odds-on favorites
3
11
27.27%
In-the-Money favorites
63
116
54.31%
In-the-Money odds-on favorites
10
11
90.91%
---
Contact: Dan Smith 858-792-4226/Hank Wesch 858-755-1141 ext. 3793