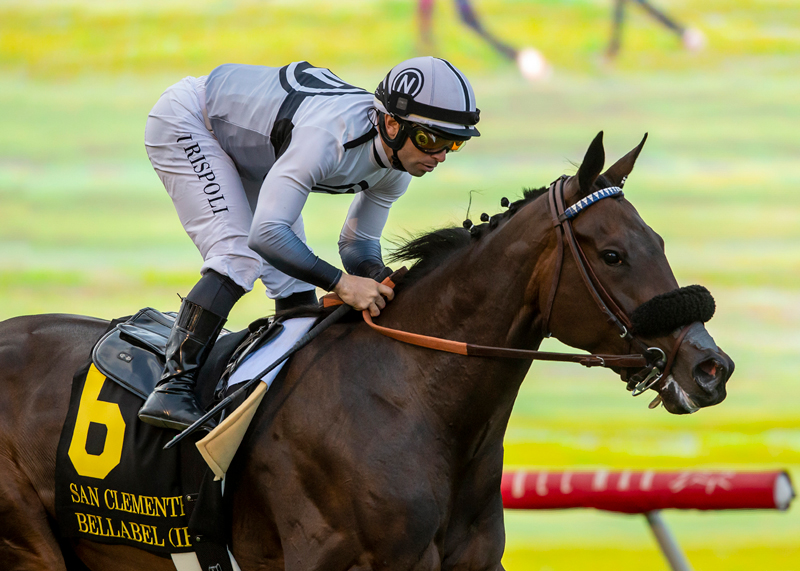 Bellabel © Benoit Photo
D'AMATO STACKS THE DECK IN SATURDAY'S G1 DEL MAR OAKS
The Phil D'Amato barn has been hitting on all cylinders this summer at Del Mar and he plans to bring the same cast of horses that dominated the G2 San Clemente last month to the G1 Del Mar Oaks Saturday.
Benowitz Family Trust, et al's Bellabel, Michael House's Sixteen Arches and R Unicorn Stable's Island of Love crossed the finish line one, two, three in the San Clemente and D'Amato says Bellabel appears to have improved since that race.
"Just the ease at which she does everything," D'Amato says. "She just does things so effortlessly, especially in the last two grass works. Just displays her turn of foot on cue rather than having to niggle on her and ask her. She's just much more push button."
Sixteen Arches was runner-up to Bellabel in the San Clemente.
"She's another filly that's on the improve," D'Amato says. "She finally got a nice clean trip the other day, came running late and I expect a similar race from her."
D'Amato says it wouldn't surprise him if Island of Love steals the Oaks on Saturday.
"She's just ultra consistant," D'Amato says. "She's a filly that can strike at any time."
For good measure, D'Amato is running a fourth filly, Rockingham Ranch or Talla Racing's Rhea Moon who, like her three stablemates, is also an Irish-bred. She's coming off of a third-place finish in an entry level allowance at Del Mar on opening weekend.
Having four horses in the same race will keep any trainer on his toes and D'Amato remembers the advice given to him by a Hall of Fame trainer several years ago.
"When I first started training, I asked Richard Mandella about this," D'Amato said. "How do you handle multiple horses in one particular race? And he told me 'You tell your owners, if you're not training the horse, someone else is and it's going to be in the race, too. So you just treat them all as individuals and bring them to the race to the best of your ability and may the best horse win.'"
While it appears D'Amato has his bases covered in the Del Mar Oaks, there are challengers that could keep him out of the winner's circle beginning with the shipper and favorite, Gainesway Thoroughbreds' Spendarella. She has won three of her four career starts and comes off of an impressive runner up finish in the Coronation Stakes at Royal Ascot in June. Trainer H. Graham Motion has brought her across the country for this one.
There's also Schroeder Farms or David Bernsen's Cairo Memories, who won back-to-back Grade 3 races at Santa Anita before shipping back east and running fifth in the G1 Belmont Oaks at Belmont Park.
"It's a deep and competitive field," trainer Bob Hess, Jr. says, "but we have a good post and she loves the distance, loves the surface here so I'm expecting a top effort."
Tina and Jerome Moss' Lady T ran fourth behind the D'Amato trio in the San Clemente but before that she broke her maiden by 14 lengths followed by a runner up finish in the G2 Summertime Oaks at Santa Anita. Trainer John Shirreffs thinks with a good trip, she could pull off the upset.
"We like the post position that we got (post #13)," Shirreffs says. "Hopefully she can get a nice stalking position."
Shirreffs says he throws out the effort in the San Clemente.
"She never got to relax," Shirreffs says. "She was pressured the whole way. Usually she runs her best if she just lays a little off of it and gets comfortable."
A full field of 14 is expected for the 1 1/8 mile turf race. It goes as race eight on the 10-card program.
Here's the field from the rail out with jockeys and morning line odds. Rhea Moon (Ramon Vasquez, 30-1); Bellabel (Umberto Rispoli, 5-1); Island of Love (Juan Hernandez, 12-1); Lucky Girl (Ryan Curatolo, 30-1); Cairo Memories (Mike Smith, 3-1); Tezzaray (Hector Berrios, 20-1); Sixteen Arches (Abel Cedillo, 12-1); Gracelund Gray (Joe Bravo, 15-1); Txope (Florent Geroux, 5-1); Gold Dragon Queen (Armando Ayuso, 50-1); Spendarella (Tyler Gaffalione, 8/5); Ballet Dancing (Drayden Van Dyke, 20-1); Lady T (Victor Espinoza, 20-1), and Lady Clementine (Mario Gutierrez, 30-1).
---
$3.5 MILLION 2-YEAR-OLD TO MAKE DEBUT SATURDAY AT DEL MAR
Del Mar is known as the place where many champion horses got their start. American Pharoah, Silver Charm, Bertrando and Life Is Good, a candidate for Horse of the Year in 2022. All started their racing careers at Del Mar, some even went on to win the Del Mar Futurity.
You never know when that next superstar will emerge but sometimes you get a heads up. Enter Hejazi, a 2-year-old son of Bernardini by the Medaglia d'Oro mare, G Note, out of the barn of Bob Baffert. This colt hasn't even raced, yet he is already attracting attention. That's because at the Fasig-Tipton Midlantic 2-year-olds in training sale earlier this year, Zedan Racing, the connections that brought you Medina Spirit, bought Hejazi for $3.5 million.
"We're still waiting to see if the check cleared yet," trainer Bob Baffert joked. "He's a nice horse. At the sale he was sort of a standout, he's bred really well and he's been working well here so we're looking forward to his race."
Hejazi is entered to make his debut against seven other rivals in the fifth race Saturday, a maiden special weight.
"I like to see him run," Baffert says. "They can be working well but you got to see them run. So far, he's shown that he has the talent so it'll be exciting."
Hejazi has worked eight times since June, the last a five furlong bullet work in :59.00 on the same track he'll be running on this weekend.
Baffert already has enjoyed success with several of his 2-year-olds at Del Mar. Six of his 'youngsters' have crossed the finish line first this summer, helping to lift Baffert to the top of the trainer standings.
---
TRAINER LUIS MENDEZ MAKING HIS MARK AT DEL MAR
Luis Mendez is beginning to make quite an impression at Del Mar. A victory Thursday helped Mendez crack the Top 10 in the Del Mar trainer standings with four wins. That's out of just 14 starts and his horses are finishing in the money 64% of the time. Last Friday, his 2-year-old, The Big Wam, took the $125,000 Graduation Stakes.
Not bad for a guy from Utah who's packing just 24 horses on the backside. Not that Mendez is new to this game. He's been coming to Del Mar since 2015, began training on his own in 2018 and trained champion sprinter Dr. Schivel when he won the Del Mar Futurity in 2020.
"I feel blessed that we have these nice guys (his stable help) working for us and our team, Mendez says. "We got the horses fit and that's why we have the results."
Mendez got his start growing up on the family farm in Mexico. When he was 14, the family immigrated to the U.S. to a farm in Idaho near the Canadian border where his father had a job. A couple years later he hooked up with former trainer Shane Chipman, who he credits with teaching him everything he knows about training.
"I learned a lot from him, Mendez says. "We don't see each other much but when I do, he's like family. I learned a lot about the team and how to treat people. Sometimes we get a little mad because things are not working right, but by the end of the day we get to talking about everything, like a family."
Mendez says Chipman was always big on the team concept in the barn, something he encourages in his own barn today.
"I always give Saul, my oldest mate, the right to veto," Mendez points out. "Like if I say: 'Go to gallop,' if he doesn't feel something is right he can turn around and come back, or if he's out on a walk or a jog and sees something he can say that horse shouldn't train today. We respect those ideas."
It seems to be working. In 2021, Mendez posted his best year in terms of earnings, with $735,304, This year, he's well on his way to setting a new personal mark with over $600,000 in the bank already. One advantage Mendez has over most of the other trainers is he works his own horses.
"I like to take them out to give them fitness," Mendez says, "and to see what kind of performance they got; how far they are. I ride around the barn area and listen and I hear a lot of arguing. It gets me to thinking that we are blessed to have this good of a team."
Of course when you're soring big wins like the one in the Graduation Stakes with The Big Wam, there's not a lot of disagreements among the help.
"That gives you confidence, it's like getting more power into you," Mendez says. "The excitement, it's a good feeling to come back to the barn. Sometimes you feel real confident about a horse and then you get your butt kicked and the next day it's like carrying a bag of cement on your shoulders. You're tired mentally but you keep going. You have to because you have to come back to the barn the next day and make sure all the little babies are doing good."
It just got a little tougher emotionally for Mendez this past weekend. Like many working at Del Mar, the families are packing-up and going home because the children have to go back to school. For Mendez, home is in St. George, Utah.
"My wife was a little sensitive the other day," Mendez says, "because she was not here for the win picture."
Judging by what we've seen so far, there will be plenty more opportunities for that to happen.
---
COOLING OUT: Country Grammer continues to do well for trainer Bob Baffert who says, "all systems are go for the Pacific Classic." Baffert believes his Dubai World Cup winner and runner-up last out in the G2 San Diego will enjoy the 1 ¼ mile of the TVG Pacific Classic on September 3…The third annual CARMAthon is underway and continues through Saturday. The California Retirement Management Account is taking donations this weekend to help with its grant program, which assists more than 20 Thoroughbred aftercare charities. Donations can be made on the CARMA website…Notable works for Friday: Dirt – Forbidden Kingdom (3f, :37.40); Big City Lights (4f, :48.40); Carmelita's Man (4f, :50.40); Finneus (4f, :50.00); Grace Adler (4f, :47.20); Bran (5f, :59.80); Fashionably Fast (5f, 1:00.40); Laurel River (5f, 1:00.60), and Heywoods Beach (6f, 1:12.80). A total of 170 horses put in official works Friday.
---
Del Mar Statistics
Jockey Standings
(Current Through Thursday, August 18, 2022 Inclusive)
| | | | | | | | |
| --- | --- | --- | --- | --- | --- | --- | --- |
| Jockey | Mts | 1st | 2nd | 3rd | Win% | In-money% | Money Won |
| Juan Hernandez | 109 | 30 | 18 | 15 | 28% | 58% | $2,023,506 |
| Umberto Rispoli | 83 | 15 | 15 | 11 | 18% | 49% | $1,295,612 |
| Ramon Vazquez | 100 | 12 | 22 | 20 | 12% | 54% | $1,237,722 |
| Joe Bravo | 51 | 12 | 4 | 5 | 24% | 41% | $857,256 |
| Edwin Maldonado | 74 | 8 | 6 | 9 | 11% | 31% | $485,970 |
| Hector Berrios | 37 | 8 | 2 | 1 | 22% | 30% | $607,620 |
| Florent Geroux | 68 | 7 | 13 | 8 | 10% | 41% | $669,480 |
| Mike Smith | 36 | 7 | 3 | 4 | 19% | 39% | $647,730 |
| Ryan Curatolo | 57 | 7 | 2 | 6 | 12% | 26% | $340,532 |
| Abel Cedillo | 80 | 6 | 10 | 8 | 8% | 30% | $689,076 |
Trainer Standings
(Current Through Thursday, August 18, 2022 Inclusive)
| | | | | | | | |
| --- | --- | --- | --- | --- | --- | --- | --- |
| Trainer | Sts | 1st | 2nd | 3rd | Win% | In-money% | Money Won |
| Bob Baffert | 38 | 11 | 7 | 9 | 29% | 71% | $845,710 |
| Philip D'Amato | 67 | 10 | 13 | 18 | 15% | 61% | $1,251,006 |
| Peter Miller | 67 | 10 | 12 | 8 | 15% | 45% | $836,440 |
| Doug F. O'Neill | 75 | 10 | 9 | 6 | 13% | 33% | $761,192 |
| George Papaprodromou | 53 | 9 | 7 | 7 | 17% | 43% | $744,580 |
| Mark Glatt | 43 | 8 | 10 | 7 | 19% | 58% | $562,296 |
| Andy Mathis | 24 | 7 | 1 | 2 | 29% | 42% | $300,408 |
| John W. Sadler | 46 | 6 | 10 | 5 | 13% | 46% | $481,692 |
| Michael W. McCarthy | 37 | 5 | 5 | 4 | 14% | 38% | $514,880 |
| Steve R. Knapp | 30 | 4 | 4 | 1 | 13% | 30% | $188,500 |
Winning Favorites Report
(Current Through Thursday, August 18, 2022 Inclusive)
Winning favorites -- 55 out of 152 -- 36.18%
Winning favorites on dirt -- 33 out of 85 -- 38.82%
Winning favorites on turf -- 22 out of 67 -- 32.84%
Winning odds-on favorites -- 10 out of 24 -- 41.67%
In-the-Money favorites -- 116 out of 152 -- 76.32%
In-the-Money odds-on favorites -- 21 out of 24 -- 87.50%