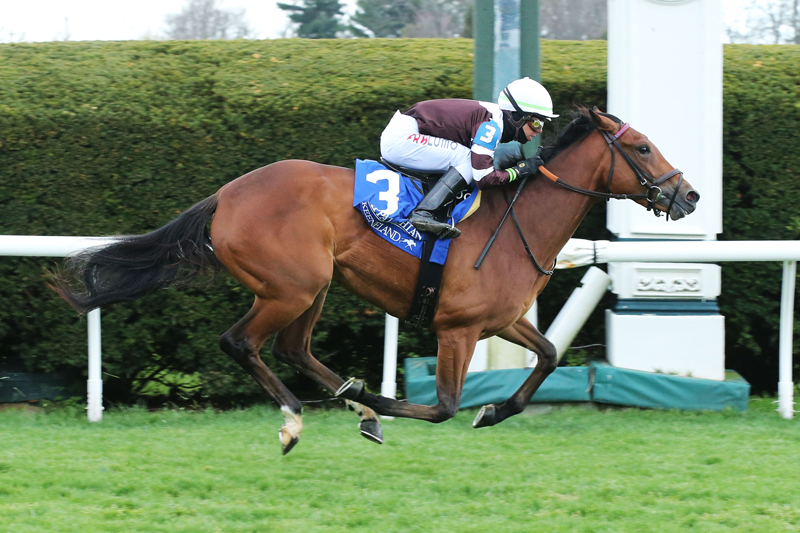 Spendarella © Courtesy of Keeneland
SPENDARELLA SHIPS IN FOR SATURDAY'S G1 DEL MAR OAKS
Gainesway Thoroughbreds Spendarella has only raced four times in her career but she has made quite an impression. So much so that the daughter of Karakonite ships-in to Del Mar this week as the probable favorite in the 66th running of the G1 Del Mar Oaks this Saturday at Del Mar.
Spendarella won her first three races. Not by open lengths like a Flightline, but with an eye-catching turn of foot that one couldn't help but notice. She broke her maiden at Gulfstream Park in South Florida, then went out and won the G3 Herecomesthebride turf mile. She shipped up to Keeneland in April and won the G2 Appalachian, also at a mile on the turf.
Her performances were so impressive, the connections decided to take a shot at Royal Ascot in June. She didn't win, but she certainly did not disappoint, finishing second to Inspiral in the Coronation Stakes. Insprial followed up that victory with a Group I score over colts at Deauville in France last Sunday.
Since Spendarella has returned to the States she has put in three solid works at Fair Hill, an all-weather training facility in Maryland. Alice Clapham, assistant to trainer Graham Motion, explains why they're making the trip out west with their prized filly.
"The race fits into her schedule for when she ran at Ascot," Clapham says, "and with this being a Grade I as well."
Spendarella arrived at Del Mar earlier this week.
"She had a good flight out," Clapham notes. "Everything went smoothly and she's trained nicely the last two days. We galloped her a mile yesterday (Wednesday) and a mile and a quarter today."
Spendarella has proven she can run on any track.
"She's very laid back and everything," Clapham says, "so the traveling, so far, doesn't seem to affect her, she seems to take it all in stride."
She'll have her hands full on Saturday with a full field expected for the Oaks. Trainer Phil D'Amato brings a quartet of horses from his barn. Bellabel, Sixteen Arches and Island of Love were the top three finishers in the G2 San Clemente at Del Mar on opening weekend, and Rhea Moon prepped with a third-place finish in an allowance race locally on July 24.
Bob Hess, Jr. will run Cairo Memories, winner of a pair of Grade 3 races at Santa Anita this past spring before shipping back east to take a crack at the top 3-year-old fillies in New York in the G1 Belmont Oaks. She set the pace before finishing fifth there.
The G1 Del Mar Oaks will be run as the eighth race on Saturday's 10-race card.
Here's the field from the rail with the jockeys: Rhea Moon (Ramon Vasquez); Bellabel (Umberto Rispoli); Island of Love (Juan Hernandez); Lucky Girl (Ryan Curatolo); Cairo Memories (Mike Smith); Tezzaray (Hector Berrios); Sixteen Arches (Abel Cedillo); Gracelund Gray (Joe Bravo); Txope (Florent Geroux); Gold Dragon Queen (Armando Ayuso); Spendarella (Tyler Gaffalione); Ballet Dancing (Drayden Van Dyke); Lady T (Victor Espinoza), and Lady Clementine (Mario Gutierrez).
---
HERNANDEZ CONTINUES TO DOMINATE JOCKEY RACE AT DEL MAR
Another week in the books and not much change in the rider and trainer standings at Del Mar. Juan Hernandez continues to dominate on track while the trainers race is as tight as ever.
Hernandez had another outstanding week, winning eight races, giving him 27 wins total and a 12-victory cushion over his closest rival, Umberto Rispoli, who has 15 wins. Hernandez capped the week with three wins on Sunday. He's winning at a 26% clip and he's been in the money on 55% of his mounts. He's collected over $1,919,666 in purses.
Rounding out the top five in the jockey standings are Joe Bravo with 12, Ramon Vasquez with 10 and Hector Berrios with eight.
The trainers standings at Del Mar is not so defined. Doug O'Neill and Bob Baffert are tied at the top with 10 wins apiece, paved mostly with victories by their 2-year olds. Half of O'Neill's wins have come with a 2-year old while Baffert has won six times with his 'babies', two by Havnameltdown, last Sunday's winner of the G3 Best Pal.
Baffert has accumulated his 10 wins with only 35 starts.
"Fortunately we had some that were ready to run early," Baffert said. "We still have some more 2-year-olds to run. I never worry about the trainer standings; I just worry about developing these young horses."
Right behind the leading duo are the trio of Phil D'Amato, Peter Miller and George Papaprodromou, all with nine victories each. Mark Glatt is a close sixth with eight wins.
D'Amato leads in earnings by trainers. He's pocketed $1,175,306 in purses by way of his three stakes wins, two of them graded, the G2 San Clemente with Bellabel and the G2 Yellow Ribbon with Going Global. His closest contender is Baffert with $809,470.
The partnership of Michael Pegram, Karl Watson and Paul Weitman have the most victories among the owners at Del Mar this summer with five. C R K Stable is next with four.
---
DEL MAR "SHIP & WIN" PROGRAM HEADED TO ITS BIGGEST SEASON YET
A dozen years ago, the Del Mar racing office came up with this idea to encourage out-of-state owners and trainers to bring their runners to the seaside oval for the summer. They offered them bonus money just for showing up, then offered them the additional chance to earn more money as a percentage of the purse money they won in their initial start.
It met with some success to start. Then it got better the next time around, and the next, and the next. And now, here we are in year 12 and it would be safe to call the program a rip, roaring success. The first year it was offered, the starting lure was $1,000 and there was 20% additional tied to purse money made in a first start. This year, the lure has risen to $5,000 and 50% for dirt runners and $4,000 and 40% to turf types.
Horsemen and women have taken notice. So have bettors. The out-of-town horses add numbers to field size and spice to the handicapping stew. The guys who crunch the numbers at Del Mar have determined that the action the "new" horses bring pays for itself. Here are the numbers so far at the halfway point of the summer meet, thanks to the Del Mar racing office's numbers guy, Tora Yamaguchi, the track's racing coordinator.
Through the first four weeks (15 days), 143 horses have qualified for "S & W" rewards – 68 dirt types, 75 turfers. Additionally, 30 horses from Santa Anita's "S & W" program (which Del Mar works hand-in-glove with) have collected purse bonuses.
For comparison, last year through four weeks (14 racing days), 120 horses had qualified (and there were only 180 for the entire meet), 48 of them on dirt, 72 on turf. Forty horses from Santa Anita "S & W" got in the mix (with only 43 total for the entire meet).
So far, the "starter" money awarded in 2022 is $641,000; the total purse bonus money awarded is $417,520. That adds up to more than $1 million in "S & W" cash. Those numbers tell us that before the meet is done, it is quite likely the track will have set a new standard for its "S & W" numbers. Yamaguchi also notes that 17 different winners in the first half of the session have been "S & W" horses. He also points out that of the seven top trainers who have brought in "S & W" horses four are new to Del Mar this year (Robertino Diodoro with 12 head; Jeff Engler with 10; Jack Sisterson with nine and Rachael Keithan with eight). But he also notes, interestingly enough, that the other three are local conditioners bringing in out-of-town stock on their own or in conjunction with their owners: Doug O'Neill with 11; Phil D'Amato with 10, and Bob Hess, Jr. with seven).
So is "S & W" a winner? You can bet on it.
---
NEIGE BLANCHE A FORMIDABLE FORCE IN FRIDAY'S CTT & TOC STAKES
Madaket Stables, et al's Neige Blanche is back to defend her title in the $100,000 CTT & TOC Stakes at Del Mar Friday. The 5-year-old French-bred will face seven other marathon grass runners in the 1 3/8 mile race on the same turf course where she made her U.S. debut in 2020.
"She was already a stakes winner when she came over," trainer Leonard Powell remembers about Neige Blanche, who raced six times in France before crossing the pond. "Her first race for us was actually here when she ran fourth in the Del Mar Oaks. Then she went to New York and ran third in the Belmont Oaks which was a Grade I. She was always the goods."
Neige Blanche has won four of her last five races. Three of those victories came in Grade 3 races starting with the Red Carpet Handicap during the fall meet at Del Mar last November. She followed that with a win in the G3 Astra Stakes at Santa Anita in January, finished third in the G3 Santa Ana in March only to get back to the winners circle in the G3 Santa Barbara in May and the $100,000 Possibly Perfect in June.
Powell worked Neige Blanche Sunday. She went four furlongs in :47.80.
"A very nice work," Powell said. "She's doing very well. It's always a pleasure to see her run."
Neige Blanche won the CTT & TOC last year. The 1 3/8 miles is the same as the Red Carpet, so distance will not be an issue for Neige Blanche. Leading rider, Juan Hernandez, has the mount.
The horse that ran second to Neige Blanche in the Possibly Perfect at Santa Anita is back for more in the CTT & TOC. Calumet Farm's Scarabea, a daughter of American Pharoah, is trained by Jack Sisterson, an East Coast conditioner who brought a string of horses to Del Mar for the first time this summer. He's off to an 0-for-11 start at the meet.
Kaleem Shah's Bellamore posted a 22-1 upset on opening day in a second level allowance, her second win in a row. She, too, has won four of her last five races, albeit against much easier company than Neige Blanche has faced.
R Unicorn Stable's Macadamia will be making her third start in the States and second at Del Mar. She finished third to Bellamore last out, just a length behind the winner. The Brazilian-bred is trained by leading trainer, Phil D'Amato.
Eclipse Thoroughbred Partner's Sister O'Toole ships in for trainer H. Graham Motion. She was runner-up to Key Biscayne in the G3 Robert Dick Memorial at Delaware Park last month. She's been keeping some elite company, running in graded stakes in six of her last seven races dating back to last October.
Duvet Day drew the outside post. She's bringing a two race win streak into the CTT & TOC. She broke her maiden at Churchill Downs in May and then shipped out to Del Mar and won an entry level allowance. She's trained by Michael McCarthy and owned by Jane and Burt Bacharach.
The field for the $100,000 CTT & TOC Stakes from the rail with jockeys: Scarabea (Declan Cannon); Freedom Lass (Tyler Baze); Neige Blanche; Almost A Factor (Joe Bravo); Macadamia (Ricardo Gonzalez); Sister O'Toole (Umberto Rispoli); Bellamore (Martin Garcia), and Duvet Day (Abel Cedillo).
---
COOLING OUT: Bob Baffert reports that Havnameltdown came out of his G3 Best Pal victory on Sunday "really well." He says the G1 Runhappy Del Mar Futurity on closing day, September 11 is an option right now…Notable works for Thursday: Dirt – Fast and Shiny (4f, 49.40); Beyond Brilliant (5f, 1:00.80), and War At Sea (6f, 1:13.00). Turf – Leggs Galore (3f, 37.60), and None Above the Law (4f, 50.00). A total of 80 horses put in official works on the dirt Thursday, 21 on the turf.
---
Del Mar Statistics
Jockey Standings
(Current Through Sunday, August 14, 2022 Inclusive)
| | | | | | | | |
| --- | --- | --- | --- | --- | --- | --- | --- |
| Jockey | Mts | 1st | 2nd | 3rd | Win% | In-money% | Money Won |
| Juan Hernandez | 104 | 27 | 17 | 14 | 26% | 56% | $1,919,666 |
| Umberto Rispoli | 81 | 15 | 14 | 11 | 19% | 49% | $1,278,712 |
| Joe Bravo | 51 | 12 | 4 | 5 | 24% | 41% | $857,256 |
| Ramon Vazquez | 94 | 10 | 21 | 20 | 11% | 54% | $1,149,202 |
| Hector Berrios | 33 | 8 | 1 | 1 | 24% | 30% | $595,820 |
| Edwin Maldonado | 69 | 7 | 6 | 8 | 10% | 30% | $443,810 |
| Mike Smith | 36 | 7 | 3 | 4 | 19% | 39% | $647,730 |
| Ryan Curatolo | 53 | 7 | 2 | 6 | 13% | 28% | $338,392 |
| Florent Geroux | 63 | 6 | 12 | 8 | 10% | 41% | $601,920 |
| Abel Cedillo | 74 | 6 | 9 | 8 | 8% | 31% | $670,316 |
Trainer Standings
(Current Through Sunday, August 14, 2022 Inclusive)
| | | | | | | | |
| --- | --- | --- | --- | --- | --- | --- | --- |
| Trainer | Sts | 1st | 2nd | 3rd | Win% | In-money% | Money Won |
| Doug F. O'Neill | 71 | 10 | 9 | 5 | 14% | 34% | $742,480 |
| Bob Baffert | 35 | 10 | 6 | 8 | 29% | 69% | $809,470 |
| Philip D'Amato | 63 | 9 | 12 | 17 | 14% | 60% | $1,175,306 |
| Peter Miller | 62 | 9 | 12 | 8 | 15% | 47% | $784,280 |
| George Papaprodromou | 52 | 9 | 7 | 7 | 17% | 44% | $744,080 |
| Mark Glatt | 41 | 8 | 10 | 7 | 20% | 61% | $556,996 |
| Andy Mathis | 23 | 6 | 1 | 2 | 26% | 39% | $262,248 |
| John W. Sadler | 43 | 5 | 8 | 5 | 12% | 42% | $407,092 |
| Michael W. McCarthy | 36 | 5 | 4 | 4 | 14% | 36% | $498,880 |
| Steve R. Knapp | 29 | 4 | 4 | 1 | 14% | 31% | $188,000 |
Winning Favorites Report
(Current Through Sunday, August 14, 2022 Inclusive)
Winning favorites -- 51 out of 144 -- 35.42%
Winning favorites on dirt -- 31 out of 80 -- 38.75%
Winning favorites on turf -- 20 out of 64 -- 31.25%
Winning odds-on favorites -- 10 out of 24 -- 41.67%
In-the-Money favorites -- 109 out of 144 -- 75.69%
In-the-Money odds-on favorites -- 21 out of 24 -- 87.50%