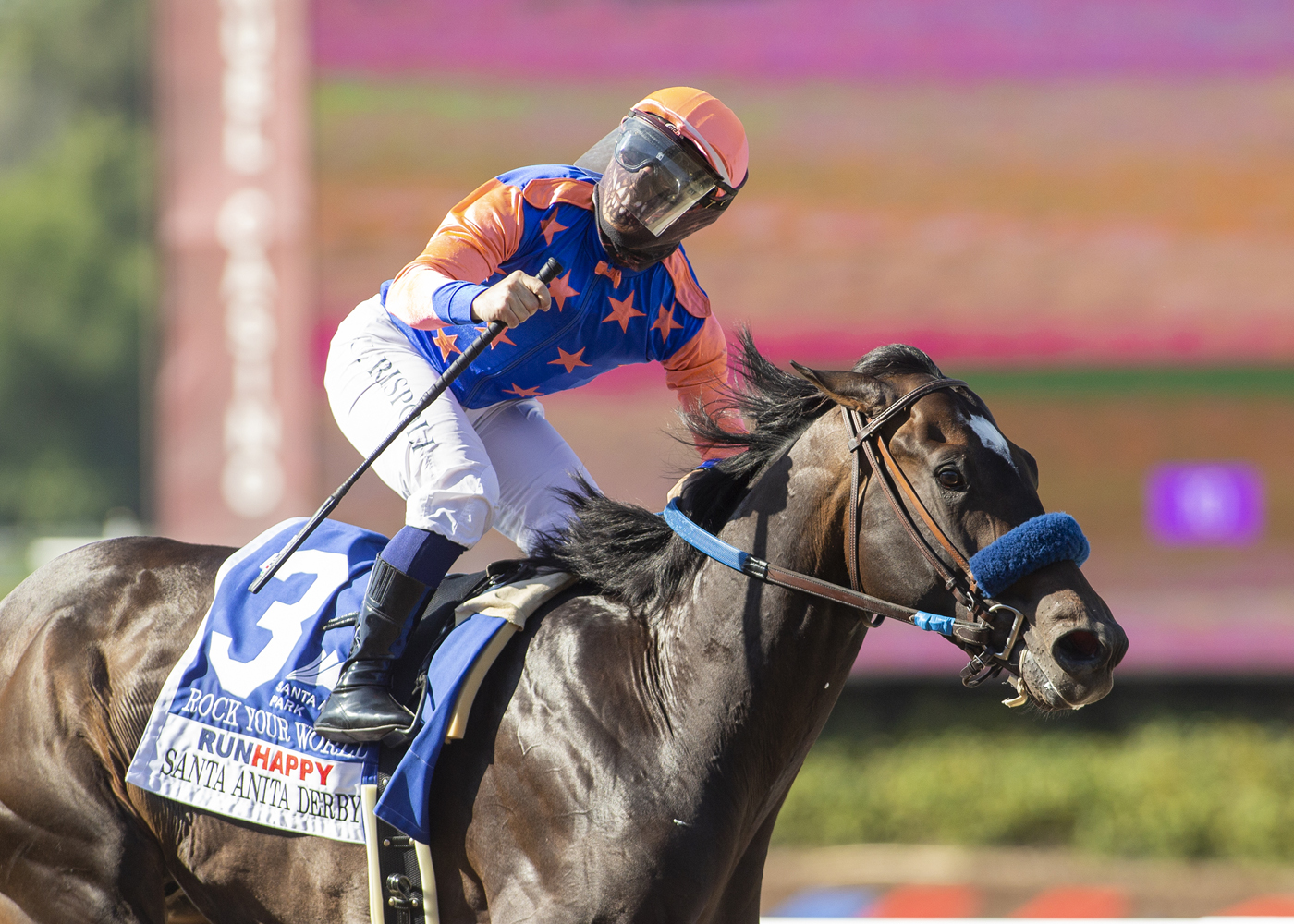 Rock Your World © Benoit Photo
ROCK YOUR WORLD WORKS; CLASSIC OR DERBY DECISION PENDING
Rock Your World went through a regularly scheduled workout – the fifth straight such Sunday exercise session since arriving at Del Mar – this morning. But whether it was a final one before running in next Saturday's Grade I, $1 million TVG Pacific Classic or another step toward the Grade II, $250,000 Del Mar Derby on September 4, remains to be determined.
The 3-year-old son of Candy Ride went six furlongs out of the gate in 1:12.60 under jockey Umberto Rispoli. Clocker/handicapper Toby Turrell had interim splits of :36.40 and 1:00.60.
"It went very well, we were all happy with it," said Juan Leyva, assistant to trainer John Sadler. "At this point it (next race) is still undecided. I'm sure John will come back tomorrow, make sure everything is all right with the horse and probably decide then."
The deadline for nominations to the signature event of the Del Mar summer season was last Thursday at midnight and 15 names were filed. Supplemental entries can still be submitted, at a cost of $7,500, until 10 a.m. Tuesday. With the field set then, post positions will be drawn at a gathering that afternoon at The Brigantine restaurant adjacent to the track.
Hronis Racing's Rock Your World, who has earned $591,600 with three wins from five career starts, had put together the following string of Sunday workouts before this morning: 4 furlongs in :50.40 on turf, July 18; 5 furlongs in 1:01 on turf July 25; 6 furlongs in 1:13.20 on turf August 1 and, 5 furlongs in 1:00.20 one week ago.
Prior to the July 16 start of the meeting, Sadler had said the Del Mar Derby was the major target for Rock Your World. He was a surprise nominee to the TVG Pacific Classic.
---
SHIRREFFS WORKS TWO FOR CLASSIC, LEANING TOWARD RUNNING ONE
TVG Pacific Classic nominees Express Train and Midcourt recorded six-furlongs workouts for trainer John Shirreffs this morning with Express Training being the fastest, by nearly two seconds, of the pair.
Express Train, under Juan Hernandez, was timed in 1:12.20, fastest of 12 workers at the distance. Toby Turrell caught the 4-year-old son of Union Rags, winner of the San Diego Handicap on July 17, with splits of :24.0, :36.20, :47.60 and :59.80 en route to the official clocking and had him galloping out to seven furlongs in 1:26.40.
Midcourt, a 6-year-old gelded son of Midnight Lute, was timed in 1:14.60 under Edwin Maldonado. Midcourt ended a six-month layoff with an allowance victory at Santa Anita in June.
Shirreffs said he was pleased with both works but was, "leaning" toward running only Express Train.
---
THROW OUT THE SAN DIEGO, SHERIFF BROWN IS IN FOR THE CLASSIC
Trainer Todd Fincher said by phone from his Ruidoso, NM, headquarters that Joe Peacock homebred Sheriff Brown should be counted 'in' for the TVG Pacific Classic.
"He came out of his work well and it looks like it's a go," Fincher said.
Sheriff Brown, a gelded 5-year-old son of Curlin, shipped in from Texas for the TVG Pacific Classic prep San Diego Handicap on July 17 and finished seventh of eight, beaten 8 ¾ lengths by Express Train.
"That was pretty much a throw-out," Fincher said of the San Diego. "He had just shipped in and wasn't comfortable in his surroundings. And he's a horse that needs to be comfortable with his surroundings. We expect a lot better effort this time."
Sheriff Brown has six wins from 21 lifetime starts and has been second or third on eight other occasions to accumulate earnings of $232,811. Fourteen of those races were at a mile or less.
"I've always wanted to try him at a longer distance, like a mile and a quarter," Fencher said. "There are a lot of unknowns, but we're going to try it."
Edwin Maldonado, aboard for the San Diego, has the call in the Classic.
---
FIVE TO VIE IN FRIDAY'S RANCHO BERNARDO HANDICAP
A field of five was entered today for Friday's Grade III, $100,000 Rancho Bernardo Handicap, the first of seven graded stakes during TVG Pacific Classic weekend.
Five graded events, topped by the $1 million TVG Pacific Classic are part of an 11-race card on Saturday. The Grade III, $100,000 Green Flash on a nine-race program on Sunday wraps up the stakes smorgasbord.
Stellar Sound and Scotish Star, a pair of 4-year-old fillies who finished 1-2 in a six-furlong allowance race at Del Mar on July 29 return for a rematch with an added sixteenth of a mile to run in the Rancho Bernardo.
The field from the rail with jockeys in parentheses: Scotish Star (Flavien Prat); Candura (Umberto Rispoli); Stellar Sound (Juan Hernandez); Edgeway (Joe Bravo) and, Proud Emma (Mike Smith).
---
DIVA'S FINALE WIN A 'GRAND' EXPERIENCE FOR OWNER JOE BESECKER
The wire-to-wire victory by Diva's Finale in Saturday's first race was No. 1,000 in the ownership career of Joe Besecker and came courtesy of trainer Doug O'Neal and jockey Abel Cedillo.
Equibase statistics show that win No. 1,000, by a 3-year-old daughter of Munnings in a $16,000 claiming race, came in start No. 4,631 for horses owned by the Pennsylvania-based venture capitalist who is the founder, president and CEO of Emerald Asset Management. Besecker, who began Thoroughbred ownership in 2000, entered 2021 needing 64 wins for the milestone and got it with the 261st starter to carry his silks.
"He has been talking about it for awhile," O'Neill said. "He won No. 999 earlier yesterday and texted to let us know."
O'Neill gave notification to announcer Trevor Denman, among others, and the milestone was duly noted when Diva's Finale crossed under the wire.
"Like Trevor said, it's an accomplishment for a trainer or jockey to win 1,000, but for an owner, it's really something," O'Neill noted.
---
CLOSERS -- Leading jockey Flavien Prat has been assessed a three-day suspension, to be served August 20-22, for interference resulting in a disqualification of Next Revolt from first to fourth in the fifth race last Thursday. In keeping with the California Horse Racing Board's "Designated Race" rule, Prat will not be prohibited from riding the seven graded stakes races during that time period. He is scheduled to ride Tizamagician for trainer Richard Mandella in the TVG Pacific Classic … Selected works, not mentioned above, from 203 on dirt and 39 on turf officially timed this morning: Dirt – CZ Rocket (3f, :37.20); Eight Rings (4f, :46.20); Hit the Road (4f, :48.20); Acclimate (5f, 1:01.20); Classier (5f, 1:00.40); Dance to the Music (5f, 1:00.40), and Gamine (5f, :58.20). Turf – Closing Remarks (4f, :48.60); Going Global (5f, 1:00.80), and Say the Word (5f, 1:02.80).
---
Del Mar Statistics
Jockey Standings
(Current Through Sunday, August 14, 2021 Inclusive)
| | | | | | | | |
| --- | --- | --- | --- | --- | --- | --- | --- |
| Jockey | Mts | 1st | 2nd | 3rd | Win% | In-money% | Money Won |
| Flavien Prat | 85 | 24 | 21 | 11 | 28% | 66% | $1,680,338 |
| Juan Hernandez | 109 | 20 | 10 | 14 | 18% | 40% | $1,384,614 |
| Abel Cedillo | 114 | 17 | 19 | 16 | 15% | 46% | $979,290 |
| Umberto Rispoli | 97 | 16 | 21 | 13 | 16% | 52% | $1,199,822 |
| Joe Bravo | 63 | 11 | 4 | 15 | 17% | 48% | $720,692 |
| Kyle Frey | 72 | 9 | 3 | 6 | 13% | 25% | $573,420 |
| Kent Desormeaux | 49 | 7 | 7 | 8 | 14% | 45% | $491,260 |
| Edwin Maldonado | 66 | 7 | 3 | 3 | 11% | 20% | $356,660 |
| Jessica Pyfer | 69 | 7 | 3 | 3 | 10% | 19% | $303,712 |
| Jose Valdivia, Jr. | 46 | 6 | 6 | 4 | 13% | 35% | $280,660 |
Trainer Standings
(Current Through Sunday, August 14, 2021 Inclusive)
| | | | | | | | |
| --- | --- | --- | --- | --- | --- | --- | --- |
| Trainer | Sts | 1st | 2nd | 3rd | Win% | In-money% | Money Won |
| Peter Miller | 75 | 13 | 13 | 12 | 17% | 51% | $862,806 |
| Mark Glatt | 41 | 9 | 8 | 4 | 22% | 51% | $623,190 |
| Doug F. O'Neill | 84 | 8 | 15 | 16 | 10% | 46% | $597,972 |
| Bob Baffert | 31 | 8 | 9 | 5 | 26% | 71% | $591,960 |
| John W. Sadler | 47 | 6 | 6 | 6 | 13% | 38% | $395,032 |
| Philip D'Amato | 53 | 6 | 4 | 4 | 11% | 26% | $530,676 |
| Peter Eurton | 25 | 6 | 2 | 1 | 24% | 36% | $214,100 |
| Richard Baltas | 55 | 5 | 7 | 5 | 9% | 31% | $465,980 |
| Simon Callaghan | 17 | 5 | 2 | 3 | 29% | 59% | $372,072 |
| Michael W. McCarthy | 29 | 4 | 7 | 1 | 14% | 41% | $338,340 |
Winning Favorites Report
(Current Through Sunday, August 14, 2021 Inclusive)
Winning favorites -- 55 out of 161 -- 34.16%
Winning favorites on dirt -- 30 out of 91 -- 32.97%
Winning favorites on turf -- 25 out of 70 -- 35.71%
Winning odds-on favorites -- 15 out of 27 -- 55.56%
In-the-Money favorites -- 112 out of 161 -- 69.57%
In-the-Money odds-on favorites -- 22 out of 27 -- 81.48%