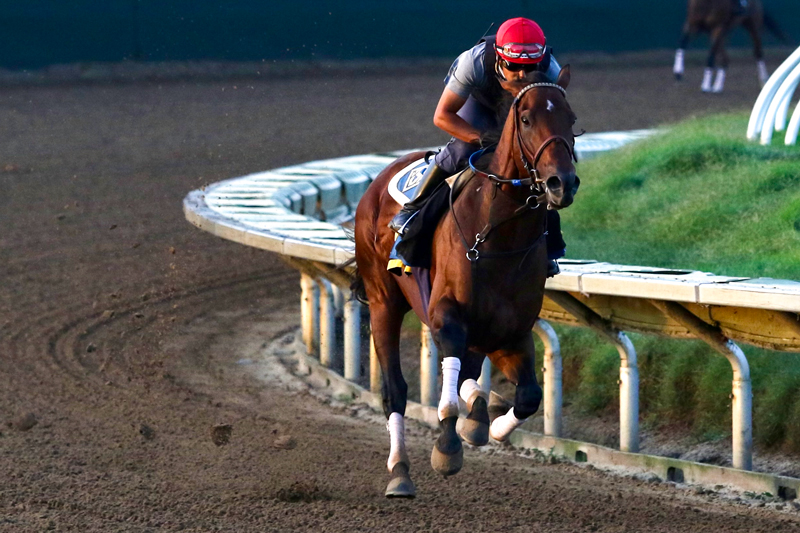 Flightline © Zoe Metz Photography
FLIGHTLINE DAZZLES THEM IN DEL MAR MORNING WORKOUT
He's an impressive looking animal when he's just standing out on the track. Put him in motion and he'll take your breath away.
Flightline, the undefeated son of Tapit, put in another workout Saturday at Del Mar as trainer John Sadler continues preparing his star equine for his next race, the G1 TVG Pacific Classic September 3.
With regular exercise rider Juan Leyva aboard, Flightline broke off at the 5-furlong pole and set fractions of :24.30, :36.40, :48.20, 1:00, before stopping the clock at 1:12.20. It was the best workout of seven for the distance on the day. Trainer John Sadler said it was what he was looking for.
"Very good," Sadler said afterward. "He stayed on a nice steady pattern and he went off beautifully relaxed today."
Sadler says Flightline will have two more works with another one planned for next Saturday morning, two weeks before the Classic.
"The next one is the one we'll focus in on a little bit more," Sadler said, "and then he'll have an easy work the week before."
Sadler has always taken a patient approach with his 4-year old budding superstar, a $1-million yearling purchase by Hronis Racing, et al. Flightline has only raced four times in his career and didn't race until he was 3, breaking his maiden in his debut by 13 1/4-lengths at Santa Anita. That was in April of 2021. He followed with a 12 3/4-length victory in an entry level allowance at Del Mar on closing weekend in September.
There were rumblings about the Breeders' Cup but Sadler refused to take the bait and chose to run instead in the G1 Malibu at Santa Anita in December. Flightline romped again, this time by 11 lengths. For anyone keeping score, that's three wins by a combined total of 37 lengths.
Sadler had planned for Flightline to make his 4-year old debut in March but a strained hock delayed his return until June. When he came back he looked no worse for wear, crushing an excellent field in the G1 Met Mile at Belmont Park. It was the first time the colt had ventured outside of California and he handled it well, though he "only" won by six lengths this time.
That was on Belmont Stakes Day. Flightline has been working every week since July 9, two at Santa Anita and now four at Del Mar. Two of those six outings have been bullet works.
---
2-YEAR OLDS LOOK TO SEPARATE FROM THE PACK IN THE G3 BEST PAL
The 2-year old division on the west coast heats up Sunday when 10 colts and one gelding go postward in the G3 Best Pal, the local prep race for the G1 Runhappy Del Mar Futurity on September 11.
Several in the field won at first asking, but none have gone the six furlongs required in the Best Pal. Muir Hut Stables' Agency, from the Mark Glatt barn, is one of those first-out winners. The son of Bolt d'Oro beat a field of seven maidens at Santa Anita in June.
"He ran really well in his debut," Glatt says, "especially after not breaking very sharp and having to close. He really had no business winning going 5/8's. I think the farther he goes the better. He's been training well since that debut and I don't know if six furlongs is even enough ground for him to excel but it's a good next step for him."
Another Bolt d'Oro colt also was a first time winner. Arman beat a field of 10 at Churchill Downs in June.
"It's certainly going to be a little nervous time," owner Kaleem Shah said, "because he's named after my son."
As for bringing Arman out west from Louisville…
"This is where I like to race on the west coast." Shah says. "He's breezed well so hopefully he'll get the job done, we shall see."
Trainer Bob Baffert sends out Pegram, Watson and Weitman's Havnameltdown. The son of Uncaptured wired a field of 10 maidens in his debut at Del Mar opening day.
"We bought him with that name," Baffert says, "and I wished we had changed it, it doesn't describe the horse at all. He's doing well, it's a good spot for him. He was impressive breaking his maiden."
Baffert says the decision to run Havnameltdown in the Best Pal was not difficult.
"Once you break your maiden here you're either going to run in a stake or sit in the barn. He came back and worked well for it."
Others coming off first-out victories include Calumet Farm's Jin Tong for trainer Doug O'Neill. The son of Goldencents won last month at Los Alamitos. Same could be said for California Racing Partners, Ciaglia Racing or Pearson et al's Man Child, from the Ryan Hanson barn.
The Best Pal is named for the Hall of Fame Cal-bred who won the 1990 Del Mar Futurity as a 2-year-old, the 1991 Pacific Classic as a 3-year-old, the 1992 Santa Anita Handicap as a 4-year-old and the 1993 Hollywood Gold Cup as a 5-year-old. In all, he compiled over $5.6 million in earnings, the most by a Cal-bred until Tiznow won his second Breeders' Cup in 2001.
The field for the G3 Best Pal from the rail with jockeys: King Adrock (Edwin Maldonado); Arman (Martin Garcia); Fleet Feet (Umberto Rispoli); Jin Tong (Armando Ayuso); Agency (Tyler Baze); Pop d'Oro (Victor Espinoza); Man Child (Ramon Vasquez); Quagmire Magic (Florent Geroux); Mardukas (Joe Bravo); Havnameltdown (Juan Hernandez), and Kangaroo Court (Abel Cedillo).
---
TOP TRAINER LOOKS TO "SHIP & WIN" AT DEL MAR
Robertino Diodoro has been a successful trainer in the Midwest and Kentucky for years, with the occasional foray into New York. Now he's turning his attention to the west once more with hopes of improving on a career best earnings figure he set in 2021.
Diodoro horses racked up over $7.4 million in purses last year and he's already halfway there in 2022. The power of Diodoro's operation was on full display in Canada last month when he finished 1-2-3 in 74th running of the Manitoba Derby at Assiniboia Downs.
Diodoro has brought a barn full of runners to Del Mar this year hoping to make a mark in California racing.
"I have a lot of owners who really like it out here," Diodoro says. "A lot own or rent a place out here for the meet."
He says the "Ship & Win" incentive, offered to out-of-town operations, has been a major lure. All a first-time starter at Del Mar has to do is enter the gate and they win $5,000. Diodoro credited Del Mar racing secretary David Jerkens with convincing him to come here.
"David's made several phone calls, text messages and e-mails to me over the last three years," Diodoro said. "Anytime a racetrack puts the effort in, like Del Mar has, it's hard not to help them. Once I started putting it out there, owners were showing interest."
Diodoro points out that it's not easy attracting horses to racetracks.
"People get set in their ways in their own places and circuits," he notes, "and it's kind of hard to break them from that."
He's noticed he's not the only one attracted to Del Mar by the incentives.
"I think they're making headway," he says. "The field sizes so far, hats off to them. Obviously what they're doing is working."
As for his success at tracks ranging from Lone Star Park to Evangeline Downs to Saratoga, there's one simple explanation.
"After five horses it comes down to help," he says. "If you don't have good help it doesn't matter how much horsepower you have in the barn, it's going to fail eventually. I've been fortunate to have some really good assistants over the years."
His assistant at Del Mar is Sean Williams. He was Diodoro's first hire and has become his longest tenured assistant. He helps in a barn made up of a lot of claimers, dirt horses for the "S&W" and a couple turf horses.
Diodoro has two winners out of 11 starts at Del Mar this summer and has more in the arsenal.
"We do have a couple babies at Churchill that are training," Diodoro says, "and we're thinking about bringing them out for a couple stakes later in the meet."
---
COOLING OUT: The Big Wam came out of his victory in Friday's $125,000 Graduation Stakes in good order and trainer Luis Mendez says he will be pointed to the G1 Runhappy Del Mar Futurity September 11…Del Mar 2021 sprint champion Dr. Schivel has been turned out for the rest of the year and trainer Mark Glatt says he hopes to have him back for a 5-year-old campaign next year. Glatt reported in June that Dr. Schivel was not bouncing back from his trip to Dubai in March the way he would have liked…Notable works for Saturday: Dirt – Taiba (4f, :47.60); Master Piece (4f, :49.00); Stilleto Boy (4f, :47.60); Ce Ce (5f, :59.60) and Mackinnon (6f,1:14.40). A total of 210 horses put in official works Saturday.
---
Del Mar Statistics
Jockey Standings
(Current Through Friday, August 12, 2022 Inclusive)
| | | | | | | | |
| --- | --- | --- | --- | --- | --- | --- | --- |
| Jockey | Mts | 1st | 2nd | 3rd | Win% | In-money% | Money Won |
| Juan Hernandez | 90 | 21 | 13 | 14 | 23% | 53% | $1,467,346 |
| Umberto Rispoli | 68 | 12 | 13 | 9 | 18% | 50% | $994,040 |
| Joe Bravo | 43 | 10 | 4 | 5 | 23% | 44% | $776,156 |
| Ramon Vazquez | 78 | 8 | 19 | 16 | 10% | 55% | $930,286 |
| Edwin Maldonado | 62 | 7 | 6 | 8 | 11% | 34% | $437,110 |
| Mike Smith | 26 | 7 | 2 | 1 | 27% | 38% | $568,790 |
| Hector Berrios | 25 | 7 | 1 | 1 | 28% | 36% | $543,900 |
| Florent Geroux | 57 | 6 | 9 | 8 | 11% | 40% | $562,080 |
| Ryan Curatolo | 46 | 6 | 2 | 4 | 13% | 26% | $268,132 |
| Abel Cedillo | 68 | 5 | 9 | 7 | 7% | 31% | $536,656 |
Trainer Standings
(Current Through Friday, August 12, 2022 Inclusive)
| | | | | | | | |
| --- | --- | --- | --- | --- | --- | --- | --- |
| Trainer | Sts | 1st | 2nd | 3rd | Win% | In-money% | Money Won |
| Philip D'Amato | 58 | 8 | 12 | 15 | 14% | 60% | $976,286 |
| Doug F. O'Neill | 58 | 8 | 7 | 5 | 14% | 34% | $552,340 |
| Bob Baffert | 31 | 8 | 5 | 8 | 26% | 68% | $623,830 |
| Peter Miller | 52 | 7 | 11 | 6 | 13% | 46% | $639,420 |
| George Papaprodromou | 43 | 7 | 6 | 7 | 16% | 47% | $662,540 |
| Andy Mathis | 21 | 6 | 1 | 1 | 29% | 38% | $251,048 |
| Michael W. McCarthy | 28 | 5 | 2 | 4 | 18% | 39% | $442,980 |
| Mark Glatt | 32 | 4 | 8 | 6 | 13% | 56% | $306,576 |
| Steve R. Knapp | 26 | 4 | 3 | 1 | 15% | 31% | $173,380 |
| John W. Sadler | 34 | 3 | 5 | 5 | 9% | 38% | $287,796 |
Winning Favorites Report
(Current Through Friday, August 12, 2022 Inclusive)
Winning favorites -- 40 out of 124 -- 32.26%
Winning favorites on dirt -- 26 out of 69 -- 37.68%
Winning favorites on turf -- 14 out of 55 -- 25.45%
Winning odds-on favorites -- 7 out of 18 -- 38.89%
In-the-Money favorites -- 91 out of 124 -- 73.39%
In-the-Money odds-on favorites -- 16 out of 18 -- 88.89%