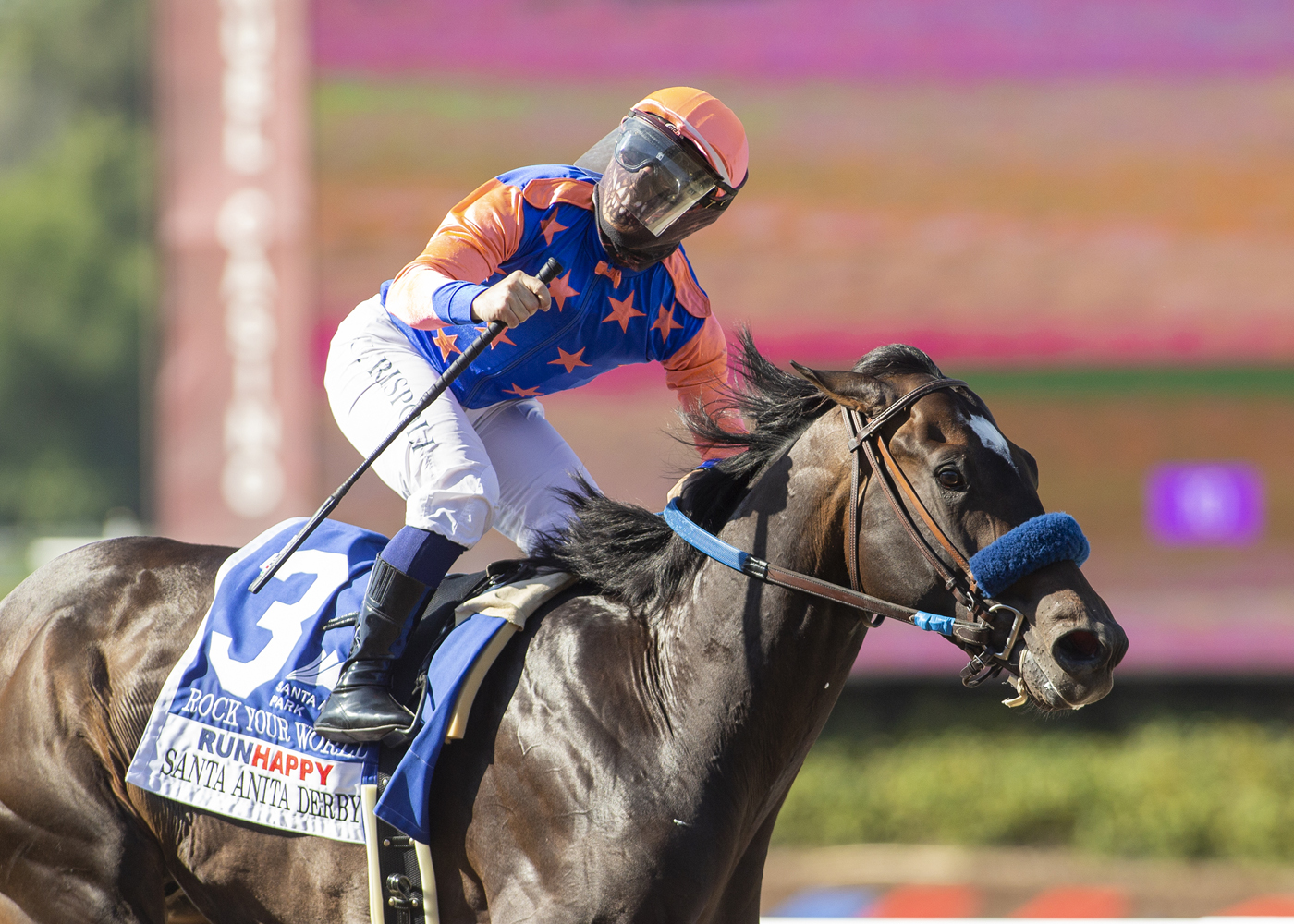 Rock Your World © Benoit Photo
ROCK YOUR WORLD AMONG 15 NOMINATIONS FOR TVG PACIFIC CLASSIC
The nomination deadline passed at midnight on Thursday for the five major stakes a week from Saturday. And when the racing office had finished sorting them out this morning, there were 15 horses on the list for the summer season's signature Grade I, $1 million TVG Pacific Classic.
Most were expected. But one not-exactly-expected name figures to generate interest and speculation leading up to next Tuesday's close of entries and post position draw. That would be Santa Anita Derby winner Rock Your World, trained by John Sadler for Hronis Racing, the connections who notched back-to-back TVG Pacific Classic wins with Accelerate in 2018 and Higher Power in 2019.
Sadler has indicated since the start of the meeting that Rock Your World, a 3-year-old son of Candy Ride, was being targeted for the Grade II, $250,000 Del Mar Derby Presented by Caesars Sporsbook on September 4, in what would be a return to turf after three starts on dirt – a victory in the Santa Anita Derby followed by Triple Crown event disappointments in the Kentucky Derby (17th) and Belmont Stakes (6th).
The Pacific Classic has been won by 3-year-olds over older horses five times. Best Pal's victory in the inaugural running in 1991 was followed by General Challenge (1999), Came Home (2002), Dullahan (2012) and Shared Belief (2014). Under race conditions, 3-year-olds carry 118 pounds while older horses tote 124.
Sadler did not immediately respond to a text inquiry regarding Rock Your World but had, earlier in the morning, confirmed another TVG Pacific Class entrant from the stable.
San Diego Handicap runner-up Tripoli went six furlongs in 1:12.80 this morning under exercise rider Cerapio Figueroa to Sadler's satisfaction in a final tune-up for the event.
Sadler said he had the son of Kitten's Joy, a $450,000 purchase at the Keeneland September sale in 2018 for Hronis Racing, galloping out to seven furlongs in 1:24.80.
"I was pleased with it, he's set for the Classic," Sadler said. Tiago Pereira, aboard for the 4-year-old colt's last three starts since May, retains the mount.
Tripoli has three wins in 13 career starts and earnings of $211,960. The second-place result in the Grade II, $250,000 San Diego Handicap on July 17, beaten a half-length by Express Train, came in his stakes debut.
Other Pacific Classic nominees, with trainer's name in parentheses are: Chess Chief (Dallas Stewart); Cupid's Claws (Craig Dollase); Dr Post (Todd Pletcher); Express Train (John Shirreffs); Ginobili (Richard Baltas); Independence Hall (Michael McCarthy); Magic On Tap (Bob Baffert); Midcourt (John Shirreffs); Mo Mosa (Mike Maker); Royal Ship (Richard Mandella); Sherriff Brown (Todd Fincher); The Great One (Doug O'Neill), and Tizamagician ( Mandella).
Trainer Pletcher, from his Saratoga headquarters, indicated he's considering the coast-to-coast ship for Dr Post seriously.
"We're going to breeze him Saturday and if we're pleased with that, he's a go," Pletcher said.
The 31st running of the TVG Pacific Classic is for 3-year-olds and up at the classic distance of a mile and one quarter. It is designated as a "Win and You're In" Challenge Race giving its winner a guaranteed all-fees-paid admission to the $6-million Breeders' Cup Classic, which will be run at Del Mar on Saturday, November 6.
---
NOMINATIONS IN MAJOR STAKES PORTEND A BIG 'CLASSIC' WEEKEND
A quick first look at nominees for some of the stakes other than the TVG Pacific Classic starting a week from today.
Grade III, $100,000 Rancho Bernardo Handicap (Friday, Aug. 20) – Closed with 11 nominations, among them the intriguing Bella's Back, who comes in on a four-race winning streak at Emerald Downs for trainer Ari Herbertson.
Grade III, $100,000 Torrey Pines Stakes (Saturday, Aug. 21) – Closed with 18 nominations topped by I'm So Anna, winner of the Fleet Treat on July 21.
Grade II, $300,000 Del Mar Handicap by The Japan Racing Association (Saturday, Aug. 21) – Closed with 28 nominations, among them Brad Cox-trained Arklow, last seen here winning the Grade II Hollywood Turf Cup in November and Richard Mandella-trained United, last seen winning the Eddie Read on July 24.
Grade II, $300,000 Del Mar Mile (Saturday, Aug. 21) – Closed with 13 nominations, among them defending race champion Mo Forza for trainer Peter Miller, who would be coming in off a 10-month layoff.
Grade I, $300,000 Del Mar Oaks (Saturday, Aug. 21) – Closed with 17 nominations including one (Fluffy Socks) from trainer Chad Brown and three (Invincible Gal, Mia Martina and Single Soul) from H. Graham Motion.
---
WARREN'S SHOWTIME, LEGGS GALORE RENEW RIVALRY SUNDAY
Sunday's featured $150,000 Solana Beach Stakes marks the fourth high-level race of 2021, and third since May, where Warren's Showtime and Leggs Galore, accomplished 4-year-old California-bred fillies with contrasting running styles, figure to battle to the end.
The mile turf event, which will go as the seventh on a nine-race card, attracted a field of seven with Warren's Showtime being tabbed as the 6-5 favorite and Leggs Galore the 5-2 second choice on oddsmaker Jon White's morning line.
In the most recent meeting, late-closing specialist Warren's Showtime won by 1 ¼ lengths in the Grade III Wilshire Stakes at Santa Anita on June 20. A month earlier, Leggs Galore went wire-to-wire in the Fran's Valentine.
The field from the rail with jockeys and morning line odds in parentheses: Pulpit Rider (Flavien Prat, 5-1); Leggs Galore (Ricky Gonzalez); Nardini (Kyle Frey, 12-1); Sedamar (Drayden Van Dyke, 4-1); Warm Summer (Abel Cedillo, 15-1); Cassie Belle (Tyler Baze, 15-1), and Warren's Showtime (Juan Hernandez).
---
CLOSERS -- Racing secretary David Jerkens' third and final condition book is out today. It takes horsemen through to the end of the meeting on Labor Day Monday, September 6 … Notable works from 145 officially timed Friday morning, courtesy of clocker/handicapper Toby Turrell: As Time Goes By (4f, :46.40); Independence Hall (4f, :48.80); Rushie (4f, :48.80); Vertical Threat (4f, :46.60); Ce Ce (5f, 1:00.80); Dream Shake (5f, 1:00.00), and Tripoli (6f, 1:12.80) … Trainer Doug O'Neill said that Louisiana Derby winner Hot Rod Charlie has been making good progress galloping at Del Mar since the disqualification after crossing under the wire first in the $1-million Haskell Invitational. Hot Rod Charlie is scheduled for his first work since the Haskell on August 21 in preparation for the $1 million Pennsylvania Derby on September 25.
---
Del Mar Statistics
Jockey Standings
(Current Through Sunday, August 12, 2021 Inclusive)
| | | | | | | | |
| --- | --- | --- | --- | --- | --- | --- | --- |
| Jockey | Mts | 1st | 2nd | 3rd | Win% | In-money% | Money Won |
| Flavien Prat | 78 | 23 | 16 | 11 | 29% | 64% | $1,617,838 |
| Juan Hernandez | 98 | 17 | 8 | 12 | 17% | 38% | $1,208,694 |
| Abel Cedillo | 101 | 15 | 19 | 13 | 15% | 47% | $918,150 |
| Umberto Rispoli | 90 | 15 | 19 | 11 | 17% | 50% | $1,110,442 |
| Joe Bravo | 55 | 9 | 3 | 14 | 16% | 47% | $627,312 |
| Kyle Frey | 60 | 8 | 2 | 5 | 13% | 25% | $515,340 |
| Kent Desormeaux | 49 | 7 | 7 | 8 | 14% | 45% | $491,260 |
| Jessica Pyfer | 62 | 7 | 3 | 3 | 11% | 21% | $287,832 |
| Geovanni Franco | 36 | 6 | 2 | 1 | 17% | 25% | $251,660 |
| Jose Valdivia, Jr. | 40 | 5 | 5 | 3 | 13% | 33% | $229,700 |
Trainer Standings
(Current Through Sunday, August 12, 2021 Inclusive)
| | | | | | | | |
| --- | --- | --- | --- | --- | --- | --- | --- |
| Trainer | Sts | 1st | 2nd | 3rd | Win% | In-money% | Money Won |
| Peter Miller | 66 | 12 | 10 | 10 | 18% | 48% | $781,526 |
| Bob Baffert | 31 | 8 | 9 | 5 | 26% | 71% | $591,960 |
| Mark Glatt | 38 | 8 | 7 | 4 | 21% | 50% | $562,690 |
| Peter Eurton | 21 | 6 | 0 | 1 | 29% | 33% | $186,860 |
| Doug F. O'Neill | 72 | 5 | 14 | 12 | 7% | 43% | $478,852 |
| Richard Baltas | 48 | 5 | 7 | 5 | 10% | 35% | $452,760 |
| John W. Sadler | 45 | 5 | 6 | 6 | 11% | 38% | $370,192 |
| Philip D'Amato | 49 | 5 | 4 | 4 | 10% | 27% | $482,276 |
| Simon Callaghan | 17 | 5 | 2 | 3 | 29% | 59% | $372,072 |
| Michael W. McCarthy | 25 | 4 | 7 | 1 | 16% | 48% | $327,980 |
Winning Favorites Report
(Current Through Sunday, August 12, 2021 Inclusive)
Winning favorites -- 50 out of 143 -- 34.97%
Winning favorites on dirt -- 29 out of 82 -- 35.37%
Winning favorites on turf -- 21 out of 61 -- 34.43%
Winning odds-on favorites -- 14 out of 24 -- 58.33%
In-the-Money favorites -- 99 out of 143 -- 69.23%
In-the-Money odds-on favorites -- 20 out of 24 -- 83.33%