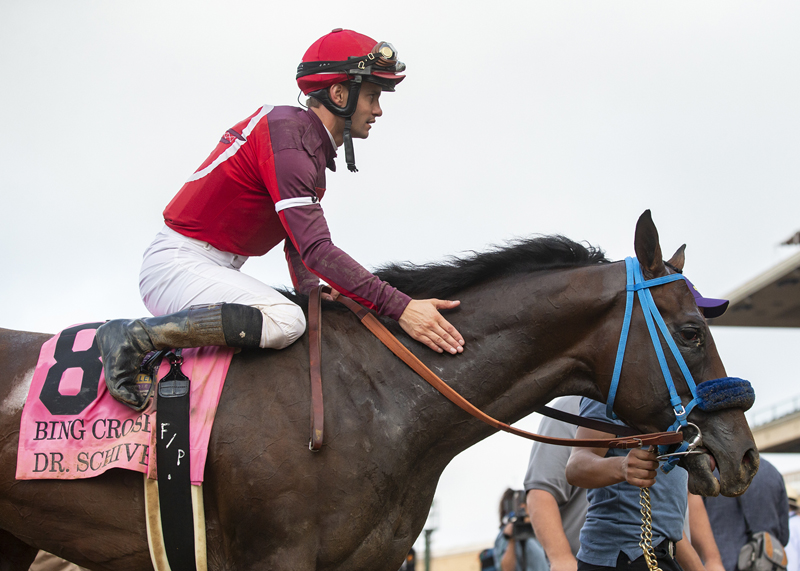 Dr. Schivel © Benoit Photo
GLATT STANDS ALONE WITH SUCCESSIVE CROSBY WINS BY 3-YEAR-OLDS
A year after winning the Grade I, $300,000 Bing Crosby Stakes with 3-year-old Collusion Illusion, trainer Mark Glatt did it again Saturday with another sophomore colt, Dr. Schivel.
It's the first time one trainer has won the premier sprint stake of the meeting back-to-back with 3-year-olds tackling older rivals. And, as Glatt states it, there's no secret or trick to pulling off the unprecedented.
"When you have a really good 3-year-old, like this horse and Collusion Illusion last year, going against older is not that big a factor," Glatt said. "When you have just an average horse, I think (age) comes into play a lot more."
Dr. Schivel, a Kentucky-bred son of Violence, broke his maiden here, in his third career start, last August and came back a month later to win the Grade I Del Mar Futurity for trainer Luis Mendez in early September.
Transferred to Glatt's barn, the colt was given a nine-month layoff, then overcame some bumping to win his 2021 debut in a June allowance race at Santa Anita that signaled stakes readiness.
"After he won his comeback race we were eyeballing a race in New York (Sunday's 6 ½ furlong, $200,000 Amsterdam) at Saratoga that was a straight 3-year-old race," Glatt said. "As we got further removed from his comeback race we (considered) how difficult it is to ship in to Saratoga and how he loves this track.
"Several of the owners live around here and want to watch the horse run, so I thought it was best to stay here and give it a try."
The $180,000 winner's share of the purse pushed Dr. Schivel's career earnings to $416,000 from six career starts. The Bing Crosby was a "Win and You're In" qualifier for the $2 million Breeders' Cup Sprint over the same course on November 6.
Glatt said Sunday morning that Dr. Schivel and Law Abidin Citizen – third in the 2020 Crosby, fourth Saturday beaten less than a length – both came out of the race in good health. A third Glatt entrant in the Crosby, defending champion Collusion Illusion, was scratched due to a minor injury incurred in a training run Friday.
"It probably would have been safe to run him but the ownership group and I thought it was best to err on the conservative side and have him run another day," Glatt said. "I don't know when, but I don't think that day will be very far off."
Trainer Bob Baffert said that Eight Rings, the Crosby runner-up beaten a neck at odds of 16-1, came out of the race with a shoe on one hoof that was bent nearly in half, but was otherwise fine.
"We were happy with him and thought he showed a lot of heart," Baffert said. A next assignment remains to be determined.
Trainer Peter Miller reported that third-place finisher and 3-2 favorite C Z Rocket, beat only a half-length, exited the effort well. "He ran great, but you can't make up as much ground as he needed to on this track the way it's playing," Miller said.
C Z Rocket will not defend his title in the Grade II, $200,000, 7-furlong Pat O'Brien Stakes on August 28. "We'll wait for Santa Anita," Miller said.
---
MENDEZ CHEERS FOR DR. SCHIVEL WHILE PREPARING HIS OWN FOR CTBA
The eyes of Luis Mendez took on a little extra sparkle Sunday morning when the subject turned to Dr. Schivel's victory on Saturday in the Bing Crosby Stakes.
Mendez trained Dr. Schivel in his first four career starts as a 2-year-old in 2020, culminating in a victory in the Grade I, $300,000 Del Mar Futurity. The colt was privately purchased after an impressive maiden victory a month earlier and the new ownership, Red Baron's Barn and Rancho Temescal, kept him in Mendez's care through the Futurity pending transfer to the stable of Mark Glatt.
And even though Dr. Schivel is no longer on his shedrow, the horse's success understandably generates feelings of pride in Mendez.
"It was beautiful, lovely, the best possible feeling," Mendez said. "I'm really happy for the owners and Mark Glatt, too. I'm glad that the horse keeps going up and up. We had a barbeque and watched the race. I got some texts from people saying congratulations. It makes you feel good inside."
Getting Dr. Schivel to the point he did, has had a positive effect on Mendez and his career.
"I'm more comfortable and confident," Mendez said. "Trainers I respect are now asking me (for advice) sometimes and I take that as a compliment."
There's a large wooden sign with his name on it that identifies the area where Mendez has 18 stalls in the Del Mar stable area. And he'll saddle a couple of prospects from those stalls when Week Four of the summer season starts Thursday.
Mendez has Ko Olina and Drizella entered in Thursday's featured $100,000 California Thoroughbred Breeders' Association (CTBA) Stakes for California-bred 2-year-old fillies.
Sagely, Mendez isn't about to favor one over the other. He just cites their individual characteristics and is glad that sorting out the jockey assignments for them worked out without excess stress on himself.
Edwin Maldonado, who had ridden them both in recent maiden wins, opted for Ko Olina, a daughter of Stanford owned by C T R Stables. Which put Juan Hernadez, who had ridden Drizella in her first two starts, comfortably back in the irons of another daughter of Stanford owned by William R. Peeples.
"Ko Olina had me worried before she won here because she was really nervous and washed out before the race," Mendez said. "Drizella had been very aggressive and kind of nervous going to the track to train before, but I like the way she has settled down and is acting now."
The CTBA field from the rail with jockeys in parenthesis: Madiha (Umberto Rispoli); At the Spa (Tyler Baze); Lion's Lair (Tiago Pereira); Gianna's Wild Cat (Jessica Pyfer); Carmen Miranda (Giovanni Franco); Irish Wahine (Abel Cedillo); It's Simple (Mario Gutierrez); Ko Olina (Edwin Maldonado) and Drizella (Juan Hernandez).
---
ELEVEN TO ROLL IN FRIDAY'S FEATURED SORRENTO STAKES
A field of 11 was entered Sunday for Friday's 53rd running of the $200,000, Grade II Sorrento Stakes for 2-year-old fillies, a major stepping stone to the Grade I, $300,000 Del Mar Debutante on September 5.
At The Spa, a California-bred daughter of Outwork bred and owned by Terry Lovingier and trained by Jorge Periban, comes in off a victory in the $100,000, five-furlong Fasig-Tipton Debutante on June 20 at Santa Anita and will be tasked to go another eighth of a mile in the Sorrento while breaking from the outside post. The filly is also entered in Thursday's CTBA Stakes.
The field for the Sorrento from the rail with jockeys in parenthesis: She's So Shiny (Ricky Gonzalez); Smash Ticket (Umberto Rispoli); Eda (Abel Cedillo); Shesgotattitude (Trevor McCarthy); Loverheart (Drayden Van Dyke); It's Simple (Mario Gutierrez); Sax (Joe Bravo); First Promise (Jessica Pyfer); Elm Drive (Juan Hernandez); Roses For Suzzett (Emily Ellingwood) and At the Spa (Tyler Baze).
---
CLOSERS – Grace Adler, a debut winner for Hall of Fame trainer Bob Baffert in Saturday's second race, may next be seen in the Del Mar Debutante. "We thought the race might be a little short for her, being by Curlin. And Curlins don't often win first time out," Baffert said. "But she was very professional and we think she's got a good future ahead of her." … Notable works from 201 on dirt and 15 on turf officially timed Sunday morning: Dirt – Miss Stormy D (:48.40; Acclimate (5f, 1:00.60); Edgeway (5f, 1:01.00); Flagstaff (5f, 1:00.20); Turf – Bodhicitta (5f, 1:01.60); Charmaine's Mia (5f, 1:03.40); Masteroffoxhounds (5f, 1:01.60) and Neige Blanche (5f, 1:01.60).
---
Del Mar Statistics
Jockey Standings
(Current Through Sunday, July 31, 2021 Inclusive)
| | | | | | | | |
| --- | --- | --- | --- | --- | --- | --- | --- |
| Jockey | Mts | 1st | 2nd | 3rd | Win% | In-money% | Money Won |
| Flavien Prat | 63 | 20 | 12 | 8 | 32% | 63% | $1,408,658 |
| Abel Cedillo | 64 | 9 | 13 | 6 | 14% | 44% | $531,590 |
| Juan Hernandez | 66 | 9 | 5 | 10 | 14% | 36% | $735,094 |
| Umberto Rispoli | 54 | 8 | 10 | 3 | 15% | 39% | $574,622 |
| Kyle Frey | 30 | 6 | 1 | 3 | 20% | 33% | $373,530 |
| Kent Desormeaux | 30 | 5 | 6 | 2 | 17% | 43% | $300,540 |
| Joe Bravo | 35 | 5 | 2 | 11 | 14% | 51% | $360,212 |
| Jessica Pyfer | 38 | 5 | 2 | 1 | 13% | 21% | $180,112 |
| Trevor McCarthy | 51 | 3 | 4 | 8 | 6% | 29% | $222,320 |
| Ricardo Gonzalez | 27 | 3 | 2 | 2 | 11% | 26% | $124,680 |
Trainer Standings
(Current Through Sunday, July 31, 2021 Inclusive)
| | | | | | | | |
| --- | --- | --- | --- | --- | --- | --- | --- |
| Trainer | Sts | 1st | 2nd | 3rd | Win% | In-money% | Money Won |
| Peter Miller | 47 | 9 | 7 | 7 | 19% | 49% | $594,706 |
| Bob Baffert | 18 | 4 | 5 | 3 | 22% | 67% | $287,120 |
| Mark Glatt | 21 | 4 | 5 | 2 | 19% | 52% | $421,950 |
| Peter Eurton | 15 | 4 | 0 | 1 | 27% | 33% | $138,920 |
| Doug F. O'Neill | 45 | 3 | 8 | 7 | 7% | 40% | $244,932 |
| Michael W. McCarthy | 21 | 3 | 7 | 1 | 14% | 52% | $280,560 |
| Richard Baltas | 35 | 3 | 5 | 5 | 9% | 37% | $303,420 |
| Simon Callaghan | 11 | 3 | 2 | 0 | 27% | 45% | $244,372 |
| Richard E. Mandella | 13 | 3 | 1 | 3 | 23% | 54% | $333,020 |
| Victor L. Garcia | 4 | 3 | 0 | 0 | 75% | 75% | $73,540 |
Winning Favorites Report
(Current Through Sunday, July 31, 2021 Inclusive)
Winning favorites -- 26 out of 88 -- 29.55%
Winning favorites on dirt -- 15 out of 51 -- 29.41%
Winning favorites on turf -- 11 out of 37 -- 29.73%
Winning odds-on favorites -- 7 out of 14 -- 50.00%
In-the-Money favorites -- 57 out of 88 -- 64.77%
In-the-Money odds-on favorites -- 12 out of 14 -- 85.71%