Saturday, August 1st, 2020 ( 1 week ago )
Stable Notes
August 1, 2020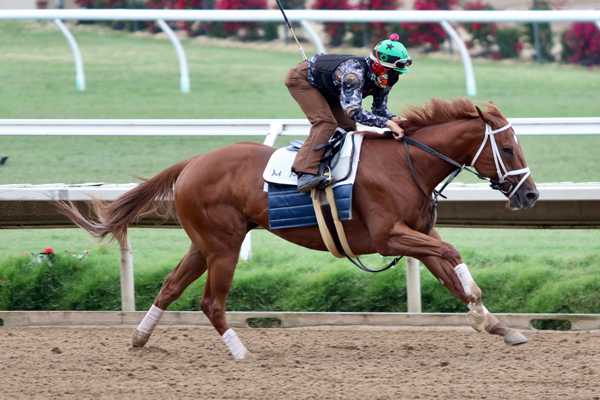 CLEMENT L. HIRSCH COULD BE ALL IN THE FAMILY IF CE CE WINS
It's not unprecedented but it is a rarity in Thoroughbred racing. An event honoring a major contributor to the sport has, among those seeking the top prize, a horse owned by a family member.
In the case of Sunday's $250,000, Grade I Clement L. Hirsch Stakes, the horse is the 4-year-old filly Ce Ce and the owner and breeder is Bo Hirsch, son of the man for whom the race is named.
Clement L. Hirsch, a World War II Marine and a highly successful business man and racehorse owner and breeder, was one of the founders of the Del Mar Thoroughbred Club, the group that has run the Del Mar race meetings since 1970. In the wake of his death in 2000, the former Chula Vista Handicap was renamed for Hirsch and over the years it has evolved into one of the premier events for older fillies and mares on the West Coast.
With champions like Azeri (2002-2003) and Zenyatta (2008-2010) drawing attention to it, the Hirsch was elevated to Grade I status, the highest level in racing, in 2009. It is a Breeders' Cup "Win and You're In" Challenge Race for the Breeders' Cup Distaff, meaning the winner gets an automatic entry, including fees, into that $2-million race that will be run at Keeneland in Lexington on Saturday, November 7.
"With the race being named after his father, it would be awfully neat to go ahead and win a race like this," Mike McCarthy, who trains Ce Ce for Bo Hirsch, said Saturday morning. "Whether the race is named after the gentleman's father or not though, yeah, it's a big deal. It's something we've been looking forward to for a long time."
Ce Ce is a Kentucky-bred daughter of Elusive Quality out of Miss Houdini who was bred by Bo Hirsch. Miss Houdini, originally owned by Clement Hirsch, was one of the few horses Bo purchased from his father's dispersal. It has proven a wise move. She won the Del Mar Debutante for him in 2002 and has gone on to "blue hen" territory as a broodmare. Besides Ce Ce, she is the dam of stakes winner and now stallion Papa Clem, as well as the stakes-placed pair of Magical Victor and Stradella Road. The last-named horse is a full sister to Ce Ce.
Ce Ce went from racing debut winner to Grade I competitor from April to June of 2019, missing third in the Acorn at Belmont Park by only a head. She won her first three starts as a 4-year-old, among them the Grade I Beholder Mile at Santa Anita in March and the Grade I Apple Blossom at Oaklawn Park in April.
Back at Santa Anita on May 3, she finished third of five in the Grade II Santa Maria, beaten 5 ½ lengths by Fighting Mad for the win and 2 ¼ by Hard Not to Love for the place. Fighting Mad and Hard Not to Love are part of the six-horse field for the Hirsch. Ce Ce has four wins from seven career start and earnings of $750,600, all but around $100,000 of that this year.
"Obviously a very successful campaign this year, but a bit of a subpar effort last time out," McCarthy said. "She's come down here and trained well and hopefully she puts forth a good effort."
In addition to the top three from the Santa Maria – all of them given a respite since – the Hirsch has its defending champion in Ollie's Candy. Trained by John Sadler for owners Paul and Karen Eggert, the 5-year-old Kentucky-bred daughter of Candy Ride re-rallied after being headed by Secret Spice in the 2019 Hirsch to prevail by a head.
"I think it is a tougher race than last year," Sadler said. "Midnight Bisou, the leader in the (Distaff) division, is back east but even without her it's a really tough race. Even though it's only a six-horse field, it's a very good one.
"Ollie's Candy comes in off two bang-up efforts in the Apple Blossom (2nd) and the Ogden Phipps (3rd). She's in good form and on a track that she likes."
The field from the rail: Hang a Star (Drayden Van Dyke, 15-1); Ce Ce (Victor Espinoza, 3-1); Hard Not to Love (Mike Smith, 2-1); Dogtag (Umberto Rispoli, 6-1); Ollie's Candy (Flavien Prat, 5-2), and Fighting Mad (Abel Cedillo, 4-1).
The Clement L. Hirsch goes as the 10th on an 11-race program.
---
MILLER'S HOT BARN SENDS OUT A PAIR IN SUNDAY'S GRADUATION
Peter Miller, off to a fast start in a quest for a fourth summer meeting training title and eighth overall, will send out two representatives in Sunday's $100,000 Graduation Stakes for California-bred 2-year-olds.
Through Friday, Miller had nine wins from 34 starters, and solid 26 percent win and 47 percent in-the-money numbers for the first eight days of the meeting. The Friday stakes win by El Tigre Terrible in the Real Good Deal was his second of the meeting and 31st overall at Del Mar.
In the Graduation, a 5 ½-furlong stepping stone to the $100,000, 6-furlong I'm Smokin for state breds on September 4 -- or possibly the Grade I $250,000 Del Mar Futurity on September 7 – Miller has Good With People and None Above the Law.
Both were debut winners, Good With People here on July 12 and None Above the Law on July 2 at Los Alamitos.
"They have different styles," Miller said. "None Above the Law came from far back at Los Al and showed a lot of heart. But he's taking a big step up. Good With People is a very talented Cal-bred who is training very well. He doesn't need the lead, so we're just going to leave it (tactics) up to Abel Cedillo and hope to get him home."
The field from the rail: Good With People (3-1); Jazz Hands (Mario Gutierrez, 5-1); Touchdown Brown (Evin Roman, 2-1); None Above the Law (Aaron Gryder, 15-1); Positivity (Drayden Van Dyke, 4-1); Scooby (Flavien Prat, 5-1), and Rantanen (Umberto Rispoli, 12-1).
---
SERIOUS AND "MAINTENANCE" WORKS FOR BAFFERT DERBY HOPEFULS
Hall of Fame trainer Bob Baffert was a keen observer of workouts here this morning by Uncle Chuck and Authentic, two of his many Kentucky Derby prospects.
Uncle Chuck, who'll depart Tuesday for Saratoga and the $1 million Travers Stakes next Saturday, covered five furlongs in 1:00.20, co-best of 71 officially timed at the distance.
Clocker Toby Turrell had the son of Uncle Mo going the first half-mile in :49.20 with gallop-outs of 1:12.80 for six furlongs and 1:39.60 for a mile that carried around to the backstretch of the track.
"I'm very happy with the work," Baffert said. "He's all set now for next week and the big challenge there."
Authentic went 4 furlongs in :50.20. The Kentucky Derby-bound son of Into Mischief's only loss in five starts came to Honor A.P. in the Santa Anita Derby and he most recently was a wire-to-wire narrow winner of the $1 million TVG.com Haskell Invitational at Monmouth Park.
Juan Ochoa, in the irons for both Uncle Chuck and Authentic, had a hold on Authentic throughout.
"Just a little maintenance work," said Baffert.
Another promising 3-year-old to work was Anneau d'Or, who went five furlongs from the gate in 1:01.60. Anneau d'Or was scratched from today's Shared Belief. Trainer Blaine Wright has expressed intentions to ship east for the Ellis Park Derby.
---
JOCKEY NEWS: PRAT ON A STAKES STREAK, EYES RECORD
The win aboard El Tigre Terrible in Friday's Real Good Deal was the third straight stakes victory for Flavien Prat -- following scores in the Eddie Read and California Dreamin' last Sunday -- and his fifth stakes victory from 11 such opportunities in the meeting.
Prat rides Cezanne (2-1) for Bob Baffert in the Shared Belief, Big Andy (5-2) for Blake Heap in the CTBA and Collusion Illusion (9-2) for Mark Glatt in the Bing Crosby on today's program. Prat has one victory, (Battle of Midway, 2017) in the Shared Belief, none in the CTBA, but had won four straight Bing Crosbys (2015-2018) before the streak was ended last year.
The Del Mar record for stakes wins by a jockey in a season is 13, set by Rafael Bejarano in 2012.
---
EASY WAY TO ORDER PHOTOS FROM ANY DEL MAR RACE THIS SUMMER
For anyone wanting to order photos from any race run at Del Mar this summer, there's an easy way to go. Track photographer Benoit Photo has it all set up for you at this website: www.benoitphoto.com/store
You can view photos there and order them right on the spot. Race photos are uploaded to the site shortly after each race is run.
Del Mar's meet runs from July 10 to September 7.
---
CLOSERS – Selected works from 161 officially timed this morning: Flagstaff (5f, 1:00.60), Keeper Ofthestars (5f, 1:01.60), Pulpit Rider (5f, 1:02.40), Smooth Like Strait (5f, 1:00.80) and Ward 'n Jerry (5f, 1:02.40) … Bonus Fever, the 2-year-old daughter of Runhappy who could earn a $100,000 bonus from Runhappy owner Jim McInvale with a maiden special victory here scratched off the also eligible list in Friday's second race but has an opportunity Sunday as one of nine entered in the seventh race … The first 2-year-old of the season for Baffert, Freedom Fighter, a Violence colt that was a $120,000 auction purchase -- who has recorded three bullets in his last four works -- is entered in today's third race.
---
Del Mar Statistics
Presented by Torrey Hollistics
Jockey Standings
(Current Through July 31, 2020 Inclusive)
| | | | | | | | |
| --- | --- | --- | --- | --- | --- | --- | --- |
| Jockey | Mts | 1st | 2nd | 3rd | Win% | In-money% | Money Won |
| Umberto Rispoli | 51 | 15 | 8 | 5 | 29% | 55% | $573,258 |
| Flavien Prat | 50 | 14 | 10 | 6 | 28% | 60% | $773,270 |
| Abel Cedillo | 73 | 10 | 7 | 19 | 14% | 49% | $572,433 |
| Juan Hernandez | 63 | 7 | 11 | 8 | 11% | 41% | $422,424 |
| Tiago Pereira | 46 | 7 | 1 | 2 | 15% | 22% | $224,254 |
| Ricardo Gonzalez | 25 | 5 | 3 | 3 | 20% | 44% | $202,620 |
| Drayden Van Dyke | 48 | 3 | 9 | 6 | 6% | 38% | $263,070 |
| Heriberto Figueroa | 24 | 3 | 4 | 2 | 13% | 38% | $142,570 |
| Kent Desormeaux | 14 | 3 | 2 | 1 | 21% | 43% | $77,860 |
| Mario Gutierrez | 24 | 2 | 3 | 4 | 8% | 38% | $141,460 |
Trainer Standings
(Current Through July 31, 2020 Inclusive)
| | | | | | | | |
| --- | --- | --- | --- | --- | --- | --- | --- |
| Trainer | Sts | 1st | 2nd | 3rd | Win% | In-money% | Money Won |
| Peter Miller | 34 | 9 | 4 | 3 | 26% | 47% | $438,350 |
| Richard Baltas | 24 | 4 | 4 | 3 | 17% | 46% | $238,930 |
| Michael W. McCarthy | 15 | 4 | 2 | 2 | 27% | 53% | $121,360 |
| Peter Eurton | 12 | 4 | 2 | 1 | 33% | 58% | $112,920 |
| Doug F. O'Neill | 41 | 3 | 8 | 6 | 7% | 41% | $206,445 |
| Bob Baffert | 13 | 3 | 5 | 1 | 23% | 69% | $225,470 |
| Mark Glatt | 21 | 3 | 2 | 8 | 14% | 62% | $201,958 |
| Simon Callaghan | 11 | 3 | 1 | 0 | 27% | 36% | $120,540 |
| J. Eric Kruljac | 9 | 3 | 0 | 1 | 33% | 44% | $101,980 |
| Philip D'Amato | 26 | 2 | 6 | 4 | 8% | 46% | $166,300 |
Winning Favorites Report
(Current Through July 31, 2020 Inclusive)

Winning favorites -- 27 out of 84 -- 32.14%
Winning favorites on dirt -- 16 out of 45 -- 35.56%
Winning favorites on turf -- 11 out of 39 -- 28.21%
Winning odds-on favorites -- 3 out of 6 -- 50.00%
In-the-Money favorites -- 56 out of 84 -- 66.67%
In-the-Money odds-on favorites -- 6 out of 6 -- 100.00%