Wednesday, August 9th, 2017 ( 1 year ago )
Stable Notes
Aug 9, 2017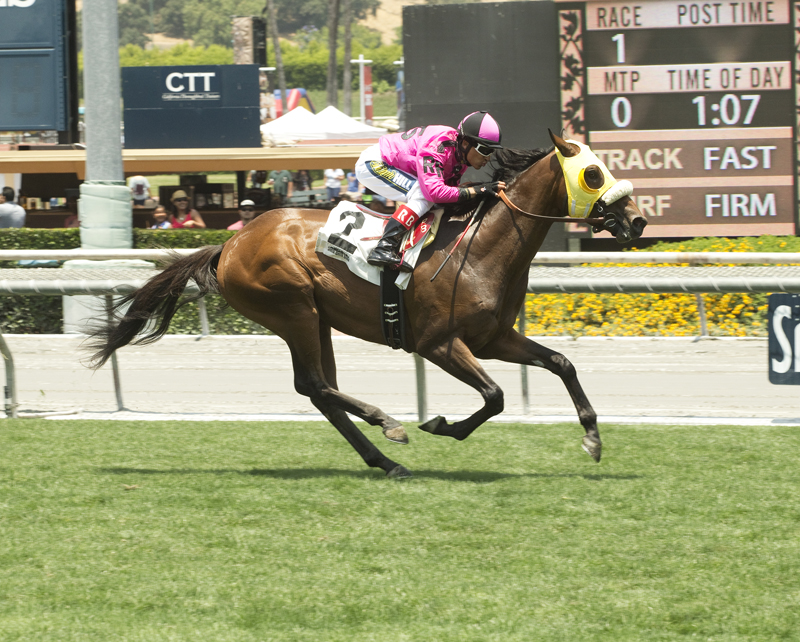 Armour Plate © Benoit Photo
EIGHT SLATED FOR SATURDAY'S BEST PAL STAKES
A field of eight was entered Wednesday in Saturday's Grade II $200,000 Best Pal Stakes. The 6 ½-furlong main track test for 2-year-olds was called Balboa Stakes from its inauguration in 1967 to 1995 before being renamed for Best Pal, the 1990 winner who went on to capture that year's Del Mar Futurity and many other stakes as the colorbearer for John and Betty Mabee's Golden Eagle Farm.
The race remains a major stepping stone for the Grade I $300,000 Futurity, the traditional closing day feature on September 4, the likely target for most in the race. But Eddie Truman, trainer of Armour Plate, said that's not necessarily the case for the Kentucky-bred son of Into Mischief.
Owned by Peter Redekop, Armour Plate recorded his first victory in his second career start in a mile maiden special turf event on July 1 at Santa Anita.
"He didn't have a chance to run long again, so it's either (the Best Pal) or go in cold to the Del Mar Juvenile Turf," Truman said. The one-mile, $100,000 Del Mar Juvenile Turf on Sunday, September 3, can be a step to the Grade I $1 million Breeders' Cup Juvenile Turf here on Friday, November 3.
"It's kind of a shot, but we'll see if he likes the dirt here and go from there," Truman said. "Hopefully, he can finish strong and catch some other horses at the end."
The field from the rail: Run Away (Flavien Prat), Dia De Pago (Corey Nakatani), Master Ruler (Evin Roman), Armour Plate (Rafael Bejarano), Serengeti (Mike Smith), Fleetwood (Desormeaux), Arawak (Julio Garcia) and An Ocala Ten (Victor Espinoza).
---
IN THE WORKS: DIALS TURNED UP ON PACIFIC CLASSIC CANDIDATES
Arrogate worked seven furlongs in 1:25.20 Tuesday morning under Martin Garcia for the $1 million TVG Pacific Classic on Saturday, August 19, and trainer Bob Baffert was more than pleased with the effort.
"It was a serious work," said Baffert. "He didn't need much encouragement. He's showing no signs (of regressing following his fourth-place finish in the TVG San Diego Handicap on July 22). He's moving forward. I've seen a big difference in him since that last race. He's back to his old self again."
Collected, Baffert's other likely Classic runner went a mile in 1:37.40 on Monday, catching the eye of trainer John Sadler, who saddled Accelerate to the San Diego upset of Arrogate.
"Of all the horses training up to the Classic, I think Collected is training the best," Sadler said Wednesday morning.
"He (Collected) has always been a good work horse and he loves this track." Baffert said.
Accelerate worked five furlongs in 1:01.20 on Monday under regular rider Victor Espinoza.
"A nice easy work and Victor said he felt good," Sadler said. "One more work on Sunday and, if all goes well, he'll be ready for the Pacific Classic."
Sadler-trained Hard Aces, who finished eighth in last year's Classic and sixth the pervious year, will not be sent out for a third time, Sadler said. Hard Aces was second, beaten a nose by Curlin Road defending his title in the Grade III, $100,000 Cougar II Handicap on July 26 and will be back on the turf – surface of only two of his 42 career starts – in the 1 3/8-mile Del Mar Handicap on Pacific Classic Day.
Trainer Doug O'Neill said plans have not been solidified for works for his two Pacific Classic probables, Donworth and Curlin Road, but will be in the next day or two.
---
JOCKEY NEWS: ROMAN ON THE ROAD SUNDAY; ARROYOS BREAK UP
Apprentice jockey Evin Roman, the meet-leading rider through the first three weeks by a six-win margin over Flavien Prat, will be at Emerald Downs in Seattle on Sunday to ride four races on the Longacres Mile Day card.
Roman is booked to Huya in the Pete Pedersen Stakes, Jerre to Carrie in the King County, Gold Rush Dancer in the $100,000 featured Longacres Mile and Plastered in the Distaff. The latter-two are for Del Mar-based Vann Belvoir and Jerry Hollendorfer, respectively.
The Arroyo brothers, jockey Norberto and agent Nelson, a team since moving to California just before the start of the 2016 Del Mar summer meeting, have gone their separate ways.
In a dispute partly about finances which peaked a couple weeks ago, Nelson has dropped his brother as a client and now represents Martin Garcia. J.R. Pegram now has the book for Norberto.
"He's still my brother and I love him, but we're just not working together anymore," Norberto said Wednesday morning.
Wednesday morning, the Del Mar board of stewards fined Norberto $500 for failing to fulfill an agreement to ride Onzaway for John Sherriffs in the third race on August 3. Martin Pedroza took over the mount and finished fourth.
---
FRIDAY'S SOLANA BEACH STAKES: A TRIBUTE TO UNUSUAL HEAT
Like many stakes for California breds, Friday's Solana Beach is an inadvertent tribute to California's all-time leading sire for progeny earnings, Unusual Heat.
Five in the field of eight for the $150,000, 1 1/16-mile turf run for state-bred older fillies and mares are daughters of Unusual Heat who, after topping the California sire standings for many years, died on May 18 from complications of arthritis-induced laminitis at age 27. His progeny produced more than $54 million in purse earnings.
Unusual Heat was co-owned by Barry Abrams and Madeline Auerbach. Majestic Heat, the defending race champion and morning line favorite, owned by Auerbach, is one of the progeny in the race. The others are Starlite Style, Lynne's Legacy, How Unusual and Shehastheritestuff.
"He (Unusual Heat) has had a great Del Mar for the past 10 years and he's having a great Del Mar again," Auerbach said.
The field from the rail: Moonless Sky (Kent Desormeaux, 3-1), Majestic Heat (Flavien Prat, 5-2), Qiaona (Evin Roman, 20-1), Starlite Style (Joe Talamo, 5-1), Lynne's Legacy (Victor Espinoza, 20-1), How Unusual (Norberto Arroyo, Jr., 5-1), Dressed to a T (Mario Gutierrez, 8-1) and Shehastheritestuff (Rafael Bejarano, 7-2).
---
CLOSERS – Retired trainer Mel Stute, who conditioned 1986 Preakness Stakes winner Snow Chief and a host of other excellent runners, celebrates his 90th birthday today … Selected works from 287 officially timed over the past three days: Monday – Abel Tasman (3f, :36.80), Champagne Room (3f, :37.00), Hard Aces (4f, :48.00), Accelerate (5f, 1:01.20), Caribou Club (5f, 1:00.40), Skye Diamonds (5f, 1:00.80), Collected (1 mile, 1:37.40); Tuesday – Vale Dori (4f, :48.60), American Anthem (5f, 1:00.40), Vyjack (5f, 1:02.20), Midnight Storm (6f, 1:12.80), West Coast (6f, 1:12.60), Arrogate (7f, 1:25.20); Wednesday – Majestic Heat (3f, :36.00), Infobedad (4f, :48.60), Beach Bum (5f, :59.60), Cupid (6f, 1:12.80) and Bal a Bali (7f, 1:26.80).
---
DEL MAR STATISTICS
Jockey Standings
(Current Through Sunday, August 6, 2017 Inclusive)
| | | | | | | | |
| --- | --- | --- | --- | --- | --- | --- | --- |
| Jockey | Mts | 1st | 2nd | 3rd | Win% | In-money% | Money Won |
| Evin Roman | 98 | 19 | 19 | 8 | 19% | 47% | $693,467 |
| Flavien Prat | 77 | 13 | 13 | 13 | 17% | 51% | $1,001,111 |
| Rafael Bejarano | 68 | 11 | 9 | 10 | 16% | 44% | $569,066 |
| Joseph Talamo | 54 | 10 | 5 | 6 | 19% | 39% | $466,235 |
| Tyler Baze | 78 | 7 | 13 | 11 | 9% | 40% | $470,685 |
| Kent Desormeaux | 42 | 7 | 10 | 4 | 17% | 50% | $444,560 |
| Corey Nakatani | 27 | 7 | 7 | 0 | 26% | 52% | $403,685 |
| Gary Stevens | 30 | 7 | 3 | 5 | 23% | 50% | $431,178 |
| Santiago Gonzalez | 36 | 7 | 2 | 8 | 19% | 47% | $291,028 |
| Drayden Van Dyke | 41 | 6 | 1 | 7 | 15% | 34% | $411,895 |
Trainer Standings
(Current Through Sunday, August 6, 2017 Inclusive)
| | | | | | | | |
| --- | --- | --- | --- | --- | --- | --- | --- |
| Trainer | Sts | 1st | 2nd | 3rd | Win% | In-money% | Money Won |
| Philip D'Amato | 44 | 8 | 11 | 3 | 18% | 50% | $850,562 |
| Doug F. O'Neill | 47 | 8 | 6 | 6 | 17% | 43% | $454,765 |
| Peter Miller | 67 | 7 | 9 | 8 | 10% | 36% | $401,727 |
| Richard Baltas | 40 | 7 | 8 | 3 | 18% | 45% | $543,739 |
| Mark Glatt | 29 | 6 | 4 | 5 | 21% | 52% | $295,772 |
| Peter Eurton | 19 | 4 | 4 | 1 | 21% | 47% | $223,720 |
| John W. Sadler | 27 | 4 | 3 | 5 | 15% | 44% | $567,070 |
| Ronald W. Ellis | 12 | 4 | 1 | 2 | 33% | 58% | $109,605 |
| Thomas F. Proctor | 9 | 4 | 0 | 2 | 44% | 67% | $238,038 |
| Vladimir Cerin | 15 | 4 | 0 | 2 | 27% | 40% | $88,190 |
Winning Favorites Report
(Current Through Sunday, August 6, 2017 Inclusive)
Winning favorites -- 37 out of 131 -- 28.24%
Winning favorites on dirt -- 25 out of 80 -- 31.25%
Winning favorites on turf -- 12 out of 51 -- 23.53%
Winning odds-on favorites -- 7 out of 18 -- 38.89%
In-the-Money favorites -- 88 out of 131 -- 67.18%
In-the-Money odds-on favorites -- 15 out of 18 -- 83.33%