Saturday, August 5th, 2017 ( 1 year ago )
Stable Notes
Aug 5, 2017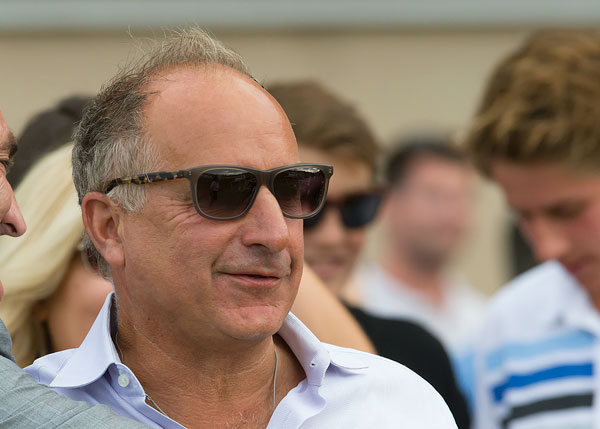 Richard Baltas © Benot Photo
BALTAS HOPEFUL OF BACK-TO-BACK LA JOLLA SCORES
Trainer Richard Baltas will be aiming to annex the Grade III $150,000 La Jolla Handicap for the second year in a row when he sends out Pioneer Lad in the 77th running of the event on Sunday.
The 2016 La Jolla turned out to be a revelation for the betting public, if not necessarily for Baltas. Free Rose, a gelded son of Munnings, jumped in for the middle leg of the three-race turf stakes series for 3-year-olds and carried Joe Talamo wire-to-wire, returning $59.80 for a $2 win bet.
For good measure, Free Rose came back in the series-finale Grade II $250,000 Del Mar Derby on Sunday, September 4, the penultimate day of the meeting. This time he rated in second before opening a three-length lead at the top of the stretch under Norberto Arroyo, Jr., and held on for a half-length victory returning $25.80.
Two out of three in a series that started with the opening-day Oceanside Stakes wasn't bad. In fact, it was good enough that Free Rose was voted the top 3-year-old of the meeting.
"I wanted to run Free Rose in the Oceanside, but he didn't have enough earnings to make the field," Baltas recalled Saturday morning. "So I ran him against older (third in an allowance seven days into the meeting) and then brought him back in the La Jolla."
Pioneer Lad, a Kentucky-bred son of Pioneerof the Nile, did make the Oceanside and finished second, 1 ½-lengths behind Bowies Hero, at odds of 21-1. He has one win and in-the-money finishes in all five starts and earnings of $79,980 for Paymaster Racing LLC.
"I was pretty happy with his effort," Baltas said of the Oceanside. "The whole thing is, he's a 3-year-old colt that's still developing. It was his first time on grass and I think he liked it. We're hopeful, put it that way."
The field from the rail: Fashion Business (Joe Talamo, 8-1), Colonist (Flavien Prat, 7-2), Placido (Rafael Bejarano, 6-1), Pioneer Lad (Tyler Baze, 6-1), Offshore (Evin Roman, 20-1), Caribou Club (Drayden Van Dyke, 12-1), Sharp Samurai (Gary Stevens, 5-2), Double Touch (Kent Desormeaux, 8-1) and Monster Man (Santiago Gonzalez, 9-2).
---
MACHOWSKY APPLIES TRIPLE DOWN THEORY TO GRADUATION STAKES
It's going to be a new experience for Mike Machowsky when he sends out Schulace, Utah Ute and Drizzy in Sunday's $100,000 Graduation Stakes, a 5 ½-furlong sprint for California bred or sired 2-year-olds.
"I've never done anything like this (three in a stakes) before," Machowsky said. "I'm just fortunate that Richard Barton has become such a big breeder in California and he's got some precocious two-year-olds this year."
Barton, owner of California Packaging Co. in Ontario, which provides cardboard products for a variety of businesses, has been a major thoroughbred breeder in the state for decades and expanded his band of broodmares in recent years to around 225. In a move to consolidate the operation, Barton just bought Magali farms in Santa Ynez – escrow cleared on Monday, Machowsky said, which will be renamed Barton Thoroughbreds and become home to the broodmare band and stallions.
Machowsky's trio in the Graduation are all Barton homebreds. Schulace and Utah Ute are by Champ Pegasus, Drizzy by English Channel. They've all notched victories in their first or second career starts.
"They're all going into the race well," Machowsky said. "We'll just let the jocks shake it out and see if it all comes together. Utah Ute is pretty quick and Schulace can be too. Drizzy drew outside and he can rate a little bit, but it'll be up to the riders."
The field from the rail: Sir Valentine (Martin Pedroza, 8-1), Smokem (Evin Roman, 7-2), Bookies Luck (Martin Garcia, 8-1), Schulace (Rafael Bejarano, 9-2), Hit The Seam (Mario Gutierrez, 12-1), Utah Ute (Jamie Theriot, 6-1), Cono (Flavien Prat, 8-1), Get Em Up Scout (Geovanni Franco, 20-1), Don't Stalk Me (Drayden Van Dyke, 20-1), Drizzy (Joe Talamo, 5-1) and Continental Divide (Victor Espinoza, 8-1).
---
PACIFIC CLASSIC: THE OUTLOOK FROM TWO WEEKS OUT
Nominations for the $1 million TVG Pacific Classic will close Thursday.
Nominating doesn't necessarily correlate to running, and missing the deadline can be corrected by a supplemental entry for a fee. But the seriousness of intentions of those shooting for the $600,000 winner's share of the purse, and a "Win and You're In" spot in the $6 million Breeders' Cup Classic here on November 4, will be better known.
While we're waiting, here's a six-pack of highly probables compliments of the racing office.
Arrogate and Collected – Arrogate, No. 1 in the world, finished fourth in the San Diego Handicap, but trainer Bob Baffert's resolve hasn't seemed to waver. And Baffert-trained Collected dusted Accelerate by nearly 16 lengths in the Precisionist Stakes on June 24 at Santa Anita.
Accelerate – Trainer John Sadler isn't averse to an Accelerate-Arrogate rematch off the San Diego win.
Donworth and Curlin Road – Doug O'Neill-trained duo punched tickets with a second in the San Diego (Donworth) and win in the Cougar II (Curlin Road).
Giant Expectations -- The 4-year-old New York-bred, trained by Peter Eurton, was second in a mile race on opening day, returning to California after maiden and allowance wins in May and June at Belmont Park in New York.
---
MIKE SMITH TO RECEIVE LAFFIT PINCAY, JR., AWARD
Mike Smith, the Hall of Fame rider who has handled scores of top horses and won hundreds of major races over a 36-year career that has gone from highlight to highlight, has had another prestigious award added to his resume by being named the 2017 recipient of the Laffit Pincay, Jr. Award.
Smith, who will turn 52 next Thursday but shows no signs of slowing down in his remarkable run, becomes the 14th winner of the Pincay Award, given by the Hall of Fame jockey it is named for to those who have served the sport of horse racing "with integrity, extraordinary dedication, determination and distinction."
The honor and its handsome trophy will be presented to Smith by Pincay on Sunday, August 20 between races at Del Mar racetrack following a salute to the rider the night before in downtown Del Mar at Del Mar Plaza that will serve as a fundraiser for the Winners Foundation, which for more than 30 years has aided those in racing adversely affected by substance abuse and/or mental health issues.
"When we started this award back in 2004, Mike Smith was absolutely the sort of person we had in mind as one of our winners," said Pincay in making the announcement. "I only got to ride against him briefly out here, but I've followed his career over the years and he's been a model of consistency, class and pure athletic ability. He's a star in all senses of the word and it is an honor to honor him."
---
CLOSERS – Selected works from 171 officially timed Saturday morning: Cistron (5f, 1:01.20), Mor Spirit (5f, :59.60), Run Away (5f, 1:03.60), Songbird (1:00.80) … Trainer Peter Eurton worked Pacific Wind (5f, bullet :59.60) and Pacific Strike (5f, 1:01.00) Saturday morning, and if all goes well they could both run on Pacific Classic Day, August 19. Pacific Wind in the Grade I, $300,000 Del Mar Oaks.
---
DEL MAR STATISTICS
Jockey Standings
(Current Through Friday, August 4, 2017 Inclusive)
| | | | | | | | |
| --- | --- | --- | --- | --- | --- | --- | --- |
| Jockey | Mts | 1st | 2nd | 3rd | Win% | In-money% | Money Won |
| Evin Roman | 87 | 17 | 16 | 7 | 20% | 46% | $615,947 |
| Flavien Prat | 64 | 11 | 13 | 10 | 17% | 53% | $912,506 |
| Rafael Bejarano | 62 | 11 | 9 | 9 | 18% | 47% | $546,460 |
| Joseph Talamo | 47 | 9 | 4 | 5 | 19% | 38% | $383,200 |
| Tyler Baze | 68 | 7 | 11 | 9 | 10% | 40% | $430,185 |
| Santiago Gonzalez | 27 | 6 | 2 | 5 | 22% | 48% | $216,243 |
| Kent Desormeaux | 33 | 5 | 6 | 4 | 15% | 45% | $318,550 |
| Corey Nakatani | 23 | 5 | 6 | 0 | 22% | 48% | $313,685 |
| Drayden Van Dyke | 36 | 5 | 1 | 6 | 14% | 33% | $279,870 |
| Mario Gutierrez | 31 | 4 | 4 | 3 | 13% | 35% | $264,415 |
Trainer Standings
(Current Through Friday, August 4, 2017 Inclusive)
| | | | | | | | |
| --- | --- | --- | --- | --- | --- | --- | --- |
| Trainer | Sts | 1st | 2nd | 3rd | Win% | In-money% | Money Won |
| Philip D'Amato | 38 | 7 | 8 | 3 | 18% | 47% | $684,117 |
| Doug F. O'Neill | 38 | 7 | 4 | 5 | 18% | 42% | $388,205 |
| Richard Baltas | 34 | 6 | 8 | 3 | 18% | 50% | $483,463 |
| Peter Miller | 55 | 4 | 8 | 8 | 7% | 36% | $333,567 |
| Peter Eurton | 18 | 4 | 4 | 1 | 22% | 50% | $223,375 |
| Mark Glatt | 22 | 4 | 3 | 5 | 18% | 55% | $166,827 |
| Ronald W. Ellis | 12 | 4 | 1 | 2 | 33% | 58% | $109,605 |
| Vladimir Cerin | 14 | 4 | 0 | 1 | 29% | 36% | $85,790 |
| Jerry Hollendorfer | 37 | 3 | 8 | 6 | 8% | 46% | $243,929 |
| J. Keith Desormeaux | 22 | 3 | 5 | 4 | 14% | 55% | $213,475 |
Winning Favorites Report
(Current Through Friday, August 4, 2017 Inclusive)
Winning favorites -- 27 out of 112 -- 24.11%
Winning favorites on dirt -- 17 out of 69 -- 24.64%
Winning favorites on turf -- 10 out of 43 -- 23.26%
Winning odds-on favorites -- 5 out of 15 -- 33.33%
In-the-Money favorites -- 75 out of 112 -- 66.96%
In-the-Money odds-on favorites -- 13 out of 15 -- 86.67