Friday, August 4th, 2017 ( 1 year ago )
Stable Notes
Aug 4, 2017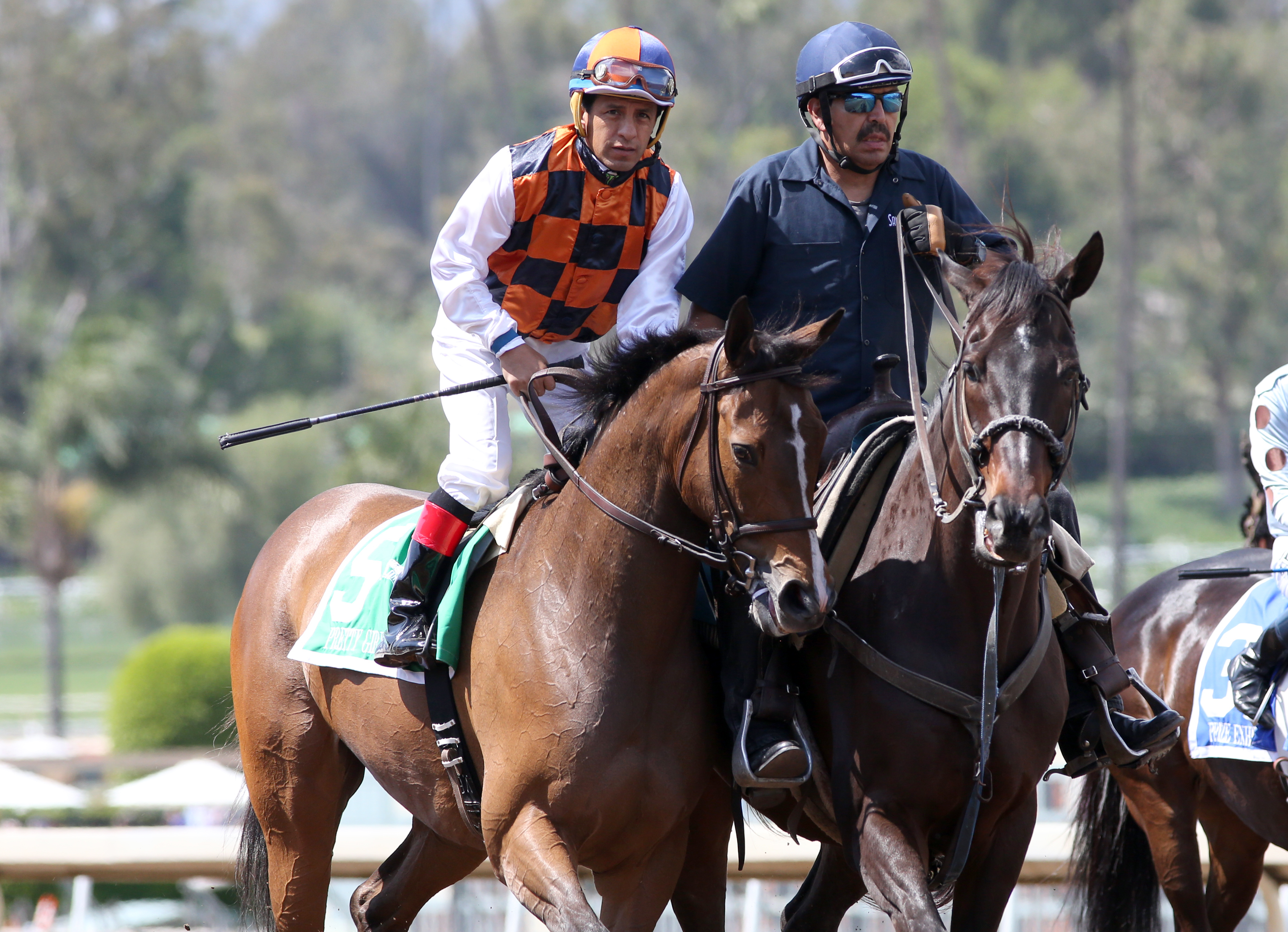 Pretty Girl
LOBO TAKES A DOUBLE SHOT AT A FIRST DEL MAR STAKES VICTORY
Trainer Paulo Lobo will be represented by a quarter of the field when he saddles two South American imports in Saturday's Grade II $200,000 Yellow Ribbon Stakes for older fillies and mares at 1 1/16 miles on the Jimmy Durante Turf Course.
Kiss Me Now, a 4-year-old Brazilian-bred, will be making her U.S. debut and first start since January 7 in a graded stakes in Argentina.
Pretty Girl, a 6-year-old Argentine-bred mare, was brought to the U.S. a year ago to run in the Grade I Beverly D Stakes on Arlington Million day at Arlington Park in Chicago. Turned over to Lobo and brought to California, Pretty Girl made her last three starts in the Grade II Santa Ana, Grade II Royal Heroine and Grade I Gamely at Santa Anita from March through May.
She was second, beaten 1 ¾ lengths by Goodyearforroses in the Santa Ana, fifth to Yellow Ribbon rival Hillhouse High in the Royal Heroine, beaten two lengths, and fifth, beaten 4 ½ lengths by Lady Eli, in the Gamely.
"Kiss Me Now won two Grade I stakes in South America. She's a good filly, she's been training well and she's ready to go," Lobo said recently at his stable here. "Pretty Gal has been running well (in Southern California), always against very good competition and we'll see if she likes Del Mar."
The Yellow Ribbon has long been a target for both.
"The distance and the timing of the race were good for both," Lobo said.
Lobo, 48, a native of Brazil, moved to Southern California in 2001 and proceeded to win 13 Grade I or Grade II stakes in the next decade. His top campaigners were Farda Amiga, who won the Kentucky Oaks and Alabama Stakes in 2002, and Brazilian-bred Pico Central, who took the San Carlos Stakes at Santa Anita plus the Vosburgh and Metropolitan Handicap in New York in 2004.
Lobo moved his headquarters to New York in 2008, but in 2010 went back to Brazil to work privately for an owner. He was there for three years and has been back in Southern California for the last three.
He has one win from 36 starters in 2017 and will be seeking his first Del Mar stakes victory.
The field from the rail: Amboseli (Victor Espinoza, 15-1), Kiss Me Now (Tiago Pereira, 20-1), Frenzified (Santiago Gonzalez, 12-1), Juno (Gary Stevens, 8-1), Hillhouse High (Corey Nakatani, 4-1), Pretty Girl (Mike Smith, 8-1), Cambodia (Drayden Van Dyke, 5-2) and Avenge (Flavien Prat, 8-5).
---
MILLER DOESN'T SEE INSIDE POST AS A PROBLEM FOR SURRENDER NOW
Drawing post position No. 1 is often the No. 1 worry for trainers. But, the die having been cast, trainer Peter Miller doesn't see it as that big an obstacle for Landaluce Stakes winner Surrender Now in Saturday's $200,000 Grade II Sorrento Stakes for two-year-old fillies.
"It shouldn't be a problem," Miller said by phone Friday from his stable headquarters at San Luis Rey Downs in Bonsall. "She's very fast, she should be able to get away well and then we'll let (jockey Flavien Prat) take it from there.
"They could go to the front, but there's some other speed in the race, and if they want the lead we'll let them have it and sit off it."
Miller also will saddle Midnight Summer, a debut winner by 4 ¼ lengths at 5 ½ furlongs here two weeks ago. Surrender Now, whose victory in the $100,000 Landaluce was achieved on July 2 at Santa Anita, has been working faster than her stablemate at San Luis Rey Downs, by design.
"One just ran a couple weeks ago and the other hasn't raced in more than a month. They're on different schedules," Miller said.
The field from the rail: The field from the rail: Surrender Now (Flavien Prat, 9-5), Spectator (Jamie Theriot, 5-2), Dancing Belle (Kent Desormeaux, 12-1), Terra's Angel (Sasha Risenhoover, 20-1), Spirit of Shanghai (Joe Talamo, 12-1), Diamondsandpearls (Mike Smith, 8-5) and Midnight Summer (Edwin Maldonado, 15-1).
---
BIRTHDAY NO. 25 FOR PRAT; ROMAN OPENS FOUR-WIN LEAD
Jockey Flavien Prat marks his 25th birthday today with three scheduled mounts and needing four wins to catch up to red hot apprentice Evin Roman in the jockey standings.
Prat shared the 2016 summer meeting riding title with Rafael Bejarano as both notched 38 wins in the 39-day session. They're tied again, with 11 wins through 12 cards of a 36-day meeting, but find themselves four behind Roman.
Roman had three wins and two runner-up finishes from his first five mounts on Thursday. Prat won the seventh race aboard Ike Walker ($6.00) for trainer Jerry Hollendorfer. Bejarano went 0-for-3.
---
ACCELERATE, ARROGATE UPDATE
Accelerate and Arrogate, respectively the winner and stunningly surprising fourth-place finisher in the Grade II $300,000 San Diego Handicap on July 22, are on the same workout schedule for a possible rematch in the $1 million TVG Pacific Classic on August 19.
Accelerate trainer John Sadler said the 4-year-old Lookin At Lucky colt would be put through his second workout since the San Diego on Monday morning. Ditto for Arrogate, who has more than $17 million in career earnings and retained his No. 1 ranking in North America despite the San Diego loss.
"I was going to go to a horse sale at Saratoga, but I've got to stay here and work the big horse," Baffert said. "I'm going to miss out."
Arrogate worked 4 furlongs in :47.20 and Accelerate the same distance in :48.60 on Tuesday.
In other news from the camps:
Beholder went from the Clement L. Hirsch to the Pacific Classic the last two years, winning in 2015 and finishing second last year. But that's not the path Sadler has charted for Hirsch winner Stellar Wind.
"We're not going to nominate her," Sadler said. "We'll nominate Accelerate and Hard Aces and that will be it. That race comes up a little too quick. If I nominated her everybody would get excited. But we want to keep her against (fillies and mares)."
Baffert sent Danzing Candy out for a 4-furlong work under Dana Barnes. The winner of the Grade I San Carlos Stakes at Santa Anita on July 1 is prepping for the Grade II $200,000 Pat O'Brien Stakes on August 26.
"He looked good. Everything's good with him," Baffert said.
---
THEIR BREEDERS' CUP RUNNETH POSSIBLE FOR DEL MAR 2017
Del Mar hosts the 34th running of the Breeders' Cup World Championships on November 3-4. It consists of 13 races with purses totaling more than $28 million over the two days capped by the $2 million Longines Breeders' Cup Distaff on Friday, November 3 and the $6 million Breeders' Cup Classic on Saturday, November 4.
A victory in a "Win and You're In" Challenge series race, of which there are 81 from January to October, guarantees a spot in a Breeders' Cup race and other considerations.
Here are the horses who have qualified to date.
Winner
Race
Date
BC Division
Legal Eagle
L'Ormarins Queens Plate
Kenilworth, South Africa
January 7
Mile
Bela-Bela
Main Chance Farms Paddock
Kenilworth, South Africa
January 7
F&M Turf
Gold Dream
February Stakes
Tokyo, Japan
February 19
Classic
Chautauqua
Darley TJ Smith Stakes
Randwick, Australia
April 1
Turf Sprint
Somewhat
Star Doncaster Mile
Randwick, Australia
April 1
Mile
Foxplay
Queen of the Turf
Randwick, Australia
April 1
F&M Turf
Kiriaki
Gran Premio Criadores
Palermo, Argentina
May 1
Distaff
Ordak Dan
Grab Premio 25 de Mayo
Palermo, Argentina
May 25
Turf
Top Casablanca
Hipico de Santiago Falabella
Club Hipico de Santiago, Chile
May 28
Mile
Bal a Bali
Shoemaker Mile
Santa Anita
June 3
Mile
Satono Aladdin
Yasuda Kinen
Tokyo, Japan
June 4
Mile
Mor Spirit
Metropolitan Mile
Belmont Park, N.Y.
June 10
Dirt Mile
Songbird
Ogden Phipps
Belmont Park, N.Y.
June 10
Distaff
Voador Magee
Grande Premio Brasil
Hippodromo de Gavea, Brazil
June 11
Turf
Forever Unbridled
Fleur de Lis
Churchill Downs, Ky.
June 17
Distaff
Gun Runner
Stephen Foster
Churchill Downs, Ky.
June 17
Classic
Satono Crown
Takarazuka Kinen
Hanshin, Japan
June 25
Turf
Birdie Gold
Gran Premio Pamplona
Hippodomo de Monterrico, Peru
June 25
F&M Turf
Curlin's Approval
Princess Rooney
Gulfstream Park, Fla.
July 1
F&M Sprint
Imperial Hint
Smile Sprint Stakes
Gulfstream Park, Fla.
July 1
Sprint
Green Mask
Highlander Stakes
Woodbine, Canada
July 2
Turf Sprint
Mind Your Biscuits
Belmont Sprint Championship
Belmont Park, N.Y.
July 8
Sprint
Enable
King George VI & Queen Elizabeth
Ascot, England
July 29
Turf
Ransom The Moon
Bing Crosby
Del Mar
July 29
Sprint
Girvin
Haskell Invitational
Monmouth Park, N.J.
July 30
Classic
Stellar Wind
Clement L. Hirsch
Del Mar
July 30
Distaff
Here Comes When
Quatar Sussex
Goodwood, England
August 2
Mile
The lone "Win and You're In" qualifier upcoming this weekend is the Whitney, Saturday at Saratoga. It features Gun Runner and offers a spot in the Classic.
---
SHARP SAMURAI, SMOKEM FAVORED IN SUNDAY STAKES
Mark Glatt-trained Sharp Samurai was made the 5-2 favorite for Sunday's Grade III $150,000 La Jolla Handicap and Gary Sherlock's Smokem the 7-2 choice for the $100,000 Graduation Stakes on the same card in morning lines posted by oddsmaker Russ Hudak on Friday.
Sharp Samurai, a Kentucky-bred son of First Samurai, enters the La Jolla, a 1 1/16-mile turf test for 3-year-olds, off a victory in the Rainbow Stakes on June 10 at Santa Anita.
Smokem, a son of Union Rags, was a 2 ¼-length winner in his racing debut at five furlongs here on July 21 and will be asked to go another 110 yards in the Graduation for two-year-old California-breds.
The La Jolla from the rail: Fashion Business (Joe Talamo, 8-1), Colonist (Flavien Prat, 7-2), Placido (Rafael Bejarano, 6-1), Pioneer Lad (Tyler Baze, 6-1), Offshore (Evin Roman, 20-1), Caribou Club (Drayden Van Dyke, 12-1), Sharp Samurai (Gary Stevens, 5-2), Double Touch (Kent Desormeaux, 8-1) and Monster Man (Santiago Gonzalez, 9-2).
The Graduation from the rail: Sir Valentine (Martin Pedroza, 8-1), Smokem (Evin Roman, 7-2), Bookies Luck (Martin Garcia, 8-1), Schulace (Rafael Bejarano, 9-2), Hit The Seam (Mario Gutierrez, 12-1), Utah Ute (Jamie Theriot, 6-1), Cono (Flavien Prat, 8-1), Get Em Up Scout (Geovanni Franco, 20-1), Don't Stalk Me (Drayden Van Dyke, 20-1), Drizzy (Joe Talamo, 5-1) and Continental Divide (Victor Espinoza, 8-1).
---
CLOSERS – Happy Birthday to trainer Mike Puype, 51 … Selected works from 119 officially timed Friday morning: Monterey Shale (4f, :46.80), Danzing Candy (5f, 1:00.20), Noted and Quoted (5f, :59.00), Paradise Woods (6f, 1:13.60) and Saldamente (6f, 1:12.20) … Desert Steel, the 5-2 morning line favorite, has been withdrawn from today's featured $75,000 Daisycutter Handicap.
---
DEL MAR STATISTICS
Jockey Standings
(Current Through Thursday, August 3, 2017 Inclusive)
| | | | | | | | |
| --- | --- | --- | --- | --- | --- | --- | --- |
| Jockey | Mts | 1st | 2nd | 3rd | Win% | In-money% | Money Won |
| Evin Roman | 80 | 15 | 15 | 6 | 19% | 45% | $574,502 |
| Flavien Prat | 62 | 11 | 13 | 8 | 18% | 52% | $900,866 |
| Rafael Bejarano | 59 | 11 | 8 | 9 | 19% | 47% | $526,700 |
| Joseph Talamo | 42 | 7 | 4 | 5 | 17% | 38% | $294,895 |
| Tyler Baze | 66 | 6 | 11 | 9 | 9% | 39% | $408,485 |
| Santiago Gonzalez | 27 | 6 | 2 | 5 | 22% | 48% | $216,243 |
| Kent Desormeaux | 32 | 5 | 6 | 4 | 16% | 47% | $316,330 |
| Corey Nakatani | 22 | 4 | 6 | 0 | 18% | 45% | $277,685 |
| Mario Gutierrez | 31 | 4 | 4 | 3 | 13% | 35% | $264,415 |
| Gary Stevens | 24 | 4 | 3 | 5 | 17% | 50% | $283,488 |
Trainer Standings
(Current Through Thursday, August 3, 2017 Inclusive)
| | | | | | | | |
| --- | --- | --- | --- | --- | --- | --- | --- |
| Trainer | Sts | 1st | 2nd | 3rd | Win% | In-money% | Money Won |
| Doug F. O'Neill | 38 | 7 | 4 | 5 | 18% | 42% | $388,205 |
| Philip D'Amato | 37 | 6 | 8 | 3 | 16% | 46% | $624,057 |
| Richard Baltas | 33 | 6 | 7 | 3 | 18% | 48% | $467,943 |
| Peter Miller | 50 | 4 | 7 | 6 | 8% | 34% | $308,955 |
| Peter Eurton | 18 | 4 | 4 | 1 | 22% | 50% | $223,375 |
| Ronald W. Ellis | 11 | 4 | 1 | 2 | 36% | 64% | $109,260 |
| Vladimir Cerin | 13 | 4 | 0 | 1 | 31% | 38% | $85,090 |
| Jerry Hollendorfer | 37 | 3 | 8 | 6 | 8% | 46% | $243,929 |
| J. Keith Desormeaux | 19 | 3 | 5 | 3 | 16% | 58% | $206,470 |
| John W. Sadler | 24 | 3 | 3 | 5 | 13% | 46% | $526,090 |
Winning Favorites Report
(Current Through Thursday, August 3, 2017 Inclusive)
Winning favorites -- 26 out of 104 -- 25.00%
Winning favorites on dirt -- 16 out of 64 -- 25.00%
Winning favorites on turf -- 10 out of 40 -- 25.00%
Winning odds-on favorites -- 5 out of 15 -- 33.33%
In-the-Money favorites -- 71 out of 104 -- 68.27%
In-the-Money odds-on favorites -- 13 out of 15 -- 86.67%