Thursday, August 31st, 2017 ( 1 year ago )
Stable Notes
Aug 31, 2017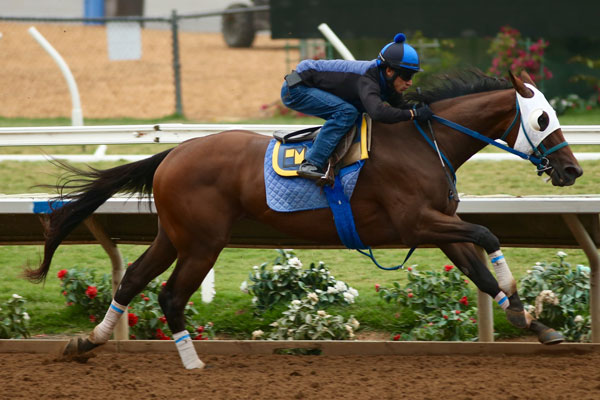 Gabrielleelizabeth © Del Mar Thoroughbred Club
GUILLOT AIMS TO WORK LONG SHOT VOODOO IN DEBUTANTE
Trainer Eric Guillot sat on a bale of hay near where his two fillies for upcoming stakes were stabled and lamented the No. 1 post for Gabrielleelizabeth in Saturday's Grade I $300,000 Del Mar Debutante in a way that reflected his Louisiana roots.
"The West Coast mafia done got me and stuck me with the one hole," Guillot said. "I should have been there for the draw. Now, I'm going to have to get out a voodoo doll for the racing office.
"At first I thought I was here for a reason and not the season and to be appeasin' but now I'm stuck on the rail."
Guillot, 55, is here with Gabrielleelizabeth for the Debutante and Unstablenthemornin for the $100,000 Juvenile Fillies Turf on Monday. With major stakes for 2-year-old fillies, on dirt and turf, both here and at Saratoga, and horses training in Florida, Guillot was faced with a dilemma.
"It looked like the races at The Spa (Saratoga) were going to be a lot tougher. They entered for the Spinaway yesterday and it's only a five-horse field," Guillot pointed out. "There's eight here (in the Debutante), so it looks like we made a mistake. But it is what it is. Too late, we're here.
"I don't go by the nickname Giant Killer No. 2 or Dragonslayer No. 1 in New York for no reason. If I've got one in, I've got a chance."
Guillot was a regular on the entire Southern California circuit for more than two decades but opted to relocate to the east eight years ago. He's won several major stakes there, including the Dwyer (2013), Whitney (2014) and Charlestown Classic (2015), all with Moreno. His piece de resistance was saddling Laoban for a wire-to-wire victory in the 2016 $600,000 Grade I Jim Dandy. Laoban became the first maiden to win the event and paid off at odds of 27-1.
And, as he points out, for Guillot to win the Debutante and/or Juvenile Fillies Turf would not be unprecedented. He took the 2009 Debutante with Mi Sueno and the 2012 Oak Tree Juvenile Fillies Turf with Renee's Queen.
In her second career start, on July 23 at Gulfstream Park, Gabrielleelizabeth, a Kentucky-bred daughter of Bellamy Road, won a six-furlong maiden event wire-to-wire.
"She's a little bit of a goofball mentally, but physically she's a beast," Guillot said. "She worked (5 furlongs) fifty-nine and three here (August 26) and she went over it like breaking sticks. I'm going to have to gun from the one hole. I'm scared if she doesn't get close to the lead she'll put her head up in the air and throw in the towel.
"These babies don't have enough experience yet to know what to do in every situation. But she does have something the others don't have – me."
The field from the rail: Gabrielleelizabeth (Evin Roman, 20-1), Moonshine Memories (Flavien Prat, 6-1), Spectator (Jamie Theriot, 5-2), Gas Station Sushi (Corey Nakatani, 7-2), Just a Smidge (Rafael Bejarano, 3-1), Piedi Bianchi (Mario Gutierrez, 12-1), Dancing Belle (Kent Desormeaux, 12-1) and Poetic (Mike Smith, 4-1).
Saul Marquez, agent for Theriot, said that the rider suffered only "bumps and bruises" in a spill in Wednesday's fourth race and, while taking off one scheduled mount Thursday, would be back to ride favored Spectator in the Debutante.
---
BOWIES HERO, SHARP SAMURAI SHOWDOWN SET IN DEL MAR DERBY
The winners of the first two legs of the turf stakes series for 3-year-olds were among 11 entered Thursday for Sunday's Grade II $250,000 Del Mar Derby.
Phil D'Amato-trained Bowies Hero prevailed by 1 ½ lengths in the one-mile Oceanside Stakes on July 19, the opening day of the meeting, and has been in training here since then. Sharp Samurai, trained by Mark Glatt, passed up the Oceanside then won the 1 1/16-mile La Jolla Handicap on August 6 by a head over D'Amato's Fashion Business.
Sunday's 1 1/8-mile Derby, which usually determines the 3-year-old champion of the meeting, figures to do just that if Bowies Hero or Sharp Samurai emerge victorious.
The field from the rail: Harbour Master (Victor Espinoza), Monster Man (Santiago Gonzalez), Bowies Hero (Tiago Pereira), Marckie's Water (Corey Nakatani), Sharp Samurai (Gary Stevens), Fashion Business (Joe Talamo), Colonist (Rafael Bejarano), Double Touch (Tyler Baze), Sorry Erik (Kent Desormeaux), Big Score (Flavien Prat) and Ritzy A.P. (Evin Roman).
---
GOODYEARFORROSES TABBED AS FAVORITE IN JOHN C. MABEE
Goodyearforroses, a 5-year-old Irish-bred mare coming off a three-month layoff, was established as the 7-2 morning line favorite by oddsmaker Russ Hudak in Saturday's Grade II $200,000 John C. Mabee Stakes.
"All you have to do is look and see that she almost beat Lady Eli, and that's very impressive," Hudak said. "And it seems the fresher they are the better. Horses come off long layoffs and win all the time in California."
Goodyearforroses, trained by Richard Baltas for Abbondanza Racing LLC, was a game second, a half-length behind Lady Eli in the Grade I Gamely at Santa Anita on May 27.
While Goodyearforroses has trained for the Mabee, Lady Eli went on to win the Grade I Diana in July and Grade II Balston Spa last Saturday at Saratoga.
The field from the rail: Hillhouse High (Rafael Bejarano, 12-1), Kiss Me Now (Martin Garcia, 30-1), Decked Out (Kent Desormeaux, 6-1), Cambodia (Drayden Van Dyke, 9-2), Madame Stripes (Joe Talamo, 8-1), Mrs McDougal (Flavien Prat, 5-1), Lady Valeur (Ricardo Gonzalez, 20-1), Barleysugar (Tyler Baze, 15-1), Pretty Girl (Mike Smith, 8-1), Insta Erma (Gary Stevens, 20-1), Amboseli (Victor Espinoza, 12-1), Frenzified (Santiago Gomzalez, 20-1) and Goodyearforroses (Corey Nakatani, 7-2).
---
CHAMPION FILLY SONGBIRD, WHOSE CAREER STARTED HERE, RETIRED
Two-time Eclipse Award-winning filly Songbird has been retired, owner Rick Porter's Fox Hill Farm announced Thursday morning, five days after she lost for only the second time in 15 career starts.
Trained by Jerry Hollendorfer and ridden by Mike Smith, Songbird won her first two career starts, a maiden race in July and the Grade I Del Mar Debutante in September here in 2015. She trained at Del Mar before travelling east for major stakes in compiling 11 straight wins before a narrow loss to Beholder in the 2016 Breeders' Cup Distaff at Santa Anita.
Her 2017 campaign consisted of wins in the Ogden Phipps and Delaware Handicaps before last Saturday in the Personal Ensign at Saratoga. The Fox Hill Farm release said that enlarged hind suspensory ligaments prompted the decision to retire.
"We're sad to see her retired, but we were blessed and grateful to have her through her career," Hollendorfer said by telephone. "She meant a lot to every single person in the stable, from the grooms and hot walkers on up to the trainer."
---
JOCKEY NEWS: RACE COULDN'T GET MUCH TIGHTER
With a victory aboard Cute Knows Cute ($8.00) in Wednesday's first race, apprentice Evin Roman moved within one (28-27) of leader Flavien Prat in the jockey standings with five days remaining in the meeting. Five-time defending champion Rafael Bejarano, 0-for-4 Wednesday, remains two off the lead.
Prat is serving the final day of a three-day suspension Thursday, conceding seven chances to Roman and four to Bejarano to make up ground.
With the days dwindling it appears that, barring some rider going on a tear, the winning total will be the lowest in the modern era.
In the past 30 years, win totals for the championship rider have dipped into the 30s only four times. David Flores won with 38 in 1999, Alex Solis with 36 in 2001, Bejarano with 39 in 2015 while Prat and Bejarano tied with 38 last year.
The lowest championship win totals were 24 for Alan Gray in a 25-day meeting in 1938, 26 by Ralph Neves in a 24-day meeting in 1939 and 29 for Jimmy Nichols in a 41-day meeting in 1948.
At the opposite end of the record spectrum is the 1954 season for Bill Shoemaker in which he booted home 94 winners in a 41-day season.
---
CONLEY, BALAN GUEST FOR WEEKEND HANDICAPPING SEMINARS
TV analyst turned jockey agent Carolyn Connolly and Blood Horse correspondent Jeremy Balan will provide the expertise and predictions on the final weekend handicapping seminars.
Connolly, who books mounts for apprentice Laura Werner, will do the honors on Saturday while Balan will be the guest of Scott Shapiro on Sunday.
The seminars are held from 12:45-1:30 p.m. at the Seaside Terrace near the top of the stretch.
---
DEL MAR/SARATOGA ALL-STAKES PICK FOUR ON TAP SATURDAY
Del Mar and Saratoga will team up to offer racing fans a deluxe "all stakes" Pick Four Saturday, a separate bet that proved popular when offered last year and again on Pacific Classic Day, August 19.
Saturday's version will feature the Spinaway (Saratoga race No. 10, 3:11 p.m. Pacific Time), Woodward (Saratoga race No. 11, 3:46 p.m. Pacific), Del Mar Debutante (race 7, 4:57 p.m.) and John C. Mabee (race 9, 5:54 p.m.).
---
CLOSERS – Selected works from 66 on dirt and eight on turf officially timed Thursday: Dirt – Finest City (:34.80), Mor Spirit (4f, :47.00); Turf – Hunt (4f, :36.40) … A capacity field of 14, with two more on the also eligible list, was entered Thursday for Sunday's $100,000 Del Mar Juvenile Turf at one mile over the Jimmy Durante course.
---
DEL MAR STATISTICS
Jockey Standings
(Current Through Wednesday, August 30, 2017 Inclusive)
| | | | | | | | |
| --- | --- | --- | --- | --- | --- | --- | --- |
| Jockey | Mts | 1st | 2nd | 3rd | Win% | In-money% | Money Won |
| Flavien Prat | 143 | 28 | 26 | 26 | 20% | 56% | $2,124,511 |
| Evin Roman | 203 | 27 | 36 | 21 | 13% | 41% | $1,177,120 |
| Rafael Bejarano | 149 | 26 | 22 | 20 | 17% | 46% | $1,269,570 |
| Kent Desormeaux | 108 | 21 | 28 | 16 | 19% | 60% | $1,221,588 |
| Tyler Baze | 165 | 18 | 27 | 21 | 11% | 40% | $1,076,246 |
| Joseph Talamo | 118 | 16 | 11 | 12 | 14% | 33% | $816,585 |
| Drayden Van Dyke | 97 | 16 | 6 | 13 | 16% | 36% | $927,860 |
| Santiago Gonzalez | 85 | 11 | 10 | 13 | 13% | 40% | $542,016 |
| Corey Nakatani | 47 | 10 | 14 | 1 | 21% | 53% | $622,105 |
| Martin Pedroza | 91 | 10 | 8 | 8 | 11% | 29% | $388,489 |
Trainer Standings
(Current Through Wednesday, August 30, 2017 Inclusive)
| | | | | | | | |
| --- | --- | --- | --- | --- | --- | --- | --- |
| Trainer | Sts | 1st | 2nd | 3rd | Win% | In-money% | Money Won |
| Philip D'Amato | 76 | 15 | 17 | 4 | 20% | 47% | $1,304,862 |
| Richard Baltas | 89 | 14 | 17 | 11 | 16% | 47% | $983,678 |
| Peter Miller | 110 | 13 | 21 | 14 | 12% | 44% | $752,487 |
| Doug F. O'Neill | 98 | 13 | 10 | 10 | 13% | 34% | $785,100 |
| Mark Glatt | 58 | 13 | 5 | 10 | 22% | 48% | $663,719 |
| John W. Sadler | 58 | 9 | 9 | 8 | 16% | 45% | $1,002,400 |
| Bob Baffert | 38 | 8 | 10 | 3 | 21% | 55% | $1,306,247 |
| Michael W. McCarthy | 31 | 8 | 6 | 3 | 26% | 55% | $253,755 |
| Robert B. Hess, Jr. | 46 | 7 | 6 | 6 | 15% | 41% | $229,525 |
| Simon Callaghan | 35 | 7 | 4 | 2 | 20% | 37% | $462,940 |
Winning Favorites Report
(Current Through Wednesday, August 30, 2017 Inclusive)
Winning favorites -- 74 out of 271 -- 27.31%
Winning favorites on dirt -- 50 out of 169 -- 29.59%
Winning favorites on turf -- 24 out of 102 -- 23.53%
Winning odds-on favorites -- 21 out of 44 -- 47.73%
In-the-Money favorites -- 181 out of 271 -- 66.79%
In-the-Money odds-on favorites -- 36 out of 44 -- 81.82%