Wednesday, August 30th, 2017 ( 1 year ago )
Stable Notes
Aug 30, 2017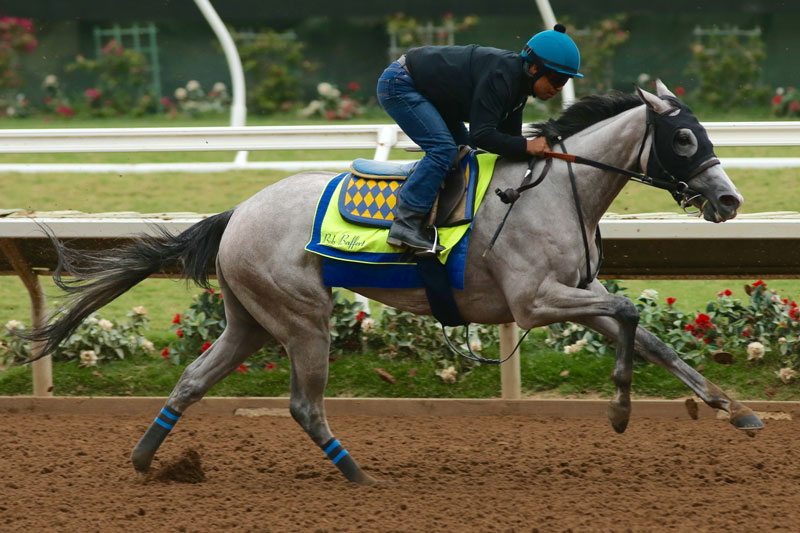 Just a Smidge © Benoit Photo
EIGHT ENTERED IN SATURDAY'S GRADE I $300,000 DEL MAR DEBUTANTE
A field of eight was entered Wednesday in Saturday's $300,000 Del Mar Debutante, the race that determines the 2-year-old filly champion and is the penultimate of six Grade I events of the summer meeting. The Del Mar Futurity on Labor Day will close the book on Grade I events and the meeting.
Hall of Fame trainer Bob Baffert, a seven-time winner of the Debutante, will send out Debbie Lanni's Just a Smidge. A Kentucky-bred daughter of Into Mischief purchased for $425,000 at a May sale, Just a Smidge won her racing debut on July 19, opening day of the meeting, and has been training forwardly with five subsequent workouts here, the last two being bullets at six furlongs, The Debutante is a seven-furlong sprint.
Just a Smidge is one of four Debutante entrants being elevated to a Grade I off one victorious start. The others are Poetic, Moonshine Memories and Gas Station Sushi.
"They're 2-year-olds that have shown promise. It's what we do at this time of year," said Richard Baltas, trainer of Gas Station Sushi.
Gas Station Sushi is owned by Jason and Megan Tackitt of Bakersfield, who have a horse farm in the area and have recently increased their participation in the Thoroughbred industry. A family inside joke led to the naming of the filly, a daughter of Into Mischief purchased in March at the Ocala sale for $240,000.
Megan and daughters Ashley and Alyson noted Jason's tendency to adventurous dining at roadside spots – "Taco trucks and things like that," Jason said by phone Wednesday morning. Playing off that theme, a friend of the girls' suggested the moniker for the filly.
"Some people have said she's too good of a horse to have a name like that, but I disagree," Jason said. "It's different and it has grabbed some attention."
The field from the rail: Gabrielleelizabeth (Evin Roman), Moonshine Memories (Flavien Prat), Spectator (Jamie Theriot), Gas Station Sushi (Corey Nakatani), Just a Smidge (Rafael Bejarano), Piedi Bianchi (Mario Gutierrez), Dancing Belle (Kent Desormeaux) and Poetic (Mike Smith).
---
CLASH OF 13 IN SATURDAY'S GRADE II $200,000 JOHN C. MABEE
The first five finishers in the Yellow Ribbon Handicap on August 5 were among 13 entrants Wednesday in Saturday's Grade II $200,000 John C. Mabee Stakes.
The Mabee, to be run for the 60th time, is at 1 1/8-miles on the Jimmy Durante Turf Course.
Cambodia, a three-quarter length winner under Drayden Van Dyke for trainer Tom Proctor and the Winter Quarter Farm of Don Robinson in the Grade II $200,000 Yellow Ribbon, at 1 1/16 miles on turf, will give a rematch to the 2-5 runners in that event – Pretty Girl, Amboseli, Hill House High and Frenzified.
Trainer Jim Cassidy, who saddled Amboseli and Frenzified in the Yellow Ribbon, is back to take a double shot with them in the Mabee.
"Amboseli runs great most every time, I love that filly," Cassidy said Wednesday. "(Frenzified) just didn't have a chance to run last time. She got trapped down inside, which seems to have happened a lot to us this meet.
"The extra distance will help both of them."
The field from the rail: Hillhouse High (Rafael Bejarano), Kiss Me Now (Martin Garcia), Decked Out (Kent Desormeaux), Cambodia (Drayden Van Dyke), Madame Stripes (Joe Talamo), Mrs McDougal (Flavien Prat), Lady Valeur (Ricardo Gonzalez), Barleysugar (Tyler Baze), Pretty Girl (Mike Smith), Insta Erma (Gary Stevens), Amboseli (Victor Espinoza), Frenzified (Santiago Gomzalez) and Goodyearforroses (Corey Nakatani).
---
CONTINENTAL DIVIDE GETS MORNING LINE NOD IN I'M SMOKIN
Graduation Stakes winner Continental Divide was accorded the 5-2 favorite's role on the morning line of oddsmaker Russ Hudak for Friday's featured $100,000 I'm Smokin Stakes for California-bred 2-year-olds.
Continental Divide, trained by Jim Cassidy for Deron Pearson's DP Racing, overcame a wide trip to take over the lead at the top of the stretch and win by 1 ¾ lengths in the 5 ½-furlong Graduation. The I'm Smokin is a 6-furlong sprint.
"We had options to go with him in the grass race ($100,000 Del Mar Juvenile Turf, September 3), but we decided to stay with Cal-breds," Cassidy said Wednesday. "I think it's best to give him a chance to mature a little bit before we go against the big boys.
"He was wide the whole trip (in the Graduation) and still won, so it looks to be a good spot for him."
The field from the rail: Cono (Rafael Bejarano, 8-1), Sir Valentine (Martin Pedroza, 4-1), Continental Divide (Victor Espinoza, 5-2), Drizzy (Joe Talamo, 5-1), Ministersdontparty (Chantal Sutherland, 12-1), Bookies Luck (Kent Desormeaux, 10-1), Smokem (Evin Roman, 3-1), Get Em Up Scout (Brayan Pena, 20-1) and Unpossible (Catalino Martinez, 12-1).
---
JOCKEY AND TRAINER RACES GOING DOWN TO WIRE
Defending champions Flavien Prat and Phil D'Amato start the final week of the meeting with none-too-secure two win margins in the race for the jockey and training titles respectively.
Prat's 28 wins put him ahead of apprentice Evin Roman and Prat's 2016 co-champion Rafael Bejarano. But Prat will spot them the first two days of the final six remaining days of racing while sitting out a suspension that started Sunday.
Roman, seeking to win a third straight Southern California circuit meeting title and become the first apprentice winner at Del Mar in 44 years, is named on seven mounts in the eight-race Wednesday card. Bejarano, seeking to win or share a Del Mar crown for the sixth year in a row, has four mounts.
D'Amato, who saddled 23 winners to claim his first Del Mar title in 2016, has a 15-13 lead over an onrushing Baltas (five wins last week) and Doug O'Neill, who seeks his fifth Del Mar title and first since 2010.
D'Amato has two horses to saddle on the Wednesday card, Baltas and O'Neill three each.
---
CLOSERS – Selected works from 195 officially timed over the last three days. Monday – Bendable (3f, :37.80), Run Away (4f, :47.80), Songofthedesert (4f, :47.40), Champagne Room (5f, 1:00.00); Tuesday – Noted and Quoted (4f, :49.00), St. Patrick's Day (5f, 1:00.40), Tatters to Riches (5f, :59.40), Soul Streit (6f, 1:12.20); Wednesday – Zatter (5f, :59.20) … Trainer Bob Baffert said he plans to have two representatives in the Del Mar Futurity, a race he has won 13 times: Zatter and Soul Streit.
---
DEL MAR STATISTICS
Jockey Standings
(Current Through Sunday, August 27, 2017 Inclusive)
| | | | | | | | |
| --- | --- | --- | --- | --- | --- | --- | --- |
| Jockey | Mts | 1st | 2nd | 3rd | Win% | In-money% | Money Won |
| Flavien Prat | 143 | 28 | 26 | 26 | 20% | 56% | $2,124,511 |
| Evin Roman | 196 | 26 | 35 | 18 | 13% | 40% | $1,122,075 |
| Rafael Bejarano | 145 | 26 | 21 | 19 | 18% | 46% | $1,250,090 |
| Kent Desormeaux | 102 | 21 | 26 | 16 | 21% | 62% | $1,187,498 |
| Tyler Baze | 158 | 17 | 27 | 20 | 11% | 41% | $1,012,631 |
| Joseph Talamo | 114 | 15 | 11 | 11 | 13% | 32% | $751,695 |
| Drayden Van Dyke | 93 | 15 | 6 | 11 | 16% | 34% | $888,228 |
| Santiago Gonzalez | 84 | 11 | 10 | 13 | 13% | 40% | $541,671 |
| Martin Pedroza | 89 | 10 | 7 | 8 | 11% | 28% | $380,744 |
| Gary Stevens | 64 | 10 | 4 | 12 | 16% | 41% | $691,979 |
Trainer Standings
(Current Through Sunday, August 27, 2017 Inclusive)
| | | | | | | | |
| --- | --- | --- | --- | --- | --- | --- | --- |
| Trainer | Sts | 1st | 2nd | 3rd | Win% | In-money% | Money Won |
| Philip D'Amato | 74 | 15 | 16 | 4 | 20% | 47% | $1,297,517 |
| Richard Baltas | 86 | 13 | 17 | 10 | 15% | 47% | $938,298 |
| Doug F. O'Neill | 95 | 13 | 10 | 10 | 14% | 35% | $784,065 |
| Peter Miller | 105 | 12 | 19 | 14 | 11% | 43% | $706,597 |
| Mark Glatt | 55 | 12 | 5 | 9 | 22% | 47% | $610,814 |
| John W. Sadler | 55 | 9 | 9 | 7 | 16% | 45% | $991,900 |
| Bob Baffert | 37 | 8 | 10 | 3 | 22% | 57% | $1,305,902 |
| Robert B. Hess, Jr. | 44 | 7 | 6 | 6 | 16% | 43% | $228,780 |
| Simon Callaghan | 35 | 7 | 4 | 2 | 20% | 37% | $462,940 |
| Vladimir Cerin | 33 | 6 | 6 | 4 | 18% | 48% | $207,361 |
Winning Favorites Report
(Current Through Sunday, August 27, 2017 Inclusive)
Winning favorites -- 72 out of 263 -- 27.38%
Winning favorites on dirt -- 49 out of 164 -- 29.88%
Winning favorites on turf -- 23 out of 99 -- 23.23%
Winning odds-on favorites -- 20 out of 42 -- 47.62%
In-the-Money favorites -- 175 out of 263 -- 66.54%
In-the-Money odds-on favorites -- 34 out of 42 -- 80.95%