Thursday, August 3rd, 2017 ( 1 year ago )
Stable Notes
Aug 3, 2017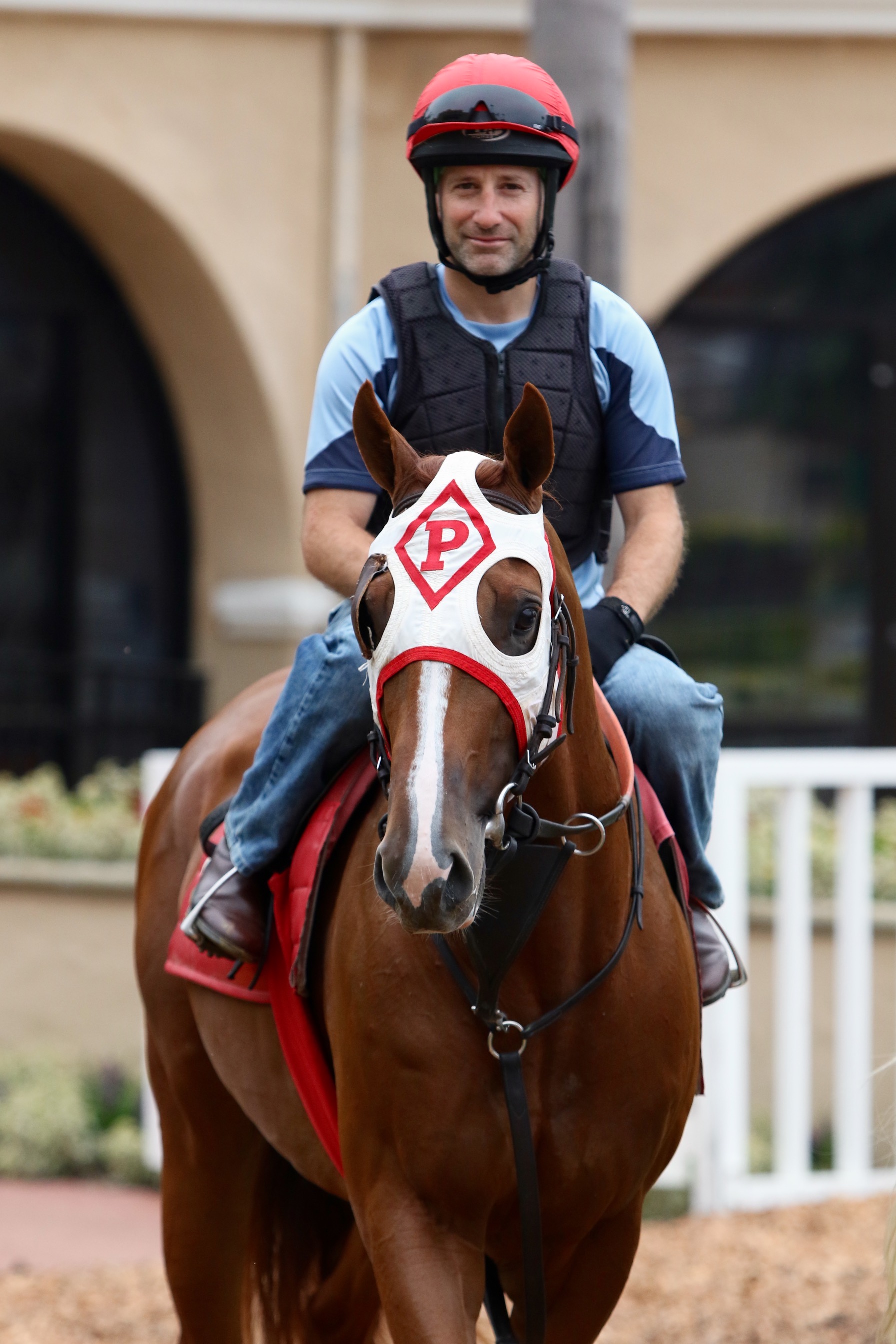 Caribou Club © Del Mar Thoroughbred Club
NINE SET FOR SUNDAY'S LA JOLLA HANDICAP
Nine three-year-old males were entered Thursday for Sunday's Grade III $150,000 La Jolla Handicap, the second leg of the summer meeting's three-race series for sophomore runners on turf.
Two of nine, Paymaster Racing's Pioneer Lad and Glen Hill Farm's Caribou Club, ran in the first of the series, the Oceanside Stakes on opening day. Pioneer Lad was second in the one-mile Oceanside, beaten 1 ½ lengths by Bowies Hero. Caribou Club was another 1 ½ lengths back in third.
The 1 1/16-mile La Jolla is a stepping stone to the series-concluding Grade II 1 1/8-mile Del Mar Derby on Sunday, September 3.
One of those jumping into the middle of the series is Sharp Samurai, a Kentucky-bred son of First Samurai trained by Mark Glatt. Sharp Samurai has won two of three starts since being switched to turf in April, both of them at the distance of 1 1/8 miles. He enters off a win in the $75,000 Rainbow Stakes at Santa Anita on June 10.
"We didn't really consider (the Oceanside)," Glatt said Thursday morning. "A flat mile is short of his best distance and what did they have, 14 in that race? "(Actually 13).
"We decided to keep him a little fresh, run in the La Jolla and with a good effort there maybe go on to the Del Mar Derby."
The field from the rail: Fashion Business (Joe Talamo), Colonist (Flavien Prat), Placido (Rafael Bejarano), Pioneer Lad (Tyler Baze), Offshore (Evin Roman), Caribou Club (Drayden Van Dyke), Sharp Samurai (Gary Stevens), Double Touch (Kent Desormeaux) and Monster Man (Santiago Gonzalez).
---
MASTER OWNER-BREEDER LEONARD LAVIN, 97, PASSES
Leonard Lavin, a major owner-breeder of Thoroughbreds for more than half a century, died of natural causes Wednesday evening at his home in Chicago. He was 97.
Family members indicated that Mr. Lavin had been suffering the effects of pneumonia recently. They also said that he was surrounded by his family when he passed.
A Chicago native, Mr. Lavin was highly successful in both the business world and the world of Thoroughbred horses. He and his wife, Bernice, bought the Alberto-Culver Company in 1955 for $400,000 and turned it into a multi-billion dollar beauty and personal care giant. He used earnings from his business ventures to establish a racing empire starting in 1966.
His first horse, Gabby Abby, became a stakes winner and he was off and running on a racing career that brought him more than 80 stakes winners and thousands of other winners and foals from an extensive racing/breeding operation named Glen Hill Farm that he ran out of a 400-acre farm in Ocala, Florida. Among his major stars were the mare Convenience, Relaunch and One Dreamer, who won the 1994 Breeders' Cup Distaff for a $96.20 win price. Making her victory all the sweeter for Lavin was the fact that Alberto-Culver had sponsored that race.
Mr. Lavin raced horses from coast-to-coast over the years, especially in Chicago, Florida and California. He'd won more than 30 stakes at Del Mar, trained primarily by his long-time conditioner Willard Proctor and his son Tom.
"He was one of the most important men in my life," Tom Proctor said Thursday by phone from Chicago. "He was one of the toughest men I've ever known. He lived a full life on his own terms and that's a good thing."
Tom Proctor is currently training a dozen Glen Hill Farm horses at the seaside track.
Mr. Lavin won dozens of racing awards throughout his career, including an Eclipse Award of Merit in 2015 for a "lifetime of outstanding achievement."
Mr. Lavin's grandson, Craig Bernick, had taken over the running of the Glen Hill interests, much to the delight of his grandfather. Bernick indicated that the family would conduct a private burial in Chicago in the next few days and were making arrangements for a memorial service in Mr. Lavin's honor there next week.
---
JOCKEYS WERNER, RISENHOOVER BRING NEW WOMEN'S INFLUENCE
Apprentice Laura "Midge" Werner recorded her first victory at Del Mar in Wednesday's first race. Eight-year veteran Sasha Risenhoover, just relocated from the Midwest, is hoping to do the same soon and has a shot to do so at the stakes level when she rides Terra's Angel in Saturday's Grade II $200,000 Sorrento.
They're two fresh female faces, joining Chantal Sutherland and others, aiming to make a make a mark in one of the toughest riding colonies in the country.
Werner, 21, shares a hometown, Stratford Upon Avon, England, with William Shakespeare. She stands 4-foot-nine, weighs 105 pounds and has been riding in Southern California for about four months, recorded her first win at Santa Anita on June 25 and is represented by former television racing commentator Carolyn Conley.
Aboard Rockin My Mojo for Blake Heap in Wednesday's first race, Werner found herself six lengths behind front-running Malibu D'Oro and meet leading rider/apprentice Evin Roman at the top of the stretch.
Werner and Rockin My Mojo not only made up the ground on the tiring leader but pulled away to a 2 ½-length win.
"I knew that horse was going very fast on the lead and I knew my horse had a good late kick, so I was just trying to wait for the right moment to use it," Werner said Thursday morning on the Del Mar backstretch. "
She conceded that catching and passing Roman, a sensation after notching riding titles at Santa Anita and Los Alamitos, added a little to the achievement.
"It was pretty good to beat him," Werner said. "He's doing really well and we want to be doing as well eventually. It was nice to knock him off his perch a little bit."
Equibase statistics through Wednesday show Werner with seven wins from 49 starts and nine other in-the-money finishes for earnings of $111,805.
Risenhoover, 26, is a native of Sallisaw, Oklahoma who grew up on a cattle farm but was smitten with the idea of riding horses she saw on a nearby spread and pursued a career as a jockey, initially, against her father's wishes.
Equibase statistics through Wednesday show Risenhoover with 322 wins from 2,421 career mounts and purse earnings of more than $4 million from a career she started in 2010. Her 2017 totals: 76 wins from 408 starts with earnings of $918,109.
Risenhoover notched several stakes victories in Texas and at several Midwest tracks, riding for trainers like Dallas Keen and Karl Broberg. It was with Broberg's encouragement that Risenhoover decided to head West. Keen has given her the call on Terra's Angel, a filly she rode to a racing debut victory on May 13 at Lonestar Park in Texas. Veteran Vince DeGregory is her agent.
"I'd done well and I was set in Texas," Risenhoover said recently. "But I'd always dreamed about coming out here to ride against the best and I just jumped at the chance.
"There's no words to describe how beautiful this place (Del Mar) is and the people have been so nice. I hope I can make it because I love it out here."
---
ELEVEN TO LINE UP FOR GRADUATION ON SUNDAY
A field of eleven was entered Thursday for Sunday's $100,000 Graduation Stakes for 2-year-old California breds at 5 ½ furlongs on the main track.
Trainer Doug O'Neill, owner J. Paul Reddam and jockey Mario Gutierrez have combined to win the Graduation three years in a row with Wake Up Nick, Mrazek and Green With Eddie. O'Neill does not have a representative this year but trainer Edward Freeman will send out Hit The Seam for Reddam and give Guttierrez a leg up into the saddle.
The field from the rail: Sir Valentine(Martin Pedroza), Smokem (Evin Roman), Bookies Luck (Martin Garcia), Schulace (Rafael Bejarano), Hit The Seam (Mario Gutierrez), Utah Ute (Jamie Theriot), Cono (Flavien Prat), Get Em Up Scout (Geovanni Franco), Don't Stalk Me (Drayden Van Dyke), Drizzy (Joe Talamo) and Continental Divide (Victor Espinoza).
---
DESERT STEEL FAVORED OF SIX IN COMPETITIVE DAISYCUTTER
Simon Callaghan-trained Desert Steel, a 5-year-old daughter of Desert Code, is the narrow 5-2 morning line favorite in a field of six for Friday's featured $75,000 Daisycutter Handicap at five furlongs on the turf for California-bred fillies and mares.
Desert Steel produced a head victory over Daisycutter rival Watch This Cat down the hillside course at Santa Anita on June 25 in her last start. Three of her rivals are coming back with two weeks or less between starts.
"It's a short meeting," said Jeff Mullins, trainer of Anita Partner. "It's not an ideal situation, but there aren't any other options. She's doing well. I wouldn't run her if she wasn't."
The field from the rail: Watch This Cat (Rafael Bejarano, 3-1), Long Hot Summer (Joe Talamo, 7-2), Bad Ju Ju (Drayden Van Dyke, 4-1), Wouldacoudadid (Geovanni Franco, 15-1), Anita Partner (Brice Blanc, 7-2) and Desert Steel (5-2).
---
CORRECTION: WRONG BUSS FOR PURPLE REIN STABLE
Janie Buss and Joseph Barton are the partners in Purple Rein Stable, the new clients for trainer Doug O'Neill. It was incorrectly reported here Wednesday that Jeanie Buss, owner of the Los Angeles Lakers and sister of Janie, was the head of Purple Rein.
We regret the error.
---
MAINARDI, FREE GUEST FOR WEEKEND HANDICAPPING SEMINARS
Joe Mainardi of Ponypicker.com and the Daily Racing Form's Brad Free will be providing insights and selections at the upcoming weekend handicapping seminars.
Mainardi will do the honors on Saturday, while Free will be alongside regular host Scott Shapiro on Sunday.
The seminars start at 12:45 and go to 1:30 and are held at the Seaside Terrace near the head of the stretch.
---
CLOSERS: Birthday today: trainer Paul Aguirre, 61 … Selected works from 148 on dirt and 12 on turf officially timed Thursday morning: Dirt – Irap (4f, :49.00), Mrs McDougal (4f, :49.00), Donworth (5f, 1:01.80), It Tiz Well (5f, :58.80), Beach Bum (6f, 1:12.20), Cupid (6f, 1:12.40) and Lord Simba (6f, 1:12.20); Turf – Flamboyant (5f, :59.80), Majestic Heat (6f, 1:14.20), Om (6f, 1:14.80).
---
DEL MAR STATISTICS
Jockey Standings
(Current Through Wednesday, August 2, 2017 Inclusive)
| | | | | | | | |
| --- | --- | --- | --- | --- | --- | --- | --- |
| Jockey | Mts | 1st | 2nd | 3rd | Win% | In-money% | Money Won |
| Evin Roman | 74 | 12 | 13 | 6 | 16% | 42% | $490,757 |
| Rafael Bejarano | 56 | 11 | 7 | 8 | 20% | 46% | $509,500 |
| Flavien Prat | 59 | 10 | 12 | 8 | 17% | 51% | $864,721 |
| Joseph Talamo | 38 | 7 | 4 | 4 | 18% | 39% | $289,765 |
| Tyler Baze | 62 | 6 | 9 | 8 | 10% | 37% | $384,445 |
| Santiago Gonzalez | 27 | 6 | 2 | 5 | 22% | 48% | $216,243 |
| Kent Desormeaux | 32 | 5 | 6 | 4 | 16% | 47% | $316,330 |
| Corey Nakatani | 22 | 4 | 6 | 0 | 18% | 45% | $277,685 |
| Mario Gutierrez | 28 | 4 | 4 | 2 | 14% | 36% | $254,530 |
| Martin Pedroza | 30 | 3 | 4 | 1 | 10% | 27% | $129,595 |
Trainer Standings
(Current Through Wednesday, August 2, 2017 Inclusive)
| | | | | | | | |
| --- | --- | --- | --- | --- | --- | --- | --- |
| Trainer | Sts | 1st | 2nd | 3rd | Win% | In-money% | Money Won |
| Doug F. O'Neill | 36 | 7 | 4 | 4 | 19% | 42% | $385,100 |
| Richard Baltas | 33 | 6 | 7 | 3 | 18% | 48% | $467,943 |
| Philip D'Amato | 34 | 5 | 7 | 3 | 15% | 44% | $575,712 |
| Peter Miller | 49 | 4 | 7 | 6 | 8% | 35% | $308,495 |
| Peter Eurton | 18 | 4 | 4 | 1 | 22% | 50% | $223,375 |
| Ronald W. Ellis | 9 | 4 | 0 | 1 | 44% | 56% | $98,580 |
| Vladimir Cerin | 12 | 4 | 0 | 1 | 33% | 42% | $82,750 |
| J. Keith Desormeaux | 18 | 3 | 5 | 3 | 17% | 61% | $206,125 |
| John W. Sadler | 24 | 3 | 3 | 5 | 13% | 46% | $526,090 |
| William E. Morey | 9 | 3 | 2 | 1 | 33% | 67% | $64,315 |
Winning Favorites Report
(Current Through Wednesday, August 2, 2017 Inclusive)
Winning favorites -- 23 out of 96 -- 23.96%
Winning favorites on dirt -- 15 out of 59 -- 25.42%
Winning favorites on turf -- 8 out of 37 -- 21.62%
Winning odds-on favorites -- 4 out of 14 -- 28.57%
In-the-Money favorites -- 65 out of 96 -- 67.71%
In-the-Money odds-on favorites -- 12 out of 14 -- 85.71%