Sunday, August 27th, 2017 ( 1 year ago )
Stable Notes
Aug 27, 2017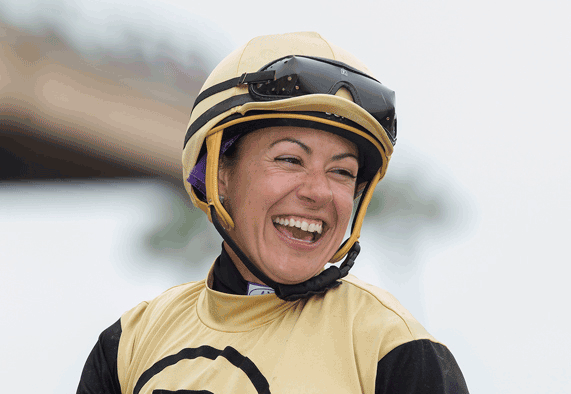 Maria Falgione © Benoit Photo
EX-ACTOR GIVES BOFFO PERFORMANCE IN FIRST ROLE AS A JOCKEY
Maria Domina Falgione is a 38-year-old former working actor who performed in "Indie films, TV shows, commercials," the titles of which do not come easily to her mind.
She did have the lead in both the New York and Las Vegas productions of the off-broadway play "Tony and Tina's Wedding." Falgione played the bride.
"I got married six times a week for 2 ½ years, had like 75 wedding dresses," Falgione said Sunday morning.
The place from which she spoke was not a stage. There were no bright lights or costumes. Just the stable area of trainer Mike Machowsky with cloudy skies overhead, Falgione dressed in jockey helmet and protective vest having put away her saddle and whip and horses, one of which she had just breezed.
And Falgione said she couldn't have been happier or felt more at home.
In her first-ever ride as an apprentice jockey, in Saturday's second race, aboard a 4-year-old filly named Tee Em Eye, Falgione came home a winner. She guided the Machowsky-trained California-bred daughter of Cyclotron owned by Richard Barton in a sweeping move turning into the stretch in a 5 ½-furlong $16,000 claiming race and they won by 3 ½ lengths going away.
"The coolest thing I've ever done in my entire life," Falgione said. "The filly was really good to me, she just carried me around there. She was a good girl. I made a few mistakes, got in a little trouble out of the gate and went a little wider than I wanted, but it all worked out."
Falgione, a native of South Carolina, had worked with hunter-jumper class horses and also on her grandfather's cattle ranch in Nebraska before coming to California to pursue an acting career.
She had been working for Machowsky as a morning exercise rider for a couple of years and one day the notion of putting her into the saddle in an afternoon program was breached.
"They said, 'Do you want to ride a race,' and I said, 'Absolutely, I'll quit eating donuts for that,'" Falgione recalled.
Falgione did her due diligence, watching film with stewards along with other apprentices and working on the "exerciser" machine which jockeys use to hone race riding techniques.
"It was hard to find the right horse to put her on," Machowsky said. "Apprentices can't ride 2-year-olds or first-time starters until they've won five races. I didn't want her on a horse going two turns her first time out or on the grass.
"This was a good opportunity and it all worked out. I thought she looked good considering it was her first race and all the talent in this jockey colony."
Falgione shared hugs with dozens of well-wishers in the winner's circle and went back to the jockey's room for the traditional dousing with water, eggs, half-and-half, shaving cream, etc.
Acting is now entirely a thing of the past, Falgione said, and she's excited about her next race, whenever that may be.
"I really like my job and I love being here and everyone at the racetrack knows that and they made it very special. This is where my heart is now, with the horses."
---
EMOTION RUNS HIGH FOLLOWING SHARED BELIEF AND PAT O'BRIEN
There were emotions beyond the usual joy on display in the winners' circle following Saturday's $100,000 Shared Belief and $200,000 Grade II Pat O'Brien Stakes.
The victory by Battle of Midway in the Shared Belief came for the stable of Hall of Fame trainer Jerry Hollendorfer, the conditioner of the horse for whom the race's name was changed last year. Shared Belief won 10 of 12 career starts, among them the 2014 TVG Pacific Classic, and was named the 2013 juvenile male Eclipse Award winner.
The five-time Grade I winner died from colic in 2015. The former El Cajon Stakes became the Shared Belief in 2016 and his ashes were interred at a memorial site on the Del Mar infield.
Hours before the Shared Belief, Hollendorfer-trained champion filly Songbird had lost for only the second time in a 15-race career in the Grade I $700,000 Personal Ensign at Saratoga.
"It was a tough day, this one saved it for us," said Hollendorfer assistant Dan Ward, who saddled Battle of Midway with Hollendorfer away at Saratoga.
Ward had listened to the sports talk radio show of Jim Rome, part owner of Shared Belief, as Rome provided memories of the horse. Ward then decided to add a touch of the blue color of the Shared Belief racing silks and notified Rome via text.
The victory by Giant Expectations in the Pat O'Brien was somewhat tempered by the sixth-place effort by stablemate and longtime stable standout Kobe's Back.
The 6-year-old earner of more than $1 million has now gone 17 months and seven starts since back-to-back Grade II victories to open his 2016 campaign.
"I thought Kobe was going to run well today and I thought Flavien (Prat) gave him a great ride," trainer Peter Eurton said. "But he's obviously not the same horse right now that he has been."
The Pat O'Brien was a "Win and You're In" qualifier for the $1 million Las Vegas Breeders' Cup Dirt Mile here on Friday, November 3.
"I kind of like that," Eurton said. "I think the mile might be just right for him."
---
BAFFERT FOLLOWS SUCCESS AT SARATOGA FROM HIS DEL MAR HOME
Hall of Fame trainer Bob Baffert watched from what he calls the "Grade I" couch of his Del Mar residence on Saturday as two of his three shippers from here won Grade I events on the Travers' Day program at Saratoga.
Drefong won the $600,000 Forego and two races later West Coast went wire-to-wire in the $1.25 million Travers, known as the "Summertime Derby" for 3-year-olds.
"I didn't have anything (running at Del Mar) until later in the day, so I just stayed home and watched the whole program," Baffert said Sunday. "I was able to talk with Jimmy (assistant Jim Barnes) and Mike Smith through it all."
American Anthem, who had trained here, made a four-wide rally in the stretch to finish third in the Grade I $500,000 H. Allen Jerkens, beaten three lengths by Practical Joke. Then the fun really began.
Defending Breeders' Cup Sprint champion Drefong took the Forego, a seven-furlong sprint, by four lengths. Left behind, in addition to the Forego field, were memories of the Grade I, $300,000 six-furlong Bing Crosby here on July 29 when Drefong drew the No. 1 post and bolted toward the gap only 30 yards out of the gate, unseating Smith.
"The main thing was that everybody came out of it OK," Baffert said. "Mike or Drefong could have been hurt, but they weren't . And if Drefong runs and wins the Crosby, he's not going back to the Forego. So it all worked out."
Drawn outside in the field of 10 for the Forego, Drefong shot to the lead out of the gate as the $1.15-1 favorite and claimed a Breeders' Cup Sprint "Win and You're In" qualifying spot that was lost soon after the start in the Crosby.
Two races later in the $1.25 million Travers Stakes it was another never-worse-than-first run to victory, this time by West Coast, who had prepared for the race with a series of five workouts at Del Mar.
The $670,000 winner's share of the purse raised West Coast's earnings for owners Gary and Mary West to $993,800 in seven lifetime starts, five of them wins.
---
BEJARANO'S LATE SURGE PUTS HIM IN MIDDLE OF FIGHT FOR SIXTH TITLE
Five-time defending champion Rafael Bejarano won three races on Saturday to vault past apprentice Evin Roman and into second place in the jockey standings with seven racing days remaining.
Bejarano scored with Lucky Romano (5th, $10.20), Popyhowuspelcupcak (5th, $9.20) and Lovely Anzi (10th, $15.20) to raise his win total to 25 through the first 29 days of the meeting. Flavien Prat, who won Saturday's Shared Belief Stakes with Battle of Midway and shared the 2016 meeting title with Bejarano, has 28 wins.
Roman, who led through the first five weeks of the meeting before hitting the doldrums, won with Swirling (3rd, $20.00) on Saturday for his 24th victory of the meeting.
Prat, who starts a three-day suspension today, rides only the featured $100,000 Torrey Pines Stakes, a "designated race" that is exempt from the ban. Bejarano has seven mounts on the 10-race Sunday program and Roman eight.
---
BARRETTS SELECT YEARLING SALE TUESDAY AT DEL MAR
Barretts will conduct a select yearling sale Tuesday at Del Mar beginning at 2 p.m. Eighty-eight youngsters have been consigned to the session, which will be presented in Surfside Race Place on the northeastern end of the Del Mar Fairgrounds. It is expected to run for two and a half to three hours.
Of the 88 youngsters, 46 of them are Kentucky-sired California-breds, which gives owners blue-blood breeding to go along with the option of running in Cal-bred races. Among the sires represented are Flatter, Ghostzapper, Lookin At Lucky, Mucho Macho Man, Shackleford, Uncle Mo and Violence.
Barretts general manager Kim Lloyd noted that this is the third time his company has conducted a select yearling sale at Del Mar since they've taken up headquarters locally. "And it is far and away the best bunch of yearlings we've ever offered," he said.
---
NINE ENTERED IN FINAL FRIDAY FEATURED I'M SMOKIN STAKES
A field of nine was entered Sunday for the $100,000 I'm Smokin Stakes, a 6-furlong sprint for 2-year-old California breds on Friday, September 1.
The I'm Smokin is the first of eight stakes races spread out over the four-day Labor Day Weekend which will bring the 78th summer meeting to a close. First post for the final Friday card is 3:30 p.m.
Continental Divide, a three-quarter length winner in the Graduation Stakes for California-bred on August 6, looks to be the horse to beat as Golden State Series participants stretch out to six furlongs.
The field from the rail: Cono (Rafael Bejarano), Sir Valentine (Martin Pedroza), Continental Divide (Victor Espinoza), Drizzy (Joe Talamo), Ministersdontparty (Chantal Sutherland), Bookies Luck (Kent Desormeaux), Smokem (Evin Roman), Get Em Up Scout (Brayan Pena) and Unpossible (Catalino Martinez).
---
CLOSERS – Del Mar's racing office has laid out a race schedule for the final six days of the meeting: Wednesday-Thursday-Friday (8 races); Saturday (11) races; Sunday-Monday (10 races) …. Selected works from 170 on dirt and 27 on turf officially clocked Sunday. Dirt – Prohibition (4f, :46.80), Roy H (4f, :50.00), Big Score (5f, 1:00.80), Ocho Ocho Ocho (5f, 1:01.20), Beach Bum (6f, 1:13.20) and Pavel (6f, 1:12.00). Turf -- Responsibleforlove (5f, 1:07.40).
---
DEL MAR STATISTICS
Jockey Standings
(Current Through Saturday, August 26, 2017 Inclusive)
| | | | | | | | |
| --- | --- | --- | --- | --- | --- | --- | --- |
| Jockey | Mts | 1st | 2nd | 3rd | Win% | In-money% | Money Won |
| Flavien Prat | 142 | 28 | 26 | 26 | 20% | 56% | $2,124,166 |
| Rafael Bejarano | 138 | 25 | 21 | 18 | 18% | 46% | $1,198,320 |
| Evin Roman | 188 | 24 | 33 | 17 | 13% | 39% | $1,036,360 |
| Kent Desormeaux | 97 | 20 | 25 | 15 | 21% | 62% | $1,137,913 |
| Tyler Baze | 151 | 17 | 25 | 20 | 11% | 41% | $995,001 |
| Joseph Talamo | 107 | 15 | 11 | 11 | 14% | 35% | $748,590 |
| Drayden Van Dyke | 86 | 13 | 6 | 11 | 15% | 35% | $799,373 |
| Santiago Gonzalez | 81 | 10 | 10 | 12 | 12% | 40% | $516,059 |
| Martin Pedroza | 87 | 10 | 7 | 8 | 11% | 29% | $376,799 |
| Gary Stevens | 61 | 10 | 4 | 11 | 16% | 41% | $677,839 |
Trainer Standings
(Current Through Saturday, August 26, 2017 Inclusive)
| | | | | | | | |
| --- | --- | --- | --- | --- | --- | --- | --- |
| Trainer | Sts | 1st | 2nd | 3rd | Win% | In-money% | Money Won |
| Philip D'Amato | 71 | 15 | 16 | 4 | 21% | 49% | $1,294,727 |
| Richard Baltas | 81 | 12 | 15 | 10 | 15% | 46% | $872,753 |
| Doug F. O'Neill | 91 | 12 | 9 | 10 | 13% | 34% | $707,255 |
| Mark Glatt | 52 | 12 | 5 | 9 | 23% | 50% | $608,529 |
| Peter Miller | 100 | 10 | 18 | 13 | 10% | 41% | $628,157 |
| John W. Sadler | 55 | 9 | 9 | 7 | 16% | 45% | $991,900 |
| Bob Baffert | 35 | 8 | 9 | 3 | 23% | 57% | $1,293,557 |
| Robert B. Hess, Jr. | 44 | 7 | 6 | 6 | 16% | 43% | $228,780 |
| Simon Callaghan | 35 | 7 | 4 | 2 | 20% | 37% | $462,940 |
Winning Favorites Report
(Current Through Saturday, August 26, 2017 Inclusive)
Winning favorites -- 69 out of 253 -- 27.27%
Winning favorites on dirt -- 48 out of 158 -- 30.38%
Winning favorites on turf -- 21 out of 95 -- 22.11%
Winning odds-on favorites -- 20 out of 40 -- 50.00%
In-the-Money favorites -- 170 out of 253 -- 67.19%
In-the-Money odds-on favorites -- 33 out of 40 -- 82.50%