Saturday, August 26th, 2017 ( 1 year ago )
Stable Notes
Aug 26, 2017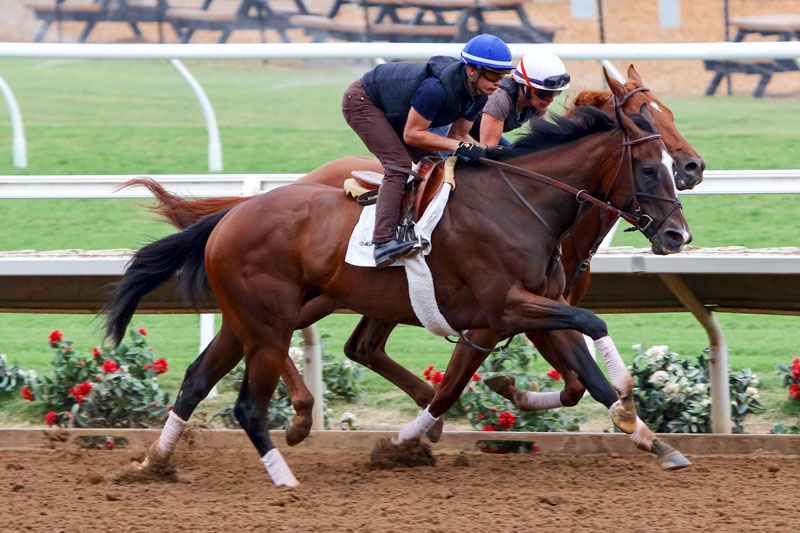 Paradise Woods © Del Mar Thoroughbred Club
PARADISE WOODS FOLLOWS BEHOLDER PATH WITH TORREY PINES TEST

The 3-year-old campaigns of champion Beholder in 2013 and Paradise Woods this year are the same – from April to September.
They both won the Santa Anita Oaks in April, were defeated in the Kentucky Oaks in May and, after a rest, came back in the $100,000 Torrey Pines Stakes here. Beholder won the then-ungraded mile for 3-year-old fillies wire-to-wire on September 1, 2013. Paradise Woods makes her racing return as the 7-5 morning line favorite Sunday in a field of eight in a race that was accorded Grade III status in 2014.
And that scheduling circumstance is as far as Hall of Fame trainer Richard Mandella is prepared to go in connecting Beholder, one of the most brilliant female runners ever, and the talented, Kentucky-bred daughter of Union Rags he'll saddle on Sunday.
"I'm just trying to get a nice race in (Paradise Woods) and we'll see what we do afterwards, I'm not going to predict any plans," Mandella said Saturday morning. "We're hoping to win this and not worried about the next one down the line."
Beholder raced five times as a 2-year-old, won the Breeders' Cup Juvenile Fillies and the first of four Eclipse Awards. Before the Santa Anita Oaks in 2013, she was a close second and won in Graded Stakes company. She went off at 9-1 in the Kentucky Oaks, led into the stretch and was caught late to lose by a half-length to Princess of Sylmar.
Paradise Woods was unraced at two, broke her maiden in March at Santa Anita in her second career start, and then produced an eye-popping 11 ¾-length Santa Anita Oaks win that had observers thinking they'd just seen the Kentucky Oaks champion.
The 6-5 favorite at Churchill Downs on a cold, blustery day and running over a sloppy track, Paradise Woods finished 11th of 14. "Hounded to quarter pole, caved," were the running notes in the Daily Racing Form.
"Mentally, it was just too much for her at one time," Mandella said. "It kind of set her back. A combination of a lot of things. She went from a maiden to the Santa Anita Oaks to the Kentucky Oaks and it was just too much. Maybe it was too much for me, too.
"We think she's in good shape to get started again. And that's what this is, a start back."
The field from the rail: Paradise Woods (Flavien Prat, 7-5), Chocolate Coated (Gary Stevens, 15-1), Zapperkat (Norberto Arroyo, Jr., 3-1), Delitefull Lady (Corey Nakatani, 10-1), Mistressofthenight (Rafael Bejarano, 6-1), Helen Hillary (Joe Talamo, 10-1), Bernina Star (Santiago Gonzalez, 8-1) and Munny Spunt (Drayden Van Dyke, 10-1).
---
DANZING CANDY INJURY PROMPTS O'BRIEN MORNING LINE CHANGE
With early 7-5 favorite Danzing Candy out due to a career-ending injury incurred during a routine gallop on Friday, track oddsmaker Russ Hudak has revised the morning line for Saturday's Grade II $200,000 Pat O'Brien Stakes.
Danzing Candy suffered a hairline fracture to the right front ankle that X-rays revealed when the 4-year-old Twirling Candy colt, owned by Ted Aroney (Halo Farms) of Rancho Santa Fe and Jim and Diana Bashor of La Jolla, started favoring the leg during a cooling-off period a half-hour after the morning exercise.
With the injury due to be surgically repaired, the earner of $700,930 will begin a career at stud next year.
Hudak stayed, essentially, with his initial morning line but lowered the numbers on most of the field and dropped Silent Bird from 5-1 to 4-1 to inherit the favorite's role.
The new morning line, from the rail: Moe Candy (Victor Espinoza, 9-2), Solid Wager (Martin Pedroza, 12-1), Mr. Hinx (Drayden Van Dyke, 20-1), Silent Bird (Kent Desormeaux, 4-1), Blameitonthelaw (Evin Roman, 6-1), Kobe's Back (Flavien Prat, 5-1), Calculator (Rafael Bejarano, 5-1), Home Run Kitten (Brice Blanc, 20-1), Giant Expectations (Gary Stevens, 6-1) and Denman's Call (Tyler Baze, 6-1).
The Pat O'Brien, a "Win and You're In" Challenge series qualifier for the $1 million Las Vegas Breeders' Cup Dirt Mile here on Friday, November 3, is the ninth on a 10-race card.
---
ONE WEEK LATER, A PACIFIC CLASSIC 1-2-3 UPDATE
It's been a week since the $1 million TVG Pacific Classic, the signature event of the summer meeting, in which trainer Bob Baffert's Collected and Arrogate finished 1-2 and trainer John Sadler's Accelerate finished third.
"They both came out of it well," Baffert said. "Collected is back to the track. I gave him a few extra days off, but he's back galloping and I'll probably breeze him here before we leave. I haven't brought Arrogate back to the track yet and I don't have any plans. I need to get some weight back on him; he's lost a lot of weight."
The 1-2 finish in the Pacific Classic was the second for Baffert, who accomplished the feat with General Challenge and River Keen in 1999.
Baffert speculated to his young son, Bode, that if he had opted to run Cupid, winner of Wednesday's Harry F. Brubaker Stakes, if could have been a 1-2-3 sweep.
Bode's response: "And you'd still be upset" about Arrogate losing.
Accelerate, upsetter of Arrogate in the San Diego Handicap, is back in training.
"Doing well, galloping every day," Sadler said. "The plan is for the Breeders' Cup Dirt Mile (here November 3). We don't know if we'll run him in the Awesome Again (at Santa Anita) or not.
"He'll stay here and go up to back up to Santa Anita with the rest of the horses the day after the meet ends (September 5)."
---
SHOW IT N MOE IT READY TO GO IT IN GENEROUS PORTION
Gary Sherlock-trained Show It N Moe It will be seeking her second stakes victory of the meeting when the 2-year-old daughter of Grace Upon Grace faces nine rivals in Wednesday's $100,000 Generous Portion Stakes for California bred fillies.
Show It N Moe It won the 5 ½-furlong $100,000 CTBA Stakes on August 2 and will be tasked to go an extra 110 yards, and carry four more pounds (124) in the Generous Portion, which also offers a $100,000 purse.
"She worked great the other day (4 furlongs, :48.20 handily)," Sherlock said Saturday morning. "I don't think the distance will be any problem. I don't know about the weight, I thought she should have gotten 122.
"She's run well every time and her (speed figure) numbers are better than the rest of them so, hopefully, she'll keep doing what she has been doing."
The field from the rail: Little Doe (Catalino Martinez), Hold That Smile (Martin Pedroza), Sharona Sunset (Saul Arias), Show It N Moe It (Evin Roman), One Fast Broad (Corey Nakatani), Family Girl (Kent Desormeaux), Spiced Perfection (Joe Talamo), Empress of Lov (Tyler Baze), Clean Living (Chantal Sutherland) and It's About Alex (Mario Gutierrez).
---
PRAT HOLDS STEADY ATOP JOCKEY STANDINGS
Flavien Prat got Ayacara ($17.40) home by a neck in Friday's third race and boosted his margin atop the standings to three over apprentice Evin Roman. Prat, co-champion of the 2016 summer meeting when both recorded 38 wins, has 26 from 137 mounts with eight days remaining.
Roman's cold streak continued as he went winless on six mounts Friday and fell three wins behind Prat. Bejarano's one win on Friday (Rye Patch 4th, $4.80) kept him four off the lead while Hall of Famer Kent Desormeaux's sweep of the early double with Irish Dame ($7.40) and Space Cadet ($5.00) put moved him into the 20-win category with the top three.
---
SADLER PULLS OFF ANOTHER STAKES UPSET
Trainer John Sadler won his third stakes of the meeting, and second that qualifies in the major upset category, when Shenandoah Queen ($42.20), under Victor Espinoza, held off favored Faithfully by three-quarters of a length in Friday's featured $78,545 Tranquility Lake Stakes.
"We didn't think she'd be that big of a price, we thought she had a chance," Sadler said Saturday. "We were surprised to see her 20-1, we thought she'd be more like 8-1.
"She's relatively new to this circuit, only one race since we brought her in from Florida, so we haven't had that much of a chance to get to know her. But it turned out to be a good race for her."
---
CLOSERS – Selected works from 185 officially timed on Saturday: Sindy's Luck (4f, :46.00), Stellar Wind (4f, :48.60), Unique Bella (4f, :46.60), Majestic Heat (5f, 1:02.20) and Just a Smidge (6f, 1:11.60) … Saturday's Pat O'Brien Stakes is a "Win and You're In" qualifier for the $1 million Las Vegas Dirt Mile here on Friday, November 3. The winner joins Mor Spirit, who qualified in the Metropolitan Handicap and the winner of the Forego on Saturday's Travers Stakes Day card at Saratoga.
---
DEL MAR STATISTICS
Jockey Standings
(Current Through Friday, August 25, 2017 Inclusive)
| | | | | | | | |
| --- | --- | --- | --- | --- | --- | --- | --- |
| Jockey | Mts | 1st | 2nd | 3rd | Win% | In-money% | Money Won |
| Flavien Prat | 137 | 26 | 25 | 26 | 19% | 56% | $2,012,476 |
| Evin Roman | 181 | 23 | 33 | 16 | 13% | 40% | $989,855 |
| Rafael Bejarano | 130 | 22 | 18 | 18 | 17% | 45% | $1,046,975 |
| Kent Desormeaux | 94 | 20 | 24 | 14 | 21% | 62% | $1,108,968 |
| Tyler Baze | 144 | 17 | 24 | 18 | 12% | 41% | $975,821 |
| Joseph Talamo | 102 | 15 | 11 | 9 | 15% | 34% | $730,500 |
| Drayden Van Dyke | 80 | 12 | 5 | 10 | 15% | 34% | $727,253 |
| Santiago Gonzalez | 76 | 10 | 10 | 12 | 13% | 42% | $510,124 |
| Martin Pedroza | 85 | 10 | 7 | 8 | 12% | 29% | $372,454 |
| Gary Stevens | 57 | 9 | 3 | 11 | 16% | 40% | $544,149 |
Trainer Standings
(Current Through Friday, August 25, 2017 Inclusive)
| | | | | | | | |
| --- | --- | --- | --- | --- | --- | --- | --- |
| Trainer | Sts | 1st | 2nd | 3rd | Win% | In-money% | Money Won |
| Philip D'Amato | 69 | 15 | 16 | 3 | 22% | 49% | $1,283,387 |
| Doug F. O'Neill | 87 | 12 | 9 | 10 | 14% | 36% | $704,165 |
| Mark Glatt | 50 | 12 | 5 | 8 | 24% | 50% | $584,184 |
| Richard Baltas | 74 | 11 | 12 | 9 | 15% | 43% | $786,173 |
| Peter Miller | 92 | 9 | 17 | 13 | 10% | 42% | $538,347 |
| Bob Baffert | 34 | 8 | 8 | 3 | 24% | 56% | $1,281,557 |
| John W. Sadler | 49 | 7 | 9 | 7 | 14% | 47% | $917,320 |
| Robert B. Hess, Jr. | 42 | 7 | 5 | 6 | 17% | 43% | $223,835 |
| Simon Callaghan | 35 | 7 | 4 | 2 | 20% | 37% | $462,940 |
| Michael W. McCarthy | 26 | 6 | 6 | 2 | 23% | 54% | $203,250 |
Winning Favorites Report
(Current Through Friday, August 25, 2017 Inclusive)
Winning favorites -- 68 out of 243 -- 27.98%
Winning favorites on dirt -- 47 out of 152 -- 30.92%
Winning favorites on turf -- 21 out of 91 -- 23.08%
Winning odds-on favorites -- 19 out of 39 -- 48.72%
In-the-Money favorites -- 164 out of 243 -- 67.49%
In-the-Money odds-on favorites -- 32 out of 39 -- 82.05%