Friday, August 25th, 2017 ( 1 year ago )
Stable Notes
Aug 25, 2017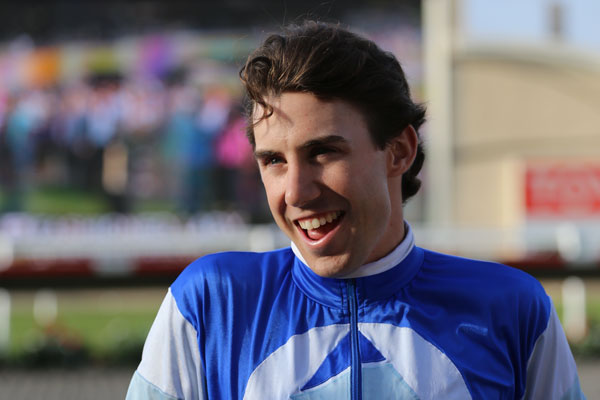 Joe Talamo © Del Mar Thoroughbred Club
JOE TALAMO GOES FOR TWO WITH KLIMT, DANZING CANDY
Jockey Joe Talamo has a chance to, as they say in his native Louisiana, laissez les bon temps rouler on Saturday when he has mounts on a major contender and the morning line favorite in the stakes double header.
The good times will roll indeed for Talamo if the 27-year-old Cajun gets winning efforts out of Klimt, the 3-1 third choice on the morning line in the $100,000 Shared Belief Stakes, and/or Danzing Candy, the 8-5 favorite, in the Grade II $200,000 Pat O'Brien Stakes.
Winning two stakes in one day would not be unprecedented for Talamo. He's done it a few times while racking up over 100 graded stakes wins in 11 years and has even doubled up in Grade I's on the same day a time or two.
But twin wins Saturday would add nicely to two previous stakes scores during the meeting and increase his Del Mar career total to 49, approaching a Top-12 all-time position here.
"Winning two would be pretty cool, but just to win one would be good, I won't be greedy," Talamo said Friday morning, during a break from riding workouts.
Klimt was the champion 2-year-old of the 2016 summer meeting, winning both the Best Pal Stakes and the Del Mar Futurity under Rafael Bejarano. Owner Kaleem Shah transferred the Quality Road colt from trainer Bob Baffert to Art Sherman and the decision was made to give him time off rather than run in the Triple Crown series.
Klimt made a comeback in the Los Alamitos Derby on July 15, finishing second to West Coast with Bejarano up. Bejarano will ride Gato Del Oro in the Shared Belief.
"I've never ridden him in a race, but I've been working him in the mornings and he's been working real good," Talamo said. "I know he was coming off a layoff in his last one, the Los Al Derby, and I think that was a pretty good race for him. He's been getting over this track really well. I know he's 2-for-2 on this surface and he's really got a good shot.
"He drew well, and I think it will set up well for him. If the pace is soft, he can be up close and if it isn't I think he can be a few lengths off and then come on, just like he did in the futurity."
The field from the rail: Cistron (Tyler Baze, 8-1), True Valor (Drayden Van Dyke, 20-1), Gormley (Victor Espinoza, 5-2), Gato Del Oro (Rafael Bejarano, 4-1), Stone Hands (Evin Roman, 20-1), Klimt (Joe Talamo, 3-1) and Battle of Midway (Flavien Prat, 2-1).
The Shared Belief, a mile dirt test for 3-year-olds, goes as the seventh on a 10-race program.
Danzing Candy comes in on the second three-race winning streak of an 11-race career that has produced six wins and $700,930 for the 4-year-old son of Twirling Candy. Talamo was up to start the streak in May at Santa Anita. Mike Smith kept it going in the Lone Star Park Handicap later that month and the San Carlos Stakes in July at Santa Anita.
Smith is riding several horses at Saratoga on Saturday, so trainer Bob Baffert went back to Talamo.
"I feel blessed to get the opportunity because he's a really nice horse," Talamo said. "He has so much natural speed and he can carry it a long ways. He drew perfectly as well, and I think I'll be able to get in a good position right away and go from there."
The field from the rail: Moe Candy (Victor Espinoza, 6-1), Solid Wager (Martin Pedroza, 20-1 ), Mr. Hinx (Drayden Van Dyke, 20-1), Silent Bird (Kent Desormeaux, 5-1), Blameitonthelaw (Evin Roman, 12-1), Kobe's Back (Flavien Prat, 6-1), Calculator (Rafael Bejarano, 6-1), Danzing Candy (Joe Talamo, 8-5), Home Run Kitten (Brice Blanc, 20-1), Giant Expectations (Gary Stevens, 12-1) and Denman's Call (Tyler Baze, 12-1).
The Pat O'Brien, a "Win and You're In" Challenge series qualifier for the $1 million Las Vegas Breeders' Cup Dirt Mile here on Friday, November 3, is the ninth on a 10-race card.
Since he's not the regular rider for either horse, does he feel like Saturday could be an audition for a bigger role in future races for the two standout horses?
"In this game, it feels like you're always auditioning," Talamo said. "I'm just grateful for the opportunity and we'll take it one race at a time and go from there."
---
PARADISE WOODS LOOMS LARGE IN SUNDAY'S TORREY PINES
Santa Anita Oaks winner Paradise Woods was made the 7-5 favorite Friday in oddsmaker Russ Hudak's morning line for Sunday's Grade III $100,000 Torrey Pines Stakes.
The Kentucky-bred daughter of Union Rags, trained by Richard Mandella, will be making her first start since finishing 11th of 14 as the favorite in the Grade I Kentucky Oaks on May 5 at Churchill Downs.
The Torrey Pines, for 3-year-old fillies at a mile on the main track, drew a field of eight including 11th-hour supplemental entries Delitefull Lady and Munny Spunt. It will be the third race of the meeting for Doug O'Neill trainee Munny Spunt. The Florida-bred daughter of Munnings, claimed for $25,000 in June, won at the $32,000 claiming level here on July 29 and was fourth of five in the Rancho Bernardo Handicap on August 13.
"She's been going up the ladder since she came into our stable and we've seen nothing but positives from her," O'Neill assistant Leandro Mora said Friday. "She eats well, trains well and the (speed figure) number of her last race was pretty good.
"We're going to take advantage of her good form and run her here rather than Los Alamitos. This will be her last race before we give her a month or so of a break."
The field from the rail: Paradise Woods (Flavien Prat, 7-5), Chocolate Coated (Gary Stevens, 15-1), Zapperkat (Norberto Arroyo, Jr., 3-1), Delitefull Lady (Corey Nakatani, 10-1), Mistressofthenight (Rafael Bejarano, 6-1), Helen Hillary (Joe Talamo, 10-1), Bernina Star (Santiago Gonzalez, 8-1) and Munny Spunt (Drayden Van Dyke, 10-1).
---
DESORMEAUX CONTINUES TO BE THE PERCENTAGE PLAY
Two wins on Thursday enabled Kent Desormeaux to break a tie with Tyler Baze and gain a solo hold on fourth in the jockey standings. And while the 47-year-old Hall of Fame rider still trails leader Flavien Prat by seven (25-18) in the win column, Desormeaux is well set when it comes to both win and in-the-money percentages.
The victories aboard Vibe (2nd, $3.20) and Twisted Rosie (6th, $7.80) on Thursday were the 18th from 89 mounts at the meeting for Desormeaux and put him in a tie with Corey Nakatani at the 20 percent win rate. Desormeaux tops all riders with a 61 percent in-the-money clip.
Desormeaux is scheduled for seven mounts on Friday's eight-race card, albeit one is also-eligible listed. Prat is also booked on seven, with one also eligible, while Roman and Rafael Bejarano each are scheduled to ride six.
---
LONGSHOT WIN MOVES O'NEILL UP IN TRAINERS' RACE
Gio's Lady ($24.40) won Thursday's third race under Tiago Pereira for trainer Doug O'Neill, moving the four-time conditioning champion of the summer meeting into a tie with Mark Glatt for second in the standings.
Defending champion Phil D'Amato also won once, with Tink's Twirl ($9.80) in the seventh race, to pad the advantage over his closest pursuers to three wins (15-12) with nine racing days remaining.
O'Neill is the only member of the leading trio with scheduled starters today. While he is at Saratoga with Irap for Saturday's $1 million Travers Stakes, assistants here will saddle Tizona and King Cause in the third, Atomic Rule (also eligible listed) in the fourth and Thorpe d'Oro in the fifth.
---
HIPPITY HOP WITH THE JOCKS SUNDAY FOR A WORTHY CAUSE
Del Mar's jockeys will get in a bouncy mood Sunday afternoon after the day's 4th race when they hop on board the Hippity Hop balls and race for a very worthy cause – the Thoroughbred Aftercare Alliance.
An all-star cast of riders has signed on with a Hall of Fame crew of judges. Each rider has been sponsored to the tune of $2,500 - by an owner or ownership group. This year's event has raised $50,000 to date, not including any proceeds from a raffle that will take place on-track.
Last year a similar event raised $42,500 for the Permanently Disabled Jockeys Fund.
On-track fans will be able to purchase raffle tickets ($5 each) for their chance at a racing memorabilia-themed gift basket worth over $600 including: Lava Man halter, Arrogate shoe, Beholder ball caps (2) signed by the 4x Eclipse Champion's HOF connections, a framed photograph of Zenyatta taken by Alex Evers prior to her 2010 Clement L. Hirsch victory at Del Mar (signed by Mike Smith), and a $100 Gift Card to The Brigantine.
To get involved, donate at thoroughbredaftercare.org.
The "stewards" for the race are HOF riders Gary Stevens (Spendthrift Farm), Mike Smith (Fox Hill Farm) and Victor Espinoza (Hronis Racing).
The Hippity Hop lineup from the rail out:
Santiago Gonzalez (DP Racing)
Brice Blanc (Ruis Racing)
Corey Nakatani (Purple Rein Racing)
Laura Werner (KMN Racing)
Mario Gutierrez (Reddam Racing)
Evin Roman (ERJ Racing)
Rafael Bejarano (Domenic Savides)
Drayden VanDyke (Glen Hill Farm)
Jamie Theriot (CRK Stable)
Chantal Sutherland (Agave Racing Stable)
Austin Solis (LNJ Foxwoods Stables)
Tyler Baze (Nick Alexander)
Flavien Prat (Kaleem Shah)
*Joe Talamo (LRF Cares) *defending champ
---
KORINER, BUCCOLA GUEST AT WEEKEND HANDICAPPING SEMINARS
Trainer Brian Koriner and handicapper Gino Buccola will provide insights and selections at the impending penultimate Weekend Handicapping Seminars.
Koriner, who conditioned California Flag to victory in the $1 million Breeders' Cup Turf Sprint in 2009 at Santa Anita, will do the honors on Saturday. Buccola will be the guest of Scott Shapiro on Sunday.
The seminars are held from 12:45-1:30 at the Seaside Terrace near the top of the stretch.
---
CLOSERS – Selected works from 136 officially timed Friday morning. Prize Exhibit (3f, :39.00), Smiling Tigress (3f, :35.60), Ib Prospecting (4f, :46.60), Catherine (4f, :46.60) A Red Tie Day (4f, :48.80), Smokem (4f, :49.60) , Cordiality (5f, :59.20), Miss Sunset (5f, :59.60), Poetic (5f, 1:01.60), Mrs McDougal (6f, 1:12.60).
---
DEL MAR STATISTICS
Jockey Standings
(Current Through Thursday, August 24, 2017 Inclusive)
| | | | | | | | |
| --- | --- | --- | --- | --- | --- | --- | --- |
| Jockey | Mts | 1st | 2nd | 3rd | Win% | In-money% | Money Won |
| Flavien Prat | 132 | 25 | 24 | 25 | 19% | 56% | $1,959,891 |
| Evin Roman | 175 | 23 | 32 | 15 | 13% | 40% | $969,877 |
| Rafael Bejarano | 124 | 21 | 16 | 18 | 17% | 44% | $991,675 |
| Kent Desormeaux | 89 | 18 | 24 | 12 | 20% | 61% | $1,053,639 |
| Tyler Baze | 138 | 16 | 23 | 17 | 12% | 41% | $945,866 |
| Joseph Talamo | 99 | 15 | 10 | 9 | 15% | 34% | $717,410 |
| Drayden Van Dyke | 77 | 11 | 5 | 10 | 14% | 34% | $686,108 |
| Martin Pedroza | 81 | 10 | 7 | 8 | 12% | 31% | $369,855 |
| Santiago Gonzalez | 73 | 9 | 9 | 12 | 12% | 41% | $466,979 |
| Gary Stevens | 56 | 9 | 3 | 11 | 16% | 41% | $543,804 |
Trainer Standings
(Current Through Thursday, August 24, 2017 Inclusive)
| | | | | | | | |
| --- | --- | --- | --- | --- | --- | --- | --- |
| Trainer | Sts | 1st | 2nd | 3rd | Win% | In-money% | Money Won |
| Philip D'Amato | 69 | 15 | 16 | 3 | 22% | 49% | $1,283,387 |
| Doug F. O'Neill | 85 | 12 | 9 | 10 | 14% | 36% | $703,475 |
| Mark Glatt | 50 | 12 | 5 | 8 | 24% | 50% | $584,184 |
| Peter Miller | 90 | 9 | 16 | 13 | 10% | 42% | $533,402 |
| Richard Baltas | 71 | 9 | 12 | 9 | 13% | 42% | $742,628 |
| Bob Baffert | 31 | 8 | 7 | 3 | 26% | 58% | $1,261,972 |
| Robert B. Hess, Jr. | 40 | 7 | 5 | 5 | 18% | 43% | $220,730 |
| Simon Callaghan | 33 | 7 | 4 | 2 | 21% | 39% | $461,395 |
| John W. Sadler | 47 | 6 | 9 | 7 | 13% | 47% | $869,720 |
| Michael W. McCarthy | 23 | 5 | 6 | 2 | 22% | 57% | $188,760 |
Winning Favorites Report
(Current Through Thursday, August 24, 2017 Inclusive)
Winning favorites -- 64 out of 235 -- 27.23%
Winning favorites on dirt -- 46 out of 147 -- 31.29%
Winning favorites on turf -- 18 out of 88 -- 20.45%
Winning odds-on favorites -- 19 out of 38 -- 50.00%
In-the-Money favorites -- 156 out of 235 -- 66.38%
In-the-Money odds-on favorites -- 31 out of 38 -- 81.58