Thursday, August 24th, 2017 ( 1 year ago )
Stable Notes
Aug 24, 2017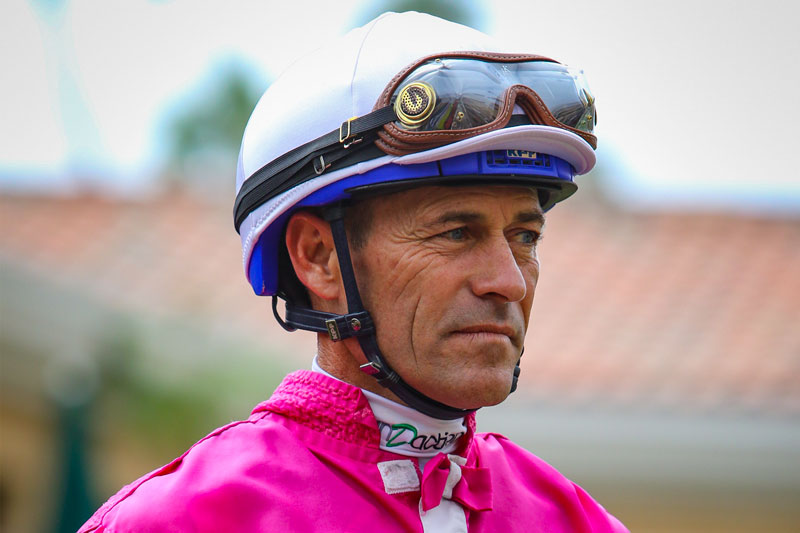 Gary Stevens © Del Mar Thoroughbred Club
STEVENS' CHOICE: GIANT EXPECTATIONS OVER KOBE'S BACK
Hall of Fame jockey Gary Stevens has been on the back of Kobe's Back for 14 of the last 15 in 24 lifetime starts for the 6-year-old, Kentucky-bred son of Flatter. All but one since Kobe's Back came to the barn of trainer Peter Eurton two years ago, with the most recent race being a fourth-place finish in the Grade I $300,000 Bing Crosby Stakes a month ago.
Stevens was aboard Giant Expectations for the first time in the 4-year-old New York-bred's ninth career start, a runner-up effort in an optional claimer with a $40,000 purse here on July 19.
And when Eurton chose to enter both Kobe's Back and Giant Expectations in Saturday's Grade II $200,000 Pat O'Brien, the second major sprint stakes of the summer meeting and a "Win and You're In" qualifier for the $1 million Las Vegas Dirt Mile here on Friday, November 3, Stevens chose to ride Giant Expectations. Flavien Prat has the mount on Kobe's Back.
"It wasn't easy," Stevens said Thursday morning. "I've ridden Kobe so many times, and his last race was good. I think, in talking to the owner, Mr. (Lee) Searing, that this will probably be his last season, and sometimes a rider change will shake things up a little bit.
"Giant Expectations is four years old, he's just coming into his own and I think he's got a huge future ahead of him. It's a tough race for him, but I think he can be competitive. Kobe's one of my favorites of all time, but sometimes you've got to make tough decisions."
Kobe's Back took the Grade II San Vicente at Santa Anita in 2014 under Joel Rosario and the Grade III Commonwealth at Keeneland in 2015 in Stevens' second time aboard. The gray sprinter opened the 2016 campaign with back-to-back scores in the Grade II Palos Verdes and Grade II San Carlos at Santa Anita under Stevens but is winless in six starts since.
He's earned more than $1.1 million lifetime, but is 0-for-4 at Del Mar from three starts in the Bing Crosby and one in the Pat O'Brien. A common thread throughout the career of Kobe's Back is slow starts.
"That's just Kobe, that's his (modus operandi)," Stevens said. "The few times he has broke well from the gate he hasn't run well. But his last race was definitely on the right track and I look for him to run a big race too.
"Some horses get used to a rider and I think maybe they get a little bored sometimes. Kobe knows all my tricks and I know his, and maybe changing a rider can shake a horse up.
"I learned that when I was a kid. My father told me and my brother, 'I'm not going to keep you on every horse I put you on and it's your job to know when a shake-up might do some good.' I've taken pride in saying 'Look, this horse isn't giving me his best, and I don't think I've been getting the best out of Kobe, for whatever reason."
The field from the rail: Moe Candy (Victor Espinoza, 6-1), Solid Wager (Martin Pedroza, 20-1 ), Mr. Hinx (Drayden Van Dyke, 20-1), Silent Bird (Kent Desormeaux, 5-1), Blameitonthelaw (Evin Roman, 12-1), Kobe's Back (Flavien Prat, 6-1), Calculator (Rafael Bejarano, 6-1), Danzing Candy (Joe Talamo, 8-5), Home Run Kitten (Brice Blanc, 20-1), Giant Expectations (Gary Stevens, 12-1) and Denman's Call (Tyler Baze, 12-1).
---
BATTLE OF MIDWAY MAKES DEL MAR DEBUT IN SHARED BELIEF
The Shared Belief Stakes, for 3-year-olds at one mile on the main track, was renamed in 2016, after a 41-year run as the El Cajon, for one of the top sophomore runners of recent years who became, in 2014, the fifth from that age group to win the $1 million TV Pacific Classic.
The Shared Belief was won last year by Accelerate who, came back this summer to defeat Arrogate in the San Diego Handicap and finish third in the Pacific Classic.
For Saturday's 43rd overall, and second as the Shared Belief, the $100,000 event will feature two runners who participated in the Triple Crown series last spring – Gormley and Battle of Midway – with the latter being the only one of seven entrants experiencing Del Mar for the first time.
Battle of Midway, a Kentucky-bred son of Smart Strike, was unraced at two, but has three wins from seven 2017 starts and earnings of $560,000. He finished second to Gormley in the Santa Anita Derby and was third in the Kentucky Derby.
A wire-to-wire romp in the Affirmed at Santa Anita in June prompted a fruitless sixth-of-seven run in the $1 million Haskell Invitational at Monmouth that brought the Winstar Farm colorbearer back to California.
"I don't know about a mile and a quarter for him, so even if all had gone well in the Haskell we might not have gone on to (Saturday's $1 million) Travers," Dan Ward, assistant to Jerry Hollendorfer, said Thursday morning.
"The timing is good for this race, 27 days after the last, and if he runs well it will set him up for one of the two races we have in mind for him next month."
The $1 million Pennsylvania Derby is September 23 in Philadelphia and the $400,000 Oklahoma Derby is September 24 at Remington Park.
Battle of Midway drew the outside post, which Ward said could be a benefit.
"He's run well from a stalking position and the outside post gives us that option," Ward said. "We'll let (Flavien Prat) play the break see how the race develops."
The field from the rail: Cistron (Tyler Baze, 8-1), True Valor (Drayden Van Dyke, 20-1), Gormley (Victor Espinoza, 5-2), Gato Del Oro (Rafael Bejarano, 4-1), Stone Hands (Evin Roman, 20-1), Klimt (Joe Talamo, 3-1) and Battle of Midway (Flavien Prat, 2-1).
---
GLATT'S ON A ROLL AND ONLY TWO WINS BACK IN TRAINER STANDINGS
The two wins on Wednesday from as many starters made it three consecutive scores for trainer Mark Glatt and boosted the 44-year-old native of Spokane, Washington, into second in the trainer standings.
Glatt's 12 wins from 48 starters is two behind defending champion Phil D'Amato (14-for-68) and one ahead of five-time training titleist Doug O'Neill (11 for 81) with 10 racing days remaining in the meeting.
On Sunday, the victory by Blackjackcat in the Del Mar Mile put Glatt into double figures for the meeting and wins Wednesday by Online Request (1st, $15.60) and Ready to Hula Lula (6th, $6.80) moved him past O'Neill into second.
Thursday morning, Glatt was stumped trying to come up with his personal record for consecutive wins, but guessed he'd won more than three straight a few times in 23 years as a trainer.
And Glatt figures he's got a pretty good shot at the training title.
"I've got quite a few more to run and possibly, if things continue to go well, I think I could," Glatt said. "I entered a couple for Saturday that are on the also eligible that would have to draw in and win. Things like that would have to happen, but I've got enough horses to give myself opportunities."
Glatt, who finished tied for fifth with 11 victories in 2016, came into the meeting with some degree of optimism.
"But I never could have predicted this," Glatt said. "So much of it is luck. The right races have to fill and go, you've got to draw the right post position. There's a lot of things that come into play. We've had some fortunate situations and have been able to take advantage of it."
---
BEJARANO STAYS IN TOUCH WITH JOCKEY RACE LEADERS
Neither Flavien Prat nor apprentice Evin Roman found the winner's circle Wednesday, so Prat maintained his two-win margin (25-23) atop the jockey standings.
However, five-time defending champion Rafael Bejarano did score aboard favored Cupid ($2.80) in the featured Harry F. Brubaker Stakes. It was the 21st win of the meeting from 123 mounts for Bejarano and moved him to within two of Roman and four of Prat, with whom he shared the 2016 title.
Bejarano has one scheduled mount on Thursday, Prat three and Roman seven.
---
EIGHT, INCLUDING TWO SUPPLEMENTS, GO IN SUNDAY'S TORREY PINES
A field of eight, among them supplements Munny Spunt and Delitefull Lady, was entered Thursday in Sunday's Grade III $100,000 Torrey Pines Stakes.
Supplemental entries cost $1,000 for trainer Doug O'Neill (Munny Spunt) and Richard Baltas (Delitefull Lady). The Torrey Pines is at one mile on the main track for 3-year-old fillies and has been won in the past by the likes of Beholder (2013) and Stellar Wind (2015).
The field from the rail: Paradise Woods (Flavien Prat), Chocolate Coated (Gary Stevens), Zapperkat (Norberto Arroyo, Jr.), Delitefull Lady (Corey Nakatani), Mistressofthenight (Rafael Bejarano), Helen Hillary (Joe Talamo), Bernina Star (Santiago Gonzalez) and Munny Spunt (Drayden Van Dyke).
---
CLOSERS – First post is moved back from 4 o'clock to 3:30 for the final two Friday programs of the meeting, starting tomorrow … Selected workouts from 113 officially timed Thursday morning: Paradise Woods (3f, :37.40), Cosita Mia (:46.80) and Mubtaahij (5f, :59.80).
---
DEL MAR STATISTICS
Jockey Standings
(Current Through Wednesday, August 23, 2017 Inclusive)
| | | | | | | | |
| --- | --- | --- | --- | --- | --- | --- | --- |
| Jockey | Mts | 1st | 2nd | 3rd | Win% | In-money% | Money Won |
| Flavien Prat | 130 | 25 | 24 | 24 | 19% | 56% | $1,954,491 |
| Evin Roman | 168 | 23 | 31 | 14 | 14% | 40% | $952,567 |
| Rafael Bejarano | 123 | 21 | 16 | 18 | 17% | 45% | $990,975 |
| Kent Desormeaux | 85 | 16 | 22 | 12 | 19% | 59% | $1,010,639 |
| Tyler Baze | 134 | 16 | 21 | 17 | 12% | 40% | $932,901 |
| Joseph Talamo | 97 | 15 | 10 | 8 | 15% | 34% | $709,865 |
| Drayden Van Dyke | 76 | 11 | 5 | 10 | 14% | 34% | $685,763 |
| Martin Pedroza | 79 | 10 | 7 | 8 | 13% | 32% | $367,615 |
| Gary Stevens | 55 | 9 | 3 | 10 | 16% | 40% | $539,124 |
| Corey Nakatani | 41 | 8 | 12 | 0 | 20% | 49% | $522,605 |
Trainer Standings
(Current Through Wednesday, August 23, 2017 Inclusive)
| | | | | | | | |
| --- | --- | --- | --- | --- | --- | --- | --- |
| Trainer | Sts | 1st | 2nd | 3rd | Win% | In-money% | Money Won |
| Philip D'Amato | 68 | 14 | 16 | 3 | 21% | 49% | $1,262,387 |
| Mark Glatt | 48 | 12 | 5 | 7 | 25% | 50% | $579,564 |
| Doug F. O'Neill | 81 | 11 | 9 | 9 | 14% | 36% | $675,430 |
| Richard Baltas | 70 | 9 | 11 | 9 | 13% | 41% | $734,828 |
| Peter Miller | 88 | 8 | 16 | 13 | 9% | 42% | $519,857 |
| Bob Baffert | 31 | 8 | 7 | 3 | 26% | 58% | $1,261,972 |
| Simon Callaghan | 32 | 7 | 4 | 2 | 22% | 41% | $457,795 |
| Robert B. Hess, Jr. | 37 | 6 | 5 | 5 | 16% | 43% | $204,005 |
| John W. Sadler | 46 | 5 | 9 | 7 | 11% | 46% | $833,720 |
| Michael W. McCarthy | 23 | 5 | 6 | 2 | 22% | 57% | $188,760 |
Winning Favorites Report
(Current Through Wednesday, August 23, 2017 Inclusive)
Winning favorites -- 61 out of 227 -- 26.87%
Winning favorites on dirt -- 44 out of 142 -- 30.99%
Winning favorites on turf -- 17 out of 85 -- 20.00%
Winning odds-on favorites -- 17 out of 35 -- 48.57%
In-the-Money favorites -- 148 out of 227 -- 65.20%
In-the-Money odds-on favorites -- 28 out of 35 -- 80.00%