Wednesday, August 23rd, 2017 ( 1 year ago )
Stable Notes
Aug 23, 2017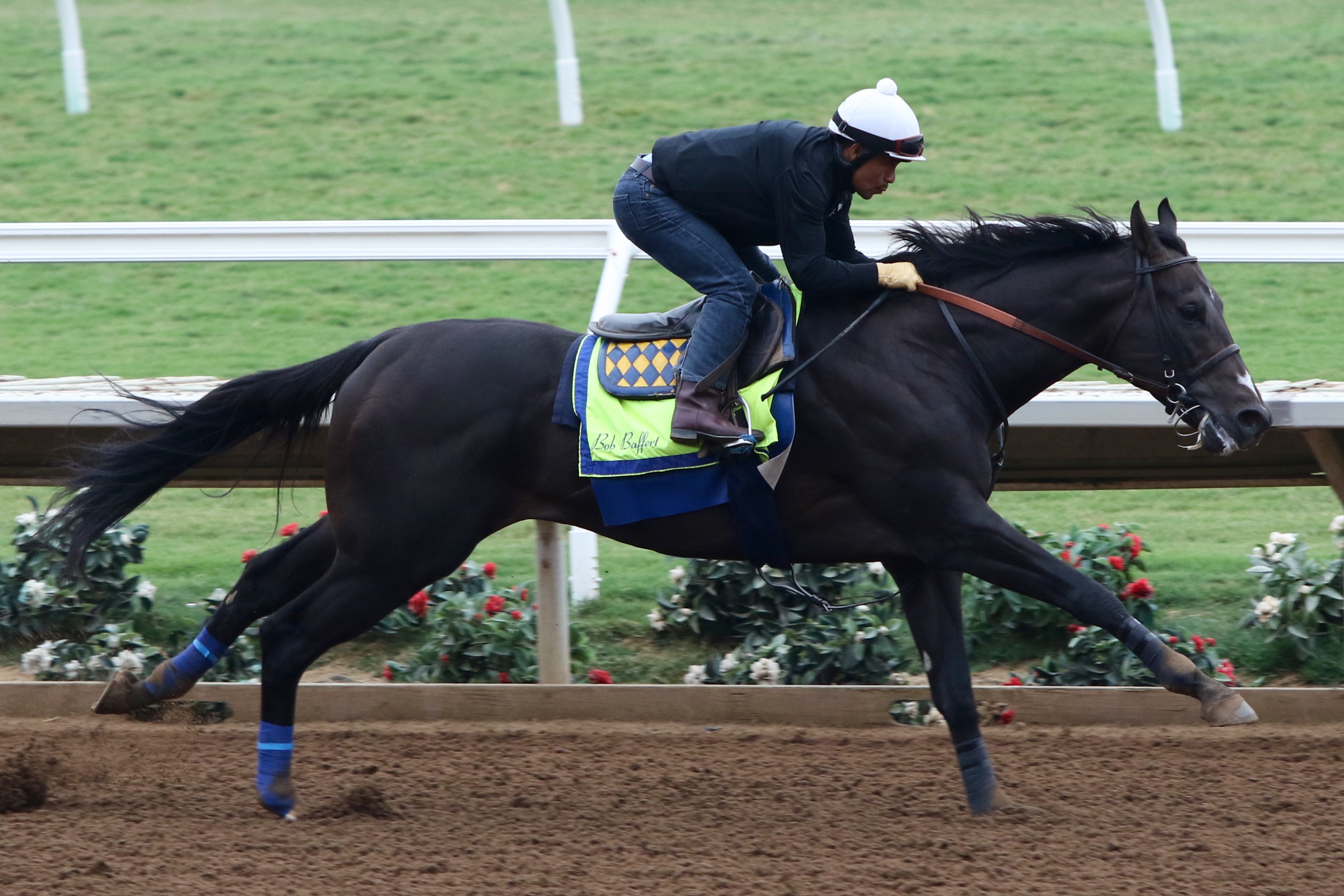 Danzing Candy © Del Mar Thoroughbred Club
ELEVEN ENTERED IN SATURDAY'S PAT O'BRIEN STAKES
A field of eleven was entered Wednesday in Saturday's Grade II $200,000 Pat O'Brien Stakes, the last of five Breeders' Cup "Win and You're In" Challenge Series events of the summer meeting.
The winner of the 7-furlong Pat O'Brien gains a berth in the $1 million Las Vegas Breeders' Cup Dirt Mile here on Friday, November 3. Previous "Win and You're In" winners at the meeting were: Stellar Wind (Clement Hirsch/$4 million Longines BC Distaff), Ransom the Moon (Bing Crosby/$1.5 million Twin Spires BC Sprint), Hunt (Del Mar Handicap/$4 million Longines BC Turf) and Collected (TVG Pacific Classic/$6 million BC Classic).
Bob Baffert-trained Danzing Candy, a winner of three straight with the last two being graded stakes, is the likely morning line favorite.
Denman's Call, winner of the 7-furlong Grade I Triple Bend in March at Santa Anita, will try to bounce back from three subsequent graded stakes tries that didn't approach the Triple Bend for speed figure numbers or placings.
Only the Churchill Downs Stakes on Kentucky Derby Day, run over a track listed as wet-fast, was at the Triple Bend and Pat O'Brien distance.
"The weather at Churchill Downs that day was not on his side," Leandro Mora, chief assistant to trainer Doug O'Neill said of Denman's Call Wednesday morning. "We knew he wasn't going to like the slop." The 4-year-old son of Northern Afleet finished mid-pack of 14 in a crowded trip.
Most recently, Denman's Call was sixth of nine in the 6-furlong Crosby on July 29, a race that had its chemistry changed when favored Drefong bolted toward the gap, unseating Mike Smith, and then ran loose with the leading group, making things dicey for closers like Denman's Call.
"I'd call that a bad luck race," Mora said. "But seven-eighths is his distance and I have a feeling he's going to come back and run a big race."
The field from the rail: Moe Candy (Victor Espinoza), Solid Wager (Martin Pedroza), Mr. Hinx (Drayden Van Dyke), Silent Bird (Kent Desormeaux), Blameitonthelaw (Evin Roman), Kobe's Back (Flavien Prat), Calculator (Rafael Bejarano), Danzing Candy (Joe Talamo), Home Run Kitten (Brice Blanc), Giant Expectations (Gary Stevens) and Denman's Call (Tyler Baze).
---
SANTA ANITA DERBY WINNER GORMLEY RETURNS IN SHARED BELIEF
Santa Anita Derby winner Gormley was among seven entered Wednesday in Saturday's $100,000 Shared Belief Stakes for 3-year-olds at one mile on the main track.
It will be the first start for the son of Malibu Moon, who races for the Zenyatta connections of trainer John Shirreffs and owners Jerome and Ann Moss, since a fourth-place finish in the Belmont Stakes on June 10 at Belmont Park in New York.
Gormley followed up his Santa Anita Derby victory with a ninth-place finish in the 20-horse Kentucky Derby before coming back five weeks later in the Belmont.
"He came out of the Belmont all right and we gave him a break because he had a harsh 2-year-old and intense early part of his 3-year-old year," Shirreffs said Wednesday. ""The timing for this race just happened to work out."
Gormley has four wins in eight career starts and more than $1 million in earnings. He was a racing debut winner here on September 4 of 2016 and followed that with a wire-to-wire three-length victory in the Grade I Front Runner at Santa Anita.
The field from the rail: Cistron (Tyler Baze), True Valor (Drayden Van Dyke), Gormley (Victor Espinoza), Gato Del Oro (Rafael Bejarano), Stone Hands (Evin Roman), Klimt (Joe Talamo) and Battle of Midway (Flavien Prat).
---
MENDED GOES FOR EIGHT IN A ROW IN FRIDAY'S TRANQUILITY LAKE
Mended, a 4-year-old Kentucky-bred daughter of Broken Vow, puts a seven-race winning streak on the line when she steps up to the stakes level for the first time in Friday's featured $75,000-added Tranquility Lake at one mile on the main track.
Trained by John Martin for owners Troy and Moritza Onorato, Mended started her streak after being claimed for $12,500 at Golden Gate Fields. She won six straight at the Albany track at levels from $12,500 and $20,000 claiming up to allowance – all on the Tapeta synthetic surface – then shipped here to win a $62,500 allowance optional claimer on July 27 by 3 ¾ lengths. All were at the one-mile Tranquility Lake distance.
"She's just been a remarkable filly," Martin assistant Ray France, said Wednesday morning. "When we got her we knew she had some capability, but we certainly didn't expect her to be the kind of runner she has turned out to be.
"This (Tranquility Lake) is a tall order. There are some horses in there that look like they're in very good form. But we feel like she's earned the right to be here. She's won over this track, so we know she likes Del Mar and likes this track, so we feel like she deserves it."
The field from the rail: Shenandoah Queen (Victor Espinoza, 20-1), Motown Lady (Kent Desormeaux, 6-1), Street Surrender (Evin Roman, 7-2), Mended (Ricardo Gonzalez, 4-1), Chalon (Flavien Prat, 4-1), Autumn Flower (Martin Pedroza, 15-1), Midnight Toast (Santiago Gonzalez, 20-1) and Faithfully (Rafael Bejarano, 9-5).
---
JOCKEY NEWS: TRAVERS TAKES SMITH, GUTIERREZ TO SARATOGA
Hall of Fame jockey Mike Smith and Mario Gutierrez will be in Saratoga on Saturday for the Travers Day card which has seven stakes, capped by the $1.25 million Grade I Travers.
The Travers has the winners of all three Triple Crown races – Always Dreaming (Kentucky Derby), Cloud Computing (Preakness) and Tapwrit (Belmont Stakes) – for the first time since 1982.
Smith will ride West Coast for trainer Bob Baffert, Gutierrez has Irap for trainer Doug O'Neill in the Travers. Smith's other mounts on the card are Songbird in the Grade I $700,000 Personal Ensign for Jerry Hollendorfer, Drefong in the Grade I $600,000 Forego for Baffert and American Anthem in the Grade I $500,000 H. Allen Jerkens Memorial.
Gutierrez's assignments begin Friday aboard Cause We Are Loyal in the Seeking the Ante Stakes and continue with Frank Conversation in the Sword Dancer and Ann Arbor Eddie in the Jerkens in addition to Irap in the Travers.
Here at Del Mar:
Flavien Prat enters the penultimate week of the meeting with a 25-23 win edge over apprentice Evin Roman. A first-race victory on Sunday aboard Flower Heart Deer ($8.00) drew Roman even with Prat in the standings, but Prat took the sixth with Six Point Rack ($62.00) and the seventh with Classy Tune ($4.60) to build the current margin.
Prat is facing the possibility of a three-day suspension starting Sunday for his ride on Vyjack in the Del Mar Mile last Sunday. Corey Nakatani, who took Sunday off to be the Parade Marshall for the Nisei Week Parade in Los Angeles, was levied a five-day suspension which also is scheduled to begin on the weekend, and Rafael Bejarano a three-day suspension. Both Nakatani and Bejarano have appealed their suspensions and received temporary restraining orders.
Phil D'Amato continues to lead the trainer race by a 14-11 margin over Doug O'Neill. But it was Mark Glatt who had the best day on Sunday, notching two wins including the featured Del Mar Mile Handicap with Blackjackcat ($19.60).
Blackjackcat provided Glatt with his second stakes victory of the meeting (both by Blackjackcat), doubling his career total at Del Mar. The win was also Glatt's tenth of the meeting. Achieving a double-figure win total for the second year in a row moved Glatt up to third in the standings behind D'Amato and O'Neill.
---
TREVOR DENMAN NAMED TO SCSB HALL OF FAME
Trevor Denman, who has called the major race meets in Southern California for more than 30 years, has been named to the Southern California Sports Broadcasters Hall of Fame, it has been announced. The iconic caller, considered by many to be the best in the business, will be inducted at the 27th annual SCSB awards luncheon on January 22, 2018.
Denman, who has been Del Mar's announcer since 1984, previously called races at Santa Anita Park, Hollywood Park and Pomona/Fairplex Park during his sparkling career, in addition to tours as the voice of the Breeders' Cup. The South African native's colorful style reshaped the race calling genre in the U.S., introducing in-race commentary to what previously had been strictly factual presentations.
Denman has told the SCSB board that he'll make a special trip from his off-season Minnesota home for the award at the Lakeside Golf Club in Toluca Lake. Also being honored that day will be San Diegan Stu Lantz, who has called Los Angeles Lakers games on radio and television for the past 30 years.
---
CLOSERS – Selected works from 245 officially timed over the last three days. Monday – Chao Chom (3f, :34.80), Danzing Candy (4f, :47.60), True Royalty (4f, :46.60), Champagne Room (5f, 1:00.80), Infobedad (5f, 1:01.00), Leading Score (6f, 1:11.60), Show Me Da Lute (6f, 1:11.60). Tuesday – Calculator (3f, :36.60), Irish Freedom (3f, :35.60), Abel Tasman (4f, :48.80), Desert General (4f, :46.60), Bolt d'Oro (5f, :58.80). Wednesday – Paddock Pick (3f, :34.60), Amboseli (5f, 1:00.40), Golden Atlantic (5f, :58.40).
---
DEL MAR STATISTICS
Jockey Standings
(Current Through Sunday, August 20, 2017 Inclusive)
| | | | | | | | |
| --- | --- | --- | --- | --- | --- | --- | --- |
| Jockey | Mts | 1st | 2nd | 3rd | Win% | In-money% | Money Won |
| Flavien Prat | 125 | 25 | 23 | 20 | 20% | 54% | $1,922,001 |
| Evin Roman | 162 | 23 | 27 | 14 | 14% | 40% | $920,822 |
| Rafael Bejarano | 119 | 20 | 16 | 17 | 17% | 45% | $937,440 |
| Kent Desormeaux | 82 | 16 | 22 | 10 | 20% | 59% | $995,300 |
| Tyler Baze | 131 | 15 | 21 | 17 | 11% | 40% | $895,011 |
| Joseph Talamo | 94 | 14 | 10 | 8 | 15% | 34% | $686,960 |
| Drayden Van Dyke | 74 | 11 | 5 | 10 | 15% | 35% | $685,073 |
| Corey Nakatani | 39 | 8 | 11 | 0 | 21% | 49% | $516,765 |
| Santiago Gonzalez | 68 | 8 | 7 | 11 | 12% | 38% | $436,899 |
| Martin Pedroza | 74 | 8 | 7 | 8 | 11% | 31% | $334,130 |
Trainer Standings
(Current Through Sunday, August 20, 2017 Inclusive)
| | | | | | | | |
| --- | --- | --- | --- | --- | --- | --- | --- |
| Trainer | Sts | 1st | 2nd | 3rd | Win% | In-money% | Money Won |
| Philip D'Amato | 67 | 14 | 16 | 3 | 21% | 49% | $1,262,042 |
| Doug F. O'Neill | 80 | 11 | 9 | 9 | 14% | 36% | $675,085 |
| Mark Glatt | 46 | 10 | 5 | 7 | 22% | 48% | $521,364 |
| Peter Miller | 85 | 8 | 14 | 12 | 9% | 40% | $504,937 |
| Richard Baltas | 67 | 8 | 11 | 9 | 12% | 42% | $711,983 |
| Bob Baffert | 30 | 7 | 7 | 3 | 23% | 57% | $1,214,902 |
| Simon Callaghan | 31 | 7 | 4 | 2 | 23% | 42% | $457,450 |
| Robert B. Hess, Jr. | 35 | 6 | 5 | 4 | 17% | 43% | $200,780 |
| John W. Sadler | 44 | 5 | 7 | 7 | 11% | 43% | $814,030 |
| Michael W. McCarthy | 23 | 5 | 6 | 2 | 22% | 57% | $188,760 |
Winning Favorites Report
(Current Through Sunday, August 20, 2017 Inclusive)
Winning favorites -- 60 out of 219 -- 27.40%
Winning favorites on dirt -- 43 out of 137 -- 31.39%
Winning favorites on turf -- 17 out of 82 -- 20.73%
Winning odds-on favorites -- 16 out of 33 -- 48.48%
In-the-Money favorites -- 142 out of 219 -- 64.84%
In-the-Money odds-on favorites -- 26 out of 33 -- 78.79%