Sunday, August 20th, 2017 ( 1 year ago )
Stable Notes
Aug 20, 2017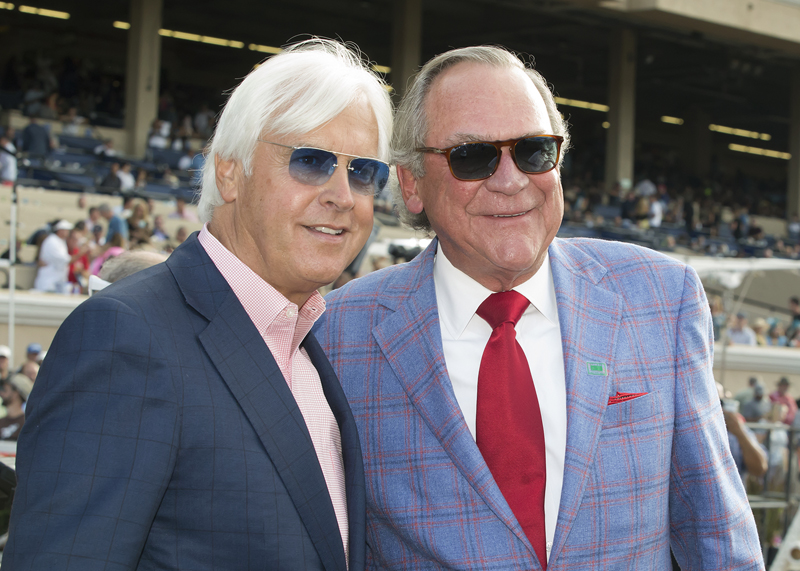 Bob Baffert & Peter Fluor © Benoit Photo
BAFFERT IS CHIPPER-ISH ON THE MORNING AFTER CLASSIC SWEEP
Hall of Fame trainer Bob Baffert was jovial Sunday morning, as might be expected following the 1-2 finish by his Collected and Arrogate in Saturday's $1 million Grade I TVG Pacific Classic.
Certainly not as chipper as he would have been had the finish been reversed-- with a victory by North America's No. 1 all-time earner Arrogate to gain redemption for the clunker of a performance a month earlier in the San Diego Handicap. But still pleased with the performance by Collected, now 4-for-4 in 2017, and for the 4-year-old colt's owners, the Speedway Stable of Peter and Ann Fluor and Kane C. Weiner.
"I feel like my older son got beat by my younger son," was Baffert's instant assessment following the race. And the feeling still lingered as he talked with media on the elevated stand overlooking the backstretch on Sunday morning.
"They both came out of the race well, and that's important," Baffert said. "I watched the race a few times and Collected still won." Laughs all around.
"Arrogate looked like he just ran in spurts the whole way around, but I was encouraged by the way he laid it down the last eighth of a mile and showed some willingness to win.
"He's not back to where he was, but he showed some class and heart."
The $6 million Breeders' Cup Classic here on November 4 is the target for both Collected and Arrogate. It's too early to say what races, if any, will be run before then.
"It's too bad they couldn't just stay here and train until the Breeders' Cup," Baffert said. "That would be the perfect scenario. Collected really likes it down here, you can keep him in an (outdoor) pen and he flourishes out there. And it would give Arrogate a chance to get used to it down here."
The $600,000 winner's share of the purse nearly doubled Collected's career earnings, putting them to $1,260,500 from 11 starts.
John Sadler, trainer of San Diego Handicap winner and third-place Pacific Classic finisher Accelerate said his horse came out of the race in good shape as well.
"He ran a good race, we're happy with his effort," Sadler said. "I don't think he's a true mile-and-a-quarter horse. So he'll drop back to the mile distance for the Breeders' Cup."
The $1 million Las Vegas Breeders' Cup Dirt Mile will be run on Friday, November 3.
---
OAKS WINNER TO SHIP EAST FOR QUEEN ELIZABETH II AT KEENELAND
Trainer Mark Casse watched Dream Dancing's stunning late rally and head-bob-at-the-wire victory over Beau Recall in Saturday's Grade I $300,000 Del Mar Oaks presented by The Jockey Club from his domicile in Saratoga Springs, N.Y.
"It seems like we've lost a lot of tough ones lately and to win one like that was very gratifying," Casse said Sunday by phone. "It was a great ride by Julien (Leparoux) and kind of redemption because she's a tough horse to ride and the race before (seventh in the Lake George at Saratoga) wasn't one of his best."
Status as a Grade I winner had the immediate benefit of an invitation to the Grade I $500,000 Queen Elizabeth II Challenge Cup at Keeneland on October 14, which Casse said would be Dream Dancing's next race.
Casse's other shipper for Saturday's stakes, Monster Bea in the Del Mar Handicap, was next-to-last of 12 as a 25-1 longshot, continuing a downward form trend.
Casse said that owner Gary Barber will make the decision regarding whether Monster Bea will remain on the West Coast or return east, but that if he stays he will go to trainer Peter Miller.
Miller saddled Monster Bea to a victory in the 2016 Oceanside Stakes here. The son of Hat Trick is winless in eight subsequent starts.
---
HUNT COMPLETES GRASS SWEEP, GAINS BREEDERS' CUP TURF BERTH
Hunt's three-quarter length victory in Saturday's Grade II $250,000 Del Mar Handicap presented by the Japan Racing Association completed a sweep of the major grass stakes of the summer meeting. Hunt also prevailed in the Grade II $250,000 Eddie Read Stakes on the opening weekend of the meeting.
The Handicap, a "Win And You're In" Breeders' Cup Challenge Series race, was a qualifier for the $4 million Longines Breeders' Cup Turf here on November 4.
"We'll decide if we need to run him in a prep at Santa Anita or just train him up to the Breeders' Cup," trainer Phil D'Amato said. "He came out of it in really good order and Flavien (Prat) said he didn't think an extra eighth of a mile would hurt him at all and might even be better for him."
Hunt became the first horse to sweep the 1 1/8-mile Eddie Read and 1 3/8-mile Del Mar Handicap since After Market in 2007.
"I'd be lying if I said I thought I could win the Handicap with him," D'Amato said. "But the Eddie Read, I really thought we had a good chance. He's a horse that has basically reinvented himself from a turf sprinter last year to a marathon horse now."
---
NAKATANI PROUD TO PERFORM A COMMUNITY HONOR
Instead of riding Thoroughbreds here this afternoon, jockey Corey Nakatani will be riding in an open convertible on Central Avenue in Los Angeles as the Parade Marshall for the 2017 Nisei Week Japanese Festival.
"You've got to remember where you came from," Nakatani said Saturday afternoon before his winning ride on Troublewithatee in the fifth race.
"This is a very big honor, one of the biggest in my life, and I'm looking forward to it."
Nakatani wasn't sure how many family members would be joining him in the ride, to smile and wave to thousands as a labor of love, but was sure that it would be a thrill for his 8-year-old daughter.
Nakatani's late father, Roy, was born in a World War II internment camp and spent time at Santa Anita Park when it was a relocation camp. Corey became interested in riding after attending the races with his father. Equibase statistics show him with 3,865 wins in a 30-year riding career.
He has over 300 stakes victories and the 104 recorded at Del Mar ranks second all-time behind Chris McCarron's 134.
The Nisei Week Japanese Festival is a nine-day event first held in 1934 and is recognized as one of the longest-running ethnic festivals in the United States.
---
PRAT, D'AMATO STAKES BINGES EXTENDED IN DEL MAR HANDICAP
The victory by Hunt, ridden by Flavien Prat and trained by Phil D'Amato, in Saturday's Del Mar Handicap, was the seventh stakes of the meeting for Prat and the sixth for Phil D'Amato.
The records for stakes wins in a season are 13 in both the jockey (Rafael Bejarano, 2012) and trainer (Bob Baffert, 2000) categories. There are 15 more stakes remaining on the 2017 schedule.
"Let's wait until we get to double figures before we talk about it (records)," said Derek Lawson, agent for Prat. "But I do think we've got a chance to win a lot more."
The Handicap win moved Prat, co-champion of the 2017 meeting with Rafael Bejarano, one win ahead of apprentice Evin Roman (23-22) atop the jockey standings and gave defending champion D'Amato a three-win edge (14-11) over Doug O'Neill in the trainer race.
---
CLOSERS – All eyes will be on St Patrick's Day in the ninth race maiden special when the full brother to Triple Crown champion American Pharoah makes his racing debut. St Patrick's Day has had five workouts here, the last being a bullet six furlongs in 1:12 handily from the gate one week ago, the best of 12 at the distance on the day. Another full sibling to American Pharoah, American Cleopatra, broke her maiden here on July 31 of 2016, defeating Union Strike. The order would be reversed in the Grade I Del Mar Debutante on September 3 … The victory aboard Calvert Street ($20.00) in Saturday's third race was the first of the meeting for apprentice Austin Solis, ending an 0-for-22 streak…Selected works from 177 on dirt and 27 on turf officially timed on Sunday: Dirt—American Anthem (4f, :48.20), Roy H (4f, :48.80), Songbird (4f, :47.20, breezing), West Coast (4f, :48.20), Gormley (5f, 1:01.20), Ocho Ocho Ocho (5f, 1:01.20), Big Score (6f, 1:13.80) and Mercer Island (6f, 1:11.80); Turf – Bowies Hero (5f, 1:01.60), Goodyearforroses (5f, 1:00.80) and Madame Stripes (7f, 1:31.40).
---
DEL MAR STATISTICS
Jockey Standings
(Current Through Saturday, August 19, 2017 Inclusive)
| | | | | | | | |
| --- | --- | --- | --- | --- | --- | --- | --- |
| Jockey | Mts | 1st | 2nd | 3rd | Win% | In-money% | Money Won |
| Flavien Prat | 116 | 23 | 20 | 20 | 20% | 54% | $1,780,846 |
| Evin Roman | 153 | 22 | 26 | 13 | 14% | 40% | $884,177 |
| Rafael Bejarano | 114 | 19 | 16 | 16 | 17% | 45% | $872,448 |
| Tyler Baze | 126 | 15 | 20 | 17 | 12% | 41% | $879,441 |
| Kent Desormeaux | 77 | 14 | 21 | 10 | 18% | 58% | $822,490 |
| Joseph Talamo | 91 | 14 | 10 | 7 | 15% | 34% | $681,895 |
| Drayden Van Dyke | 70 | 10 | 5 | 10 | 14% | 36% | $641,916 |
| Corey Nakatani | 39 | 8 | 11 | 0 | 21% | 49% | $516,765 |
| Santiago Gonzalez | 64 | 8 | 6 | 11 | 13% | 39% | $422,609 |
| Mario Gutierrez | 53 | 8 | 4 | 7 | 15% | 36% | $387,625 |
Trainer Standings
(Current Through Saturday, August 19, 2017 Inclusive)
| | | | | | | | |
| --- | --- | --- | --- | --- | --- | --- | --- |
| Trainer | Sts | 1st | 2nd | 3rd | Win% | In-money% | Money Won |
| Philip D'Amato | 63 | 14 | 14 | 3 | 22% | 49% | $1,199,697 |
| Doug F. O'Neill | 74 | 11 | 8 | 8 | 15% | 36% | $650,490 |
| Peter Miller | 85 | 8 | 14 | 12 | 9% | 40% | $504,937 |
| Richard Baltas | 63 | 8 | 10 | 8 | 13% | 41% | $678,871 |
| Mark Glatt | 42 | 8 | 5 | 7 | 19% | 48% | $385,074 |
| Bob Baffert | 28 | 6 | 6 | 3 | 21% | 54% | $1,166,902 |
| Robert B. Hess, Jr. | 34 | 6 | 5 | 4 | 18% | 44% | $200,435 |
| Simon Callaghan | 28 | 6 | 4 | 2 | 21% | 43% | $416,730 |
| John W. Sadler | 44 | 5 | 7 | 7 | 11% | 43% | $814,030 |
| Michael W. McCarthy | 23 | 5 | 6 | 2 | 22% | 57% | $188,760 |
Winning Favorites Report
(Current Through Saturday, August 19, 2017 Inclusive)
Winning favorites -- 58 out of 209 -- 27.75%
Winning favorites on dirt -- 41 out of 131 -- 31.30%
Winning favorites on turf -- 17 out of 78 -- 21.79%
Winning odds-on favorites -- 16 out of 30 -- 53.33%
In-the-Money favorites -- 139 out of 209 -- 66.51%
In-the-Money odds-on favorites -- 26 out of 30 -- 86.67%