Saturday, August 19th, 2017 ( 1 year ago )
Stable Notes
Aug 19, 2017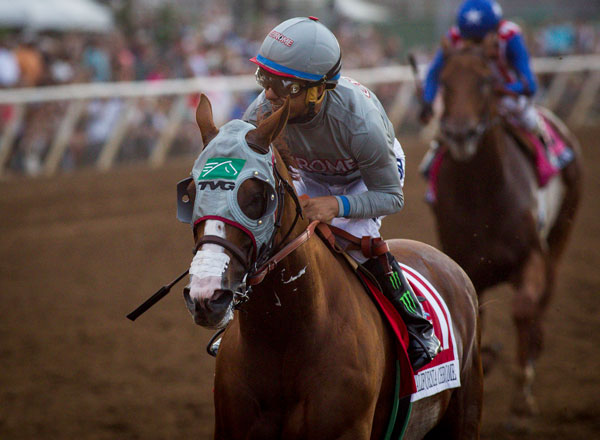 California Chrome wins 2016 TVG Pacific Classic
PLAYING THE 'WHAT IF' GAME FOR THE TVG PACIFIC CLASSIC
We read through the press kit for the 27th running of the $1 million TVG Pacific Classic and skimmed the record book (to save you time and bother – no thanks necessary) and came up with the following tidbits in post position order:
If Royal Albert Hall wins – He would become the second foreign-born winner, joining fellow English-bred Missionary Ridge (1992) … Also the fifth gelding, joining Best Pal (1991), Lava Man (2006), Game On Dude (2013) and Shared Belief (2014) … Would make trainer Kristin Mulhall a winner with her first Classic starter and get jockey Corey Nakatani to the winner's circle for the second time (Lava Man, 2006) in 17 starts. A 17th start would keep Nakatani in a tie with Victor Espinoza (Accelerate) for the most in race history.
If Collected wins – He would become the 14th Kentucky-bred winner, doubling the next highest geographic homeland (California, 7) … The eighth 4-year-old to triumph, but the first since Richard's Kid (2009) … Would make it five wins for trainer Bob Baffert, one behind record-holder Robert Frankel … Would be win No. 2 for Martin Garcia from six mounts. Garcia won on Game On Dude in 2013 … Would be a first-out win for Houston-based owners from Speedway Stable LLC.
If Accelerate wins – He would put trainer John Sadler in the Classic winner's circle for the first time, ending a 0-for-9 string … Would increase the totals for Kentucky-bred winners to 14 and 4-year-olds to eight … Would make jockey Victor Espinoza a winner in consecutive years joining Mike Smith (2009-10), Garrett Gomez (2000-01) and Eddie Delahoussaye (1994-95). Espinoza was 0-for-15 before guiding California Chrome home in 2016.
If Sorry Erik wins – He would be the sixth 3-year-old to defeat elders, joining Best Pal (1991), General Challenge (1999), Came Home (2002), Dullahan (2012) and Shared Belief (2014) … Would be a win with the second Pacific Classic starter for trainer Keith Desormeaux (Dalmore, 5th, 2016) and the same for Big Chief Racing, who owned Dalmore … Would give jockey Kent Desormeaux a second Classic victory 25 years after his previous, surpassing Patrick Valenzuela's 20-year span from 1991-2011.
If Hard Aces wins— Would mean the third time was a charm for a horse that was eighth in 2016 and sixth in 2015 … Would become, at 7, the oldest Classic winner, eclipsing Pleasantly Perfect (2004) and Game On Dude (2013), who were both six … Along with Accelerate, Hard Aces provides Hronis Racing with a chance at their first Pacific Classic victory with their third and fourth starters … Would end trainer John Sadler's Pacific Classic drought (see Accelerate) .. A second chance for a Pacific Classic win for jockey Santiago Gonzalez, who rode Hard Aces last year.
If Donworth wins – Would be the first son of Tiznow to win. Tiznow was a memorable runner-up to Skimming as a 3-year-old in 2000 and went on to win the Breeders' Cup Classic that fall at Churchill Downs and repeat the following year at Belmont Park … Would make him the 12th 5-year-old winner and the third in a row from that age group joining Beholder and California Chrome … Would give Doug O'Neill a second Pacific Classic victory 11 years after Lava Man and jockey Mario Gutierrez a victory with his first Classic mount.
If Curlin Road wins – Would up the total winners for 4-year-olds (to eight), the first addition in eight years, and geldings to five (see Royal Albert Hall) … Would give trainer Doug O'Neill his second Classic victory, coincidentally with another claiming acquisition. Lava Man was claimed here for $50,000 two years before his Pacific Classic victory, Curlin Road was haltered for $40,000 at Santa Anita in April … Third Pacific Classic mount for Flavien Prat, who finished second to Beholder on Catch a Flight in 2015.
If Arrogate wins – It would represent redemption, as if it was needed, for North American racing's all-time earnings leader off the stunning fourth-place non-effort in the San Diego Handicap on July 21 which ended a seven-race winning streak … Would move trainer Bob Baffert within one of the trainer wins record (see Collected) … Would make Mike Smith the all-time jockey wins leader with five, one more than the late Garrett Gomez … Might set marks for shortest win payoff (currently $3) and shortest priced favorite (currently 1-10) if backing approximates that of the San Diego.
---
EXPERTS AGREE ON ONE THING, BAFFERT WINS THE CLASSIC
A sampling of TVG Pacific Classic selections from an eclectic group of "experts" randomly chosen based on availability and willingness to participate. (In a similar poll in 2016, 10 out of 21 correctly selected California Chrome over Beholder and Dortmund in what was considered "the race of the year" by many in the business.
For the 27th running of Del Mar's signature event there's unanimity that one of Hall of Fame trainer Bob Baffert's two entrants, Arrogate or Collected, will win. And not, as readers will see, for a variety of reasons.
The selections:
Steve Andersen, Daily Racing Form – Arrogate. "He'll be much brighter this time. He has to be."
Jay Privman, Daily Racing Form – Arrogate. "I still think he's far and away the best if he runs his race."
Jay Posner, San Diego Union-Tribune sports editor – Arrogate. "Can't give up on him after one bad race."
Jon Lindo, Owner, Breeder, Handicapper – Collected. "He's training better than the rest."
Art Wilson, turf writer, L.A. Daily News group – Arrogate. "I can't believe he's regressed as much as it looked in the San Diego Handicap.
Jeff Furmanski, press box steward – Collected. "When Baffert runs two, use the 'other'."
Jeremy Balan, Blood Horse correspondent – Collected. "He has been a different horse as a 4-year-old."
Scott Shapiro, Sunday handicapping seminar host -- Collected. "Training forwardly since his arrival and has done nothing wrong this year."
Bob Ike, syndicated handicapper – Collected. "Has been training great. Handling the distance is the only question."
Jeff Reichert, Daybreak at Del Mar assistant – Collected. "Training lights out. Baffert's 'other.'
Jerry Hollendorfer, Hall of Fame trainer – Arrogate/Accelerate – "If Arrogate runs his race, he wins. But (Accelerate) loves the track. I can't pick between the two."
Ron McAnally, Hall of Fame trainer – Collected. "If I go to John Sadler's horse (Accelerate), Bob Baffert won't talk to me for a week."
Richard Mandella, Hall of Fame trainer – Arrogate. "Got to go with him. He'll rebound."
Mel Stute, California training legend – Arrogate. "I'm wearing a visor with his name on it, so I think I have to go with him."
Richie Silverstein, jockey agent – Arrogate. "Bob Baffert knows what he's doing."
Scott McClellan, jockey agent – Arrogate. "He's a great, great horse and he'll show it this time."
Joe Talamo, jockey – Arrogate. "He's a great horse and I think the (outside) post will help, too."
Ron Ellis, trainer – Collected. "I just don't think Arrogate likes it here and Collected looks like he does."
Joe Harper, President DMTC – Arrogate. "He's still No. 1."
Madeline Auerbach, CHRB member – Arrogate. "Have to think he'll bounce back."
Jennie Rees, President of Kentucky-based JR Communications LLC – Arrogate. "I think Arrogate puts on a show. Baffert wouldn't run North America's richest racehorse if he didn't think Arrogate was doing great. Think American Pharoah in the Breeders' Cup Classic."
---
BAL A BALI GOES THE EXTRA MILE FROM SHOEMAKER TO DEL MAR
Bal a Bali made a three-wide rally in the stretch and got up for a half-length victory in his first time under Mike Smith to win the Grade I Shoemaker Mile on June 3 at Santa Anita.
Hall of Fame trainer Richard Mandella hopes the combination clicks again on Sunday when the 7-year-old Brazilian-bred faces five rivals, among them defending champion Midnight Storm, in the Grade II $200,000 Del Mar Mile.
"He's been training well and we're hoping for a repeat," Mandella said Saturday morning. "I was looking for experience (in Smith) and I think I got it. I thought he rode him well, but the bottom line is we'll have to be fast enough."
The field from the rail: Vyjack (Flavien Prat, 7-2), Om (Gary Stevens, 7-2), Bal a Bali (Mike Smith, 5-2), Midnight Storm (Rafael Bejarano, 2-1), Blackjackcat (Kent Desormeaux, 6-1) and Le Ken (Drayden Van Dyke, 15-1).
---
PRAT LOOKS TO ADD TO MEET-LEADING STAKES TOTAL
Jockey Flavien Prat, tied for the meeting's overall lead with apprentice Evin Roman with 22 victories, has the solo lead in stakes scores with six.
Prat also has a strong hand to play in the four major stakes this weekend. He rides favored Hunt (3-1) in the Grade II $250,000 Del Mar Handicap presented by the Japan Racing Association, Curlin Road (20-1) in the Pacific Classic and favored Con Te Partiro (7-2) in the Grade I $300,000 Del Mar Oaks presented by The Jockey Club today.
On Sunday, Prat will be aboard Vyjack (7-2) in the $200,000 Grade II Del Mar Mile.
---
HANDICAP, CLASSIC VICTORS WILL JOIN 'WIN AND YOU'RE IN' CLUB
The Grade II $250,000 Del Mar Handicap and the $1 million TVG Pacific Classic are both 'Win and You're In' Breeders' Cup Challenge qualifying events. The Del Handicap champion gets a spot in the $4 million Longines Breeders' Cup Turf and the Pacific Classic winner into the $6 million Breeders' Cup Classic.
Both races are here on Saturday, November 4.
The Del Mar Handicap winner will join previous Turf 'Win and You're In' qualifiers: Ordak Don (Argentina), Voador Magee (Brazil), Enable (England) Satono Crown (Japan) and Beach Patrol.
The Classic winner will join previous Classic 'Win and You're In' qualifiers: Gold Dream (Japan), Gun Runner and Girvin.
---
CLOSERS – The field for Wednesday's featured $75,000 Harry F. Brubaker Stakes, a main track mile for older horses: Soi Phet (Kent Desormeaux), Dressed in Hermes (Kent Desormeaux), Curlin Rules (Flavien Prat), El Huerfano (Evin Roman), Forever Juanito (Agapito Delgadillo), Cupid (Rafael Bejarano) and Win the Space (Gary Stevens) … Selected works from 198 officially timed Saturday morning: Stellar Wind (4f, :49.00), Drefong (5f, 1:01.20), Klimt (5f, 1:01.00), Kobe's Back (5f, 1:01.80), Nero (5f, :59.00), Cistron (6f, 1:12.60) and Irap (6f, 1:13.00).
---
DEL MAR STATISTICS
Jockey Standings
(Current Through Friday, August 18, 2017 Inclusive)
| | | | | | | | |
| --- | --- | --- | --- | --- | --- | --- | --- |
| Jockey | Mts | 1st | 2nd | 3rd | Win% | In-money% | Money Won |
| Evin Roman | 147 | 22 | 26 | 13 | 15% | 41% | $877,327 |
| Flavien Prat | 111 | 22 | 19 | 20 | 20% | 55% | $1,540,101 |
| Rafael Bejarano | 107 | 19 | 16 | 15 | 18% | 47% | $856,051 |
| Joseph Talamo | 85 | 14 | 9 | 7 | 16% | 35% | $620,115 |
| Kent Desormeaux | 72 | 13 | 20 | 9 | 18% | 58% | $764,810 |
| Tyler Baze | 117 | 13 | 17 | 16 | 11% | 39% | $708,900 |
| Drayden Van Dyke | 70 | 10 | 5 | 10 | 14% | 36% | $641,916 |
| Santiago Gonzalez | 58 | 8 | 6 | 10 | 14% | 41% | $390,174 |
| Mario Gutierrez | 49 | 8 | 4 | 6 | 16% | 37% | $376,015 |
| Gary Stevens | 45 | 8 | 3 | 9 | 18% | 44% | $489,030 |
Trainer Standings
(Current Through Friday, August 18, 2017 Inclusive)
| | | | | | | | |
| --- | --- | --- | --- | --- | --- | --- | --- |
| Trainer | Sts | 1st | 2nd | 3rd | Win% | In-money% | Money Won |
| Philip D'Amato | 57 | 12 | 14 | 3 | 21% | 51% | $1,012,317 |
| Doug F. O'Neill | 68 | 11 | 7 | 7 | 16% | 37% | $566,880 |
| Peter Miller | 80 | 8 | 13 | 11 | 10% | 40% | $478,737 |
| Richard Baltas | 59 | 8 | 10 | 6 | 14% | 41% | $627,854 |
| Mark Glatt | 40 | 8 | 4 | 7 | 20% | 48% | $368,609 |
| Michael W. McCarthy | 21 | 5 | 6 | 2 | 24% | 62% | $187,215 |
| Robert B. Hess, Jr. | 33 | 5 | 5 | 4 | 15% | 42% | $161,435 |
| Bob Baffert | 24 | 5 | 5 | 3 | 21% | 54% | $366,212 |
| Vladimir Cerin | 25 | 5 | 2 | 4 | 20% | 44% | $170,581 |
| Simon Callaghan | 25 | 5 | 2 | 2 | 20% | 36% | $308,330 |
Winning Favorites Report
(Current Through Friday, August 18, 2017 Inclusive)
Winning favorites -- 56 out of 198 -- 28.28%
Winning favorites on dirt -- 39 out of 124 -- 31.45%
Winning favorites on turf -- 17 out of 74 -- 22.97%
Winning odds-on favorites -- 16 out of 28 -- 57.14%
In-the-Money favorites -- 133 out of 198 -- 67.17%
In-the-Money odds-on favorites -- 24 out of 28 -- 85.71%