Friday, August 18th, 2017 ( 1 year ago )
Stable Notes
Aug 18, 2017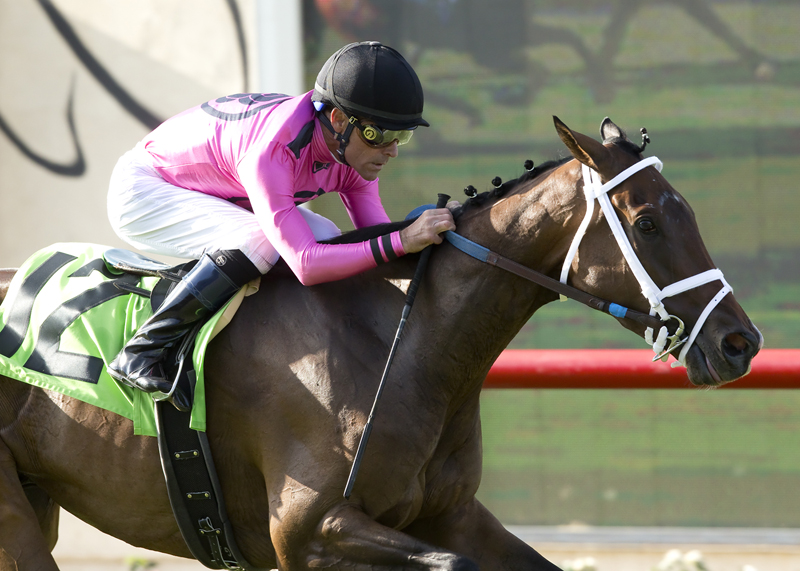 Monster Bea © Benoit Photo
CASSE SENDS TWO FOR 'OTHER THAN' PACIFIC CLASSIC STAKES
The focus of trainer Mark Casse's operation is east of the Mississippi and in Canada. But the Indiana native who has become one of the most successful Thoroughbred conditioners in North America – No. 5 in 2017 with more than $9 million in purse earnings and nearly $18 million in 2016 – is no stranger to Del Mar.
Casse won the Best Pal Stakes in the summer of 2014 with Skyway and then came out that fall for the inaugural Bing Crosby meeting with a string of horses and his family and left with victories in the Seabiscuit (Kaigun), Cecil B. DeMille (Conquest Typhoon) and Jimmy Durante (Ol' Fashion Gal) stakes.
And on the Pacific Classic Day card Saturday, Casse will be represented in the two major supporting stakes. He has Monster Bea (20-1) in the Grade II $250,000 Del Mar Handicap presented by the Japan Racing Association and Dream Dancing (6-1) in the Grade I $300,000 Del Mar Oaks.
Monster Bea is winless in seven starts since his 12-1 upset in the Oceanside Stakes on opening day of the 2016 summer meeting, when trained by Peter Miller. Dream Dancing opened her 2017 campaign with two wins at Gulfstream Park, the second in a Grade III stakes, but is 0-for-4 since, at four different tracks in graded stakes against some of the better 3-year-old turf fillies in the East.
"We know they're both capable of running big races at any time and we're hoping that (Saturday) is the time," Casse said Friday morning from Saratoga, N.Y.
Monster Bea has 2017 starts at Churchill Downs, Belmont Park and Woodbine , with a runner-up in an optional claiming event at Belmont Park the best result.
"Two of them were his fault and one wasn't," Casse said. "The one at Belmont Park he should have won, but human error by the jockey cost him the race."
Dream Dancing chased home stablemate La Coronel in two of her four losses since the wins in Florida. Shipping here separates the two fillies – La Coronel runs in the Lake Placid Stakes on Saturday at Saratoga – and provides an opportunity for success in a Grade I event.
"We'd like to keep the fillies separate and La Coronel has been to England and back. So we sent the least traveled of the two," Casse said.
Dream Dancing, a gray daughter of Tapit, comes in off a disappointing seventh of 10 in the Lake George at Saratoga on July 21 when she had a wide trip from the outside No. 10 post under Julien Leparoux.
"I think Julien would tell you that was not one of his finer performances," Casse said. Leparoux retains the mount and will make a rare appearance at Del Mar. No. 7 among North American riders for purse earnings in 2017 according to Equibase statistics, Leparoux has eight Del Mar stakes victories with seven of them – including the Del Mar Oaks with Discreet Marq – coming in 2013.
---
TRAVELLING COMPANION HEAP HAS PRAISE FOR OAKS FAVORITE
Blake Heap trains his own horses and is the right-hand man on the West Coast for trainer Wesley Ward.
Heap had supervised the training of Con Te Partiro, a daughter of Scat Daddy, at Santa Anita in the fall of 2016 capped by a runner-up effort in the Juvenile Turf Sprint that opened the Saturday card of the Breeders' Cup at Santa Anita. So when it came time to send Con Te Partida for a race during the Royal Ascot meeting in June, Heap went with the 3-year-old filly.
"She was a little bit nervous and she was a handful the first day over there, but then by about the third day she settled in very nice," Heap said Friday morning. And on June 21, under jockey Jamie Spencer, Con Te Partiro prevailed against 23 rivals in the Sandringham Handicap, coming from far back in the early going.
Con Te Partiro shipped in from Kentucky five days ago and, partly based on the effort in England, is the morning line favorite for Saturday's Grade I $300,000 Del Mar Oaks.
"Here, she settled in the first day," Heap said. "She's doing well, but it's a tough race. They don't give anything away here."
The field from the rail: Kenda (Tyler Baze, 20-1), Madam Dancealot (Jamie Theriot, 9-2), Blame It On Alphie (Victor Espinoza, 20-1), Pistol Packin Rose (Mario Gutierrez, 30-1), Con Te Partiro (Flavien Prat, 7-2), Meadowsweet (Kent Desormeaux, 12-1), Vexatious (Rafael Bejarano, 8-1), Kathy's Song (Gary Stevens, 15-1), Storm the Hill (Santiago Gonzalez, 20-1), Dream Dancing (Julien Leparoux, 6-1), Pacific Wind (Corey Nakatani, 12-1), Beau Recall (Joe Talamo, 6-1), Tapped (Mike Smith, 8-1) and Bernina Star (Brice Blanc, 30-1).
The Oaks will go as the 10th on an 11-race program.
---
STEVENS HAS SEEN THE SCENARIO BEFORE, AND PICKS ARROGATE
Asked for a selection for the $1 million TVG Pacific Classic, Hall of Fame jockey Gary Stevens provided one – Arrogate – with a story about a Bob Baffert-trained horse that was an astounding disappointment in the San Diego Handicap but rebounded from it.
"In 1998, I rode Silver Charm and he went to Dubai, came back and ran here," Stevens recalled. Silver Charm, whose 1997 Triple Crown bid came up three-quarters of a length short to Touch Gold in the Belmont Stakes was, like Arrogate, triumphant in the Dubai World Cup in March.
Unlike Arrogate, Silver Charm had a race between Dubai and the San Diego, running second to Awesome Again in the Stephen Foster at Churchill Downs. Like Arrogate, Silver Charm bombed in the San Diego, finishing last of five at odds of 30 cents on the dollar, beaten 27 lengths by a horse named Mud Route.
In his next start, albeit two months later, Silver Charm dead-heated for the win in the Kentucky Cup at Churchill Downs, 17 lengths ahead of the closest pursuer and earning a Beyer Speed Figure nearly double that of the San Diego.
On the morning after this year's San Diego, Stevens and former Baffert assistant Eoin Harty saw each other in the stable area. "Remind you of anything?" Harty asked. "Yes it does," Stevens replied.
The two agreed upon the feeling that Arrogate would be "going back to boot camp" before his next start. Tomorrow's race will tell the tale.
"I hope he shows up again, because when he does, he's a treat to watch," Stevens said.
---
HANDICAP WIN FOR MR. ROARY COULD COME IN FORM OF A STEAL
The 1 3/8 mile Grade II $250,000 Del Mar Handicap presented by the Japan Racing Association is a long grassy run with a big reward (besides the winning purse) for the winner. That being a guaranteed spot in the $4 million Longines Breeders' Cup Turf as part of the "Win and You're In" program for racing's fall world championships.
George Papaprodromou fully expects Mr. Roary, the 4-year-old son of Scat Daddy he trains for Kretz Racing, to be the leader early and hopes that jockey Santiago Gonzalez can keep him there in the long run. Mr. Roary was a wire-to-wire winner of his first 2017 start at Santa Anita in June and led briefly in the 1 1/8-mile Eddie Read before finishing third here on July 22.
"Win this one and the Breeders' Cup after that," Papaprodromou said Friday morning. "He has speed, so I'm OK with the outside (No. 12) post. He could have won the Eddie Read, but he got pressure on the lead and that messed him up a little bit and we only got beat a length and a half.
"I'm hoping in the Del Mar Handicap he gets an easy lead and he just goes all the way."
The field from the rail: Liam the Charmer (Victor Espinoza, 12-1), Inordinate (Rafael Bejarano, 8-1), Big John B (Corey Nakatani, 12-1), Editore (Tiago Pereira, 30-1), Itsinthepost (Tyler Baze, 4-1), Monster Bea (Joe Talamo, 20-1), Flamboyant (Brice Blanc, 15-1), Ashleyluvssugar (Gary Stevens, 7-2), He Will (Mike Smith, 12-1), Up With the Birds (Jamie Theriot, 20-1), Hunt (Flavien Prat, 3-1),Mr. Roary (Santiago Gonzalez, 12-1) and Prime Attraction (Stewart Elliott 20-1).
The Del Mar Handicap will go as the seventh on an 11-race program.
---
MIDNIGHT STORM FAVORED IN CONTENTIOUS DEL MAR MILE
Defending race champion Midnight Storm was established as the 2-1 morning line favorite by oddsmaker Russ Hudak in a field of six for Sunday's Grade II $200,000 Del Mar Mile for older turf runners.
Trained by Phil D'Amato, Midnight Storm will be switched back to grass after five straight main track races, the first of them being a 7 ¾-length score in the Native Diver Handicap here last fall. The vast majority of the more than $1.7 million in earnings for the 6-year-old son of Pioneerof the Nile has been accumulated in turf events.
Midnight Storm is tied with Flawlessly and How Now for the most career stakes victories at Del Mar (5) and would become the solo record holder with a victory.
The field from the rail: Vyjack (Flavien Prat, 7-2), Om (Gary Stevens, 7-2), Bal a Bali (Mike Smith, 5-2), Midnight Storm (Rafael Bejarano, 2-1), Blackjackcat (Kent Desormeaux, 6-1) and Le Ken (Drayden Van Dyke, 15-1).
---
DEL MAR/SARATOGA ALL STAKES PICK FOUR ON TAP SATURDAY
Del Mar and Saratoga will team up to offer racing fans a deluxe "all stakes" Pick Four Saturday, a separate bet that proved especially popular last year when it was offered for the first time and drew more than $600,000 in wagers.
This year's version of the "all stakes" Pick Four will feature the Grade I Alabama Stakes from Saratoga, as well as the Grade II Lake Placid from the upstate New York venue. Del Mar's portion of the bet will consist of the Grade I TVG Pacific Classic and the Grade I Del Mar Oaks.
The Lake Placid will be the 8th race on the Saratoga card, while the Alabama will be the 9th. At Del Mar, the TVG Pacific Classic is the day's 8th race, while the Del Mar Oaks goes as the 10th. Saratoga will present 10 races Saturday, Del Mar 11.
Here are the scheduled posts (all times Pacific): Lake Placid, 2:02 p.m.; Alabama 2:40; Pacific Classic 5:45 and Del Mar Oaks 6:45.
---
JOCKEY/TRAINER STATUS QUO KEPT ON THURSDAY
Eight different jockeys and eight different trainers won races on Thursday's eight-race card. And none of them were names from atop the leader boards.
So apprentice Evin Roman and 2016 co-champ Flavien Prat remain tied atop the jockey standings with 22 wins each while defending champion Phil D'Amato maintained a one-win lead, 12-11, over Doug O'Neill.
D'Amato has entrants in two races on Friday's program, O'Neill four.
Prat is scheduled on four mounts, Roman on six.
---
CLOSERS – TVG will break from its usual format for a live, 90-minute commercial-free special telecast of the TVG Pacific Classic Saturday starting at 4:30 p.m. Pacific time. The broadcast will include an original TVG short film with Team Arrogate looking back on Arrogate's tour de force performance at the 2017 Dubai World Cup. TVG racing analysts Todd Schrupp, Simon Bray, Christina Blacker, Britney Eurton, Scott Hazleton, Candace Hare, Mike Joyce and Matt Carothers will be reporting live from Del Mar all day … NBCSN, the NBC Sports Network, will telecast the TVG Pacific Classic starting at 5 p.m. Pacific Time. Laffit Pincay, Randy Moss, Nick Luck, Jay Privman and Matt Bernier comprise the commentating team.
---
DEL MAR STATISTICS
Jockey Standings
(Current Through Thursday, August 17, 2017 Inclusive)
| | | | | | | | |
| --- | --- | --- | --- | --- | --- | --- | --- |
| Jockey | Mts | 1st | 2nd | 3rd | Win% | In-money% | Money Won |
| Evin Roman | 141 | 22 | 25 | 13 | 16% | 43% | $863,602 |
| Flavien Prat | 109 | 22 | 18 | 19 | 20% | 54% | $1,519,341 |
| Rafael Bejarano | 102 | 17 | 16 | 15 | 17% | 47% | $820,456 |
| Joseph Talamo | 82 | 14 | 8 | 7 | 17% | 35% | $607,425 |
| Kent Desormeaux | 70 | 13 | 19 | 9 | 19% | 59% | $752,065 |
| Tyler Baze | 111 | 13 | 17 | 14 | 12% | 40% | $692,025 |
| Santiago Gonzalez | 55 | 8 | 5 | 10 | 15% | 42% | $366,709 |
| Drayden Van Dyke | 65 | 8 | 5 | 10 | 12% | 35% | $574,641 |
| Mario Gutierrez | 47 | 8 | 4 | 5 | 17% | 36% | $368,470 |
| Gary Stevens | 43 | 8 | 3 | 8 | 19% | 44% | $483,030 |
Trainer Standings
(Current Through Thursday, August 17, 2017 Inclusive)
| | | | | | | | |
| --- | --- | --- | --- | --- | --- | --- | --- |
| Trainer | Sts | 1st | 2nd | 3rd | Win% | In-money% | Money Won |
| Philip D'Amato | 55 | 12 | 13 | 3 | 22% | 51% | $998,277 |
| Doug F. O'Neill | 64 | 11 | 7 | 7 | 17% | 39% | $564,235 |
| Richard Baltas | 58 | 8 | 10 | 6 | 14% | 41% | $627,174 |
| Mark Glatt | 39 | 8 | 4 | 7 | 21% | 49% | $368,264 |
| Peter Miller | 76 | 7 | 12 | 10 | 9% | 38% | $447,232 |
| Michael W. McCarthy | 21 | 5 | 6 | 2 | 24% | 62% | $187,215 |
| Robert B. Hess, Jr. | 32 | 5 | 5 | 4 | 16% | 44% | $161,090 |
| Bob Baffert | 24 | 5 | 5 | 3 | 21% | 54% | $366,212 |
| Vladimir Cerin | 24 | 5 | 2 | 4 | 21% | 46% | $170,236 |
| Simon Callaghan | 25 | 5 | 2 | 2 | 20% | 36% | $308,330 |
Winning Favorites Report
(Current Through Thursday, August 17, 2017 Inclusive)
Winning favorites -- 53 out of 190 -- 27.89%
Winning favorites on dirt -- 37 out of 119 -- 31.09%
Winning favorites on turf -- 16 out of 71 -- 22.54%
Winning odds-on favorites -- 15 out of 27 -- 55.56%
In-the-Money favorites -- 126 out of 190 -- 66.32%
In-the-Money odds-on favorites -- 23 out of 27 -- 85.19%