Thursday, August 17th, 2017 ( 1 year ago )
Stable Notes
Aug 17, 2017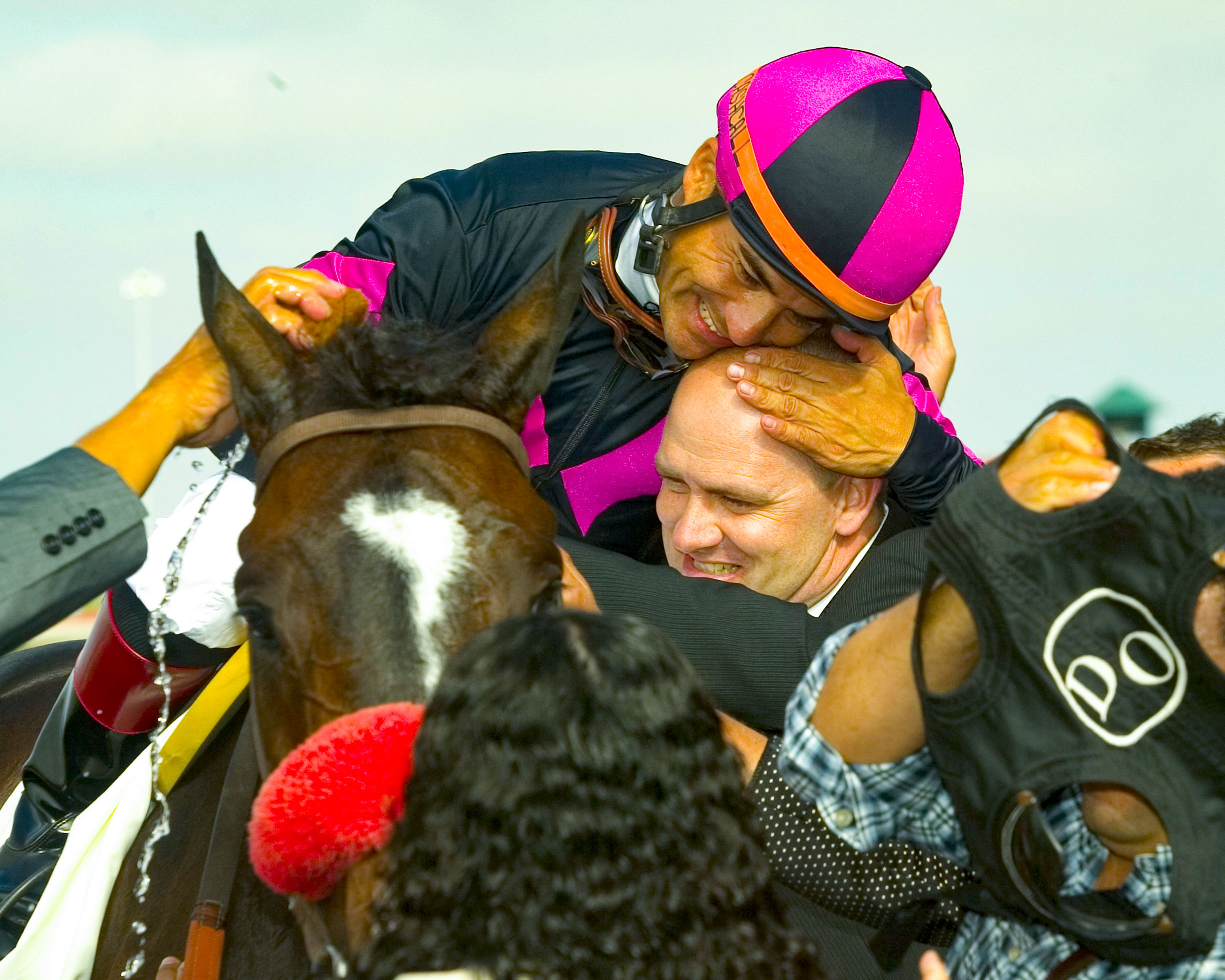 Lava Man 2006 Pacific Classic © Benoit Photo
O'NEILL HOPES TO WIND UP IN A PLACE ONLY LAVA MAN HAS TAKEN HIM
Trainer Doug O'Neill made his way to the winner's circle following Lava Man's 2 ½ length victory as the even money favorite in the $1 million TVG Pacific Classic in 2006, but hasn't made it back there with four starters since in Del Mar's signature event.
While fully aware that it's a longshot chance at best, O'Neill is hoping to get back to the presentation area after Saturday's 27th running when he'll saddle Donworth and Curlin Road.
"Obviously, Bob Baffert is holding two aces (Arrogate and Collected), but I still feel we've got two good chances," O'Neill said Thursday by phone. The father of two has spent the early part of the week seeing his children off on the start of a new school year and supervising strings of horses in the L.A. area while leaving the Del Mar training to right-hand man Leandro Mora and other Team O'Neill assistants.
Donworth drew the No. 6 post position and Curlin Road No. 7 in a field of eight, with Arrogate to their outside.
"I'm very happy with the draws for both of them," O'Neill said. "I like the fact that they're a little more to the outside."
Lava Man, a California-bred gelding claimed for $50,000 at Del Mar in 2004, went on to earn $5,170,103, the most ever by a horse following a claim. In 2006, he became the first horse to sweep the Southern California circuit's trio of biggest races – the Santa Anita Handicap, Hollywood Gold Cup and Pacific Classic.
There'll never be another Lava Man, but O'Neill does see some traits in common with his two for Saturday's race.
"Donworth is a big, strong, athletic horse like Lava Man and he has speed like Lava Man did," O'Neill said. "He has been plagued with injuries, but right now he's really in top shape.
Donworth punched his Pacific Classic ticket with a runner-up effort to Accelerate, 6 ¾ lengths in front of fourth-place Arrogate, in the San Diego Handicap.
"And Curlin Road is a claimed horse, like Lava Man was," O'Neill said.
Claimed for $40,000 in April at Santa Anita, Curlin Road won the Cougar II Handicap here on July 26.
"They're both doing really well, and at the right time," O'Neill said.
The field from the rail: Royal Albert Hall (Corey Nakatani, 30-1), Collected (Martin Garcia, 5-2), Accelerate (Victor Espinoza, 3-1), Sorry Erik (Kent Desormeaux, 30-1), Hard Aces (Santiago Gonzalez, 20-1), Donworth (Mario Gutierrez, 15-1), Curlin Road (Flavien Prat, 20-1) and Arrogate (Mike Smith, 1-1).
The TVG Pacific Classic is a "Win and You're In" qualifier for the $6 million Breeders' Cup Classic here on Saturday, November 4.
---
HUNT FAVORED IN ATTEMPT TO COMPLETE READ-DM 'CAP DOUBLE
Michael House's Hunt, winner of the Grade II $250,000 Eddie Read Stakes on July 22, was established as the 3-1 favorite on oddsmaker Russ Hudak's morning line for Saturday's Grade II $250,000 Del Mar Handicap presented by the Japan Racing Association.
Hunt, a 3-year-old Irish-bred gelding, will be attempting to be the first horse to win the Eddie Read and Del Mar Handicap in the same summer meeting since Marty and Pam Wygod's After Market in 2007.
Defending Del Mar Handicap champion Ashleyluvssugar, second to Hunt in the Eddie Read, beaten a length, is the second choice on the morning line at 7-2.
An intriguing challenger in the field of 13 for the "Win and You're In" qualifier for the $4 million Longines Breeders' Cup Turf here on Saturday, November 4, is Inordinate. The five-year-old son of Harlan's Holiday won the 1 ¾-mile San Juan Capistrano at Santa Anita in April in his third start since being privately purchased and going from East Coast trainer Chad Brown to Richard Baltas. Inordinate will be tasked at 1 3/8 miles in the Del Mar Handicap.
"We bought him out of a dispersal sale for $60,000," Baltas said. "He's doing very well and I think he's a nice horse. He won the San Juan Capistrano and came out of the race a little bit stiff and sore, so we gave him like a month off. So now he's ready to roll again.
"It's a tough race, but I think he'll be good at the distance. It looks like he didn't like the blinkers so we'll keep them off."
The field from the rail: Liam the Charmer (Victor Espinoza, 12-1), Inordinate (Rafael Bejarano, 8-1), Big John B (Corey Nakatani, 12-1), Editore (Tiago Pereira, 30-1), Itsinthepost (Tyler Baze, 4-1), Monster Bea (Joe Talamo, 20-1), Flamboyant (Brice Blanc, 15-1), Ashleyluvssugar (Gary Stevens, 7-2), He Will (Mike Smith, 12-1), Up With the Birds (Jamie Theriot, 20-1), Hunt (Flavien Prat, 3-1),Mr. Roary (Santiago Gonzalez, 12-1) and Prime Attraction (Stewart Elliott 20-1).
The Del Mar Handicap will go as the seventh on an 11-race program.
---
WORLD TRAVELER CON TE PARTIRO FAVORED IN OAKS
Con Te Patiro, a Kentucky-bred daughter of Scat Daddy who won the Sandringham Handicap at Ascot in June, was established as the 7-2 morning line favorite in a field of 14 for Saturday's Grade I $300,000 Del Mar Oaks Presented by The Jockey Club.
Trainer Wesley Ward, who has been an impactful American presence at Ascot in recent years, sent Hat Creek Racing's Con Te Partiro across the Atlantic and was rewarded with a 1 ¼-length victory under Jaime Spencer. The 3-year-old filly has had three recent five-furlong works at Keeneland.
The local Oaks contingent is headed by Madam Dancealot, a 1 ¾-length winner of the Oaks-prep San Clemente Handicap on July 23. Madam Dancealot would become the first to win the San Clemente and Oaks since Evening Jewel in 2010.
"She's doing great. It's a matter of getting a good trip," trainer Richard Baltas said of Madam Dancealot.
Baltas also will saddle Kathy's Song in the Oaks.
"I bought her at a private sale and I'm kind of taking a flier, but she's doing really well," Baltas said.
The field from the rail: Kenda (Tyler Baze, 20-1), Madam Dancealot (Jamie Theriot, 9-2), Blame It On Alphie (Victor Espinoza, 20-1), Pistol Packin Rose (Mario Gutierrez, 30-1), Con Te Partiro (Flavien Prat, 7-2), Meadowsweet (Kent Desormeaux, 12-1), Vexatious (Rafael Bejarano, 8-1), Kathy's Song (Gary Stevens, 15-1), Storm the Hill (Santiago Gonzalez, 20-1), Dream Dancing (Julien Leparoux, 6-1), Pacific Wind (Corey Nakatani, 12-1), Beau Recall (Joe Talamo, 6-1), Tapped (Mike Smith, 8-1) and Bernina Star (Brice Blanc, 30-1).
The Oaks will go as the 10th on an 11-race program.
---
SIX SET TO LINE UP FOR SUNDAY'S DEL MAR MILE
A field of six was entered Thursday in Sunday's Grade II $200,000 Del Mar Mile, an event which will provide a rematch of the 1-2 finishers in 2016, Midnight Storm and Om.
Midnight Storm finished a half-length in front of Om last year and both went on to on-the-board finishes in Breeders' Cup races. Midnight Storm was third in the Mile while Om came up a nose short making an incredible late rally in the Turf Sprint.
Midnight Storm will be switched back to turf after four starts on dirt in graded stakes in 2017. Om's only 2017 start was a runner-up effort, beaten 1 ¾-lengths by Pee Wee Reese in the Grade III American Stakes at Santa Anita on July 4.
"He's been doing well, his works have been good and it seems like he's gotten good and tight since then and we're ready to roll," trainer Dan Hendricks said of Om. "It's a tough race, but we're part of it."
The field from the rail: Vyjack (Flavien Prat), Om (Gary Stevens), Bal a Bali (Mike Smith), Midnight Storm (Rafael Bejarano), Blackjackcat (Kent Desormeaux) and Le Ken (Drayden Van Dyke).
---
PRAT TIES ROMAN AND TALAMO GRABS MOMENTUM IN JOCKEYS RACE
Flavien Prat won Wednesday's third race on Lajatico ($7.60) and fourth on Bolser ($13.60) to move into a tie with apprentice Evin Roman atop the jockey standings. Both have 22 wins, Roman from 135 mounts and Prat from 104.
Joe Talamo made the most progress, however. Talamo won aboard Time for Ebby (1st, $46.80), Honor Maker (6th, $23.60) and Responsibleforlove (7th, CTT and TOC Handicap, $10.20) to leapfrog Tyler Baze and Kent Desormeaux and settle into fourth in the standings. Talamo has 14 wins from 80 mounts.
In the training race, Doug O'Neill picked up one win (3rd, Lajatico) to move within one of leader Phil D'Amato, 12-11.
Roman has six mounts on Thursday's eight-race program, Prat has five.
Neither D'Amato nor O'Neill have representatives on Thursday, but third-place Richard Baltas saddles horses in three races and has two, one of them 5-2 morning line favorite Relentless Miss, going in the third race.
---
BALTAS, LINDO GUESTS FOR WEEKEND SEMINARS
Trainer Richard Baltas and Thoroughbred owner, breeder and syndicated handicapper Jon Lindo will provide expert commentary and selections at the upcoming Weekend Handicapping Seminars.
Baltas will do the honors on Saturday for a card that includes the Grade II $250,000 Del Mar Handicap, Grade I $1 million TVG Pacific Classic and Grade I $300,000 Del Mar Oaks.
Lindo is part of the ownership group of Skye Diamonds, winner of last Sunday's Rancho Bernardo Handicap, and is currently the front runner by many victories of the four-member selection panel for the San Diego Union-Tribune racing page.
Lindo will be the guest of Scott Shapiro on Sunday.
The seminars are held from 12:45-1:30 at the Seaside Terrace near the top of the stretch.
---
CLOSERS – Trainer John Sadler estimated on Thursday morning that there's an 80 percent chance his Hard Aces will run, for the third year in a row, in the Pacific Classic … Selected works from 123 officially timed Thursday: Smokem (3f, :36.40), Ransomed (4f, :46.20), Battle of Midway (5f, 1:03.40), Desert Steel (1:01.40), Oregon (5f, :59.80), Poetic (5f, 1:00.20), Slim Fit (5f, :59.80), Big Gray Rocket (6f, 1:12.80) and Just a Smidge (6f, 1:12.60).
---
DEL MAR STATISTICS
Jockey Standings
(Current Through Wednesday, August 16, 2017 Inclusive)
| | | | | | | | |
| --- | --- | --- | --- | --- | --- | --- | --- |
| Jockey | Mts | 1st | 2nd | 3rd | Win% | In-money% | Money Won |
| Evin Roman | 135 | 22 | 25 | 12 | 16% | 44% | $856,347 |
| Flavien Prat | 104 | 22 | 16 | 18 | 21% | 54% | $1,486,081 |
| Rafael Bejarano | 96 | 17 | 13 | 15 | 18% | 47% | $794,926 |
| Joseph Talamo | 80 | 14 | 7 | 7 | 18% | 35% | $602,680 |
| Kent Desormeaux | 67 | 13 | 19 | 8 | 19% | 60% | $745,360 |
| Tyler Baze | 109 | 12 | 17 | 14 | 11% | 39% | $677,880 |
| Mario Gutierrez | 46 | 8 | 4 | 5 | 17% | 37% | $366,670 |
| Corey Nakatani | 33 | 7 | 10 | 0 | 21% | 52% | $467,385 |
| Santiago Gonzalez | 52 | 7 | 5 | 10 | 13% | 42% | $346,444 |
| Drayden Van Dyke | 61 | 7 | 4 | 10 | 11% | 34% | $525,626 |
Trainer Standings
(Current Through Wednesday, August 16, 2017 Inclusive)
| | | | | | | | |
| --- | --- | --- | --- | --- | --- | --- | --- |
| Trainer | Sts | 1st | 2nd | 3rd | Win% | In-money% | Money Won |
| Philip D'Amato | 55 | 12 | 13 | 3 | 22% | 51% | $998,277 |
| Doug F. O'Neill | 64 | 11 | 7 | 7 | 17% | 39% | $564,235 |
| Richard Baltas | 54 | 8 | 10 | 5 | 15% | 43% | $621,644 |
| Peter Miller | 73 | 7 | 12 | 9 | 10% | 38% | $437,672 |
| Mark Glatt | 36 | 7 | 4 | 7 | 19% | 50% | $350,399 |
| Robert B. Hess, Jr. | 30 | 5 | 5 | 3 | 17% | 43% | $154,730 |
| Bob Baffert | 21 | 5 | 4 | 3 | 24% | 57% | $352,522 |
| Simon Callaghan | 24 | 5 | 2 | 1 | 21% | 33% | $305,930 |
| Thomas F. Proctor | 12 | 5 | 0 | 4 | 42% | 75% | $291,678 |
| John W. Sadler | 37 | 4 | 6 | 5 | 11% | 41% | $603,005 |
Winning Favorites Report
(Current Through Wednesday, August 16, 2017 Inclusive)
Winning favorites -- 52 out of 182 -- 28.57%
Winning favorites on dirt -- 36 out of 113 -- 31.86%
Winning favorites on turf -- 16 out of 69 -- 23.19%
Winning odds-on favorites -- 15 out of 27 -- 55.56%
In-the-Money favorites -- 123 out of 182 -- 67.58%
In-the-Money odds-on favorites -- 23 out of 27 -- 85.19%